---
Caribbean Hurricane Network

- 2 0 2 3 Season -
---
Weather discussions by Gert & Dave during the 2023 Atlantic Hurricane Season. The homepage with the links to local reports from the islands, latest satellite image, current weather outlook can be found here.
Tuesday, September 26, 2023 07:39AM EDT - Active still


Good morning,




A strong wave brought some heavy rains to Jamaica and the Caymans and is now drenching west and central Cuba while being pulled north meaning a stormy, wet and flooding time for South Florida. It is not expected to develop at this time.




Ophelia is gone as well but her effects still linger in the northeast after causing heavy rains , flooding and severe storm surge issues from the Carolinas to New England. The remnants are racing off towards Europe where those remnants have enhanced a deep low pressure system. This has resulted in Storm Agnes, the first storm warning for the UK this year.




TS Philippe. If it wasn't for WSW wind shear, he would be a hurricane by now. Right at this moment though, it is a discombobulated mess of a 50 mph TS with the majority of his convection to the east of his COC. However, with that being said, a stronger Philippe would curve quicker to the WNW while a weaker one will still trek further WNW but then is forecast to further weaken and move in a more westerly direction passing several hundred miles to the north of the northern Leewards. Still might throw some rains southward while also, after passing by, should encounter weaker wind shear and could regenerate. posing a threat down the road to the Bahamas and east coast. Time and the atmosphere will tell.




91L. Still an invest several hundred miles to the WSW of the Cabo Verde Islands. Lower in latitude than Philippe when he started, this system is expected to become a hurricane later on while doing what almost every other storm has done this year; recurve to the WNW and miss the islands. But, it's too early to tell with this low rider so be vigilant. A weaker system will head more west where the islands can use the rains but not from a hurricane.




There are a couple of low riders on the African continent splashing down over the next couple weeks bearing watching as not every storm is expected to head to Bermuda this year. We still have a long way to go, as in 76 days of the official hurricane season. It only takes one.




Stay safe and prepared!!




Dave.












Friday, September 22, 2023 06:52AM EDT - Next!


Good morning,




There has not been a break in the action in quite a while which historically is normal this time of the hurricane season however it wasn't supposed to be like this with a strong El Nino. Well, she's been a no show pretty much as far as effects on tropical development are concerned and we have something to seriously consider on the horizon for the Caribbean.




Longevity hurricane Lee has finally dispersed after quite the trek through the Atlantic menacing many along his path. Post tropical storm Nigel, once a fish storm hurricane, is still a formidable force and will be for a few more days but no direct land interaction is expected before he dissipates. We also have soon to be subtropical or maybe even tropical storm Ophelia (now Potential Tropical Cyclone 16), moving generally but somewhat erratically to the NNW at about 14 mph headed for a Carolinas impact. The effects of this storm are far reaching to the east and north and regardless of its classification, will bring heavy rains and strong winds ahead of the COC (center of circulation) this weekend. So, from the Carolinas to southern NE winds, heavy rain and storm surge will be the main issues with the storm surge maybe the biggest.




On to the Caribbean where it is quiet for now and where rain is needed. We just don't need a hurricane for that. It has been a pretty dry spring and summer so far and cisterns are crying for some good mother nature downpours. So we look to the east and find a large tropical wave that is forecast to become a major hurricane down the road and potentially threaten the NE Caribbean in a week or so.




Invest 90L. A low rider about 550 miles WSW of the Cabo Verde Islands and moving between 10-15 mph per satellite observations, this system is expected by most of the models to turn WNW before reaching the Caribbean like its brethren before it. However, there are 2 scenarios. One, the faster it moves, the more of a threat to the islands. The other is a slower movement which should force it on a more WNW solution. Once it interacts with another system ahead of it, we will have a clearer picture of where soon to be Philippe is going to head. The Saharan Dust Layer is to the north, SST's are way above average, and wind shear is moderate in this lowrider area so the possibility of a major hurricane eventually is very apparent. Keep a vigilant eye on this one.




Stay safe, prepared and look out for your pets and neighbors!




Dave.












Friday, September 15, 2023 19:05PM EDT - Busy


Good evening from Miami airport,




A quick update and this will be quick.




Hurricane Lee will have a severe impact indirectly on New England, specifically the Cape, Boston and into Maine. Nova Scotia looks to take the brunt with the possibility of actually being cut off from the mainland of Canada proper. Lee will have a quick but very damaging effect between now and Sunday. I hope they are all prepared. The NE east coast will be ravaged and I hope they are ready as well. This will not be pretty.




TS Margo will be the sit and spin of storms, meandering in the central Atlantic doing a merry go round of sorts as weak steering currents are present allowing her to just do the do si do until she finally succumbs to cooler waters. No threat.




TD #15 is forecast to become hurricane Nigel down the road with maybe being a threat to the hurricane magnet of the year, aka Bermuda. We shall see.




Later down the road, several low riders will exit the African coast which have evil intentions on the Caribbean as they will move more west than WNW like the previous systems. Stay tuned!




Stay safe and prepared. Have a good weekend! Now to catch another plane.




Dave
Tuesday, September 12, 2023 16:01PM PDT - Bermuda?

Hurricane Lee is getting bigger and bigger, but not necessarily stronger. The eye is now about 50 mile wide! Hurricane force winds extend outward up to 90 miles and tropical storm winds 205. Although Bermuda is not inside the 'Cone of Uncertainty' I would still keep a close eye on this storm. Its current closest point of approach is about 180 miles (see below), with 50% chance of getting tropical storm winds starting early Thursday. The storm looks pretty big relative to Bermuda...

The 'Cone of Uncertainty' doesn't actually say anything about the actual model uncertainty. The cone has a fixed dimension regardless of storm size, impacts (like heavy rain, swell, etc.) or model uncertainty. It is actually based on how well the National Hurricane Center has predicted previous storms. This is getting better every year, and thus making the cone smaller. A good read on this can be found on this Brian McNoldy's blog post.

Since the storm has grown so big in size the NHC Advisory state that: "Dangerous surf and life-threatening rip currents will affect portions of the northern Leeward Islands, the Virgin Islands, Puerto Rico, Hispaniola, the Turks and Caicos Islands, the Bahamas,Bermuda, and most of the U.S East Coast through much of the week."

Elsewhere we have fish storm (now hurricane) Margot. Invest 97L and 98L far east in the Atlantic also seem to bend nicely north well before reaching us! Stay safe! -Gert
Sunday, September 10, 2023 20:49PM EDT - Lee strengthening, the east interesting


Good evening all,




I'd say this will be a quick update but they usually are not so I will not say that. Hurricane Lee is making his expected comeback after a 16 round heavyweight fight with wind shear that took him down from sheer dominance as a 165 mph Atlantic monster due to his rapid rise in strength earlier this week to a mere 105 mph in just over a few rounds. However, Lee has won that fight as the shear is backing off slowly and is now back to 120 mph with higher gusts as a Cat 3 with expectations to again regain Cat 4 status. Problem for Lee is, he has slowed down considerably. In the short term, plus with the wind shear backing off and the SST's way above average, he should gradually get back to that Cat 4 status. In the long term, it should be to his detriment due to potential upwelling (staying over those warm waters too long and thus bringing cooler waters to the surface, diminishing his fuel supply) resulting in gradual weakening.




Lee's forecast turns sharply to the NW then N is still in vogue around Wednesday as it still is forecast to miss the low lying Turks and Caicos and the Bahamas.and the huge majority of the models show. Let's hope that happens. Down the road, Bermuda, if this pans out, looks to get some TS effects at least. After passing Bermuda, right now is anyone's honest guess as too early to tell. NE? Nova Scotia? OTS (out to sea)? Regardless, the swell of water pushed by Lee will be prolific and dangerous. As he weakens, the windfield will expand which will add increasing tides, surf and dangerous coastal conditions like rip currents with erosion. The tides ebb and flow to immense heights and lows in Maine and the Canadian maritimes. It will be a rough go.




TS Margot is of no threat to anyone except the fishes and shipping lanes. Forecast to become a hurricane, Margot still might have an effect on Lee's trek but no threat to any landmass. It's possible for her to lose her steering currents later as well and just meander the Central Atlantic for a few days.




Switching to the east of the islands, we have 97L, a slow low rider. So slow, it's anticipated to be engulfed by the larger, faster wave behind it. This one bears watching for the Caribbean down the road towards the end of the week. We will have to wait and see if the eventual predicted feast by the wave behind actually occurs.




Well, see, it wasn't as quick as I was thinking originally. But there is alot going on.Plus, we still have 1/2 a season to go. Today was the historical peak of the hurricane season.




Stay safe and prepared. Look out for your pets and neighbors.




Dave.












Friday, September 8, 2023 18:42PM EDT - Lee and down the road


Good evening,




The ghost of Irma/Maria's past (Sept. 2017), whose name is hurricane Lee, continues to churn approx. 13 mph towards the WNW with high confidence of his track over the next 5 days. After that, confidence is quite low except for a northward turn around 67W-70W. Having lost some of his explosive power today, Lee is still and will remain so, a formidable hurricane, at least until the northward turn. While ingesting a decent diet of wind shear and some dry air today, he also is due for an eyewall replacement cycle which, while temporarily weakening him, expands the windfield. His possible genesis back to a Cat 5 is possible but the NHC does not see that happening. Either way, this does not bode well for the hurricane fortress known as Bermuda while the east coast will feel life threatening surf and rip currents. Currently about 472 miles to the NE of the northern islands and above 19N, the Lesser Antilles will not feel many effects fortunately except of course, higher surf and rip currents. Needed rain might not even make it south of Lee.




Low lying Bahamas and the Turks and Caicos could experience a more dramatic wind/sea effect due to their low lying proximity to the ocean but that will also be determined by when Lee makes his highly anticipated turn. TS Margot might have something to say about that if she gets closer to Lee upon turning while ex-Katia still has some pull as well in the northern Atlantic.




The high certainty over the next 5 days is then confounded by the low confidence uncertainty after that. While most of the reliable models show that northward turn, a few outliers have shifted a bit farther westward. Will it hit Florida? Most likely not but not out of the realm of possibility. Will it plow into the Carolinas? New England is a possibility albeit as a system comparable to a strong Nor"Easter. Then there's Atlantic Canada. So, with all that said everyone from the northern Caribbean to the East Coast and Canadian Maritimes need to be vigilant. While his eyewalls look a bit beat up now, the shear will lessen while Lee goes over very warm waters.




TS Margot is expected to be a fish storm but also a hurricane in the Eastern Atlantic. No threats to us and might help determine to a point where hurricane Lee goes. In about 60 hours or so, a strong tropical wave will exit the African coast and some of the models are picking this up to develop in the middle of the MDR (Main Development Region) about 4-5 days after that but on a lower track. It's that time of season and El Nino hasn't been suppressing as she was supposed to be.




Stay safe, prepared and watch out for your pets and neighbors.




Dave.
Friday, September 8, 2023 08:22AM PDT - Passing by North!

Hurricane Lee is a powerful Category 4 storm. Yesterday it was even a Category 5, with 165 mph sustained winds! I still have a bad feeling about 'L' storms, thinking about Luis way back when, and Lefty Lenny. But the picture below shows that we got lucky this time! Lee should be passing well north of us over the next few days. There will of course still be some effects, esp. high surf and a 'stiff breeze', but everything better than a direct hit! The future track of Lee is a bit uncertain. It is going to make a turn northward, the timing of that will determine where it is going to go, close to Bermuda or close to the US... Stay tuned!

Further east we have Margot, the 'M' storm that replaced Maria (Idalia replaced Irma, wow, 6 years ago already!). Another Cape Verde storm, but this one is nicely turning north well before it reaches us. Stay safe everybody! -Gert
Wednesday, September 6, 2023 07:38AM EDT - Lee (ward)


Good morning,




After a gang of 4 tropical named systems started a ruckus at the beginning of this month, despite the strong El Nino event, we are now down to one main player at the moment and his name is Lee.




TS Lee is clipping along at about 16 mph on a slight WNW trek but is expected to slow down a bit while traversing above average SST's (Sea Surface Temperatures). With wind shear relaxing, those warm temperatures and the traditional lack of serious Saharan Dust at this time of year, Lee should become a hurricane by day's end and a seriously major hurricane in the next few days. Many of the reliable models have Lee a Cat 3 by early Friday and a top end Cat 4 over the weekend.




Track wise is always tricky 4-5 days out with a margin of error between 125-175 miles on either side. Using the closest point tool, if it stayed as projected, it would pass about 198 miles to the north of Anguilla early Sunday morning and between 225-250 miles north of the US and British Virgin Islands. As we all who have gone through hurricane Irma however, we know tracks are not reliable that far out. Irma kept dropping from a higher latitude until she landed on top of us which is not what the models forecast.




So, bottom line Leeward islands, which are the northernmost part of the Lesser Antilles chain, if you're not prepared already, I suggest you start now. Lee has very bad potential down the road and if that big Bermuda high to its north strengthens instead of weakening, Lee will be in our laps. The other side to that is a weaker system will trend more west. The Bahamas, Turks and Caicos and Bermuda should keep a wary vigilant eye on Lee as well. If he doesn't do his northward turn in time, then impacts will definitely be heightened. As far as Florida and the Gulf it is unlikely at this time Lee will reach there but again, too far out to have any predictions with high confidence.




96L, the only other player, is forecast to drop heavy, squally rains over the Cabo Verde Islands as a depression but then turn into a fish storm. Coming off the African coast in a few days will be another low rider of interest as we head into the historical peak of hurricane season. So much for an El Nino suppression season.




Stay safe, prepared and look out for your pets and less able neighbors.




Dave






Friday, September 1, 2023 13:56PM PDT - Gert is back!

Normally when we have 4 named storms plus a tropical depression we are in high alert mode. Luckily not now, since none pose any threat to us. Maybe Idalia a bit, since it is pretty close to Bermuda, and they are actually on a tropical storm warning. But it weakened back to a tropical storm, so they will be ok. Gert has also come back to live, but also no issues with her.

The only possible threat is a tropical wave that is about to come off the African coast. Below the ECENS ensemble forecast (source: Weathernerds.org) for 8 days out putting 'Lee' (if TD12 makes it to named storm status) close the islands. You can see it starts pretty low off Africa, and travels westward towards the islands, with just a slight northward component. Of course, this is still very far out, and things will change for sure. But it doesn't look like one of those storms that goes mostly north after it comes of the African coast and bypassing us. Stay tuned! -Gert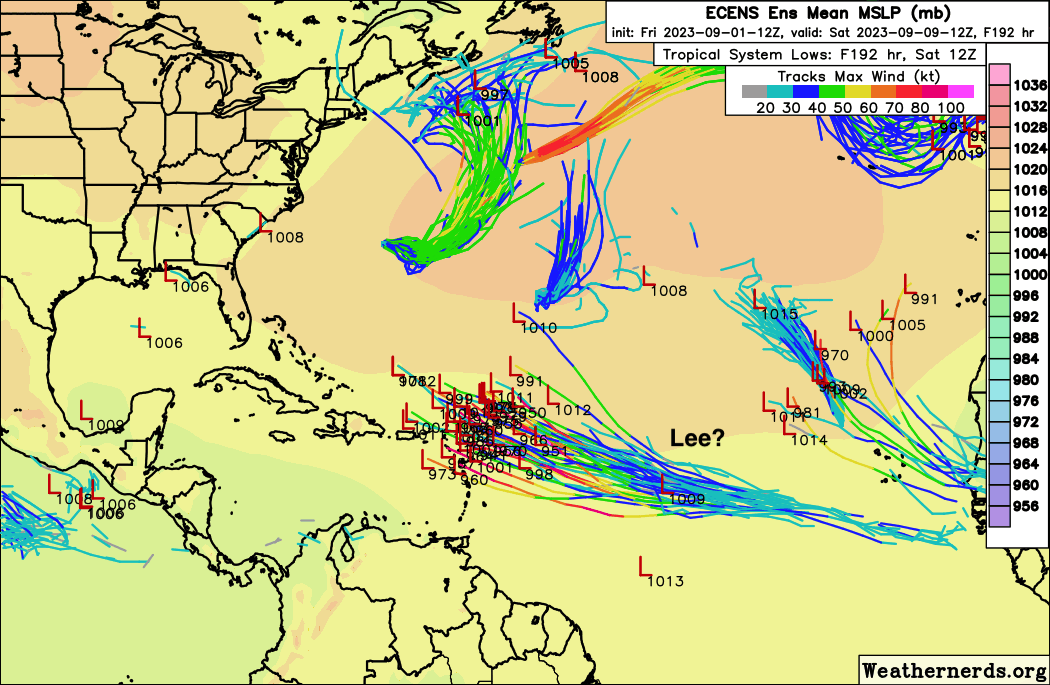 - - - ECENS Ensemble Sat. Sep. 9. - - -
[weathernerds.org / click image for full size]
Tuesday, August 29, 2023 15:02PM EDT - RI Idalia/Franklin


Good afternoon,




While preparing for hurricane Idalia, I received several emails regarding why it appears there was hype involved in previous posts with this system while it was still down in the Western Caribbean. I do not normally address these in this volunteer forum that I have had the privilege of contributing to for almost 25 years but I am now..




This system will morph into a very dangerous event today/overnight at some point. Its origins were actually from the Pacific side and were identified as possibly going to cause problems in the Caribbean and Gulf. That has manifested itself after loitering around the Yucatan Peninsula and western tip of Cuba for days. I also previously shared that this could be a rapid intensification event which appears to be undergoing. So, it originated in the Caribbean hence my continuing posts outside the Caribbean.




My position here is to alert, inform and educate. It is not perfect and neither is the weather. Mother Nature can take a right turn now, totally unforeseen and slam into Tampa or anywhere else on the gulf coast of Florida instead of following the guidance of models and experts into the Big Bend of north Florida. Our interpretations of the goings on with these systems are based on many years of experience, education, satellite imagery, other reliable sources and sometimes, downright gut feelings having gone through many tropical devastating events.




If you have been advised to evacuate, if you have been alerted to possible life threatening issues, then do so. First responders will not be able to rescue you. Plus you put their lives at risk just not your own, due to your stubbornness and belief you will be ok. Evacuations are not issued frivolously. They cost millions of dollars per mile. But your life is priceless. It's not worth it. I honestly do not care if you have been through many storms without evacuating when advised to, mandatory or not and survived. It only takes one. In the Far East, the army comes and makes you evacuate. That's why their death tolls are far less than could/would be, given the strength of their typhoons. I care about each and every one of you and your lives. Your belongings can be replaced. You, in that casket, can not be. If you decide to stay after being told to evacuate and then need to be rescued, then I hope they make you pay for that rescue. It was your decision, not theirs and they sure didn't ask to come rescue those who were selfish and put their own lives in danger plus the responders.




Now, with that said, Idalia is a 90 mph hurricane with higher gusts in the GOMEX about 240 miles SW of Tampa and strengthening quickly, practically across from Fort Myers/ Naples area. Tornado warnings have been issued along an outer band across Marco Island as of this writing. Forecast to be approx. 125 mph at landfall just north of Cedar Key, it has the potential to be even higher however, 10 mph higher doesn't mean much difference in damage and storm surge potential which will reach 10-15 feet at this moment effectively wiping out the first floor of every structure in its path and practically unsurvivable if caught in it, hence evacuate???? It is remotely possible that Idalia will turn later NE or turn sooner NE as it's still early on the trek northward and weather dynamics have mi-nute, (on purpose broken up) not minute shifts which could make landfall more problematic and unfortunate consequences. Those who have been advised and warned should take heed without the cavaliere attitude and bulletproof mentality. Idalia is a serious event.




Franklin: about 320 miles WSW of Bermuda is expected to move NNE above Bermuda where tropical storm warnings are up. Once a formidable Cat 4 after wandering aimlessly around the northern Caribbean, he is now a Cat 3 on a slow downward spiral towards history without direct landfall interaction. Quite the trek he has produced but will be picked up and raced off to dissolution.




Speaking of wandering, down the road, if Idalia manages to keep some tropical characteristics after a few days of land interaction along the US east coast, she has the potential to do a loop da loop after exit, travel south then back to the east for a possible return east coast visit. Where, if manifested, is too early to tell. Franklin will have traversed some of the same waters sucking some of the heat content thus energy/fuel so time will tell. For now, eyes on the gulf and west coast of Florida.




Stay safe and prepared.




Dave






Sunday, August 27, 2023 07:38AM EDT - Another "I" storm


Good morning,




Just a quick update on soon to be TS Idalia.




We all know some of the most destructive hurricanes in the name game era of weather have started with the letter "I". That letter starts the most retired names in history with 9. Most recently was Irma with Ike, Ivan and Irene coming to mind immediately. With that said, let's take a quick look at soon to be Idalia.




Wandering around the Yucatan Channel close to Cozumel, still officially TD#10 has actually been moving slowly south but is forecast to start turning northwards later today. Close to TS storm status already although not looking too impressive on satellite imagery at the moment, more definitive answers will follow later today as hurricane hunters and NOAA will be flying in to sample the system from top to bottom getting a better idea of organization, strength and upper air steering patterns. Four things stand out from moving south more than forecast.




The first is the system will interact with the Yucatan, Cuba and Belize with flooding rains and squally weather. The second is the center of circulation will be over bath water longer giving the potential for a quicker stronger system down the road. The third is a stronger system means a probable further westward path to the mainland. The fourth and most serious if it manifests itself, which is a distinct possibility, is the possibility of time over that untapped deep, high oceanic heat content in the gulf, to rapidly intensify. This could especially happen if the system moves slower than forecast.




If you are anywhere along the gulf coast of Florida and Alabama I hope you are vigilant and preparing now. This system has bad juju written all over it. Hopefully it will be merciful. The southeast coast will not be spared the heavy rains and squally weather either so preparations are not confined to Florida.




Stay safe and prepared and look out for your neighbors and pets!




Dave






Saturday, August 26, 2023 07:41AM EDT - Tropical Turnup


Good morning all,




As we all in the Caribbean know, the tail of a strong TS or hurricane can bring heavy rains, flooding, surf and gusty winds as the system pulls away and that is what TS Franklin is throwing at a slow pace to Puerto Rico, Vieques, Culebra and the US/British Virgin Islands this morning. Franklin the drifter has had quite the meandering course however it is slowly getting his act together even though it looks on satellite imagery this morning like an extra large shrimp or embryo of sorts. Responsibility for that appearance is strong wind shear still hampering his consolidation efforts by pushing all the strong convection off to the east of the circulation. That shear however will drastically lessen and then Franklin has his chance. Current track has it passing to the west of Bermuda but a decent chance exists it could make a hit. The steering currents and how fast he can intensify will tell that tale in a few days probably Wednesday/Thursday with rapid intensification a decent possibility as well.




Ex-Gert is still lurking just east of the central Windwards while experiencing strong wind shear as well which is a very good thing due to its proximity to the islands. Still, as it struggles to get through the islands, he should produce gusty winds and periods of heavy rain. As Franklin strengthens and pulls away northward, Gert might even get to grab Franklin's tail.




92L: A fish storm in the central Atlantic forecast to move NE while being a threat to the fish and shipping interests. Should maybe reach mid TS status as it looks this morning.




93L: The other big story of concern. Now located close to Cozumel Mexico off the Yucatan Peninsula, this system is another drifter of sorts with the pseudo center located at times over land but this morning appears on satellite to be over the channel. The longer it stays over that high oceanic heat content, the stronger the potential for intensification quicker with a resulting stronger system.The Yucatan, Belize, and Western Cuba will receive blustery, squally periods with heavy rains including some flooding along with the Lower Florida Keys. After it exits the channel and enters the water of the Gulf of Mexico with its waters hotter than my pool, it's game on as to how much it intensifies, how quick it intensifies, and how fast it consolidates into a named system. The slower it does it should send it into the west coast of Florida and the stronger it gets then it's on to the Panhandle/Big Bend area or even further west a bit to Alabama. Either way, interests along that whole coast should be wary.




It is possible as not sure of intensity at landfall at this time, it could reach landfall as a Cat 1 but until it consolidates, that is unknown. What is known is storm surge will be problematic due to the large buildup of the population along a very low coastline. Evacuations will be probable. Where again unknown at this moment. The usual suspects of heavy rains, winds and flooding exist as well.

There are 2 silver linings to this system. It is expected to speed up thereby limiting its effects on land while bringing beneficial rains to the west coast in the grips of drought. A mid week event it is.





Stay safe and if you're not prepared, don't wait until Tuesday.




Dave.












Thursday, August 24, 2023 13:31PM PDT - Huh

I was gone for a few days on a little camping trip with no internet and a lot has happened during that time. When I left on Sunday Emily just became Emily. In the meantime 3 more storms were named! Glad that my namesake stayed out of trouble! Sorry for the wrong links here and there in the Tools section above. My scripts don't like storms forming out of order!

Now we are watching multiple systems (see below, taken from Brian McNoldy's blog). Franklin dumped quite a lot of rain in Hispaniola (over 9" locally!) and caused some serious flooding. Franklin might become a hurricane in 2 days while tracking northward. It should pass Bermuda at a relative safe distance on Monday/Tuesday at ~190 miles, but it will be a strong Category 2/almost Category 3 storm by then, so keep an eye on this!

Invest 92 is still out there in the Atlantic as well, it might become something, but even if it does it should veer northward well before it reaches the islands.

There is also a system that is in the Pacific that might pose a threat for the western Caribbean. It is expected to cross eastward over Nicaragua into the Caribbean Sea and then go north, towards the Yucatan. Hopefully it will not go too far to the east to affect the Cayman Islands. But this is all still too early to tell.

The other 2 storms on the image below won't affect us. The remnants of Emily might become Emily again though. The G-storm is not a threat to us either. Stay safe everybody! -Gert
Tuesday, August 22, 2023 21:44PM EDT - Franklin, Harold and the Remnants


Good evening,




Sounds like a 50's band lol.




TS Franklin is the most important one affecting the Caribbean right now with life threatening flooding it's main objective over the DR, Haiti with a trailing tail like most tropical systems have, lashing the ABC Islands off the northern coast of South America with Aruba seeming to take the brunt which by the way is very rare.




Although Franklin has diminished in intensity, he is expected to to maybe increase his intensity upon arrival in the DR. After encountering the mountainous terrain of the island, he is still expected to turn into a Cat 1 hurricane while also giving the eastern Bahamas and the Turks and Caicos a good drenching due to a more westerly reformation of his center. Franklin is a hard character to figure out having meandered for several days hovering about 3 mph while trying to get his act together before his turn to the north. It looks like he is starting that so tomorrow for the DR and Haiti, it will be rough rain wise, not so much wind wise. Puerto Rico will benefit from the center reformation to the west of the forecast models as the heavy rainfall which was first shared is not expected to manifest itself but the tail might have something to say otherwise down the road. That does not mean flooding is not possible in PR especially on the west side of the island so do not let your guard down. Wind shear has been our good friend with Franklin as he could have been a Cat 3.




Gert, off to the ESE of our northern Leeward islands, has now been relegated back to basically a small tropical wave with no expected affects landwise. Wind shear again, our friend plus a good amount of Saharan Dust drying out the atmosphere. Regeneration remote and Franklin looks to run into the remnants.




92L: looks to be a fish storm affecting only shipping lanes and the fish for now.




Former TS Harold, now TD Harold has moved quickly inland over southern Texas and is now centered in northern Mexico. Having moved in so quickly, much of the flooding previously forecast has not manifested itself however isolated pockets have received copious amounts of heavy rain. Nevertheless, drought stricken areas have been blessed with quick falling, soil soaking up rains.




Down the road as we head into the peak of hurricane season, models are picking up on some of the stronger waves currently on the African continent while El Nino has finally come out of her slumber and is strengthening. While a strong El Nino tends to suppress activity, the above average SST's combined with lower dust levels in the atmosphere can offset.




Stay safe and prepared!




Dave.
Saturday, August 19, 2023 07:44AM EDT - Calm to Wow


Good morning,




After a quick start ending with hurricane Don's meandering trek in the Atlantic, we have had about three and a half weeks of virtually nothing. Dry Saharan dust and wind shear had combined to squash anything from forming even with the SST's running above average. With a strong Bermuda high in place along with these characters, temperatures have been hotter, necessitating heat advisory issuance with minor to medium drought occurring as well. That looks like it's about to change. With 4 potential areas popping up like groundhogs in the last few days, there are 2 potentials down the road for different areas. One Caribbean and one for the GOMEX.




98L: Located approx. 16N, 37W, moving generally WNW about 10 mph, has the highest chance of development over the next few days but it will be short lived due to increasing wind shear. It has a short window to develop and is forecast to maybe make minimal to medium TS status. This system is not expected at this time to be any threat to the Caribbean or the mainland.




99L: Located approx 12.5N, 58W moving generally WNW about 10-15 mph also has limited potential and should not be a threat to any land masses except maybe Bermuda at this point due to steering currents, Saharan Dust and increasing wind shear. Again, potential for minimum TS status is there.




90L: About to enter the eastern Caribbean at low latitude, it will bring squally weather to Barbados, Grenada, Trinidad and Tobago, St. Vincent and the Grenadines, and as far north as Guadeloupe. Even the northern Lesser Anitlles could see some needed rains from this system. Down the road is where the ominous part will be apparent. If this system survives the graveyard of the eastern Caribbean, the SST bath water combined with potentially lower wind shear could pose a significant threat down the road as it heads WNW. Time will tell.




Soon to be designated 91L: Located from the Bahamas to Cuba, this system is bringing heavy rains to not only those areas but the northern Turks and Caicos as well. On satellite it appears to be a split system and the northern half is expected to bring heavy rains to south Florida over the weekend and then enter the Gulf of Mexico where things could get dicey. It's forecast to develop slowly and only reach TD status at this time due to it's fairly quick forward speed. However, if it slows down it will potentially take advantage of the spa like waters in the gulf. This is where the other possible ominous can happen. At this moment it's probable landfall areas are anywhere from northern Mexico to Louisiana. South Texas and Louisiana are experiencing drought conditions so if it develops or not, it will still bring beneficial rains. Problem is, what will it arrive as. Anything from undeveloped to a minimal TS will be the best scenario. Again, time will tell.




I have to mention, even though not in the Caribbean, California's first ever Tropical Storm Watch on record, courtesy of Hurricane Hillary now menacing the Baja Peninsula of Mexico and headed almost due north. By the time she is done, her remnant rains will reach Washington state plus potentially give Death Valley more rain in one day than it receives in 3-5 years. Flooding will be the major issue with this extremely rare event.




Lots to digest however, it is that time of year so please be prepared if you haven't already. These systems are a harbinger of storms upcoming and there's a few coming off the African coast in the next several weeks with more potential. Please remember my analysis above reflects what we know or anticipate at this time. Mother Nature likes to throw a curveball now and then.




Stay safe and prepared! Have a good and safe weekend!




Dave






Friday, August 4, 2023 13:32PM PDT - El Nino vs. High SSTs

Yesterday Colorado State issued their final forecast for Atlantic hurricane activity. The research team, let by Phil Klotzbach kept the same numbers as with their previous forecast: 18 named storms (14.4 is normal), 9 hurricanes of which 4 major ones (7.2 and 3.2 is normal). So this means that an above-average season is expected for this year.

There is a strong El Nino happening in the Pacific, and this normally slows the development of storms in the Atlantic, due to increased vertical wind shear. However, we are also seeing record high sea surface temperatures in the Atlantic due to global climate change. The heat of the oceans fuels hurricanes. So in spite of an El Nino an above-average season is still expected, due to the high SSTs having a bigger effect. This does not bode well for the future, SSTs will continue to increase, El Nino conditions don't stick around forever, so you'd think there will be more, stronger and wetter storms ahead... Although the jury is still a bit out on this, esp. the correlation of number of storms and climate change.

For the Caribbean region the probability of at least one major hurricane tracking through the region (a big area) is 53% (normal is 47%). In the table below I summarized the chance of a major hurricane moving within 50 miles of a specific Caribbean island/country compared to the long term average (1880-2020) (taken from: https://tropical.colostate.edu/TC_impact.html). Note that some of the numbers are biased by area, for example The Bahamas. In any case, just one big storm in your backyard is more than enough. Even though probabilities don't seem that high, do prepare! -Gert
Probability of a major hurricane traveling within 50 miles
Sunday, July 30, 2023 10:55AM EDT - 96L/97L


Good morning,




Just a quick update on a Sunday morning.




96L, after ingesting a hefty amount of dry Saharan Dust which minimized convection severely yesterday, has rebounded somewhat on its northwesterly trek but is posed to prove no threats to landmasses in it's projected path unless it diverts and gives Bermuda a visit. Newfoundland may experience some good wave action but no serious direct threat to land there as well. The NE Caribbean islands will see diminished effects as well although rain would be a good thing.




Newly designated 97L, lurking off the SC coast, will have a short lifespan as well as it will accelerate north to northeast and be picked up by a front and carried out to sea. Wind shear is low and the waters conducive but this window is short lived.




Happy Sunday all. Stay safe and prepared.




Dave
Saturday, July 22, 2023 19:56PM EDT - First hurricane 2023/Emily as well?


Good evening,




After a sprint to the start of the 2023 Atlantic hurricane season followed by a typical early season snooze and an untypical El Nino non appearance, the first hurricane of the season has made its appearance aka Don. Don has been a wandering troubadour the last 10 days or so but has taken advantage of environmental conditions in the central Atlantic to attain the season's first hurricane designation. Fortunately for all of us on land, Don will not be an issue as he meanders towards the NE North Atlantic and degrades into history Monday night into Tuesday, maybe kicking up some surf towards Newfoundland eventually bringing rains to Europe and being a menace to North Atlantic shipping lanes.




95l. A low rider in the MDR with marginal possibilities but possibilities nevertheless. Halfway between Africa and the Lesser Antilles, 95L has diminished in appearance capacity today while retaining chances of actually becoming an Emily. Heavy SAL presence to the north and it's non ability to extract itself from the ITCZ will be its continuing debilitating interim factors. Wind shear is not a factor, unusual as well. Strong high pressure to the north will continue to force a westerly trek which actually might allow it to develop at least into a depression by the time it reaches the southern Lesser Antilles with upper possibilities of a minimal Cat 1 hurricane in 4-5 days since the pressure will not allow it to flow north into the heavy SAL layer, SST's are abnormally high and wind shear negligible. Barbados, T&T, St. Vincent and the Grenadines, plus Grenada should be on the alert as well as the ABC islands which normally do not have to be wary due to their low proximity latitude wise.




There are a few other waves that will be exiting the African coast soon. Season is ramping up and El Nino is still taking a nap and while the SAL layer may be excessive lately, the SST"s are excessive as well. Those heated up hot tub waters are pretty good at negating the other factors. Unless El Nino wakes up from El Sleepo, this hurricane season will possibly be historic in a very bad way. Not a doomsayer just being realistic.




Stay safe and really, be prepared.




Dave



Friday, July 21, 2023 09:55AM PDT - Emily?

A quick note from 71 degrees north... A new tropical disturbance (95L) in the Atlantic, about 1300 miles east, is approaching the islands. Sea surface temperatures ahead of the storm are well above normal, meaning possible significant strengthening. As of now this disturbance is expected to pass the Lesser Antilles around Tuesday as a tropical storm or Category 1 hurricane. Things can (and will) change, so keep an eye on this one! -Gert
Saturday, July 1, 2023 05:17AM PDT - Hurricane Models

GFS, UKMET, Cliper5, ... there are so many hurricane forecast models out there, plus the National Hurricane Center's own forecast. All using different methodologies. So which one is best? Apparently NHC is doing very well! Read more about model performcance and more on Jeff Masters and Bob Henson's blog at Yale Climate Connections. -Gert
Saturday, June 24, 2023 08:53AM EDT - Bret, Cindy and beyond


Good morning all,




I see Gert posted from his frozen part of the world expedition! Yes, the internet there is challenging to say the least. I was traveling yesterday too, hence no post from myself.




TS Bret is hanging on after a run at Cat 1 status, falling just short of achieving that goal by mere 4 mph as it menaced the central Windward Islands, making a direct landfall on the island of St. Vincent Thursday night and almost the same to Barbados first, missing a direct hit there by about 17 miles ish.




Fortunately, no deaths have been reported, directly or indirectly, while injuries reported so far have been on the minor side. The physical plant side included numerous power outages, landslides, heavy rains and surf, gusty strong TS force winds, and flooding. The rains were needed but not that fast and furious. St. Lucia lost over 1/2 of their power grid, while St. Vincent and the Grenadines experienced building damage. Trinidad flooded due to Brets feeder bands.




Bret is currently about 53 miles NNE of Aruba in the ABC islands off the South American coast which is experiencing a rare tropical event while receiving very beneficial rains not usually seen on his way to visit even Columbia, sticking out in the central Caribbean. After that encounter, Bret is expected to dissipate with his remnants possibly re energizing in the eastern Pacific.




At the same time, TS Cindy is doing her best to recurvature out to sea as forecast, thereby avoiding a collision with the Northern Antilles. Rain is definitely needed in this area so we are hoping for a few feeder bands to pass by as the body stays east and heads north on a possible encounter with Bermuda. However, that might not transpire as the bulk of Cindy should pass over 300 miles to the NE of the Lesser Antilles on Sunday.




A 60 mph TS, Cindy is expected to weaken as she treks on by to about 35 mph (back to depression status) on Wednesday. The chance of restrengthening though as it approaches Bermuda is a good possibility as wind shear will lessen. SST's are unusually warm for this time of year that far north as well so rejuvenation is on the table potentially after Wednesday. For the mainland US, the jet stream dip should keep Cindy from visiting Cape May and Coney Island.




The rest of the MDR (Main Development Region) shows several weak waves advancing across the Atlantic with more to come on the African continent. None expected to develop at this time. The unexpected early wave train arrival will continue not seen usually until mid August into early October when hopefully, El Nino will have awakened from his catatonic, unexpected slumber, and play a major, expected part in stifling tropical system development. Time will tell. The good part of these early season storms is it raises awareness and vigilance among the complacent of whom there are many. Hopefully this jolts those into preparation action as preparation is the key. A tornado can do the same damage a hurricane takes 10 hours to do in 2 minutes. The difference is you have time to see a hurricane coming, way before a strike. A tornado, not so much.




Stay safe and prepared!




Dave.
Friday, June 23, 2023 10:23AM PDT - Historic day apparently

I am currently on a research cruise in the Arctic. The internet is very slow, so I unfortunately can't post updates, websites are too slow to load and I am super busy as it is with the cruise. Luckily Dave is here as well to post updates! I'll be back early August.

I saw this on Brian McNoldy's blog though, that I thought was interesting: "Bret and Cindy usher in a historic day for the tropical Atlantic. Named storms forming in June are not that uncommon -- in the past three decades there have been thirty of them. But of those thirty, only two formed in the deep tropics east of the Caribbean (Bret 2017 and Bonnie 2022). Having two simultaneous named storms in June is exceptionally rare -- it's happened just once before in 1968 (Brenda and Candy). Now in 2023, not only are there two named storms during June in the Atlantic, they're active simultaneously and both formed from African easterly waves east of the Caribbean. This unprecedented event is undoubtedly enabled by the record-breaking ocean temperatures in the eastern tropical Atlantic and the related relative dearth of dry Saharan air plumes.

Read more on his excellent blog. Hopefully the developing El Nino will put a damper on hurricane activity later in the season! Stay safe! -Gert
Wednesday, June 21, 2023 07:40AM EDT - TS Bret


Good morning all,




If TS Bret had taken advantage earlier of the fairly, optimal for June, weather conditions of low shear, record setting SST's and lower than average Saharan Dust with accompanying dry air, then it's quite possible we would have had a record breaking Cat 2-3 hurricane approaching the Caribbean. Bret just couldn't break away from the ITCZ fast enough, staying a low rider until it was practically too late while also speeding along at 21 mph making it hard on himself to consolidate his power. However, with that said, TS Bret, now at 60 mph with higher gusts, is about to interact with the Windward Islands overnight tonight into tomorrow on his way to a predicted demise in about 5 days bringing flooding rains, high surf, rip currents and wind damage.




Currently TS Bret is about 612 miles to the west of the Windwards moving at a slower 16 mph and is expected to stay on a just north of due west course as he makes his way through the islands. Right now Bret looks to pass closest to Martinique about 2am Friday morning as a 65-70 mph high end TS. He still has a chance to reach Cat 1 status beforehand but an increase in wind shear and an ingestion of dry air gives him a shrimp like appearance at the moment, not your classic TS or hurricane appearance. TS watches are currently in effect for Barbados, Dominica, Martinique, and St. Lucia. First up will be Barbados with its closest interaction with Bret about 8 pm tomorrow night. 3-7 inches of rainfall will be the norm with isolated up to 10 inches. Flooding and landslides are a good possibility.




Bret's TS winds stretch out at the moment about 60 miles from the center but his effects will be felt up and down the island chain in the form of breezy to windy conditions and rains with seas running 8-15 feet. Air force reconnaissance is expected to investigate Bret this afternoon so better detail will be forthcoming after that information has been digested.




93L, trailing about 700 miles behind, is expected to become the fish storm that Bret was initially supposed to be, recurving OTS before a meeting with the northern islands. Behind 93L are 2 more waves with good possibilities not usually seen until late August and September. The train has left the station very early this season.




Stay safe and prepared!




Dave
Sunday, June 18, 2023 20:23PM EDT - 92L and behind


Good evening and Happy Fathers Day to all deserving Fathers,




92L still continues to dance the fine line of the ITCZ at 10W, hovering below for much of the last few days which means development, at any rate, is virtually impossible. Not to say it hasn't been done in history but if it wants to develop, it needs to make a break from it. This obviously will slow development down but since conditions are ripe at the moment, expect to see the jailbreak and TD status by Tuesday, maybe even late Monday night. Not very impressive convection at this time but it's structure looks pretty sound. Those conditions for ripeness are low wind shear. higher than average SST's for this time of year especially and just a hint of dry air ingestion instead of the Canadian smoke like in the NE US effect usually seen this time of year. Plus a few weak waves ahead of 92L have moistened the environment ahead, not by much but still a plus for development. Not to mention an El Nino, which has been verified now in effect in the Atlantic but appears to have fell asleep at the wheel momentarily.




Currently around 32W and about 9.8N, 92L's track is still filled with a bit of uncertainty. Most models now forecast a track through the middle of the Windward Islands into the tropical cyclone graveyard known as the Eastern Caribbean while a few still recurve it OTS (out to sea) before reaching the island chain. There will be a brief period, at the moment, forecast to have a short weakness in the ridge to the north, but that is expected to close rapidly. So, with this scenario. it jogs north following the weakness, then when the ridge re-strengthens, flatlines to the west. Obviously this is a forecast and not cut in stone. Changes will occur.




Changes will occur in intensity to as 92L many different forecast have it anywhere from a weak TS to a Cat 3 with some outliers saying Cat 4. Yes, a hurricane is possible due to those conditions mentioned above and we should all plan for the worst and hope for the best. This system is ripe with uncertainty at this time. If it does penetrate the mid islands and head to the graveyard chances are the graveyard will do it's dirty work with a much higher level of wind shear. That's not cut in stone yet either. This is a abnormally weird year starting off already. The African wave train is alive and well weeks in advance with fuel to play with.




Behind 92L is a very vigorous wave, probably soon to be 93L and several more getting closer to splashdown. 92L and the trailing wave are too far apart to interact and interfere with each other as are the waves not in contention yet. Off to the SW Caribbean there has been a consistent yet totally discombobulated large blob of heavy rains and tstorm activity in an area at this time of year we monitor closer than the Atlantic. Located off the coasts and interacting with Honduras and Nicaragua, it bears watching and if it pulls together will be expected to move north into the GOMEX. That won't be pretty.




Stay safe and prepared!




Dave.
Thursday, June 15, 2023 22:16PM EDT - Early Cabo Verde?


Good night,




It's a bit early to be talking about the potential for a Cabo Verde tropical system coming off Africa but this season is starting off a bit out of sorts as in abnormal. Saharan Dust levels, usually highest in June and July, have been at much lower levels so far than in May. Sea Surface Temperatures are way above normal for this time of year while El Nino, officially declared to be here now, is a relative non factor as it is still weak.




With that said, the possibility exists we could have a named storm, albeit weak as well at this moment in time, by the end of next week whose name would be Bret. The Caribbean is dry and in drought conditions with PR bad and the Virgin Islands, both US and British even worse. My yard on St. Thomas is about to grow tumbleweeds, the few freshwater ponds we have are dry while avocado trees are losing their leaves and fruitlings. A weak Bret, a TD or even just a strong lingering tropical wave would be very beneficial to the Eastern Caribbean rain wise but flooding would be a concern due to the initial baked hardness of the ground unable to absorb rapidly falling tropical downpours in a short period of time.




Not all of the models are in agreement yet as to whether it will form, fizzle or just be an in between. Too early to tell with plenty of time to watch as it moves to the WNW at about 10-15 mph. I'd normally say if it did form next week, it would go north of the NE islands but still bring good rains. The weaker it is, the more west it will travel but the high pressure to the north is pretty strong and even a weak TS might be steered more west, rather than curve to the NW. Overall, too early to forecast accurately but we will know more come early next week.




Now is a good time to check those preparations and supplies as Arlene should have roused interest and awareness previously but probably didn't due to the big conversations on El Nino suppressing the season. Folks it only takes one. Early or late. El Nino may be a hurricane/tropical system suppression event but these record setting SST's could invalidate El Nino's powers and then we could have a far more active season than anticipated. No alarmist here just sharing the possibilities down the road.




Complacency kills. So does non preparation and lack of supplies. So, be vigilant, stay safe and above all get and/or be prepared.




Dave.
Saturday, June 3, 2023 08:24AM EDT - Defiant Arlene


Good morning all,




Just an update on TS Arlene who is defying the odds remaining a low grade tropical storm in the face of high wind shear while also practically surrounded by very dry air. However, her survival is coming to an end today as a named storm as she is entering an area of higher wind shear while being shoved SSE (Very weird direction for a tropical system in the GOMEX and generating quite the conversation on social media) by upper level winds. Actually the social media conversation is good, meaning some are paying attention to this early season storm.




As Arlene continues her awkward journey, she could actually make a US landfall before being relegated to TD status by passing over the Dry Tortugas west of Key West. That will remain to be seen since, moving at a paltry 9 miles an hour, her chances of lasting that long as a named storm are minimal but not impossible. She has already defied the odds with the help of warmer SST's to the south of her formation.




The Keys, South Florida, Cuba, the Bahamas and maybe even droughty Jamaica will see between 1-5 inches as her remnants move SE later today. Isolated flash flooding will be a problem while her wind field shrinks.




The rest of the Atlantic is quiet and expected to stay so for the next week at least. In the Pacific, Guam is still mostly without power after powerful storm Mawar made an uninvited visit over a week ago and is now a heavy rainmaking TS over central Japan creating flooding and landslides with one confirmed death at this time.




Location, Location, Location, is a business tried and true constant. Preparation, Preparation, Preparation is a hurricane season constant. Never too early.




Stay safe and prepared!




Dave.
Thursday, June 1, 2023 19:19PM PDT - Start of 2023 Season

Well, it is June 1, that means the official start of a new season. Welcome back for the 28th (!) season that we are doing this! According to multiple seasonal forecasts (see earlier posts) this year is expected to be below normal. The main reason is the development of an El Nino event in the Pacific. This enhances wind shear above the Atlantic (everything is connected), which inhibits hurricane strengthening. So let's hope that holds true. Sea surface temperatures are well above normal though (see bottom image on the satellite imagery page), and since hurricanes get their energy from the heat in the ocean that might counteract some of the El Nino effects...

Right now we have a tropical depression in the northeastern Gulf of Mexico. It is not moving much, and with wind shear ahead it is not expected to live long. This is actually the second cyclone of the season. What happened to number One you might ask... Apparently that honor goes to a system back in January between the States and Bermuda. The storm, named invest 90L at that time, made actually landfall in Nova Scotia. A post-storm analysis concluded that this system had subtropical characteristics and was thus 'upgraded' to storm number One.

This early in the season we have to look at the Gulf of Mexico, eastern Central America and east of Florida for storm development. Usually not too much going on. See the image below of storm origins in the month of June from 1944-2019 taken from the climatology section.

I hope everyone is well prepared, or getting there. Even though it is forecast to be a below normal season, just one hurricane on your doorstep can be catastrophic... Preparation is key! Stay safe everybody! -Gert
- - - Storm origins June (1944-2019) - - -
Saturday, May 27, 2023 08:41AM EDT - 2023 Atlantic season on the doorstep


Good morning all,




With the 2023 start of the hurricane season knocking on the door, we are all thankful for a non early season start so far. May sometimes spins up a few early season surprises but looks like we will have a storm free pre-season.




A non tropical system off the coast of the Carolinas will plow west into the mainland today bringing no development with it while holiday plans in that area are sure to be dampened considerably. Elsewhere a large area of moisture will settle over the islands helping to further alleviate the seasonal dry season that is traditional before May. No development here as well.




Meanwhile the Pacific season starts two weeks earlier and has not failed to impress already with now Super Typhoon Mawar, a Cat 5 monster, barrelling towards Taiwan and eventually turning towards the Philippines and Japan albeit weaker. The US territory of Guam received major damage but no deaths or serious injuries reported as of yet. The eye passed 15 miles to the north as a weaker storm than upon approach as Mawar underwent an ERC or eyewall replacement cycle which dropped top wind speeds down to 130 mph thus sparing a Cat 5 direct hit. Assessments are still underway as 98% of the island lost power. The WPAC also looks favorable for more strong storm activity in June.




Strong El Nino years tend to suppress Atlantic hurricane formation and this season is expected to experience one by the heart of it. Counteracting that is warmer than average SST or sea surface temperatures, the fuel for the storms. Let's hope El Nino wins out. Remember though, it only takes one.




The time is now to prepare and review your hurricane plans, evacuation routes and supplies. Don't wait until it's too late.




Stay safe and prepared!




Dave
Sunday, May 14, 2023 15:03PM PDT - Cyclone Mocha, North Indian Ocean's strongest storm on record, hits Myanmar

Ugh, not looking good for Myanmar. Cyclone Mocha made landfall in Myanmar as a Category 4 with 155 mph winds. Just 8 hours before it peaked at 175 mph winds, a North Indian Ocean record! Same as Maria and similar to Irma (Irma maxed out at 180 mph). Read more on Jeff Masters' blog at Yale Climate Connections. -Gert
Friday, April 14, 2023 10:05AM PDT - Another forecast

Klotzbach et al at Colorado State issued their first forecast for the season. They also anticipate a (slightly) below average season. Although sea surface temperature are above normal, a 'robust' El Nino is expected to develop, which will make up for the higher SSTs. However, if no El Nino develops than we might be in for a busy season... Having said that, forecasts these early in the season are not that good, so we shouldn't put too much faith in them. It's still nice to read though that it might not be a too busy season, just like Tropical Storm Risk forecasted (see post below). However, we all know, just one hurricane in your backyard will spoil the whole season... We have to prepare, regardless of forecasts. Find the full forecast here and a nice discussion by Yale Climate Connections (Jeff Masters) here. -Gert
Wednesday, April 12, 2023 09:25AM PDT - Sargassum

Ugh, it looks like this is going to be a bad Sargassum year. Should we start tracking Sargassum blobs as well, like hurricanes? NASA Earth Observatory showed some satellite imagery, like the one below.

They write very succinctly the good and the bad of these blooms: "In patchy doses in the open ocean, Sargassum contributes to ocean health by providing habitat for turtles, invertebrates, fish, and birds and by producing oxygen via photosynthesis. But too much of this seaweed near the coast can make it difficult for certain marine species to move and breathe. When Sargassum sinks to the ocean bottom in large quantities, it can smother corals and seagrasses. On the beach, rotten Sargassum releases hydrogen sulfide gas and smells like rotten eggs. This has the potential to cause major issues for both marine ecology and local tourism.".

Hope we can find a more or less sustainable method to keep the Sargassum offshore. Too bad that now it has been reported widely that Sargassum accumulates heavy metals like arsenic and cadmium so they can't be used as salad or composted for fertilizing your vegetables... I do wonder though where those heavy metals come from. I think that the levels of heavy metals must depend on where the Sargassum was floating around before... -Gert
- - - Sargassum density March 2023 NASA - - -
Thursday, April 6, 2023 09:21AM PDT - A 'quiet' 2023 season?

Hallo and welcome to a new season! It is still a bit early, but today Tropical Storm Risk (part of Mullard Space Science Laboratory at University College London) has issued their first forecast for the season. They predict that this season will be about 25-30% below the 1991-2020 30-year norm and about 20% below the long-term 1950-2022 norm. Main reason is that weak El Nino conditions are expected this summer and fall. El Nino normally inhibits hurricane formation due to added wind shear for example. See the full forecast on their website tropicalstormrisk.com.

These early forecasts should not be taken too seriously, but El Nino/La Nina forecasts are actually a bit more solid, so if we will have El Nino conditions that would be good for us. -Gert
Maintained & moderated by: Gert van Dijken (gert@gobeach.com).
Weather discussions also by Dave McDermott, St.Thomas, USVI.
---