- - - 2013 Hurricane Season - - -
- Poof
From: R Petrillo M Puceta <mikenrenee at live.com>
Date: Sun, 28 Jul 2013 11:25:04 +0000
And TS/TD Dorian is no more...for now. It's still pretty windy around the darn thing (40mph) so I wouldn't want to be sailing near it, but it isn't a threat to any land sources at the moment.
Another month down!
Renee
---
- Zzzz
From: R Petrillo M Puceta <mikenrenee at live.com>
Date: Sat, 27 Jul 2013 20:37:36 +0000
I don't have much to add other than what Dave on the main page said. The storm has gone kaput. It's sort of even with St. Kitts right now, and still a few hundred miles away to the east. While it's still on a westerly heading, it's expected to turn north, so St. Kitts is unlikely to see anything from the this.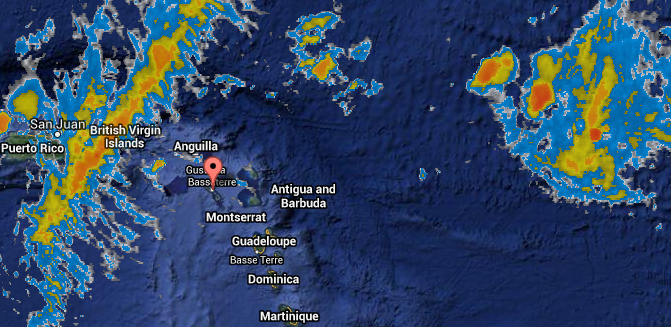 There's a bit of a mess over the Virgins and Puerto Rico that has nothing to do with Dorian, and you can see TS Dorian to the right there causing some rain (winds around 35mph). Let's hope the whole season in the Caribbean goes like this. I don't think any of us would complain if we skipped any drama this year.
Renee
---
- Still guessing
From: R Petrillo M Puceta <mikenrenee at live.com>
Date: Fri, 26 Jul 2013 12:22:15 +0000
Ok, so what's changed since my last post is the timing. If St. Kitts feels anything from TS Dorian, it's now looking like it'll be in the early am hours Monday. All but one of the spaghetti models are still showing the storm going north of St. Kitts, and the island has always been on the outer edge of the dreaded cone.
Most forecasts are for this storm to get beaten up over the next few days, and maybe even be downgraded to just a tropical wave as it passes by the islands, probably skirting them to the north. At the moment, it's a very tight/small system. If it stays like that, it won't have an overly large reach.
Although I'll keep my eye on it, I'm really not worrying about this thing. It might pull itself together later and threaten the T&C/Bahamas/US East Coast, but it's too early to play guessing games on that.
Renee
---
- TS Dorian
From: R Petrillo M Puceta <mikenrenee at live.com>
Date: Wed, 24 Jul 2013 16:54:45 +0000
Hi again,
I'm still looking out for St Kitts since Michael's still there and making me jealous. Now we have a system, TS Dorian, waaaay east. It's sped up a bit since the last time I looked at it (21mph) but is still slower than the last tropical storm. Winds are up too (50mph). This could look rather scary over the next day (thru Thursday) as nothing impedes its development, but most forecasts are for TS Dorian to eventually reach slightly colder waters and run into higher wind shears, which could pummel it to almost oblivion or...not. Whatever it ends up doing, the crux of it isn't predicted to come any closer than 100 miles to the northernmost leeward island (some predictions have it going much farther north), so at this point, I wouldn't be overly worried about this storm. Predictions are for rain starting late Saturday/Sunday though, so if you have weekend plans, you might want to move them up.
---
- Final Chantal Update
From: R Petrillo M Puceta <mikenrenee at live.com>
Date: Wed, 10 Jul 2013 12:56:15 +0000
It seems things went pretty much as reported. A few heavy downpours for a bit, hardly any wind. This morning, the radar for the entire island chain is pretty darn clear.
I had to laugh when I reread my last post. I hope no one "in" the ground on Nevis reported because that would be downright creepy.
The cone has shifted a bit to the west, bringing it closer to me here in Key West than was forecast yesterday. TS Chantal's still too far away though and has to hit Hispaniola first, where all kinds of things can happen. I guess I'll keep watching it and expect some rain over the weekend. Today's looking a bit soggy too, but I can't put off a grocery shopping trip any longer. There are times owning a moped isn't the most convenient thing.
Renee (The Babbling Conch)
---
- Break out the umbrellas
From: R Petrillo M Puceta <mikenrenee at live.com>
Date: Tue, 9 Jul 2013 18:40:56 +0000
Nevis should be under cloud cover now.
STORM SURGE...A STORM SURGE WILL RAISE WATER LEVELS BY AS MUCH AS 1 TO 3 FEET ABOVE NORMAL TIDE LEVELS IN THE LEEWARD ISLANDS ... WINDWARD ISLANDS ...
RAINFALL...CHANTAL IS EXPECTED TO PRODUCE RAIN ACCUMULATIONS OF 2 TO 4 INCHES OVER THE LEEWARD AND WINDWARD ISLANDS.
The system has gotten stronger (65mph), but it's also moving faster (29mph). If it keeps plowing along in this WNW direction, St Kitts should just get the dregs of the moisture surrounding this system, and nothing more.
I'd be surprised if this didn't just seem like another summer day in SKN, and this was just a test to see how prepared everyone was for hurricane season. If I get word that anything's changed, I'll post any reports I get from the island, but I'm guessing someone in the ground in Nevis will report in should there be anything pressing to relay. For now, you folks in St. Kitts & Nevis should expect to get a little wet any time now. I'm think I'm done until the next system.
---
- Crossing over
From: R Petrillo M Puceta <mikenrenee at live.com>
Date: Tue, 9 Jul 2013 17:07:34 +0000
While it looks like the islands that got hit first, should be in the clear soon. What happens in St. Kitts really won't be known until the storm starts moving northward. When these storms come up from the south like this, they tend to slow down around Puerto Rico and elongate eastward. Then we get cruddy weather for longer than we'd like as the system stalls before moving on. Hopefully the speed of this one negates this effect.
As of 12:45pm things looked like this:
Although some of these radars make things look terrifying, the Intellicast radar doesn't have much in the way of yellow or orange, which would indicate actual rain. The cloud cover (green) is still creeping northwest though.
Dinner-time could be interesting.
---
- TS Chantal
From: R Petrillo M Puceta <mikenrenee at live.com>
Date: Tue, 9 Jul 2013 14:52:18 +0000
I hear some of you miss me! Michael's in St. Kitts at the moment, so I've been keeping an eye on things (plus these storms occasionally veer towards Key West, so I've got my interests at heart too). So far, as it applies to the Leeward Islands, I give Chantal a shrug. It's still very fast moving, so hopefully it'll move on without leaving too much rain and gusty weather behind. Those islands that were supposed to bear the brunt of it (the Windwards) aren't reporting major issues yet either (see StormCarib's updates from
Dominica
,
Barbados
, and
Martinique
), although the storm is probably about 1/2 way over them).
According to the
Antigua & Barbuda Meteorological Services
:
TROPICAL STORM CONDITIONS ARE NOT EXPECTED OVER THE LEEWARD OR BRITISH VIRGIN ISLANDS AT THIS TIME. HOWEVER THE CLOUD BANDS COULD REACH THE ISLANDS AND BRING ADDITIONAL SHOWERS OR POSSIBLY THUNDERSTORMS TO THE LEEWARDS LATER TODAY.
ALL RESIDENTS ARE URGED TO MONITOR THE MOVEMENT OF CHANTAL CLOSELY AND BE PREPARED TO ACT IF NECESSARY.
SMALL CRAFT OPERATORS SHOULD REMAIN IN PORT AND SEA BATHERS SHOULD AVOID THE WATERS TODAY.
Although I think their general forecast might be underestimating gust strengths, there isn't much to be overly concerned with:
Wx: Today (Tuesday): Partly cloudy at first with isolated showers, Becoming cloudy to overcast with scattered showers and the possible outbreak of thunderstorms.
Winds: East northeast and east 12- 18 kts with occasional gust in showers. East southeast 10 - 15 Kts overnight.
Seas: Rough with waves 7 - 9 on the Atlantic sides of the islands. A small craft advisory remains in effect. and small boat operators should remain in port. Sea bathers should also refrain from entering the sea.
At about 10:30am, some tendrils of moisture were reaching as far as Guadaloupe, but there wasn't much happening near St. Kitts or Nevis yet (
radar
).
Stay safe & dry folks!
---