- - - 2008 Hurricane Season - - -
- The Sun & The Wind
From: M J <mjstark at coqui.net>
Date: Wed, 6 Aug 2008 07:38:47 -0400
This, my friends, is The Sun, as seen this morning. A very bad photo indeed, but it doesn't matter, the facts are obvious. As you can see, it is trying to grow ANOTHER sun out of its head (considering axis, rotation and drift, that is its head, trust me on this).


The reason we know it is doing this is because it is trying to melt us with its new protrusion. Culebra is not the place to be wearing silk, for you potential holiday makers. Crumpled linen with artistic sweat darkened spaces on it will be quite acceptable. Otherwise, the water is beautiful, 18 hour submersion suggested.
Here is part of a sun poem, author, thankfully, unknown, that expresses my genteel feelings almost perfectly.

But, I sure put up a fuss.

With the heat.

That was no treat.

Here goes the hot sun again.

This day is only fun at cool night.

Here is The Wind. Defying all natural odds, along with Christina Rosetti's profoundly infamous poem (see below), I have captured a picture of the wind...actually, this is a very small breeze, sent to tease us into believing it will not be totally still and literally breath taking as the day goes on.



As is known, I NEVER complain about the heat. I can't stand the obvious - I mean we live in the freaking Caribbean, it's summer, it's HOT, get over it. But for those who can't control themselves, who, bathed in a fine layer of sweat and dust with a little ash thrown in for skin enlivening helpfulness, this post is to simply acknowledge the local conditions so that when you are driven to stand endlessly in Milka's/Post Office/Bank, soaking up the a/c and clogging the aisles for the rest of us to scoudge around you, we understand. For a few minutes. Now, back outside! Courage!

As promised:

Who Has Seen the Wind?
Christina Rossetti

Who has seen the wind?
Neither I nor you:
But when the leaves hang trembling
The wind is passing thro'.

Who has seen the wind?
Neither you nor I:
But when the trees bow down their heads
The wind is passing by.



---
- TS Edouard
From: MJ <caribemj at gmail.com>
Date: Sun, 3 Aug 2008 18:15:52 -0400
I wasn't going to post about this system until it went from ho hum to oh my very quickly and I thought about friends who have friends and family in the Texas/Gulf Coast area. So here's a head's up in case someone isn't paying attention...prepare for the worst, hope for the best. I'm reading about people saying, yeah, guess I better start getting ready...people should BE ready, except for the boarding up!
So for your for family and friends, if they aren't on it already, here is the latest:

TCPAT5
BULLETIN
TROPICAL STORM EDOUARD SPECIAL ADVISORY NUMBER 2
NWS TPC/NATIONAL HURRICANE CENTER MIAMI FL AL052008
500 PM CDT SUN AUG 03 2008

...DEPRESSION STRENGTHENS TO A TROPICAL STORM...THE FIFTH OF THE
SEASON...

A TROPICAL STORM WARNING REMAINS IN EFFECT FOR THE LOUISIANA COAST
FROM THE MOUTH OF THE MISSISSIPPI RIVER WESTWARD TO INTRACOASTAL
CITY. A TROPICAL STORM WARNING MEANS THAT TROPICAL STORM CONDITIONS
ARE EXPECTED WITHIN THE WARNING AREA WITHIN THE NEXT 24 HOURS.

A TROPICAL STORM WATCH REMAINS IN EFFECT WEST OF INTRACOASTAL CITY
TO PORT OCONNOR TEXAS. A TROPICAL STORM WATCH MEANS THAT TROPICAL
STORM CONDITIONS ARE POSSIBLE WITHIN THE WATCH AREA...GENERALLY
WITHIN 36 HOURS.

FOR STORM INFORMATION SPECIFIC TO YOUR AREA...INCLUDING POSSIBLE
INLAND WATCHES AND WARNINGS...PLEASE MONITOR PRODUCTS ISSUED
BY YOUR LOCAL WEATHER OFFICE.

AT 500 PM CDT...2200Z...THE CENTER OF TROPICAL STORM EDOUARD WAS
LOCATED NEAR LATITUDE 28.1 NORTH...LONGITUDE 88.0 WEST OR ABOUT 95
MILES...155 KM...SOUTHEAST OF THE MOUTH OF THE MISSISSIPPI RIVER AND
ABOUT 420 MILES...675 KM...EAST OF GALVESTON TEXAS.

EDOUARD IS MOVING TOWARD THE WEST NEAR 6 MPH...9 KM/HR...AND
A GENERAL MOTION TOWARD THE WEST OR WEST-NORTHWEST IS FORECAST
DURING THE NEXT COUPLE OF DAYS. ON THE FORECAST TRACK...THE CENTER
OF THE CYCLONE WILL MOVE PARALLEL TO THE LOUISIANA COAST TONIGHT
AND MONDAY...AND APPROACH THE UPPER TEXAS COAST ON TUESDAY.

MAXIMUM SUSTAINED WINDS ARE NEAR 45 MPH...75 KM/HR...WITH HIGHER
GUSTS. SOME ADDITIONAL STRENGTHENING IS FORECAST DURING THE NEXT 24
HOURS...AND EDOUARD COULD BE NEARING HURRICANE STRENGTH BEFORE
LANDFALL.

TROPICAL STORM FORCE WINDS EXTEND OUTWARD UP TO 35 MILES...55 KM
FROM THE CENTER.

THE LATEST MINIMUM CENTRAL PRESSURE REPORTED BY RECONNAISSANCE
AIRCRAFT WAS 1002 MB...29.59 INCHES.

TIDES OF 2 TO 4 FT ABOVE NORMAL TIDE LEVELS CAN BE EXPECTED IN THE
WARNING AREA IN AREAS OF ONSHORE FLOW.

EDOUARD IS EXPECTED TO PRODUCE TOTAL RAIN ACCUMULATIONS OF 1 TO 2
INCHES ALONG THE THE LOUISIANA COAST WITH POSSIBLE ISOLATED MAXIMUM
AMOUNTS OF 3 INCHES. ONCE THE SYSTEM MOVES TO THE UPPER TEXAS
COAST...TOTAL RAIN ACCUMULATIONS OF 2 TO 4 INCHES WITH ISOLATED
MAXIMUM AMOUNTS OF 6 INCHES ARE POSSIBLE OVER SOUTHEAST TEXAS.

REPEATING THE 500 PM CDT POSITION...28.1 N...88.0 W. MOVEMENT
TOWARD...WEST NEAR 6 MPH. MAXIMUM SUSTAINED WINDS...45 MPH.
MINIMUM CENTRAL PRESSURE...1002 MB.

AN INTERMEDIATE ADVISORY WILL BE ISSUED BY THE NATIONAL HURRICANE
CENTER AT 700 PM CDT FOLLOWED BY THE NEXT COMPLETE ADVISORY AT 1000
PM CDT.

$$
FORECASTER FRANKLIN/BLAKE

--
Save What's Left!
Attachment: GOES21152008216X5EaSZ.jpg
Description: JPEG image
---
- Rain come update
From: MJ <caribemj at gmail.com>
Date: Sat, 2 Aug 2008 09:55:55 -0400
Oh my!! We certainly did get some rain, waves of hard rain, along with lightning and thunder. A couple of thunderclaps strong enough to shake the air and the walls and the world. It was the beautiful excitement of a storm that holds no destruction in itself.
But just as I started cooking a good rainy day stew, the rain stopped and the sky has started clearing. I was all settled in to not go to the cart and I may not go anyway...no doubt Lake Island Woman has swamped the street and ground under the cart and will take a while to drain off. Yes, that's a good excuse! And it might go to lightning again, yes it might!

In the grey, soft light, every color is vividly bright, each blade of grass, each leaf, each bloom seems almost to glow from a new infusion of clean, lovely rain. Amazing stuff, sky water.

Oh...and it's slightly raining again...guess I'll keep on cooking...and reading...and put on another pot of tea.

(wonderful explanation of shooting/falling stars...I'm glad we aren't the only ones who get questions like that!)

--
Save What's Left!
---
- Light, Color, Noise
From: M J <mjstark at coqui.net>
Date: Sat, 2 Aug 2008 06:25:34 -0400
I woke up to lightning and thunder, but no rain, though it had rained during the night. The thunder booms closer and it looks like we're in for some more rain in awhile, no complaints. The coolness is wonderful!
98L left the scene, then came back, called 99L. It's still out there losing and gaining both strength and latitude. Forecasts give it a chance, so it is good to keep an eye on it, even so far away.
While writing this, there was some bizarre and beautiful morning light, now covered in grey. Off to the south east are clouds filled with lightning flashes, but I'm not skilled enough to capture them.
in minutes it was a changing wash of color and then poof, gone to grey...and right now, the rain is starting. Could be a Closed Others day if the radar view is right.
---
- Culebra Rainfall Data
From: "William Kunke" <wkunke at verizonmail.com>
Date: Fri, 1 Aug 2008 09:38:22 -0400

Good Morning,   Culebra received a wonderful shower of 0.7 inches 
yesterday to round-out our July total at 3.9 inches of rain.  Most 
of that total came at the beginning of the month, and yesterdays 
rain broke-up our "mini drought" here.  It also settled a lot of 
the Montserrat ash that had fallen on Tuesday.

I attach the updated rainfall data, and a photo of Culebra's 
Flamengo Beach taken this morning,  William


-- 
--
you  at  usa.com
is available and 170 other free domains.
Sign up at www.mail.com


---
- At last!
From: MJ <caribemj at gmail.com>
Date: Thu, 31 Jul 2008 13:32:25 -0400
Jealously reading the reports of those down island getting rain, watching the radar and seeing all that lovely rain falling into the sea, while it was so hot here, with the heat that has you take three showers in a morning, finally just tossing the damp towel over yourself with the fan blowing over it - island air conditioning...
when the room grows darker, the heat suddenly abates into coolness, the wind picks up and thunder is heard not far away. There on the horizon, is the rain coming in, all the way in, to pound on the roof, fill up the buckets and give relief to everything grown dry and thirsty, including me. That was when I remembered I forgot to shut the small windows in the houseboat when coming in this morning. That was when I knew how much this rain was being appreciated...I didn't care!
It is slowing down now, the thunder rolling farther away. It looks like there will be more, or maybe not, but this has been so good; we'll take what we can get. Finally!

--
Save What's Left!

---
- 98L and us
From: M J <mjstark at coqui.net>
Date: Wed, 30 Jul 2008 08:15:37 -0400
98L is located right off the coast of Africa around 14N (that's good for us, as it means if it tracks WNW it should go above us long before reaching us - that is the plan and it better stick to it!) and is labled orange, meaning medium potential for development at present, with a head's up to the Cape Verde islands.Thanks for explaining the grit, William...it's EVERYwhere and my eyes are not happy.
We are labled high and dry. Ok, That label is from me. The official forecast is saying we might/maybe/perhaps/could get some rain from the tropical wave approaching. We'll be waiting.
In the meantime, and completely unrelated to the weather (except emotional weather), two pit bulls are running around my yard and neighborhood, a blonde male and black female, no collars. The blonde is very friendly, VERY friendly, the black a bit more shy. If anyone knows who they belong to, let them know they are in the neighborhood by the old Las Delicias, chasing chicken and seriously ticking off the Cat Who Isn't Mine, keeping both of us indoors for now. Obviously, this is just for Culebra folk, but I want these dogs, friendly as they seem, gone!
I know some of you, after having your afternoon cocktail, sit around pondering the state of the world "Gosh, I wonder what's going on with the Olympics and all the bans that are coming down? Did you read the latest on the economy, we need to tighten up the belt buckle... And how are MJ's orchids doing?"

Here is the answer:

---
- More Montserrat Activity
From: "William Kunke" <wkunke at verizonmail.com>
Date: Tue, 29 Jul 2008 13:35:45 -0400
Good Afternoon,  

Montserrat reports more activity and ash clouds headed to PR:
-------------------------------------------------------------------------------------------------------------------------------------------------
Montserrat Volcano Observatory

Activity Report ? 29 July 2008

 There has been a partial dome collapse on the west side of the Soufriere Hills 
Volcano.

 The collapse started at 11:27 pm local time on Monday 28th July 2008 without 
any precursory activity. Part of the western side of the lava dome collapsed 
generating pyroclastic flows that reached Plymouth and the sea.

 There were also a few explosions from the dome during the collapse, with the 
largest at approximately 11:32 
pm.


SATELLITE IMAGERY SHOWED A LARGE AREA OF ASH
ESTIMATED UP TO FL250 MOVING TOWARDS PUERTO RICO
WHILE A RESIDUAL AREA OF ASH TO FL360 COVERED
GUADELOUPE.  A NEW EMISSION EXTENDED 15 NMI WEST
OF THE SUMMIT AT 1215Z AND WAS ESTIMATED TO
FL120. ..
 The height of the ash column was estimated at 12 kilometres (40,000 feet) 
above sea level.

-- 
--
you  at  usa.com
is available and 170 other free domains.
Sign up at www.mail.com


---
- Gritty Eyes?
From: "William Kunke" <wkunke at verizonmail.com>
Date: Tue, 29 Jul 2008 07:40:37 -0400

Good Morning,   If you like I have been waking up with eyes full of 
grit, this is the cause.  Besides our regular dose of Sahara Dust, 
we again have Montserrat acting-up.

After early July rains, the last two weeks have been dry and we 
again need rain.  The island remains green, but our cisterns and 
tanks need some topping off.

More Volcano/Ash reports at:   http://www.ssd.noaa.gov/VAAC/messages.html
-------------------------------------------------------------------------------------------------------------------------------------------------

ASH SEEN MOVING IN MULTIPLE DIRECTIONS. ANY
VA MOVING  SE WILL DISSIPATE FIRST.  A WEAK
HOTSPOT CAN BE SEEN IN MULTISPECTRAL IMAGERY.


-- 
--
you  at  usa.com
is available and 170 other free domains.
Sign up at www.mail.com


---
- Hold on to the cool
From: M J <mjstark at coqui.net>
Date: Sun, 27 Jul 2008 08:36:49 -0400
I went for a early dawn walk with a friend of mine and her dog, our mission to find a large, roaming goat herd she usually sees along the way, so I could take pictures. We could hear the goats but didn't see them... Instead we saw blooms and sparkling water, lots of sailboats still here from the Around the Island race yesterday anchored out at Dakity, and a couple of dead things that this other dog who joins the walk every morning found way too interesting for my pre-tea sensibilities. But it was easy to move on and find something beautiful to look at instead...(thanks for the call & the red mangrove sighting, mi amiga!!)
The temp was still cool, with a nice breeze that kept me from dripping sweat as we headed up the one hill that marks the turnaround spot. A good way to start what looks to be another clear, hot day in Paradox.


Happy Sunday! 

---
- Afternoon update
From: MJ <caribemj at gmail.com>
Date: Fri, 25 Jul 2008 15:47:35 -0400

The blob off Africa is poofed, while 97L came back to life. The good news is that 97L is now around 18.3 (just about even with us in PR) but hundreds of miles to the east and expected to move wnw or nw on the track, hopefully ending up a fish storm and bothering no one. We'll see what happens. Hopefully, nothing.

--
Save What's Left!

---
- Where's the water?
From: MJ <caribemj at gmail.com>
Date: Fri, 25 Jul 2008 07:10:31 -0400
As yesterday's morning silence filled in with bird song, and the clanging of trucks, the sky was brilliant blue, filled with many cotton ball white towering clouds. Eventually, those clouds darkened and it looked like MAYBE there would be rain, but apparently it all went to the big island, leaving us hot and parched, even in the midst of a beautiful day.

A friend drove by me at the cart, yelling out her window that if I wanted a shower I better head home as the water was being shut off within the hour. This is not unusual during a holiday weekend (nor is running out of gasoline, etc. and yesterday was a first when the bank ran out of ones, the rush before four days of no banking) and this is a four day, last blast of summer weekend here in PR, but doesn't usually happen until Saturday or Sunday, sometimes Friday, but not on Thursday! I didn't race home to take a shower, having just had one before I came to town. Being literally low down here, I still get a bit of water when most everyone else has none, so I never know for sure if the water is off, or if they just lowered the pressure. Later in the day I was told, by someone who went to the Water Dept. to see what was going on, that we are on water rationing, as the water situation on the big island is very low, due to lack of rain. Here on Culebra our water is piped to Vieques, a neighboring island, and then to us, so how things go over there affect us pretty quickly over here! I'm not sure what the hours are right now, that is today's mission. I thought the water was coming on at 6 a.m. but apparently not, as now I'm down to a bit more than a trickle.

Today's holiday is Commonwealth Constitution Day, An official Commonwealth of Puerto Rico holiday. S Formerly called Occupation Day, commemorating the anniversary of the landing of American troops at Guinica in 1898.

Sunday is the birthday of Dr. Jose Celso Barbosa. Dr. José Celso Barbosa (1857–1921) was a medical doctor and an early advocate of statehood, founder of the Republican Party on the Island.

Most of us older types who live here do what we need to do in town and then get home to let visitors have the town & beaches. Soon enough we'll come back out again and get our favorite bar stools back, along with our favorite beach spots, as August goes quiet. May it stay that way weather wise as well (eyes to the east and whatever that rather large, slightly swirly looking blob off Africa does or does not become).

Hopefully I'll get a shower rather than a trickle before going to town, but a trickle will work! Oh wait, hooray! It's back on...my shoppers will be thankful and so am I!



--
Save What's Left!

---
- Silence...
From: M J <mjstark at coqui.net>
Date: Thu, 24 Jul 2008 07:50:23 -0400
As I write this it is VERY weird outside...absolutely silent. No roosters, no birds singing, I don't even hear a truck or car. Creepy! The clouds are building up and there is a slight breeze, the temps still nice and cool. If there was a system around, I'd be getting very nervous!

Dawn was glorious!

---
- correction!
From: MJ <caribemj at gmail.com>
Date: Tue, 22 Jul 2008 08:15:50 -0400
That should be "well defined" not "well organized". My oopsy!

--
Save What's Left!
---
- Play nice, Dolly
From: M J <mjstark at coqui.net>
Date: Tue, 22 Jul 2008 07:42:46 -0400
With Dolly, Cristobal and a "well organized" system rolling off Africa, as well as the remnants of Bertha blowing around, July has been a busy month early in the season. The officials in Texas are up and ready, calling for preps to be completed, as whatever Dolly does, evacuations can and have been nightmarish up and down that coast, and there really won't be time to do much once landfall is determined.
I grew up on the east coast of Florida and I don't remember evacuation being a word we ever brought up until I was in my late teens (I do remember "fill the tub"), when those little blue signs popped up here and there up and down A1A. I have no idea where they all led to, but apparently off our barrier island to some mainland place. It makes me glad we don't have those choices here, but rather, who has the strongest house and how many Tupperware tubs do I need?
This morning is calmly bright and beautiful, but the heat is already sucking away the coolness of the night. That isn't stopping the wild flowers though. I don't know what wild asparagus looks like, but this reminds me of that delicacy.
---
- Now and future maybe's
From: M J <mjstark at coqui.net>
Date: Mon, 21 Jul 2008 07:05:31 -0400
Up until 11 p.m. or so last night it was VERY warm, at least where I am, with barely a breeze. That sort of warm where you don't want any of your skin to touch any of your skin. Then it cooled off enough to turn down the fans, pretty quickly. Sleep comes soon, then!
This morning started off fairly grey looking, but right now the sun is blasting me in the eyes, from both sky and its water reflection as it comes over the hill (or the hill dips down to it). Here is part of the morning discussion out of SJ. I'm a little surprised at the 50% chance of rain, though I rarely put much stock in those percentages. Seems like SOMEthing should be going on though! (oh wait, there is, more on that in a second)


"Doppler radar showed a few showers moving across
the local waters through the overnight hours. An area of
increasing low level moisture could be seen over the Anegada
Passage. This area of showers will continue to move west northwest
and affect the northern USVI before sunrise and the eastern
portion of Puerto Rico by sunrise."


For the second TWO (tropical weather outlook) in a row, the NHC has come out with this statement regarding the wave not even OFF of Africa yet. I don't remember ever seeing them so bullish on something yet to emerge off the coast, so I'm paying close attention and passing the info along. Hopefully it will just dissapate. If not, it will be a few days before seeing what's up with its course, but good to be aware, as always.


A VIGOROUS AND WELL-DEFINED TROPICAL WAVE IS LOCATED OVER WESTERN
AFRICA A COUPLE HUNDRED MILES EAST OF DAKAR SENEGAL. THIS SYSTEM
HAS THE POTENTIAL TO BECOME A TROPICAL CYCLONE VERY QUICKLY AFTER
IT EMERGES INTO THE EASTERN ATLANTIC WITHIN THE NEXT DAY OR TWO.


This is about two hours old...I'm not sure where it's from (I got it from s2K) but I'm going to find out...world weather art!
---
- Mid-July
From: M J <mjstark at coqui.net>
Date: Sat, 19 Jul 2008 07:02:47 -0400
While the full moon-rise was delayed awhile by low clouds it was still pretty spectacular, with Mars glowing red as the opening act.
The fairly intense heat of the day turned to good sleeping weather coolness, even the mosquitos decided to take the night off, and I thank them!
Today looks to be a little cloudy but our chances for rain, unlike much earlier forecasts for this weekend, have diminished to not much reason for carrying an umbrella here. Of course, having written that, expect a downpour sometime today!


The full moon this morning...

---
- morning morning
From: M J <mjstark at coqui.net>
Date: Fri, 18 Jul 2008 08:25:33 -0400
In my dream I was standing halfway up a hillside, and looking *across the street* where five boys were tormenting a smaller boy. I yelled over to them to stop, they looked so surprised!...and slowly this upswell of applause started. I looked around and neighbors were outside, applauding because someone was finally saying something to those mean boys...when I realized it was, rather than applause, weighty raindrops, pounding on the tin roof. I think I counted 1372 of them before it quit abruptly. Looking at the radar, it was the very, very very fringe of 94L twirling by, looking like we'd have more from it, though that didn't happen. I don't think so, anyway! Now, hours later, it looks like the system is much more self contained (less bands spewing?), and affecting you to the way south end with some serious rain. Here, the sun is out, the air is barely moving. And tonight, the moon is truly full. Hope we can all enjoy it, where ever we are.
---
- Dry Tropical Wave
From: M J <mjstark at coqui.net>
Date: Thu, 17 Jul 2008 19:49:45 -0400
Today was gusty and very warm, the passage of a tropical wave a dry event as was predicted, despite a good clap of thunder mid-day. Lucky my tree cutter was not on a ladder, as my yip combined with the thunder could have been bad for the ladder if it fell. The skies looked ominous but it was apparent that rain would not be forthcoming. Little by little the bad trees are going away and the good trees have more room to stretch.
Tonight is breezy with cool air replacing the heat of the day, and a moon rise that while not quite full, looks like it anyway.


Aren't we lucky?

---
- Rain
From: MJ <caribemj at gmail.com>
Date: Tue, 15 Jul 2008 15:53:38 -0400
Happily, I'd already decided to have a Closed Others day at the cart so I could show exactly what trees I wanted cut blah blah...rain started at 9 and has continued on and off since then, almost getting sunny between showers. I checked the dinghy and even though it has seemed torrential and there is more water in there than should be, it wasn't nearly as bad as I thought it would be. Since it started raining while I was looking, I'll let it go until the next break, which might be right now...drip drip drip. Obviously, no tree cutting today!

Hopefully, 94L really is disintergrating and will just be a rain carrying wave passing by us. At least the NHC at 2 p.m. seemed to point in that direction. But being home, and sort of forced to be inside most of the day (a rarity), I've spent my time doing the pre pre stuff, that plastic tub filled with the stuff that I'll haul out of here to someplace considered safe as safe is. Those little objects, books, papers that hang around, almost invisible because they are just part of the walls, the space. But stuff I'd be sad to lose. Then there is the ton of generic stuff I really don't care about, thankfully. All replaceable, all pretty unimportant. "Do I care if this blows away? Nope. Won't touch it then." Lucky for me, I have no neighbors on the *first* wind side of me and the house rather far off on the other side isn't next to me but much closer to the road, so I can't hurt anyone if the whole place goes flying - at least I don't think so! It would be very hard to imagine that if I hadn't seen the aftermath of Andrew (I wasn't around here for Hugo, though I've seen the pictures - but as those who have been in a major hurricane know, pictures and reality bear little in common - those realities do cause you to think beyond your own space when you've seen an airplane wrapped around a tree...2 miles from where it was parked).

So a productive rainy day in Paradox enjoying the greening, the unusual cool temps, the sound of rain on the roof, the sight of the cat curled up like rainy day cats should be, while keeping an eye on what might happen next.

My brother just sent me an hilarious package that while he didn't say, was obviously filled with hurricane supplies. Powered lime juice, small packets of pancake mix, smoked oysters, sunflower seeds, pistachios (oops, they won't make it past this week), wine bottle stoppers, instant ice pack for injury packet, hair ties, a *deluxe 8 piece nail implement set* (hey, you never know when an extra pair of tweezers or tiny scissors might be needed!), a fly swatter, and what the hell is up with the box of prunes??? and a bunch of other stuff that made me laugh. Perspective is a beautiful thing.

--
Save What's Left!
Attachment: Zing!.jpg
Description: JPEG image
---
- Rain & more rain
From: M J <mjstark at coqui.net>
Date: Tue, 15 Jul 2008 08:20:43 -0400
Yesterday saw us drenched many times after a morning of sunshine. Enough rain to bail the dinghy twice, and do all the good rains do for the land and the cisterns. I don't know how much rain we got, but William does!
94L looking not quite as much a potential TD this morning, but still keeping a bit of potential alive. For an invest, it's been a bit of a cliff hanger with its unknown track and ability to strengthen to a hurricane according to some models.
Hopefully you folks in Bermuda only suffered the falling branches and road disruptions...Bertha has also kept so many of us on the edge of our seats!
Today a tree-cutter friend is supposed to come and clean up (and out) some weed trees that I've wanted to deal with for ages. It will be strange to have them gone, but I can't wait! I know the other trees in the yard will be happy and not hearing the scritch scritch of branches on my tin roof will be good also.
Everything responds so fast to rain here...in between showers I walked around the yard and practically saw things growing and blooming. This bush looked dead for months. Then last week, some tiny leaves...and now...
---
- Watchin' the weather
From: M J <mjstark at coqui.net>
Date: Mon, 14 Jul 2008 09:10:35 -0400

94L, you have our attention!


Yesterday we had a series of rain showers that stopped just in time for a *moving party* - what we do when a friend(s) is making a move. They were worried about the rain, but the universe co-operated and there was only a bit of mud to contend with. I think we broke all previous records by making the entire move in an hour. Amazing what good prep and lots of helping hands can make happen. Anyone familiar with the old Beverly Hillbillies show can imagine what the 3 pick-up truck convoy looked like.
Today has a lock on being incredibly beautiful. A nice mellow breeze, not crazy hot, and the steam of yesterday's rain aftermath has blown away. It's always amazing to me to have that little frission of concern about weather happening hundreds of miles away while at the same time, right here can be so perfect. Welcome to Paradox, again.
When I think I'm getting too worried about something I can do nothing about but be prepared, I take a look at the Cat Who Isn't Mine and remind myself to relax. She's got it down! This is her newest fave spot, a shelf on my porch - great breeze catcher, shade...and letting nothing get in the way of chilling out.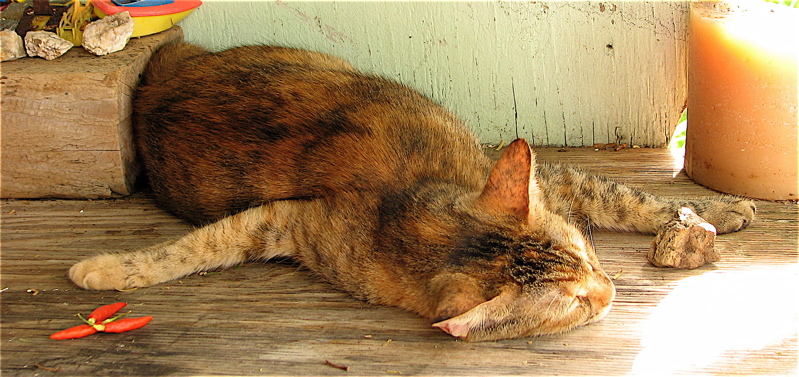 ---
- Teaser
From: M J <mjstark at coqui.net>
Date: Fri, 11 Jul 2008 07:45:59 -0400
While Bertha continues to play *will I come or will I go* with forecasters and Bermuda, we're having fairly typical summer weather, with occasional showers, light breezes and lots of heat. Combined with the showers, the island is looking greener than it has in months, with lots of new growth, grasses and flowers showing up everywhere. Joy joy! Right now it is very still and bright. Kind of like the Christmas song, but different.
The next *weather* is expected to come in early in the week with the tropical wave moving our way. We'll see what it brings to us, but the expectation for us is *maybe rain* more or less. Hmm, seems like I've heard that before.
Last night I kept hearing good PR music (as opposed to bad PR music, which for me means ANY music that inspires me to pound my head on the ground to make it stop). The house across the bay still has some big boats on the dock, as if they forgot to go home last weekend. They had their big boat lights on and the music blaring, so it was a good thing to enjoy it. July is the holiday month in PR, so maybe they'll be around until the very end. I can live with that...don't change the music!
This guy is enjoying the new growth in some weed trees near the water's edge...instead of my gardens!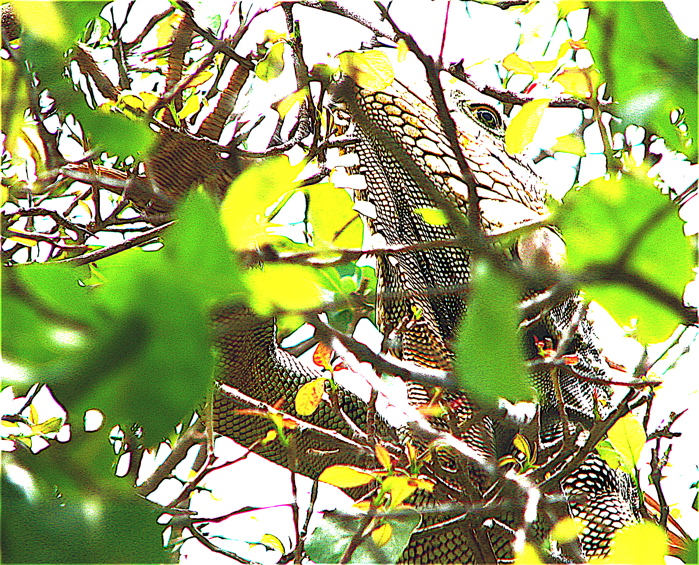 ---
- Early morning rain
From: M J <mjstark at coqui.net>
Date: Wed, 9 Jul 2008 07:03:19 -0400
"An area of scattered showers and isolated thunderstorms across the Caribbean coastal
waters...associated with a divergence pattern aloft moved to the west overnight and early in the morning affecting Vieques... Culebra..."

This is the tech talk for what came through about 12:30 a.m. as one of those slashy, very wind driven rains that shakes the walls. Knowing Bertha was far away, I enjoy that sort of storm, even while wondering about the roof of my not quite sturdy dwelling. It probably lasted less than ten minutes and there wasn't much rain, according to the dinghy, but the rain gutter re-filled my garden watering bucket, so I got entertainment with a bit of a thrill, and garden treats along with it! Along with a cooling off, which made going back to sleep easier.

Bertha is still to the east of us, expected to pass over 600 or more miles to the north this afternoon; there is mention of some bands slightly affecting us. The swells will be in the 7 foot area and I'm glad I'm not going to need to be on the ferry today (yes, Karen, it would be an argh on the way home).

The sky is now much different than it was as shown at dawn, washed out blue with a lot of puffy clouds. There is a little breeze that I hope continues. Happy Wednesday!
---
- Betha's pre-wake
From: M J <mjstark at coqui.net>
Date: Tue, 8 Jul 2008 10:43:09 -0400
Weather today looks to be gusty, with building swells coming from east northeast winds expected to be in the 15 to 20 knot zone. Surfers, get happy! There is a small craft advisory out, but I don't think surfboards count.
The infamous *chance of showers * always is possible as well, along with thunderstorms. I don't see it, but that doesn't mean it won't happen. So please wear the lightning deflector hat as issued on your arrival to Culebra. If you did not get the hat, find refuge in a local bar. It is almost exactly the same.
The sun is out, the sky is bright, washed out blue skies and hardly a cloud to be seen, right now.


A good day to practice sailing.




Though sunglasses up ahead might be a good idea...

---
- Bertha now a hurricane, maybe we'll get rain?
From: MJ <caribemj at gmail.com>
Date: Mon, 7 Jul 2008 07:39:15 -0400
Not a very good poem, but so it is. This is part of the discussion out of San Juan this morning, along with the expected location of Bertha to be around 500 miles NE of PR when passing. Ok, we can let THAT breath out now.
Hopefully, Bermuda will also get a miss.
Little bits of greened up grass is shooting through the brown in my yard, a first in months as the occasional rain has come through. Very beautiful to see, although my landlord just sees it as a renewal of getting the mower out. La la.


"Even though...we are not expecting this system to affect the local 
islands...detach moisture associated to the spiral bands of 
Bertha...moving westward just ahead of the system...will arrive to 

the eastern Caribbean by late this morning and then across the 
local islands late this afternoon and during the evening hours. 
Once this moisture gets here...expect showers and isolated 
thunderstorms to affect most of the eastern half and southern 

coasts of Puerto Rico tonight through Tuesday morning. The northwest 
section of Puerto Rico will get the shower and thunderstorm 
activity Tuesday afternoon. 


Moisture trailing the system may affect the local islands through 

late Thursday. Beginning Friday...typical Summer weather conditions 
are expected for Puerto Rico and local islands through the weekend. 


Next weather maker system to affect the local area may occur next 

Tuesday or Wednesday associated to a tropical wave."


--
Save What's Left!
---
- End of holiday, hopeful end of Bertha worries!
From: M J <mjstark at coqui.net>
Date: Sun, 6 Jul 2008 19:12:52 -0400
The long weekend is over, quiet descends as the parties give up and give in, with the PR big boats heading back to the big island since mid-afternoon. I heard the lines at the ferry dock started early in the morning - one guy said it looked like some people had camped out there to be first in line. Usually they make a number of extra ferry runs after a big holiday weekend, but people sometimes do have to spend an extra night. Most take it as an excuse to keep on partying, but most here are usually worn out from the extra everything. A good kind of feeling in a tired kind of way.
Today was blustery, with a good squall that lasted all of five or six minutes - just enough to halfway close the cart - then sudden sunshine to open up again (lucky for you, Steve! hope you enjoyed that hot pepper sherry with those oyster/clams). Bright blue skies and good breezes dominated the rest of the day It is more calm now, with occasional gusts, maybe even the weather is a little tired of putting on a show.
This canal has a low bridge, with a jump in restaurant, and a turn off to the gas dock. During holidays, it gets pretty interesting/entertaining (for me anyway, I'm at the end of the bridge and just get to watch)! Especially when a boater misjudges the tide, the height of their tower, how to tie up or...is just...pre-occupied and forgets the bridge doesn't really move.
It looks like Bertha, while getting stronger, is also going to make her turn, as expected. A good thing and hope it was a good kick in the prep dept. for any who needed (or still need) that.
---
- Waves and more waves
From: M J <mjstark at coqui.net>
Date: Sat, 5 Jul 2008 09:15:13 -0400
Out at Flamenco beach this morning the wave passing by was pouring rain out at sea. The water is still cooler than I've ever felt it for July (you hear that, Bertha? too cool, you don't want to visit!). There are more waves on the way. Well, it is that time of year!
Naturally, we all have our eyes turned to the east as Bertha drops slightly south in its trek to the west. It will be a few days for the forecast to be closer to accurate. We'll see what we see.
The island is full of holidaying families and tourists - boating & beaching. Happy Saturday!
---
- TWO Becomes BERTHA
From: "SV Prudence" <sv.prudence at gmail.com>
Date: Thu, 3 Jul 2008 11:34:33 -0400
Culebra Harbor Weather
Date: 03-Jul-2008
Time: 1130 AST
--------------------
Air Temperature: 86 °F
Wind Speed/Direction: 16 knots ESE
Water Temperature: 83.1°F
Barometric Pressure: 1033 mbar
Clouds: cumulus
TWO Becomes BERTHA
At 5AM this morning, our friend invest 92L became tropical depression TWO. Just moments ago (11 AM) she got a proper name, BERTHA. Folks, we are now looking at a Tropical Storm. At the moment, the projected path appears to keep her well clear of Culebra, but she is still a long way away. We will be keeping a close watch of her progress across the Atlantic in the days to come.
In other weather news, our pre-bedtime check of the Graphical Tropical Weather Outlook last night showed a new player, Invest 93L. It was a yellow circle knocking at our door to the south. I expected that we might see some bands of rain and wind last night or this morning, but nothing has reached us at this time. I sit here writing these words under mostly blue skies and reasonably calm conditions. Hopefully, we will simply watch 93L fade in our rear-view mirror as the system continues westward.
Doug
-aboard the sailing vessel Prudence
Personal blog: http://www.sailblogs.com/member/ashiya/
---
- Lots of Rain
From: "SV Prudence" <sv.prudence at gmail.com>
Date: Wed, 2 Jul 2008 07:45:13 -0400
Culebra Harbor Weather
Date: 02-Jul-2008
Time: 0735 AST
--------------------
Air Temperature: 81°F
Wind Speed/Direction: 8 knots SE
Water Temperature: 81.7°F
Barometric Pressure: 1033 mbar
Clouds: few scattered cumulus
Lots of Rain
Yesterday brought us the single biggest rain day since we have arrived here in Culebra in March. We had to bail out the dinghy three times between early afternoon and evening. I guess the rainy season is now upon us.
Today, light winds and barely a cloud in the sky. Just keeping an eye on Invest 92L, and hoping that it becomes a little less organized.
Doug
-aboard the sailing vessel Prudence
Personal blog: http://www.sailblogs.com/member/ashiya/
---
- p.s
From: MJ <caribemj at gmail.com>
Date: Tue, 1 Jul 2008 21:06:02 -0400
I'm anxious to see how much rain William measured...seems like we may have made up a few months in one day!

--
Save What's Left!
---
- Rain down, 92L up
From: MJ <caribemj at gmail.com>
Date: Tue, 1 Jul 2008 21:02:57 -0400
I spent the day on the big island, finishing up my hur... supply buying (more line, batteries in the cheaper bulk packs, bulk tinned stuff, etc). A call from here told us it was raining like mad. On the way over, I watched about 4 layers of clouds, all different kinds (and of course, no camera), going in different directions at different levels. But no rain until heading back to the ferry about 3, one good blasting one and little on and off ones...on the ferry it was much the same.

Back here the rain was only off and on by the time we landed, but water was flowing in the streets and mud is thick and deep. My dinghy had about 50 gallons of rain in it (bail first, put groceries away later). A guy who keeps his dinghy at my little dock was there to bail his as well; his was almost swamped.

Then, onto the internet and we have invest 92 off the coast of Africa...usually much too far to call for an invest but the honchos think it bears watching. On another weather forum I check, there is interest (unofficial!!) in a system near the bottom of the island chain.

If you aren't ready, get ready. You know my H season mantra - prepare for the worst, hope for the best and enjoy each day along the way.

This is the system the unofficials are interested in, along with the orchid surprise I got from the rain.

--
Save What's Left!

Attachment: 476.jpg
Description: JPEG image

Attachment: outrageous.jpg
Description: JPEG image
---
- Continued Drought for Culebra
From: "William Kunke" <wkunke at verizonmail.com>
Date: Tue, 1 Jul 2008 07:02:14 -0400

Good Morning,   As you can see by the attached chart, Culebra 
continues to have a drought since January, with less than half the 
average rainfall per month.  Our 6 month average is 14.3, with only 
8.5 inches for the first half of 2008.

More info at:      http://wkunke.myeweb.net/


-- 
--
you  at  usa.com
is available and 170 other free domains.
Sign up at www.mail.com


---
- What can I say?
From: M J <mjstark at coqui.net>
Date: Mon, 30 Jun 2008 16:52:50 -0400
The weather is weird. Waves passed below us, another one on the way. Supposed to be no rain, we get dribbles and drabs. Right now the sky is washed out blue, but yesterday and most of today was sort of...nothing. Good breeze, some gusty enough to play with the cart umbrella and the overcast kept the heat down, but that strange feeling in the air like *something* should happen. But it didn't.
Right now the air is fairly calm, with sporadic gusts that have a tree branch knocking on my roof (gotta climb up there and cut that),the sun is out. But there is still that feeling, though not as strong as yesterday, that this is a build up to something else. Hopefully, that means it will rain. Not so good, that is supposed to happen this weekend, the 4th of July. While Culebra doesn't do much for America's Independence Day, it is still a holiday and with fuel prices what they are, Culebra is a good holiday destination. We'll see what happens.


This is from this morning...

---
- Flukey day
From: M J <mjstark at coqui.net>
Date: Sat, 28 Jun 2008 16:47:05 -0400
I started the day as usual: feed the cat, make the tea, water the garden, camera in hand, not much going on. Then a call, "You awake? Want to go to Flamenco?" Sure. It was already hot at 7:00 a.m. and a walk and swim sounded good. In June, there is usually no one at Flamenco, this morning there were maybe 20 people in water and on sand near the life guard(less) towers. Campers? No idea. But Flamenco is big and a good walk toward the Shark Pens meant no one around but the gulls. After a cool swim - and I do mean cool, the water was not cold, but it WAS surprisingly cool considering the heat we've had, and that's a good thing - it was time to get to work (ok, first, home & shower). Buck the half on the sidewalk ride through the trench guys (oh PLEASE round that corner soon, it's getting scary!) and open up. A wonderful breeze was blowing hot air under sun filled blue skies. Then overcast...then blue. But all the while sort of sticky with humidity, and dusty.


I think three drops of rain just fell.


We haven't had the horror stories of some of you from the wave that went through...a couple of boats went aground in my little bay but are set to rights now.
Tonight the circus is in town and I am going with a group of friends. I can pretty well guarantee that this is going to not be anything close to a mainland US circus. BUT the headliner is The Spider Lady and that alone is enough to get me to fork over the entrance fee. A little car has been running around the island (oh my, it's RAINING!! oh..it stopped) with huge speakers announcing the circus, complete with circus music. I thought we should grill up some really greasy sausages, onions and green peppers, slap them on some white bread buns and have that for dinner, but it seems I've been outvoted in favor of a friend's restaurant. It's supposed to start at 8, I heard last night, the first night, started at 9. So all is normal. I like that.
---
- Mozzies, ants and sun
From: M J <mjstark at coqui.net>
Date: Fri, 27 Jun 2008 07:18:03 -0400
It didn't take much rain to bring back what we've all been taking as one of the good benefits of no rain, the lack of biting, stinging things. Out come the poisons we liberally douse ourselves in...
We seem to be out of the dust bowl for the moment. A friend of mine gets pneumonia every year at this time and swears it is due to Sahara dust...who knows? Not good though. A confirmed beach walker, I'm sure his dog isn't real happy either with no daily long walk and swim for the week or so of illness and recoup.
No dust and it looks like, no rain either, for the next few days, according to the forecast. Which you know I believe in with all my heart...looks to be a hot day, with, right now, little breeze at all.
This is from late in the afternoon yesterday; that strange, wonderful light that makes everything look miles closer and so distinct...and makes me sure it will rain. Pfffftttt!



and from this morning...wisped away weather

---
- Where was I?
From: M J <mjstark at coqui.net>
Date: Thu, 26 Jun 2008 15:59:19 -0400
Since Sunday we've had rain, big gusts, overcast, lightning, thunder and...no internet to write about it! The trench guys, not realizing that at the end of the runway at our little airport the phone wires are buried underground, chopped a big bundle in half; guess they ran over the sign mentioning that! Oopsy. What with driving up on the sidewalks this week to get around them and the phoneless half the island stopping to *mention* the problem five times a day, it actually got fixed faster than we feared. So...I'm back, AFTER we finally got some weather. Dull, at this time of year, is just fine though.

I'd taken a bunch of pics I couldn't post of weather now gone (today we had two nice rains, now it is sunny again and the breeze is down). But one afternoon I was walking down to the bottom of the yard to look at the water and sky, see if there was anything to photograph. Also coming down were three local girls. We got to the water and there was a small, dead shark waiting. The girls were fascinated, one going to get gloves because they wanted to do an autopsy to see how it died, but ended up being satisfied with opening its mouth (the skin was too tough for the razor blade she brought back, oh darn). Something was blocking its mouth but I have no idea what it was. I've never considered myself particularly squeamish, but these girls put me to shame with their unbridled curiousity and willingness to...investigate.
I suggested they all go for either marine biology or medical training. Then I more than suggested we give him a proper send-off with a heave back to sea. They can throw too! Girls of Culebra...they rock!!
---
- Wind and Waves Across the Harbor
From: "SV Prudence" <sv.prudence at gmail.com>
Date: Wed, 25 Jun 2008 07:54:29 -0400
Culebra Harbor Weather
Date: 25-Jun-2008
Time: 0745 AST
--------------------
Air Temperature: 83°F
Wind Speed/Direction: 16 knots E
Water Temperature: 84.0°F
Barometric Pressure: 1035 mbar
Clouds: Altostratus, cumulus, cumulonimbus (combining to make nearly 100% cloud cover)
Wind and Waves Across the Harbor
Strong winds were with us all day yesterday. The advantage to those winds is a nice breeze moving through the boat. The disadvantage is the wind-driven choppy waves stirred up in Ensenada Honda. It makes crossing to land by dinghy a somewhat soggy affair. The solution: just stay on the boat.
Today looks like another good day to simply relax aboard our gently rocking home.
Doug
-aboard the sailing vessel Prudence
Personal blog: http://www.sailblogs.com/member/ashiya/
---
- Unsettled Weather
From: "SV Prudence" <sv.prudence at gmail.com>
Date: Tue, 24 Jun 2008 08:03:04 -0400
Culebra Harbor Weather
Date: 24-Jun-2008
Time: 0745 AST
--------------------
Air Temperature: 83°F
Wind Speed/Direction: 13 knots SE
Water Temperature: 84.0°F
Barometric Pressure: 1035 mbar
Clouds: Altostratus
Unsettled Weather
Yesterday, the squalls passed over us throughout the evening. We were off the boat for a short period, but the biggest gust we saw while aboard was 33 knots. One squall sustained winds between 25-30 knots long enough to make the waves in Ensenada Honda suitable for surfing. Good news is, all boats remained in place. Also, our trip to and from town was timed between squalls, so there was no dinghy surfing required.
Today, the cloud cover is 100% and the winds are gusting up near 20 knots. It looks like the remnants of the recent tropical wave will be with us for at least a few more hours.
Doug
-aboard the sailing vessel Prudence
Personal blog: http://www.sailblogs.com/member/ashiya/
---
- Tropical Wave
From: "William Kunke" <wkunke at verizonmail.com>
Date: Tue, 24 Jun 2008 06:45:16 -0400

Good Morning,  With this passing wave we received 0.2 inches of 
rain.  Lots of thunder and lightning and some pretty good wind gust 
too.  It is not a drought buster by any measure, with only 1 inch 
of rain this month, we are well behind June's monthly average of 
2.7.  Also for the year thus far we have received 8.3 inches, again 
well below our average of 14.3 for this time of year.  However, we 
welcome the change of systems affecting our area.

For detailed rainfall charts and data for Culebra, PR see:  
http://wkunke.myeweb.net

We have been watching a young Red Tail hawk mature this year, Enjoy,  William


-- 
--
you  at  usa.com
is available and 170 other free domains.
Sign up at www.mail.com


---
- Edge of a Shower
From: "SV Prudence" <sv.prudence at gmail.com>
Date: Mon, 23 Jun 2008 12:22:25 -0400
Culebra Harbor Weather
Date: 23-Jun-2008
Time: 1215 AST
--------------------
Air Temperature: 86°F
Wind Speed/Direction: 15 knots SE
Water Temperature: 85.1°F
Barometric Pressure: 1033 mbar
Clouds: numerous cumulus
Edge of a Shower
About 5 minutes ago, a brief shower moved through the area. The bulk of the rain appeared to hit just north of us, briefly blocking from view the area over the airport (see attached photo).
Doug
-aboard the sailing vessel Prudence
Personal blog: http://www.sailblogs.com/member/ashiya/
Attachment: rain_culebra.jpg
Description: JPEG image
---
- Wave on, wave off
From: MJ <caribemj at gmail.com>
Date: Mon, 23 Jun 2008 07:39:04 -0400
The weather yesterday turned into one of those perfect postcard days that aren't supposed to happen, but do. At one point a large, grey cloud bank rolled over, but it was moving fast away.
Today looks like it could be a repeat of that good weather. Though it was a surprise to see the dawning a very soft, very brief rain shower. This is what the SJU folk are saying:


...several tropical waves appear on the satellite 
imagery. One is near 61 degrees west and moving 25 to 30 knots 
toward the west. A second very low amplitude wave is near 38 
west...south of 10 north. A third is still growing over western 

Africa. The first wave will come over Puerto Rico today with 
active weather including thunderstorms and squalls. The second will 
pass south of the area on Thursday...while the third is forecast 
to travel across the Atlantic well south of the area until it 

reaches the Caribbean..

We could absolutely still use more...well, you know what.

In the meantime, happy Monday!





--
Save What's Left!

Attachment: InsideOutside.jpg
Description: JPEG image

Attachment: FeelTheWave.jpg
Description: JPEG image
---
- This or that or maybe that
From: MJ <caribemj at gmail.com>
Date: Sun, 22 Jun 2008 08:00:25 -0400
A pale sky, lots of sun, a tropical wave perhaps bringing rain. There! Do you know how to dress for the day now? Because this is just like the weather channel, only different. I will be wearing sea bathing clothing and not carrying an umbrella, unless there are umbrellas in the birthday drinks, which I am hopeful and pretty sure is not the case.

Not only is it my birthday, but one of the top two of my favorite official holidays in PR, Juan Bautista Day. This is when thousands of locals, here, on Vieques and the big island go to the beach and at midnight, walk in...well, I'll let these folks explain it, even though this is geared to San Juan



22 Jun-San Juan Bautista Day: San Juan citizens celebrate the city's patron saint by walking backward into the ocean three times to ward off evil spirits and renew good luck for the coming year. Locals throw parties and have bonfires on the beach.

23 Jun—St. John the Baptist Day. Public holiday.

I always have liked old John, feeling he got quite the bum rap in the big story, even though the Boss guy seemed quite partial to him...and we get to give him a recognition boost with parties at the beach while warding off bad mojo for the whole year...how great is a place that gives a three day weekend to that? I take it as a very good omen for my next year of life on the planet (*knock on wood*).

Of course, a combo day time birthday celebration and trying to actually stay up until midnight may show that I'm not in my 20's anymore...but I'll try!

This is what a three day weekend looks like out on the reef - boats from the big island rafted up and ready to party
--
Save What's Left!

Attachment: Holiday.jpg
Description: JPEG image
---
- Back to Normal
From: "SV Prudence" <sv.prudence at gmail.com>
Date: Sat, 21 Jun 2008 08:29:51 -0400
Culebra Harbor Weather
Date: 21-Jun-2008
Time: 0825 AST
--------------------
Air Temperature: 85°F
Wind Speed/Direction: 11 knots E
Water Temperature: 84.0°F
Barometric Pressure: 1033 mbar
Clouds: scattered cumulus
Back to Normal
The rains lasted a grand total of only about an hour yesterday, and the accumulated rainfall was marginal (it took only a few moments to pump it out of the dinghy).
Today, the winds have calmed and the skies are marbled with wispy clouds.
Doug
-aboard the sailing vessel Prudence
Personal blog: http://www.sailblogs.com/member/ashiya/
---
- Rains Have Started
From: "SV Prudence" <sv.prudence at gmail.com>
Date: Fri, 20 Jun 2008 12:49:12 -0400
Culebra Harbor Weather
Date: 20-Jun-2008
Time: 1245 AST
--------------------
Air Temperature: 86°F
Wind Speed/Direction: 18 knots ESE
Water Temperature: 86.0°F
Barometric Pressure: 1032 mbar
Clouds: solid cloud cover stratocumulus
Rains Have Started
The first rain squall hit us about 30 minutes ago. Not a lot of rain thus far, but more may be yet to come. Winds have been gusting higher and the max we have observed is 32 knots. All boats moored in our area are holding in place.
Doug
-aboard the sailing vessel Prudence
Personal blog: http://www.sailblogs.com/member/ashiya/
---
- Winds are Picking Up
From: "SV Prudence" <sv.prudence at gmail.com>
Date: Fri, 20 Jun 2008 11:03:34 -0400
Culebra Harbor Weather
Date: 20-Jun-2008
Time: 1100 AST
--------------------
Air Temperature: 87°F
Wind Speed/Direction: 20 knots ESE
Water Temperature: 86.0°F
Barometric Pressure: 1032 mbar
Clouds: few cumulus on horizon; blue skies overhead
Winds are Picking Up
This morning started like any other this week; however, over the course of the last hour, the winds have gone from brisk to blasting. Consistently ranging between 18 – 22 knots with gusts up to 25, Ensenada Honda is currently a field of whitecaps.
I will post again if the rain (currently seen to our south on Nexrad radar) reaches Culebra.
Doug
-aboard the sailing vessel Prudence
Personal blog: http://www.sailblogs.com/member/ashiya/
---
- Weather comin'?
From: M J <mjstark at coqui.net>
Date: Fri, 20 Jun 2008 07:32:01 -0400
Looking at the sat, and reading the forecast, it seems very possible we will be getting some good rain accompanied by strong wind as this wave passes through this afternoon. I thought yesterday it might go right below us, and it might, but chances look good for a swing over us on its way west.
But for now the sun is shining, the air already heating up. A breeze is blowing, and there is a dull looking sky with water to match.


Don't forget to close your windows and hatches! Happy Friday!

---