- - - 2008 Hurricane Season - - -
- Thursday
From: DearMissMermaid at aol.com
Date: Thu, 14 May 2009 09:40:42 EDT
It's only Thursday, but already we have some tentative sunshine after several rain squalls this morning. The cats are happily outside, even they get bored when the weather turns weird. There are dark clouds that look ominous, so we are in for more rain, no doubt. Even my clock shows rain drops with happy faces on them.
Winds are about 12mph
My sailing buddy pulled in the harbor and between rain squalls managed to make it ashore to the store where I went to pick him and some dinner provisions up. There was a nice salesman setting up a wine tasting event so we stopped to taste test some new Sauvignon Blanc from New Zealand.
I said "Ah, New Zealand wine, home of the "
Cat's Pee on a Gooseberry Bush Wine
". My friend choked and about spit his wine out with shock, giving me a horrid look such as "how dare you say something so rude..." But the salesman laughed and confirmed that yes, New Zealand is home to Cooper's Creek wine with their bright green label and grinning cat. I've had this fruity wine and ironically, it goes well with seafood, just like cat's prefer.
A bit of trivia, the wine "Cat's Pee on a Gooseberry Bush" is sold worldwide except in America, the authorities made them change the spelling of Pee to Phee... Go figure, only in America, would they get a slight insult over such a fun name.
There's a great book out. "
Marilyn Merlot and the Naked Grape: Odd Wines from Around the World
" and of course this wine and many others with odd names and odd labels have made the book. Many of the labels are reproduced in the book for the readers' enjoyment.
Tortola imports wines from all over the world, every store is bound to have a different selection from the last. I've also discovered that if you save up the distinctive corks from
Pussers Rum
, (the famous franchise originating from the BVI) they make a great wine topper stopper, because Pussers has the wooden cap attached to the cork, so it's easy to recork your wine with a Pussers Rum cork than with the original wine cork, which can often fall into the wine (very frustrating).
When I lived aboard my boat and worked on luxury yachts, we always saved every cork. You never knew when something might break and the cork would be the perfect fix to stop up an errant hose or plug up a leaky boat (heaven forbid!) If you saved up enough, you could make a cork raft or cork drink coasters.
At one point, I was saving up enough corks to make a bulletin board, but in one of my moves, the bag of corks got tossed out. One of my cats used to love to play with corks and would have his own cork soccer all over the house. Then he would trot around with the cork hanging out of the side of his mouth and it looked like a big cigar stub he was smoking.
My parents didn't drink much if any wine when we were growing up but somehow my mother ended up with a fat Chianti wine bottle, the type with the woven basket covering the bottom half of the bottle. She bought colorful candles. Once a week, when we had Italian food for dinner, she would place the Chianti bottle on the table and light the candle. It dripped colorfully down the sides of the bottle and each time the candle needed changing, we added a different color. As children, we were quite impressed with this melting art.
Speaking of wine, might as well tell you a cheese tidbit... Here in the BVI with our ever changing elec-tricky conditions, and for those of you on boats with fridges that tend to go up and down in temperature, I sometimes fine my cheese has gone a tad moldy. Well, there is a perfect remedy for that. Just shave off the moldy cheese, then saturate a linen towel or 2 paper towels, folded over, with plain white vinegar. Wrap your cheese in the vinegar soaked cloth. It won't alter the flavor but no mold will grow on your cheese.
This is real handy if you happen to buy cheese in bulk. There was a time when New Zealand white cheddar was available in bulk here for half price, so my fridge often had a few pounds of that lurking around (wrapped in a vinegar towel). Many people have never tasted New Zealand butter until arriving in Tortola and I think it's the best butter in the world. For years it was the ONLY butter we had on our shelves, but now we sport butter from all over, but most chefs will always shop for the New Zealand butter. Thanks to the world of container shipping, numerous New Zealand products make it to our shores. There was a time when I bought only New Zealand beef as it had the best price at the time. New Zealand must have a fantastic export business for so many of their products to end up here, half way around the world.
I've been working on an index of all my blogs and postings.
---
- Cloudy and wet
From: DearMissMermaid at aol.com
Date: Wed, 13 May 2009 13:41:53 EDT
Another dark and rainy morning greeted us. Even at 1pm, the sun is fighting mightily to make a cameo appearance. My neighbor is running his awful cement mixer again, it needs serious lubrication. Well, that means tomorrow will be jerk hammer day and he will take out half of what was poured today. Grrr...
Well, this is the LONGEST stretch we have ever been with cloudy skies in my short lifetime here. Amazing. We used to say we only had 5 days of bad weather, per year, but um, looks like 2 weeks now!
I consulted my crystal ball:
A
few more days of this mess and it may clear up for the weekend!
Yippee!
I went to mail off a book to Canada. For some reason the Canada Amazon isn't shipping out my book; "Hurricanes and Hangovers" so I mailed one off to a reader who had inquired. Sadly, I forgot to take my camera to the post office. I arrived there with the package and a folder full of sheets of BVI 20 cent stamps. When I found out the package was going to be $8.60, I said to the postman, gosh that's 43 stamps! Can I trade these for bigger stamps?
Of course not!
He then took the package and showed me how to apply the 43 stamps. He pasted 4 overlapping, like a shingled roof, so that the 20 cents showed. He said as long as the 20 cent part shows, I can use my 43 stamps.
I tried not to burst out laughing, as at this point, I was resigned to buying more stamps. But he had taken such care to paste those 4 so neatly, that I figured, it would insult him, if I didn't follow suit with the other 39 stamps.
So for the next ten minutes, I used his soapy sponge in a bowl, and layered my stamps like a shingled roof and glued them all on. We both counted to make sure I had enough, then he took my package and mailed it. I wish I could have photographed it, it was quite a site!

So, my gentle reader in Canada, will now get a very colorful package with my book inside.
And 43 stamps from the BVI!
Labour Reform Could Create System of "Indentured Labourers
So what's wrong with our old laws for indentured labourers? *tee hee hee* Life is tough all over, and the work permit people are always a target.
A new twist to solving local crime! Report info on this new website.
Escapees May Have Cut Fence at HMP
(the pictures of the escapees are not very clear, makes you wonder how we are supposed to identify these criminals if we can't get a hold of a good picture).
I am truly amazed that every few months we have more escapees from the prison. This is not the first time the fence has been cut. Must be one lousy fence if prisoners can continually cut it open and walk out at will. Maybe we need razor wire for a fence? It was reported at 1:15pm on Saturday, um that is like daylight, guess that fence was easier to cut by the light of day.
I want to know, how do you QUIETLY cut a fence?
The most notorious escape, was a few years back, a bunch of prisoners escaped, went to Cane Garden Bay, hopped on speed boats and were never seen again. Then at Christmas, one year, this guy escapes and they say they can't find him for 2-3 weeks. Then somebody goes to his family's house, a few miles from the prison, and he has been home with his family for Christmas the entire time. Now that's funny.
Another time, an escapee was found in this huge piece of luggage at his girlfriend's house, because the officer walked by it and felt the body heat. "Excuse me madam, but your suitcase appears to be breathing..."
A few late night road blocks would probably net a few hundred illegal guns, a bunch of unlicensed drivers and these two hoodlums.
More Officers Join in Hunt for Prison Escapees
Platinum News Online - Tortola,British Virgin Islands
...
of his former wife and step-father-in-law; and the aggravated burglary of the home in Major Bay,
Tortola
, where his former wife lived with her family.
...
Police Believe Escapees Still on Island
Platinum News Online - Tortola,British Virgin Islands
Sources told
BVI
Platinum News that though contact have already been made with sister islands to be on high alert, information so far has led Police to
...
For some GOOD news!
BVI Music Festival ready to roll!
SKNVibes.com - Basseterre,St. Kitts and Nevis
By Cherisse M. Sutton-Jeffers ROAD TOWN,
Tortola
– THE annual British Virgin Islands (BVI) Music Festival is almost good to go and will be held from May 22
...
---
- Tuesday, drwip, drwip, drwip...
From: DearMissMermaid at aol.com
Date: Tue, 12 May 2009 10:17:22 EDT
Dark and ominous! I've been watching the meager sunshine slowly vanish as dark clouds from the southeast march towards us and plunge us into dark and stormy skies. It's going to be kind of messy again this week! Unbelievable! It should clear by the weekend (won't that be nice!) In the interim, beware of flash flooding and mudslides, plus rocks, stones and boulders that sometimes roll down the mountains and into the roads below.
I have important errands to do, but they are becoming less important, as I don't like it when the big rocks come tumbling down. I had a near-miss one day and thanked my angels for keeping me safe.
Brigand
(formerly of the islands) writes me that my links from the post of yesterday (below) do NOT work! Well, *tee hee hee* I throw that in now and then just to see if anyone is reading and
really
following the links *har har har*!
OK, here is the
CORRECT link
for the gorgeous picture.
The
correct link for songs about Jost Van Dyke is here.
A few days ago, I put together all my Dear Miss Mermaid links in one spot (more or less) but didn't tell you WHERE to find that either.
Well, it's HERE.
Gosh, I am full of boo boos! I've had my plate full, my internet has been cranky. I've rewritten and updated loads of web pages, and often then I can't upload them (internet crashes again). Then my server notified me they were moving and sent me directions to change my whattchamacallit, that sounded like something out of a how to build a space rocket book (I couldn't understand a bit of what they wrote me!) so my site was down on and off , grrrrrr. I THINK all is fixed now, but who knows? We live on the edge here.
I heard strange noises in my bedroom, the closet doors were rattling, puntuated by growling and abnormal cat yowlings. I thought perhaps cat and an unknown beast were having a go round in my bedroom closet. I carefully entered the room, prepared to do battle with whatever creature was in there, but all I found was a very unhappy cat who had his ears folded back in disgust as he fussed with my closet door and then cursed it kitty style with growlings and strange yowlings. He wanted to open the closet bi-fold doors and go hide on the top shelf. It's his secret little spot up there he just loves. Usually he can open the doors on his own and enter the closet. Sometimes I come along, and shut the doors, forgetting to check to see if he is hiding in there. The doors aren't hung right (no surprise there!) and sometimes jam up. Or mash up, as we say. I guess in his frustration, he began growling and cursing it kitty-style while I laughed myself silly and watched him fold back his ears and glare at me. Finally I opened the door for him and he launched himself upwards to the top shelf, and began rearranging his kitty blanket and settled down looking rather smitten and happy.
>"-..-"<
---
- ACHOOOOO!
From: DearMissMermaid at aol.com
Date: Mon, 11 May 2009 10:02:54 EDT
Monday morning, gray, cloudy, rainy. Just like last Monday! Déjà vu, here we go again...
It looks like we can expect continued influx of tropical moisture across the region for most of the work week ... as a the prevailing easterly trade wind flow increases across the region. This overall pattern will result in good chances for shower activity each day ... especially during the early mornings.
Well, no wonder my wittle black kitty is so happy, he is able to shower a few times a day in the rain. Then he comes home for me to punk up his fur for air drying, then he stretches out about four feet across the loveseat, managing to fill the whole thing. I don't know how cats do that, go from tiny 9 pounds of fluff to 4 feet of long skinny lean cat on a couch.
I went out in the sunshine yesterday and caught a great picture of the crystal clear water and blue skies. A rare glimpse apparently!
Did you know there are song written about Jost Van Dyke that you can
download here
?
Well, I truly feel sorry for the tourists that came the last week, it seems so unfair to travel so far and then have gray clouds all day. Maybe this means, we get rid of the ugly weather now and have no hurricanes! Yahoo! Wouldn't that be grand!
As for me, I am still sneezing and sniffling, wondering if I am allergic to the gray clouds!
I've begun compulsively washing everything I can in the washing machine, after all our cistern overflows and maybe there is dust in the furniture cushion covers. I have to line dry, but as long as the winds blow, stuff keeps drying as I have an undercover place to hang things up. I just long for some sunshine so I can wash all the pillows too. I like the way the sunshine sterilizes them and makes them smell so wonderfully fresh.
---
- SUNSHINE!
From: DearMissMermaid at aol.com
Date: Sun, 10 May 2009 14:46:58 EDT
THE SUN IS OUT! Sunshine! It's a picture perfect day for Mothers Day!
I can't write anymore, I'm out in the SUNSHINE!
Did I say the SUN WAS OUT?
I even saw the full moon last night for the first time, considering the moon was full 3 nights ago, that is amazing
---
- Cloudy Daze
From: DearMissMermaid at aol.com
Date: Sat, 9 May 2009 10:16:15 EDT
My internet has been down most of the last 3 days. It was a miracle I got anything posted at all. It is still plagued with serious problems and crashes every few minutes. It's bright out today, even though we can't even see the sun, it's shining bright through a thin overcast layer. A few more days and we should be done with this mess. At least the rains have stopped long enough for the ground to dry out before the next onslaught. The forecast is a tad vague and keeps changing.
I've had the sneezes for 3 days, no idea what that is about. The cats are used to it now, it used to scare them. I vacuum and sneeze, I lay down and sneeze, I work and sneeze. It's downright funny at times. I sneezed so loudly this morning, my neighbor on a street below mine actually replied "gesundheit!" Good grief. I've sneezed twice trying to get this email out.
Winds are coming back and we need those to help dry things up. I had a walking friend stop by, she was trying to walk home from work and it started raining, so she ended up at my house, drying out. I had to make a garbage run, so I took her home and stopped by the store for eggs, which they were out of. I saw a man I thought I knew, who popped in the store, so I spoke warmly to him while I searched my brain for his name. He spoke back nicely, without mentioning my name. So I thought, ah ha, he doesn't recall my name either. He mentioned to the clerk that so and so had sent him there for fishing bait, and I thought to myself, ah ha, I know the friend, so maybe that is how I know him.
In spite of them being out of eggs, and being out of cat food, I poked around and bought some juice and a piece of chocolate cake. No doubt the eggs would have been healthier, but the slice of chocolate cake from the bakery that sometimes delivers there, looked especially appealing. I got in my car to drive home, still wondering what that guy's name was.
Late at night, I woke up sneezing and decided to channel surf the TV for something interesting. Well, lo and behold, there is the unnamed man, on TV. I don't know him at all. I've just watched his shows a few times. So funny!
Now I know you want me to be a name dropper, but I am not. When I worked on yachts and ran my chef business, I often worked with famous people. They were just trying to be ordinary people, relax and enjoy their vacation. They didn't want to be hounded by fans or paparazzi. They just wanted discreet crew to pamper them and let them unwind and hide from the limelight. Being that customs and immigration generally keep the paparazzi out of here (thank heavens!) some famous people choose to vacation here and be obscure. It's generally pretty easy to be unnoticed here by the islanders. TV is not a popular past time, we aren't tuned in to the latest top 40 tunes or videos, internet is still the exception and not the norm, so many island folks here simply don't recognize famous people.
I hope I can get this out before my internet crashes. I am miffed I've been locked out of a few sites that I do business with that require me to sign in, probably because my connection keeps crashing before I can log in properly. Grrrrrrrr.........
Well, I can't send this out now, the internet went on walk about again. Maybe later today. Also, I am behind in my emails, no doubt, so hang on, I will answer all soon, I hope!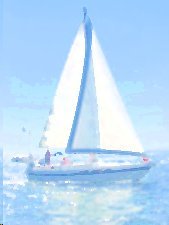 Sailing Pastels...
Warm and Sunny Regards,
DearMissMermaid.com
---
- Drip Drop Plip Plop
From: DearMissMermaid at aol.com
Date: Fri, 8 May 2009 11:09:56 EDT
Another gloomy day of weather. This has to be the longest we have gone without sunshine since
the floods of November 2003
. It's 81 degrees at sea level, but much cooler in the mountains. It's considerably overcast but the sun is putting up a battle to make a cameo appearance today. Apparently
from reports I am seeing
, we can expect several more days of patchy clouds and scattered but plentiful showers. We might even see (and hear) thunderstorms this afternoon!
Be on the lookout for mudslides and falling rocks and boulders. The roads were scraped and cleared on Tuesday, but our ground saturation is about maxed out.
One lady told me her place was flooding and they couldn't figure out why since the ceiling was perfectly dry. Apparently the water was coming up through the floor! I am told this can happen if a proper moisture barrier isn't applied underneath concrete floors. I am so lucky, I haven't had any real flooding, other than accidentally leaving the door open when the winds did a 180 degree turn and blew about a half inch of water in my living room. Ooops!
Utilities are up to their old tricks, cable TV was out all day, internet shut down the next, half the time I can't get the phone to work right. The elec-tricky come, the elec-tricky go. Today the internet is working at a snail's pace. Ever since they "improved" their service, last fall, and forced me to buy new equipment, it has been awful. *sigh* Well, that's life in the islands. Nothing's easy but the rum and reggae.
Rum is the answer, (now what was the problem?)
Did you know that Rum continues to outsell milk in the islands? Makes ya wonder, doesn't it. I grew up on milk 3 times a day and when we were older, we were sometimes allowed the luxury of iced tea with dinner instead of milk. My mother was determined to raise us without any broken bones and she certainly did succeed. Well, that is until a few years ago, when I began breaking bones and renewed my love affair with dairy.
Mother's Day is this Sunday!
The
island churches
and
restaurants
will be overflowing with proud mothers dressed in their finery, (secretly praying their kids will behave for just one day....)
My mother was one of the hardest working women I ever met. She stayed home mostly, back when it was politically correct to be called a housewife. She got up at dawn and began cleaning house, doing laundry, preparing meals 3 times a day from scratch, and raised four kids, teaching us all manner of interesting things from how to bake peanut butter cookies to how to wash the family car. Even when we were in school, she made our lunches and packed our lunch boxes. We were required to be on time for every meal in our home. Tardiness was just not tolerated. She sewed all her own clothes as well as most of mine and some of my sister's. My sister wanted designer label clothes, I wanted the homemade clothes, because they fit perfectly and the materials I picked out, were distinct from what everyone else was wearing. I enjoyed being different and I can recall just about every outfit she made for me. My mother worked until late at night, I don't think she ever had any time for herself, she was always taking care of her family.
Initially growing up, I wore hand-me-downs. My mother had this habit of meeting with the neighborhood ladies that also had daughters, twice a year, and clothes were passed along and traded around. My sister was much older and I couldn't wear her hand-me-downs, so I wore the neighbor's hand-me-downs. One day my mother overheard me tell another little girl who was visiting and bragging about her new clothes, that I had NEVER had a new dress, all I got was hand-me-downs. The next day my mother took me shopping at this wonderful store that had thousands of bolts of material, hundreds upon hundreds of exotic buttons and big thick catalogues showcasing the clothing patterns. We sat on stools and poured over the catalogues. She helped me pick out patterns and materials. That afternoon, she began sewing me new dresses, skirts, and blouses. As time went on, she enlisted my help and I learned all about sewing clothes, curtains, table napkins and so on. When somebody had a new baby, my mother would sew up cute little baby outfits as a treasured gift.
My mother was a wonderful teacher, she pushed books upon us, and we better read everything we checked out of the library each week. She was convinced that through the use of books, we could learn anything and grow up to be anybody we wanted to be. Thanks to her, and the confidence she instilled in me "you can learn to do ANYTHING from books" I bought that old dilapidated boat years back, and a few how-to books, convinced that I could rebuild her to look new again. Men aren't the only ones who can do handy things, and my mother didn't think me a nut for buying that boat, instead she sent me a rechargeable cordless drill for my birthday! A few years later, by golly, I had a new looking boat, and I had done about 80% of the work myself.
Growing up, birthdays and Christmas always included books as gifts. Every room in our house had books and bookshelves. She taught me all the traditional skills of running a home as well as constantly telling me to never rely on a man for my income. This puzzled me for many years, being that she got a weekly allowance from our father. She was extremely creative and stretched that money a hundred different ways. She had such high hopes for her children and she wanted us to study music and art in additional to our regular studies. So I was taught to play classical piano while my friends were learning jazz and modern songs. I found out years later, all the music that was handed to me by my music teacher, originated from my mother, who had a love for the classics. I also, unwittingly, learned to play my mother's favorite tunes beside the classics, such as all the music from both "The Wizard of Oz" and "The Sound of Music", my mother's two favorite movies. She couldn't figure out how to stretch her money to get me into the art school held in the afternoons at the museum, so she had me enter an art contest and the winner would receive an art scholarship for one year. I was raised to do as I was told, so I set about making some artwork to enter.
I had learned
how to macrame
from books. There was a store about a mile or so from the house, I could walk to, and buy the supplies. We were allowed to enter three works of art in the contest. They would all be on display for a week and the museum employees and art teachers would vote on the projects. If our name was on the item, it was covered up and replaced with a number, so no one knew who they were voting on. My mother entered my items and one day took me to see the display. One of the things she had entered on my behalf, was an intricate macrame belt I had slaved over. It was displayed on the wall next to a number. It was the only macrame entered, and I was sure after looking at everybody else's artwork of paintings and paper mache sculptures, that I didn't stand a chance in this competition. I felt like I had let my mother down, something awful. My mother was excited, but on the way home, I was silent.
The next day my mother answered the only phone in our home, an antique wall phone in the kitchen with a coveted long cord on it. She used to tell us about the day she broke the short cord, trying to reach the stove to rescue dinner while on the phone to my father, and the cord snapped, slapping her in the face. We had to pay the phone company a small fortune to come out a few days later and have the extra long cord installed. She immensely happy to have that long cord. This was back in the days, when a cord had to be hand wired into the phone, not just merely plugged in like now.
She got off the phone and her face was lit up like a Christmas tree as she yelled "You won, you won, you won! You're going to art school!" I was astonished and shocked. Later I found out it was my macrame belt that took the most votes. Little did we know, I was already a sailor in the making, as macrame originated from the high seas by bored seaman crossing oceans with spare time on their hands.
Jost Van Dyke and Sandy Grounds Estates: Just a tease
By Rob
Although the island is small,
Jost Van Dyke
boasts several notable natives, including William Thornton, architect of the U.S. Capitol Building, and John C. Lettsome (of Little
Jost Van Dyke
), founder of the British Medical Society.
...
---
- Wet n WIld
From: DearMissMermaid at aol.com
Date: Thu, 7 May 2009 07:25:12 EDT
Well, this is a most unusual week for the BVI! Clouds, rains, floods, overcast skies. One day of this mess, then we should be back to our usual tranquil Caribbean weather!
MACO Caribbean Living: Foxy's Wooden Boat Regatta in BVI
By MACO Caribbean Magazines
This month (May 23-25) in the
British Virgin Islands
, there's a great regatta called Foxy's Wooden Boat Regatta, and we do mean wooden boats. No sleek machines… just trusty wooden boats that won't let you go under.
...
Bitter End Yacht Club Goes Green
All At Sea - Saint Thomas,US Virgin Islands,U.S. Virgin Islands
The luck of the Irish was truly with the
BVI
environment on St. Patrick's Day. The first annual "GO GREEN" St. Patrick's Day Beach Patrol at the Bitter End
...
Ambulance Involved in Weekend Smash Up
Platinum News Online - Tortola,British Virgin Islands
The number of cars on the road is at the bottom of the list when it comes to the cause of vehicular accidents in
Tortola
. Many cars together on the roads
...
Music Festival Tickets Available!
Platinum News Online - Tortola,British Virgin Islands
Tickets are available beginning Monday 4th May from all members of the
BVI
Music Festival Committee Cane Garden Bay. On Friday 8 May at the Noel Lloyd Park
...
Ruling on Beef Island Case in Three Months
Platinum News Online - Tortola,British Virgin Islands
Lawyers arriving at Prospect Reef on April 28 for the opening of the Beef
Island
case.
BVI
Platinum News understands that whatever is decided,
...
Over Twenty Workers Axed From Peter Island Resort
Platinum News Online - Tortola,British Virgin Islands
Information reaching
BVI
Platinum News states that some twenty five (25) employees received dismissal letters last week from Management, where it was cited
...
---
Big savings on Dell's most popular laptops. Now starting at $449!
---
- Drying out!
From: DearMissMermaid at aol.com
Date: Tue, 5 May 2009 15:18:26 EDT
WOW, it really stormed all night and I could hear the sea churning, the winds howling, yet incredibly by daybreak we were treated to an ostentatious morning, which so far is still looking pretty good.
My cistern runneth over, and that's a good feeling, either it's very small or we are very frugal. I think I'm pretty frugal with water, so I am encouraged, now to grow more in the garden and the pots. Or as my friend put it at a party, she had no balcony, but she had a stairway to her roof, so she started a pot garden on the roof. This was met with laughter, as we imagined her growing marijuana (pot) on her roof. But she quickly explained, it was flowers, tomatoes and starter fruit trees she was growing on her roof in her pot garden.
The Caribbean webcam
page has been recently updated, and sadly we have lost many webcams! Not sure why that is, but many are simply not working anymore. Kind of sad, but still there are quite a few to look at. If you stumble across any new ones, there is an email there to send them to the webmaster.
I've been working an index to all my past webpages and BVI pictures online. It's not finished yet, but you can take a sneak peek at it here.
Mother's Day is around the corner, surprise her with a
beach toe ring
! These are of course immensely popular in the islands.
A French Wine Bottle Arrived on the Shore this Morning with this Message in a Bottle:
Your post....May 04
Not in any sense critical, but puzzled why a longtime resident in the West Indies, and a sailor to boot, should refer to the 'eastern' and 'western' sides of a house. Is this out of deference to your readers who probably wouldn't understand the terms.......... 'leeward and windward'? Or worse, who wouldn't understand which way to travel at a road junction if an islander said....'go west' or 'go east'!
Welll, let's see, seems to me if the winds clocks 180, then the windward and leeward are reversed and we're all still confused. Typically the winds come in my Eastern windows. That is the direction the sun comes up *giggle* and western being the direction the sun sets.
Yes, we Tortolians have a bad habit of using east and west in our directions, for driving, being that the island is a long skinny rock topped with greenery and man made t'ings, and that the island lies east to west or west to east. If you hit the roads at the wrong time of day, you could find yourself doing battle with a glaring sun, in your face. If it's morning then you are headed east, if it's afternoon, then you are headed west. So most folks become familiar with east and west pretty quickly on the island, plus we have sections of the island named West End and East End but no North end or South end.
Because of the mountain chain lying east to west down much of the middle of the island, there are no roads that truly go north or south, they merely cross to the other side and often involve hair pin turns that zig zag across the island. We do however refer to the North Shore and the South Side. The North shore being where most of the spectacular beaches are located and the south side being well, on the south, but not renown for it's beaches, though they do exist on the south side.
Some of the best seashell collecting can be found on the southern shores, not sure why, but that's where I've found much of my (now lost) seashell collection. Somehow in moving, my seashells went missing. Must be in that mysterious box of missing items, that probably fell off the truck on moving day. I am missing items from my last move, that when put all together, appear to fit inside a large box. So I surmise that it fell off somewhere in route and probably ended up in a dump or someone else's home. My fire extinguisher is one of the missing items. I noted that again, recently, when my refrigerator cord caught on fire. I stood there and stupidly watched it burn out, reminding myself to buy another extinguisher.
Warm and Sunny Regards,
DearMissMermaid.com
---
A Good Credit Score is 700 or Above. See yours in just 2 easy steps!
---
- Monday Moisture
From: DearMissMermaid at aol.com
Date: Mon, 4 May 2009 08:32:48 EDT
Sunrise brought moisture to the area in the form of rains and clouds. Last night we watched the rings around the moon, which are said to forecast inclement weather. Well, I guess it's true! We need rains, parts of the islands are actually looking brown. Cisterns need filling. I have no idea what mine is doing, I try to conserve water every way I can. The landlord's rental agent promised us street water a year and a half ago, but so far, it lacks the last fifty feet of plumbing to complete this job. I figure they will be done in ten years or so, give or take.
Astonishingly, the winds have done a 180 during this last rain squall, most bizarre indeed! I had already had to close the window on the eastern side, as it was flooding my bathroom. Earlier I had thrown open the front door on the western side, and busy at my desk, was shocked when I got up to see how the potted plants were fairing on the patio, and YIKES, my living room was flooded with about 1/2 inch of water. Grrrrrrr..........
Splish, splash, my mops outside too. *Sigh* All three cats are indoors, each in a different chair, curled up in tight fury balls, as snugly as they can. Well, it's time to fetch the dirty towels out of the hamper and spread them across the flooding.
WOW! It just rumbled, roared and thundered! Visibility right now is down to LESS THAN 100 FEET! I kid you not! I can NOT see the driveway nor the fence. I just see gray, like we are stuck in a cloud. Well, this is going to make the banana, lime and mango trees very happy indeed!
The cistern access is in the upstairs apartment which is locked up tight with a tenant that only shows up a few times a year, and that's where the cistern access is. So I conserve and pray we are OK. I remember when my friends came to visit we were telling them about how to take one minute showers, then turn the water off, soap up, then rinse off for another minute and be done with it. Most Americans are used to very long showers and this always bothers them, these requests we in the Caribbean make of them, to take these super short showers. My friends dutifully took their super short showers with few complaints. One day I fired up the washing machine and ran a few loads of laundry and hung them out to dry. My company said indignantly, "WHAT? You are washing CLOTHES? When we have to take two minute showers?"
"Yes, I replied, if you didn't then we wouldn't have enough water to run the washer... and I personally hate and detest hanging out at laundry mats." (An odd quirk of mine.) The way I look at it, luxury showers and no washing machine or Caribbean super short showers and the luxury of a washing machine.
Life's little trade offs, when you live in these charismatic islands.
I heard a joke that California has four seasons: earthquakes, floods, fires, and riots. So I started thinking what four seasons we had in the BVI such as High season, Low Season, Hurricane Season and Carnival Season! Yes the carnival is wrapping up in St Thomas, but it's coming to Tortola in early August. Indeed we have 3 Public Holidays in a row to make sure we don't miss it.
Hit the nail on the head? Head in the Nail? Nail in the head? The other day while at the beach in my favorite beach hat, I noticed it was annoying my forehead. I took it off to rub my brow and low and behold in the hat brim was a big nail! No wonder my head hurt. Some hapless tenant before me tried to pound nails into the concrete walls in odd places, making quite a mess. On one of these, I had tossed my beach hat one day to hide the nail and the ugly hole around it. I guess when I pulled it off to go to the beach, the nail came with it, and began pressing into my forehead while I tried to figure out what/why it hurt.
Good thing I am hard headed. By the time my head was hurting, I had been wearing the hat for about a half hour.
Today, all my websites have vanished from the web. I have fired off an email to my host guru to ask them to look into this matter. I understand they have mega computers and dedicated hosting and mirror sites and underground sites and that generators and backup generators and they brag they NEVER let you down. Well, today they let me down. I haven't checked the news to see if there is some sort of calamity somewhere, I generally don't trust the news stations, finding them a tad sensational and in an urge to rush the story to the market, facts are often overlooked. I just hope my websites come back up today.
A Sunny Day at the Beach
---
2009 3 Free CREDIT SCORES: See Your 3 Credit Scores from All 3 Bureaus FREE!
---
- The weekend is here!
From: DearMissMermaid at aol.com
Date: Sun, 3 May 2009 16:53:14 EDT
So here is it a sunny Sunday and I seem to be in hibernation mode! It's already 4pm and the weather is drop dead gorgeous. Seas are gentle with no significant swells so virtually, no undertow to worry about at the beaches. It's just a fantastic day to enjoy watersports. There is just nothing spectacular to report weather wise, other than if you aren't here, you should be! Weather should be like this all week with a few scattered showers thrown in for fun and flowers. Air tickets are cheap these days (with advance purchase) and we have no swine flu here. Rates for boat and accommodations have come down since Easter. Many places will offer you deals in the BVI, just ask!
I discovered I wrote the Saturday report, the internet crashed and then I never got back to sending it out. Plus my assistant came over and we tore the place apart and put it back together again, mostly. Actually she came over to help me do major spring cleaning. While I dumped out my office drawers, cabinet and files for a major overhaul, she went through the rest of the place moving every piece of furniture and cleaning under it, around it, over it, beside it and so on. I had tried this on my own and was sneezing and coughing so bad, I enlisted her help. I'm embarrassed to say, I think she removed about ten pounds of dust and dirt from places, I didn't even know existed!
The cats, ran out doors, with mock terror on their faces and hung outside, guardedly looking inside the door now and then, with worried looks, to see if we were moving again or just cleaning. I tackled a big pile of laundry and found more stuff to add to it, cushion covers, table cloths and so on. By the end of the day, I was ready for a white glove inspection and a much needed nap, as I had been up since 4am.
After my nap, I went to the dumpster, as during the cleaning I had ruthlessly sorted a lot of my junk and ended up with 3 jumbo garbage bags to haul off. Besides the typical household garbage, which took up about half a bag, I had almost a full bag of repair projects. I decided I have too many broken things sitting around waiting on me to repair them. Many included tracking down hard to find parts and so on. I decided to shorten this list drastically by just tossing it all out. It's an islander thing, to want to repair stuff, because the new t'ing isn't available on island, so it's repair the old t'ing or do without. Mailorder companies are hit and miss. Some will ship to my PO Box in St John on the US side of the Virgin Islands and others will not. Many retail stores here in the BVI only order inventory once a year and that is typically before Christmas. So if they sell out of whatchamacallits in December, you may have to wait a whole year to find that whatchamacallit again. Then the third bag was downsizing my office. Old files, I no longer need or want, were shredded and bagged. I ended up with a huge pile of sentimental stuff, that one day I must resort again, as it was huge. 20 years of love letters, greeting cards, loose photos and so on. I could probably spend a few days just scanning it all and backing it up in three places.
Then there is the frustrating stuff, the phone bills that are 36 pages long for one month only, and inform me I spent $56.00 I honestly do not know how or why the phone company came up with a scheme to waste as much paper as possible. My phone bills for the last year take up a huge amount of space! Then one of my banks, keeps sending me paper statements. Never mind that I've been online repeatedly, informing them I am happy with electronic delivery and don't need the paper, there is a glitch somewhere, and they keep sending me the paper. Two banks I deal with don't even have an electronic option so they fill up my mailbox and filing too. I guess, I need to rearrange my office so the printer/scanner is next to me instead of four feet away, then I could begin to scan this mess in my spare time (ha ha ha, when do I ever have spare time?)
My printer/scanner is idiotic. You have to use the computer to scan, even though there is a scan button on the printer. It doesn't work. I don't know why, but I will never buy another printer from this certain manufacturer again. Their software clashes with some of my programs and when I try to update their software, they give me pages and pages of instructions, that I don't have time to follow. I do know, I have to reset the scan options on the computer and punch numerous buttons to make one scan. If I want to keep scanning, it lets me, but only if I use the computer buttons and not the scanner buttons. But then it hogs all my memory if I scan too many at once. SO I have to close out, wait an eternity for the computer to process the scanning then go forward. Grrrrr... I thought computers and their peripherals were supposed to save us time, not create more work.
********************
Now here's some GOOD news for bargain hunters in the BVI!
Qualified buyers willing to pay $2 million to $25 million for a lot in Mr. Johnson's Oil Nut Bay, an 88-home, low-density development under construction in Virgin Gorda, will benefit from a new 90-day automatic approval for a landholder license.
Mud slinging!
Opposition Leader Calls Premier's Statement on Beef Island "Nonsense"
Platinum News Online - Tortola,British Virgin Islands
Dr. Smith in an invited comment to
BVI
Platinum News criticized the Premier's comment that the matter is still before the court and public comments should
...
Good news!
Virgin Islands Reports No Cases of Swine Flu
Platinum News Online - Tortola,British Virgin Islands
Some stocks of the antiviral Tamiflu are available in the Territory and the
BVI
Health Services Authority has been able to source additional stocks and
...
Better run and hide a lot further away next time!
Local Police Officers have confirmed with BVI Platinum News that Jessroy McKelly, 21, who was wanted by the Royal Virgin Island Police Force, ...
Fun stuff...
---
- Mayday! Mayday! All is well!
From: DearMissMermaid at aol.com
Date: Fri, 1 May 2009 13:51:23 EDT
An irresistible day in paradise, but I want a do-over of a my trip to the beach yesterday.
Today it is 81 degrees with slight winds and plenty of sunshine and fair weather. It's perfect for your choice of numerous
outdoor activities
. No storms on the horizon, and hurricane season isn't here yet anyhow. We made it through another record breaking year of absolutely NO snowfall in the Virgin Islands. Amazing! I hope we keep up this wonderful record indefinitely.
Today is MAYDAY! The first of May. I remember it was a big fun time at my elementary school, back in the dark ages. I was extremely lucky in my very young years, and attended an exclusive fantastic day school for five short years. Classes were small, teachers were old, rules were strict, and the curriculum extremely tough and challenging. We ate lunch briefly out of a lunchbox at our desk and enjoyed 30 minutes of pure freedom at the playground once a day. The rest of our school day, our little brains were over burdened, and we left each day with mountains of homework. Failure to comply could result in after school tutoring and even more homework and conferences with parents to urge us forward. We were pushed and shoved to stretch and exercise our brains into decent educated young human beings.
By the time my mother came to pick me up, each day, I was exhausted and grateful for the long ride home, so I could rest during the trip while my achy brain took a break. Every May, we had to put on a show, which out parents were dutifully required to show up and attend. I think that and our Christmas Show, was the only time of year they practically required parents to make a cameo appearance at the school, no matter what. Much of those Maydays are foggy in my brain, from long ago, but I do recall the May pole being decorated and us dancing and singing around it. We also performed (tortured our audience!) by playing musical instruments and singing. Throughout my years there, on Mayday, I was required to play a different instrument each year such as the xylophone, piano, autoharp, dulcimer and bells. We got to spend the whole day outside in the sunshine, as it was held on the front lawn on the town's busy Main street. It was a day we looked forward to, even though we had spent months rehearsing. It was one day we got to go home with NO homework and for that, we were all immeasurably grateful. No matter how awful we performed, our parents and teachers, told us we did very well.
My beach trip yesterday was fun and funny. My friend traversed the length of the island to come get me to go to the beach near my home. It was sunshiny when she set out and raining when she arrived. On the way down my driveway, her flip-flop plopped out, rendering it useless for wearing, and I was trying to remember one of the versus of
Jimmy Buffet's Margaritaville song
.
I blew out my flip-flop
Stepped on a pop-top
Cut my heel had to cruise on back home
But there's booze in the blender
And soon it will render
That frozen concoction that helps me hang on
She had no other shoes with her, my feet are short and wide, hers were long and slender, so I had nothing in her size to offer her. I set about hunting for the duct tape which was finished (finish, as they say in the islands, which means there is no more!) So I dug some more and found the
gorilla tape
that thoughtful Drew,from Minnesota had sent me at a time when everything in my life was falling apart. Believe you me,
Gorilla tape
is like duct tape on steroids! Last I had seen it, my housemate was patching his truck with it and my friend pulled off the rest of the tape, which turned out to be about 2 square inches. So now the gorilla tape finish.
She was trying to put the thong back through the sole of the flip-flop and tape it into place. She really needed tape for the top and bottom of the sole, to effect the repair functional.
I then hunted and searched as somewhere, I felt I had a bag of various old sticky tapes. Sure enough I found it. Inside the baggy was electrical tape in 3 colors, Teflon tape, masking tape in 2 sizes, scotch tape, double stick sewing tape, and low and behold, two water proof awning repair tapes in different colors. (I had bought these to repair leaky holes in my now-sold old heap of a jeep.) All these tapes were bought before the Gorilla tape arrived on the scene. Gorilla tape is like the end all to all other tapes. So after she cut and taped for awhile, the flipflop became functional, the rains stopped and we headed for the beach. We thought we were leaving that big dark cloud behind us, but incredibly, it followed us all the way to the beach.
Since my friend had never been down this road before, we stopped many times, on the way to the beach, to check out the views, to rescue an orphaned air plant, to study and discuss a plant I don't know the name of, other than it's from the pineapple family and it's often planted on property lines, as once it grows, it's like having a living razor blade sharp fence, NOTHING will pass through, and make it to the other side alive. So it's like a nature's security fencing.
I was going to insert the pictures I took, but alas, my batteries must have failed. My camera yields no pics at all from yesterday! However, I did find a several days old, cute pic of the cat channel surfing for Judge Judy (his favorite show, he meows up a storm every day at the precise time she comes on, until you help him find the right channel for it! He's learned if he pushes the buttons, the talking picture box does interesting stuff...)
So at the beach, we sat in these old rickety woven arm chairs, waiting for the sunshine and ended up just yakkety-yakking away and sipping on a fruity smoothie from the bar. About the time the sun made an appearance, it was time for us to head to lunch at
Cruzins
, where we were meeting some honeymooners. Lunch turned out to be fantastic and then it was over, time for my friend to go back to east end, the honeymooners to go honeymoon and me go back to work.
Still dry. We never got to swim at the beach, the water looked so cold under that dark sky. I know LAUGH, how can 86F degree water look cold in the crystal clear waters of the Caribbean?
Hence, we need a do-over at the beach! (Life is just tough all over...)
*************************
Shhhhhh, Judge Judy is on & don't you dare touch my remote...
Local news:
Foreign yachts had better have a GOOD crystal ball onboard to detect these new proclamations! You can't go to Jost Van Dyke or Anegada to clear in anymore and can be fined for doing so? YIKES!!! We need to encourage yachters and the economic benefits they bring us, not harass them with fines and last minute changes that they have no way of knowing about.
AMAZING! We live in a different world here...just ask government...
---
Join ChristianMingle.com® FREE! Meet Christian Singles in your area. Start now!
---
- Thursdays
From: DearMissMermaid at aol.com
Date: Thu, 30 Apr 2009 08:06:34 EDT
I love getting up early most days, watching the sun rise, listening to the SILENCE of a sleepy morning. My construction neighbor must be out of funds again as he isn't torturing us lately with thunderous early morning un-oiled muffler-less equipment. The English language is one of the largest languages in the world (word count) but I find myself having to make up my own words sometimes to describe t'ings.
Weather is wonderful, though a big dark cloud looms in the background as a reminder it can change to a sudden downpour in seconds and then typically in less than five minutes the rain is gone again and the world is drying out quickly. Trade winds are whispering by at 6-9 knots. Seas are calming down and may build back up early next week. Surfing isn't that grand right now, beginners might have a little fun, but nothing to write home about. My thermometer is stuck on 82F degrees. Birds are chirping and for some odd reason, my neighborhood is still eerily quiet at 7am.
By the way, if you are in Road Town at the Serendipity Book Shop on Main Street, they have a new Cafe upstairs that offers coffees and economy lunches, plus internet access, either use their computers or bring your own. I was there recently and they were unloading a mountain of new books, half of which I wanted to cart home. I am a hopeless bookoholic, but have to restrain myself, as my current home doesn't offer much space for collecting. The Book Shop is a perfect place to buy souvenirs and gifts, as well as treat yourself. They have some large coffee table books of Caribbean gardening and architecture, stuff I want to cart home and drool all over the fantastic pictures.
I was caught recently sleeping at my keyboard, so trying to be fast on my fins, I said I was merely checking the keyboard for drool resistance. I have no idea how I could fall asleep at my desk. I think I was sleep walking and just ended up there.
One of my little fluffy hunters has assassinated another snake and parked his headless body on the welcome mat. Now that's attractive... Nothing like throwing open the front door and being greeted with the latest bounty; guts and all. I shudder to think about where the missing head might be (and pray I never found out. )
I tore open the new coffee only to find out it was beans and not pre-ground. Grrrrrrr... I'm not awake yet for this early morning unforeseen complication. This started a hunt for the coffee grinder, and I thought I was so well organized, but I was too sleepy to remember what was where. The last place I Iooked, is where I found it. (Just like looking in boat refrigerators!) In the meantime, I came across all sorts of junk to be discarded. Like the broken bean pot. Actually it was my tiny beloved
1.5 quart slow cooker crockpot.
One night I somehow knocked it off the counter while sleep walking.
Every time I am in town, I search in vane for that sized crockpot, to no avail. I find 3-4-5-6 quart pots and sizes in between, but not the baby 1.5 quart. Well that's island life for you, a hit and miss. Years ago, I begged all over town for ANY size crockpot and finally had to haul one home after a trip to the USA. About a year after that, slow cookers, began popping up in the stores here, finally. Technology arrives on the island...
The 1.5 quart mini crockpot, is perfect for throwing in a cup or so of dried beans, topping with water, then slow cooking all night (or all day). The last hour I dump in the spices and flavorings. Sometimes I keep adding and make it a complete meal, like turning beans into a fiery chili meal. It's just the perfect size for dried bean cooking, hence my name for it, the bean pot.
Usually I leave a night light on in the kitchen, because it's in the central part of the house. I get up for water late at night and my housemate often comes in late and rummages around. The light doesn't really prevent me from bumping into things or knocking them off the counter, it merely allows me to see what I have broken or tripped over next.
I have a couple of swivel backless wooden bar stools for counter height, so they aren't super tall but they are so comfy and handy. They get moved all over creation from this side to that side of the counter and so on. The night light wasn't on (yet) and I shuffled into the kitchen at o'dark o'clock, and hit the bar stool sending it cart wheeling across the floor, none too quietly.
Ooops.
A second later the bright overhead lights were on and my thoughtful housemate had come to see if I had broken any body parts (or destroyed more equipment.) "Just turning the night light on!" I announced as I picked up the errant stool, which seemed no worse for the wear.
Speaking of Wear and Tear...
These well used surfboards have seen better days...
If only they could talk, what tales they could tell...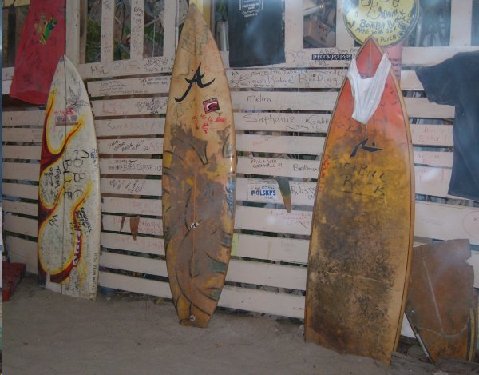 ---
Big savings on Dell XPS Laptops and Desktops!
---
- Wednesday
From: DearMissMermaid at aol.com
Date: Wed, 29 Apr 2009 12:09:16 EDT
The winds have died down to normal and the rains haven't made an appearance since last night. It's 82 degrees at sea level. Waters are warming up slowly for the summer season.
The BVI Music Festival is set to take place from the 22nd through to the 24th of May 2009 at Cane Garden Bay.
Foxys wooden boat Regatta on Jost Van Dyke is the same weekend. I think it will be his 35th!
Ouch!
Quote from
Minister of Natural Resources and Labour Hon. Omar Hodge
:
"I hear all the time about the number of expatriates in the police force which is far more than that of BVIslanders…But you (BVIslanders) have to work for what you want and quite frankly I have worked with my people and they don't like discipline and that cannot work,"
~~~~
I truly miss the old days, when things were slower here, safer and friendlier. Locals are well known for their laid back attitude, though many strive to do well and own their own local businesses. But the government has always guaranteed the locals 100% employment and many interpret that very creatively.
---
Big savings on Dell XPS Laptops and Desktops!
---
- good news s/v Paper Moon FOUND
From: DearMissMermaid at aol.com
Date: Tue, 28 Apr 2009 13:37:44 EDT
Good news, word got out so quickly, that S/V Paper Moon was located in Bonaire and he is flying home to his family.
We've had mini hurricanes most of the morning, strong winds peppered with wet rains and cloudy skies. This should pass in a few days. The
current radar
shows that more is on the way. So patch up your cistern, clean your gutters, and get ready for the rains!
---
An Excellent Credit Score is 750. See Yours in Just 2 Easy Steps!
---
- Sailing Vessel Emergency
From: DearMissMermaid at aol.com
Date: Mon, 27 Apr 2009 11:42:26 EDT
Great sailing weather, but now we have one missing in action... Since many sailors read this page, I hope you will copy and paste the info and forward to other sailors or marinas or marine related businesses. You can email me for more details.
For all you sailors out there, we have an emergency message for the Sailing Yacht "Paper Moon".
The man that bought Paper Moon is not answering emails, cell phone or satellite phone. His family has a major emergency and he is desperate to find him.
The lone owner/crew is Juan C., and is believed to be somewhere between Culebra and Colombia.
PAPER MOON is a Morgan Out Island 36 foot sloop, name on stern is Paper Moon, N. Miami Beach.
White with blue canvas.
On stern solar panels, wind generator, dinghy on davits a West Marine with 18 hp Toshiba.
Please send emails to other boaters throughout the Caribbean.
Email Dear Miss Mermaid, if you have any sightings or info, I have additional info for the owner/crew of Paper Moon.
---
A Good Credit Score is 700 or Above. See yours in just 2 easy steps!
---
- Mondays
From: DearMissMermaid at aol.com
Date: Mon, 27 Apr 2009 08:18:46 EDT
Simply marvelous today i nthe BVI. Breezy, sun shiny, clear and beautiful! A lovely day to be alive! I of course have this huge mess to deal with, the busted up plants and all. We briefly doctored them up yesterday, the destruction was just overwhelming, and well, today I will make it all right again. It was just such a sad monumental mess, it was hard to know where to start. Grrrrrrr...
I went to a fantastic pool party with fabulous views of the sea and out islands, I could have just stared and drooled all day long.
A lone sailboat goes upwind.
More on Hurricanes and Hangovers...
I was born during a hurricane at Lenox Hill Hospital on the east side of Manhattan. At one point during the lengthy delivery the doctor came in to see my mother, offered her a drink and a cigarette, informed her that the umbilical cord was wrapped around my neck, and that they had done all they could. Things looked bad. The doctor suggested that my mother have a drink and a smoke and pray. She managed all three and I arrived intact.
---
A Good Credit Score is 700 or Above. See yours in just 2 easy steps!
---
- Lazy dazy
From: DearMissMermaid at aol.com
Date: Sun, 26 Apr 2009 15:14:57 EDT
Very windy and blustery today. I head a loud crash outside. My umbrella and table which was housing a lot of potted plants toppled over, busting up plants and pots. It was all so sad.
82 degrees with blue skies and puffy clouds, perhaps a rain shower will come our way.
A funny video!
---
- Saturday
From: DearMissMermaid at aol.com
Date: Sat, 25 Apr 2009 08:18:55 EDT
Another wonderful day in the tropics. It started off with heavy rains, that's because I am going to a pool party! The rest of the day should be sun shiny with only scattered isolated showers. It's 82 degrees and spring is here with summer making an early entrance this year.
Bougainvillea in glorious bloom, a cat's paradise...
I don't think our hospital surgery can handle that load...
13 Little Dix Bay Employees to be Severed
Platinum News Online - Tortola,British Virgin Islands
...
international offshore law firm, Harney Westwood & Riegels laid off eight workers including two Attorneys at Law of Harneys Law Firm branch in
Tortola
.
...
A drinking island, with a sailing problem!
Top 10 destinations for iconic drinks
msnbc.com - USA
Painkiller — Soggy Dollar Bar,
Jost Van Dyke
, British Virgin Islands Devotees know this rum-based drink is best experienced at the Soggy Dollar Bar on
Jost
...
What? How come we wait HOURS in line for this "modern" banking?
Not sure I understand the reasoning here, we have hotels over half empty, so we build more hotels and that will improve the room rentals for the rest of the hotels?
---
Check all of your email inboxes from anywhere on the web. Try the new Email Toolbar now!
---
- Early rains over Peter and Norman Islands
From: DearMissMermaid at aol.com
Date: Thu, 23 Apr 2009 08:55:29 EDT
---
- Thursday
From: DearMissMermaid at aol.com
Date: Thu, 23 Apr 2009 08:45:43 EDT
A marvelous day in paradise. Scattered showers might come your way and might not, as they appear to be very isolated. So you might get spit upon by the heavens above and then again the angels might protect you. Winds are moderate and will gently push your sailboat along. A great day to fly a kite, but see the notice below about keeping your kite 3 miles from the airport!
Phones are fickle in the BVI. I have two with different companies. We now have 3 phone companies in the BVI. Grrrrrrr... I think I may have to cancel one. It's the one that rings ONCE and if I am not sitting with it in my hand, I can never get to it in time.
Disgusting.
My other one plays games. Sometimes my calls come through, sometimes not. Sometimes I am sitting at my desk with my phone right by me, and it's beeps me to tell me I just got a voice message. Hmm... Why didn't it just ring me live?
Mysteries of the phones in the BVI...
Dialing out can be tricky as I often use the name to select the saved number but randomly get messages I have misdialed. I will try the same name again, without changing the number and the call will go through.
Many folks do not return calls in the BVI. It's a chronic problem, so if you want to talk to someone, you just have to keep calling until you finally either get the phone company to work right and get the call through, or the person finally answers or shows up at work or home, if they don't have a cell.
Incredibly many businesses refuse to take messages and will simply tell you to call back later, if the person you want to talk to is not there. Calling anyone in government is downright hilarious. A third of the time, the main switchboard is out of order, the other third it works but no one answers and then that rare third, you actually get your call through, but chances are who you want isn't there. Common responses are "They are in a meeting." You can call all week and find out the same person is in the same "meeting" all week long. The other common answer is "They are at lunch." You can generally get this message between 10 am and 3pm, even if you call every half hour.
I guess government employees takes their lunches very seriously.
Now we have free or nearly free texting in the BVI. I hate it. I can type about 3 words per 3 minutes. People text me, and I call them back. If I didn't it would take me an hour to text "Hi How are you I am fine."
Some of my friends won't take phone calls live anymore, you have to text them. So I text them "Call me." In the time it takes me to figure out how to text them "Call me" I could have already called them, chatted about the matter, and hung up already. Grrrrrrr...
Some of my friends are on prepaid, pay-as-you-call per minute and others like me either have "contract" minutes or unlimited minutes. I bought into the unlimited minutes, so now when my pay-per-minute friends call, we hang up and I call them back so we chat free. Incoming calls are now free, but it wasn't always that way. But if you have run out of your prepaid minutes, you can't get your incoming calls at all. Often the caller gets a busy signal which makes one think you should keep trying back. But then when you get the busy signal for days, you realize it's a trick by the phone company to let you know they are out of prepaid minutes.
Some companies surcharge you if you call friends that are on a different phone company, that is extremely frustrating as then you have to keep up with who is on which company, if you have phones from different companies, so that you use your correct phone to call the right person at that company and the other phone for people with the other company and avoid the surcharges. Now we have 3 phone companies here so it is mass confusion.
I remember someone saying "Now we will all be walking around with 3 phones..." as when we had two companies, it was cheaper to have a phone with each company than to pay the surcharges if you called friends or business with the "other" company. I hear my phone ringing and often answer the wrong one, which makes me feel and look silly.
Recently I saw a wrist watch for sale and it is really a cell phone. I remember seeing that in Sci-Fi movies ages ago. People talking into their watches! If I had the money, I would buy the watch/phone, I think that is hilarious and less chance of losing it. Just not sure I could get used to talking to my wrist.
Either way, if you are trying to call someone, try 2-3 times every half hour or so until you get them. If you are calling into the BVI from overseas, get Skype.Com as the rates are super cheap to call into the BVI. If you are calling Skype to Skype, it's free and most everyone in the BVI who has internet has Skype, just that most folks here don't have internet, so it's still a minority!
Go fly a kite, but not near the airport!
Kite Flying Prohibited in Vicinity of Airports
The British Virgin Islands Airports Authority wishes to remind the Community that the flying of kites or similar objects within the vicinity (5km or 3.1 miles) of the Airports poses a serious threat to the safety of Aviation.
Such objects can easily be ingested by aircraft engines causing catastrophic damage (aircraft crash, loss of life).
We therefore solicit your cooperation in ensuring the safety of ALL air traffic movements within the Virgin Islands.
---
Big savings on Dell XPS Laptops and Desktops!
---
- Wednesday Already!
From: DearMissMermaid at aol.com
Date: Wed, 22 Apr 2009 10:56:52 EDT
Just another perfect day in paradise. Hard to beat a day like this with glorious sunshine and big white puffy clouds high up in the sky. The winds are moderate and sailing is good as is snorkeling and other beach and water activities.
***************
A pirate and his parrot, were adrift in a lifeboat following a dramatic escape from a valiant battle. While rummaging through the boat's provisions, the pirate stumbled across an old lamp. Secretly hoping that a Genie would appear, he rubbed the lamp vigorously. To the amazement of the castaways, a Genie came forth. This particular Genie, however, stated that he could only deliver one wish, not the standard three. Without giving any thought to the matter the pirate blurted out, "Make the entire ocean into rum!"
The Genie clapped his hands with a deafening crash, and immediately the entire sea turned into the finest rum ever sampled by mortals. Simultaneously, the Genie vanished. Only the gentle lapping of rum on the hull broke the stillness as the two considered their circumstances. The parrot looked disgustedly at the pirate and after a tension-filled moment spoke: "Now yee've done it!! Now we're gonna to have to pee in the boat!"

---
Big savings on Dell XPS Laptops and Desktops!
---
- Still Tuesday!
From: DearMissMermaid at aol.com
Date: Tue, 21 Apr 2009 20:10:29 EDT
I am sooooooo late getting this out! It's 82 degrees at 8pm at night! We had rain slast night and early morning. Scattered rains are predicted, kind of a hit and miss. Snow season is over, so no snow to worry about. Hurricane season is around the corner, but it doesn't mean we will get any.
Lori pointed out these whale sitings to me last week, and I somehow tripped over the email and just found it!
Whales near Camanoe Island!
Come to think of it, whenever I've seen whales, it's always been in April! It must be their favorite time to visit here.
Hey I'm going to shop at KFC and see what surprises I get in my bucket!
Boat Captain Nabbed with Marijuana in KFC Box
Platinum News Online - Tortola,British Virgin Islands
According to information reaching
BVI
Platinum News, the young man who allegedly had the drugs in the chicken box aboard the ferry, was caught sometime late
...
And MORE about our bad drivers, only this one has a strange twist...
Sadly, the sea claims another one...
Platinum News Online - Tortola,British Virgin Islands
Following yesterday's search, last evening President of VISAR, Phil Aspinall told BVI Platinum News that despite the additional help received to intensify ...
Poor Branson!
5 Secret Caribbean Bargains
Examiner.com - USA
Tortola
. This is the largest and the most touristy of the British Virgin Island chain, but it offers so much. And once you venture from Road Town (
Tortola's
...
St. Maarten arrests 4 in fatal smuggling case
PR-Inside.com (Pressemitteilung) - Wien,Austria
The boat was packed with about 25 migrants, mostly Haitians, when it capsized in January near the
British Virgin Islands
. Three children are among the
...
---
A Good Credit Score is 700 or Above. See yours in just 2 easy steps!
---
- Mondays
From: DearMissMermaid at aol.com
Date: Mon, 20 Apr 2009 16:04:04 EDT
Perfect weather, great for sailing! We might get some scattered rains, this week, but don't hold your breath. Otherwise expect late 70's early 80's in the temps and moderate tradewinds.
The Sir Francis Drake Channel, as seen from Tortola, with St John in the background
---
A Good Credit Score is 700 or Above. See yours in just 2 easy steps!
---
- SUNDAY
From: DearMissMermaid at aol.com
Date: Sun, 19 Apr 2009 13:19:39 EDT
It's 82 degrees and very quiet. My enighbor hasn't decided which noisy construction apparatus he wants to wake up the whole neighborhood with yet. It's 6:13am, maybe he is sleeping in late. Usually by now, he has the entire neighborhood awake and cranky.
About an hour ago in the early light, I watched a lit up ship traverse the channel and give their early morning risers a fantastic view of the islands.
I called to report the internet has been down all night and got a rather perky operator at the phone company. He promises to wake up a technician and see if they can flip a switch and get it going again.
Internet cranky all day, comes on for a few minutes at time then runs away again.
I was just called "sir" again, on the phone. Did my voice drop with my birthday?
Well, I guess it's good "cover!.
Nothing but gorgeous fair weather predicted. I gave my plants a good long soak, so that means it will rain. If it doesn't then I better wash the heap of a jeep next, then it will surely pour rain.
View From the Spy Glass while looking for dem rum swilling, bilge drinking, scallywag pirates!
******************
Lately, I've been designing some
Funny T Shirts to celebrate National Humor Month!
Take a peek and if you see something funny, net proceeds support an artist (me!)
---
A Good Credit Score is 700 or Above. See yours in just 2 easy steps!
---
- Friday already
From: DearMissMermaid at aol.com
Date: Fri, 17 Apr 2009 14:05:35 EDT
I don't know what happened to Thursdays report. It's like I lost a day somewhere. Hmmm.
Hate that when it happens!
Well today is Friday already, we had a holiday Monday, so that makes it a short week, and Tuesday morning was a LONG power outage, so those that were hung over from Monday, had a nice break at work *tee hee hee*. That remdinds me, I better fill my generator gas tank back to the top again. Better to do that during the day, and not in the middle of the night.
Sooooooo.......
Today's weather is just fantastic! Blue skies, crystal clear water and only 82 degrees. Fair weather is expected for the next few days.
Low tide at sunset, a beachcomber looks for edible goodies among the rocks and coral.
---
Join ChristianMingle.com® FREE! Meet Christian Singles in your area. Start now!
---
- Wednesday
From: DearMissMermaid at aol.com
Date: Wed, 15 Apr 2009 13:57:47 EDT
The early morning brought showers and it just felt wonderful. I hope my plants got some benefits as well as the proverbial cistern. Fair weather for a few more days with the odd little shower if you are lucky, now and then. The waters are just crystal clear, it's a great time to go diving or snorkeling. 77 degrees in the mountains. Southeasterly winds of 25 knots or so, give or take.
**********************
It's Official--WWW.BVIMUSICFESTIVAL.COM
Platinum News Online - Tortola,British Virgin Islands
On Friday, Saturday and Sunday May 22, 23, and 24 Cane Garden Bay will again come alive with this year's celebration of the
BVI
Music Festival Cane Garden
...
Court Manager, BVI « CaribbeanJobsOnline.com
By livejobs
Court Manager,
BVI
. Posted on April 15, 2009 by livejobs. Caribbean Jobs Online. The Government of the Virgin Islands invites qualified and professional applicants to apply for the post of Court Manager, Magistracy.
...
Two Caribbean Cocktail Recipes
Wine Enthusiast Magazine - Elmsford,NY,USA
By Kristine Hansen On the island
Jost Van Dyke
, which is part of the BVIs, electricity first switched on in 1991 and walking barefoot is still de rigeur
...
Hoping you had a Hoppy Easter Week!
And just what makes you think we aren't related?
---
Great deals on Dell's most popular laptops – Starting at $479
---
- Tuesday, back to work, holiday over now...
From: DearMissMermaid at aol.com
Date: Tue, 14 Apr 2009 10:00:33 EDT
Another fantastic day in paradise, a great day to spend at the beach or sailing, especially since da current done mash up hours ago! Mine went out about 830-ish, so maybe it gave many folks a chance to not go to work, or to go back home anyhow.
81 degrees with wafty easterly trade winds floating by, scattered clouds in the cerulean skies, just one of those oh so beautiful days, it makes you happy to be alive!
Checking the
weather
, and we should have boringly lovely weather all week with a slight change this weekend when a frontal boundary digs southeastward.
I'm happy, because my generator, the tiny
29 pound 1KW, Kipor
(1,000 watt) is purring along outdoors, supplying my office. It sounds like a sewing machine, so not offensive at all. I have a hundred foot cord, I could park it 90 feet away and not hear a thing, just lazy is all.
Several readers brought it to my attention that my link the other day for the
Doggy T-Shirts
was all wrong!
I designed 29-30 shirts in honor of National Pet Month and they come in five sizes.
Try this link!
Yesterday's Sunset in the Beautiful BVI
OK, and to the smartypants that wrote and asked me where the sun sets....
In the WEST!!!
(I believe this is universally true, well, at least while on earth...)
Perhaps that lost alien who crash landed his UFO, wrote me that question...
This brings up an idea for a new game show "Are you smarter than a First Grader?"
TODAY'S QUOTE
Friendship is like peeing your pants, everyone can see it, but only you can feel the true warmth.
~~~Anonymous
(Perhaps this quote was written by a 5 year old too...)
---
The Average US Credit Score is 692. See Yours in Just 2 Easy Steps!
---
- In loving memory of Capricorn Lady
From: DearMissMermaid at aol.com
Date: Mon, 13 Apr 2009 04:20:46 EDT
80 degrees, moderate winds in the BVI. Easter Monday is a holiday in the BVI, so you can expect some serious slimin' (oh dear me) I mean serious limin' around the islands, as Labor forbids working on this day, except in certain industries, such as bars. What a life! We take our holidays seriously.
So you can expect gorgeous fair weather today and the rest of the week. What more could you ask for? Peace in paradise.
Limin' means to lay about or party or go out on the town.
Easter Sunday was a day of perfect blues, in all shades. I was at the seashore, and wanted to capture the images, the three thousand shades of blue that occasionally grace our seascape when the sun, seas and weather are just right. I had my camera with me and had just taken 3 flash pictures of an artist friend's handiwork. She avidly crochets, making numerous custom items for her customers. I try to catch a pic of each one, before it is delivered to the new owner, so we can compile a portfolio for her. She often crochets by the sea, and I stop to capture new images for her, as she doesn't own her own camera. Well, I guess my rechargeable batteries are dead-dead. My camera refused to take any more pics after those 3! I was mortified, as I had just taken the camera off of it's charger, (at home) where it CLAIMED to be fully charged. Grrrrrr........ I think I have some spare batteries running around here somewhere, I must toss these and put in the others. I HATE it when I miss a great shot.
Get the Bugle out for,
FINAL TAPS...
Now for sad news about a beautiful yacht that plied the local waters for decades; the Capricorn Lady. If you were lucky enough to charter this wonderful yacht, you enjoyed a piece of glamorous history, and total luxury.
The Death of Capricorn Lady, 71' Trumpy (aka Silver Swan)
Hi Dear Miss Mermaid:
I am placing a link below which will take you to my
Face Book page
and scroll down to find a video on the Death of my boat. When we sold Capricorn Lady to a wealthy owner, he replanked the bottom at Frenchman's Cay Boat Yard, and we supervised. Then later, he replanked it again in a Florida boatyard and put on a new transom. Apparently the boat sat in the year, through several hurricane seasons, and was put up for auction in February. The unsaid reason probably is that the yard ended up owning the boat for the repairs. Anyway, take a look and have a good cry with me.
HAPPY BIRTHDAY MERMAID LADY. My new book, Mermaids of the Siuslaw, Quest for the Eyes of Atlantis, will be out in a couple of months. It takes the characters, two mermaid gals, from the Pacific to the British Virgin Islands, yeah, home again. Anyway, have a look see at the video and all the best. Have a beer for me.
Judi Gilman
MORE from Judi:
Dear Friends:
Danny and I purchased the 71' Trumpy Yacht built as Silver Swan in 1946 and brought her to the BVI where she carried passengers for term charters from 1980 to 1999. We lived aboard the boat full time for all those years, most of them at Nanny Cay Marina on Tortola. The Lady got hauled out every year, was insured by Lloyds of London and never missed a single day of charter. We sold her to one of our charters in 1998, thinking she would be pampered and upgraded for the rest of her life. Apparently the boat was put up for auction by a Florida shipyard in February, and no buyer stepped forward. Who knew??? This beautiful classic yacht was destroyed in one hour. I discovered this information a few days ago. It's a sad end for a beautiful Lady who provided a wonderful way of life for Danny and me. Our previous sailing boat Capricorn was beached in a hurricane, and many of my friends have lost their vessels in storms and other acts of nature, but it just doesn't seem right that the Capricorn Lady died in such a disrespectful manner. Better for her to be resting in a watery grave, intact. What do you think?
Dear Judi,
Talk about a GOOD LONG CRY!
That is the saddest video I have ever seen. I am in shock. What were they thinking? The so called auction must have been top secret and advertised on the back of a postage stamp!
Yes, I think she deserved a proper burial at sea, at the very least. Or did destroying her up the ante for the 2 remaining Trumpys? I searched all over the internet and lost her trail in August 2005, so the mystery remains, what happened to this fine lady the past three and a half years? Why was the boat yard so eager to destroy her? What was gained from that?
It could be the new owner found out about the 2010 SOLAS regs coming into effect soon, that may have put him out of business.. I believe if you carry over 6 passengers, you come under these new regs and it appears the new owner was gearing up Silver Swan to be a period (1940's) day charter in Tampa Bay (see links below). Next year, we will lose numerous historic yachts from the charter scene, as these regs comes into effect. SOLAS is "safety of life at sea". One of the new rules is that as of July 2010, 85% of materials used in construction, must be non combustible (to a point). Rumors abound the new cruise ship owners pushed to have these regs take effect to force older cruise ships out of business. We already saw the death of Windjammer Tall Ships, what next? Conversion costs for many yachts and ships, will simply be too prohibitive. Nonetheless, this fine lady could have been sold as a private yacht to a wooden boat enthusiast, and I bet many will be outraged, as word spreads of this senseless destruction of a historic fine yacht.
Readers, if you have a chance to cruise on a historic yacht before July 2010, DO IT, many of these beautiful ladies will be unavailable afterwards.
I did some research Judi, and came up with these links:
Not only did Trumpy design and build Capricorn Lady (Sliver Swan), he also designed and built the Presidential Yacht Sequoia. The video claims only 2 wooden Trumpys remain.
"Elegance in wood. Luxury Yachts that set the standard were the signature of Trumpy & Sons."
Going back to the 1930s, the master list of Trumpy owners is a remarkable "Who's Who." The handcrafted wooden motor yachts were built for the likes of the DuPonts, Guggenheims and the Dodge and Chrysler families. Plans were also drafted for Sequoia, the Presidential Yacht that became part of history with presidents from Herbert Hoover to Gerald Ford. Celebrities from Josephine Baker to Howard Hughes were among the elite group of Trumpy owners.

"In my last letter, I talked about Silver Swan. She is a worthy project and this great American yacht should be saved. Everybody should do at least one."
Another Quote from the same blogger.
FOUND:
Avoures is currently restoring the Silver Swan, a 72-foot Trumpy built in 1947. The owner, an Atlanta eye surgeon, bought his future "retirement home" from a charter outfit in the Virgin Islands. From a Spring 2003 article
Interesting, Judi refers to Capricorn Lady (Sliver Swan) as a 71 feet, the blogger as 72 feet and this site featuring yachts built by
John Trumpy & Sons
, lists her at 75 feet.
From scrounging the internet, I can't find any info on
this yacht
past August 2005, so it's a mystery (at this point) what happened to this fine lady from 2005-09.
When bragging yachts grow in length, when docking they shrink... (marinas often charge by the foot for yachts!)
Quotes
from those who watched the video:
1-...splendor to splinters... I'm getting as weepy as Silver Swan is leaky.
2-Didn't watch the whole clip. Too sad.
3-That's heartbreaking!
Trumpys are the stuff of legends. Captains of industry, heads of state, and scores of American presidents have entertained, celebrated and negotiated aboard these magnificent vessels, dubbed the "Rolls-Royce of American motor yachts" by the New York Times.
GOOD NEWS!
Judi wrote 2 books about Capricorn Lady: So at least her memory is forever alive in her captivating books.
Voyage Of The Capricorn Lady: Lost At Sea With Daniel T. - Book I
Voyage Of The Capricorn Lady: The Shadow Of His Smile- Book II
Her third book is about a Mermaid!
Ohnalee, Mermaid of Heceta Head
************
Some MORE GOOD news (unrelated):
---
The Average US Credit Score is 692. See Yours in Just 2 Easy Steps!
---
- HOPPY EASTER!
From: DearMissMermaid at aol.com
Date: Mon, 13 Apr 2009 00:19:04 EDT
---
- Beautiful Day to Be In Paradise!
From: DearMissMermaid at aol.com
Date: Sat, 11 Apr 2009 13:34:45 EDT
A gorgeous day in paradise! 82 degrees with gentle trade winds. Perfect weather for the next few days, it's Easter Weekend and Monday is a holiday here.
Rainbow from Tortola to Jost Van Dyke
I'm living life VERY carefully today *giggle* so as to survive the BIG one (my birthday) *har har har*. Still growing back new skin and scales from my previous mishap, so I want to take it easy.
Say I made it ALIVE! LOL!
---
Hurry! April 15th is almost here. File your Federal taxes FREE with TaxACT.
---
- Good Friday
From: DearMissMermaid at aol.com
Date: Fri, 10 Apr 2009 10:36:21 EDT
It's been super bright at night the past two nights, thanks to the passing of the full moon. Surf was up briefly yesterday and about 8 people were out in it, doing their best.
Winds and sunshine with 20+ knots expected through the weekend, so a great time to sail fast! Live slow!
Tomorrow is my birthday! Yippee! Then Sunday is Easter and in the BVI, we celebrate Good Friday, as a holiday as well as Easter Monday!
In the BVI, you can not shop for alcohol until after 6pmon Good Friday. It's one day of the year for all the drunks to sober up! Well, if they haven't prestocked for the day.
Many bars will be open today, you can have food and drinks, but no alcohol in your drinks.
When I lived on a certain island, I shall not name, but it's land of some serious drinkers, probably has more drunks per capita than any other island in the Caribbean, well many bars simply served their alcohol drinks in coffee cups throughout the day. That way if the police popped in to see if they were selling drinks, every one was nursing a coffee cup. Some went so far as to use the Styrofoam cups with lids, so you could tear off a tiny sipper hole and no one could see you were drinking beer from a coffee container. If you've been to this particular island of drunks, I am sure you can guess the name.
Last year, at Easter, we had mammoth record breaking waves that did a ton of damage to some seaside businesses.
See pics from 2008.
Life is Short, Pet Often!
This is National Pet Month! To commemorate,
I've designed 30 Pet T-shirts
for your best friend that come in 5 different sizes. Take a peek at them, tell me what you think.
In honor of Pet Month, here's some funny stuff!
Dogs have owners, Cats have Staff...
Study hard, and you might grow up to be President. But let's face it: Even then, you'll never make as much money as your dog. George Bush, to a graduating class, referring to Millie, his dog, who earned $889,176 in book royalties.
Every puppy should have a boy.
I have a great dog. She's half Lab, half pit bull. A good combination. Sure, she might bite off my leg, but she'll fetch and bring it back to me.
Cats are smarter than dogs. You can't get eight cats to pull a sled through snow.
Dogs come when they're called; cats take a message and get back to you later.
Dogs believe they are human. Cats believe they are God.
The average dog is a nicer person than the average person.
Newlyweds: We can't decide between a puppy and a baby. Should we ruin the carpet or ruin our lives?
Children say the darnest things: The fastest way to get your own puppy, is to beg for a baby brother or sister; you'll get the puppy right away!

***************************

Pro Valor Charters in East End at Habour View Marina is now carrying "Hurricanes and Hangovers" and listed it on their website! WOW!
Update: Entertainment Line Up for Virgin Gorda Festival 2009 ...17 Mar 2009 .. the Virgin Gorda Festival committee for the selection of artist for their upcoming Easter festival. ...
HUDSON AND THE HOO DOO CATS play Jolly Roger tonight and Saturday night!
Beef Island Development, VIEC Environmental Court Case still ...
By admin
at
saildivebvi.com ( BVI Captains Log Blog)
There has been a lively debate on
BVI
Platinum (follow this link) with most people lining up against Dr Smith's views, and indeed asking why he is still flogging this. It is a very interesting read. I am quoting a couple of the
...
UFO Crash Lands on Tortola
Free to a new home, for anyone wishing to haul it away
Email Dear Miss Mermaid
---
A Good Credit Score is 700 or Above. See yours in just 2 easy steps!
---
- FULL MOON TODAY, TONIGHT!
From: DearMissMermaid at aol.com
Date: Thu, 9 Apr 2009 12:52:09 EDT
---
- View From Paradise
From: DearMissMermaid at aol.com
Date: Thu, 9 Apr 2009 12:44:11 EDT
---
- here I am!
From: DearMissMermaid at aol.com
Date: Thu, 9 Apr 2009 12:38:10 EDT
Just another wonderful day in paradise with perfect weather and no storms on the horizon. Perfect for sailing, or
snorkeling
or beach combing.
EASTER MONDAY there will be parties at Ivan's Campground in Jost Van Dyke and at Beef Island. Both will have live music, food, fun and games.
Wednesday, I somehow missed posting. My neighbor who is not close by, had his cement mixer going full blast at maximum revs, without a muffler and my house was vibrating, my hearing went deaf and my head ached. Grrrrr........ how many more years he will be building this house, I've no idea. For two days he mixed and poured cement and today he is jerk hammering it back out again. We have no sound laws here, you can make as much ruckus as you want, but this was ridiculous. My ears are still hurting today. I think if he starts it up today, I will have to flee my office and see if I can work at the beach. I'm running a fever anyhow, so I'm not at my best.
I need some of those old fashioned huge puffy ear muff things to plug into my computer, place over my ears and listen to soothing tunes when that happens. I am sure the guys using the mixer are slowly going deaf. I just kept trying to tune it out and keep pleasant thoughts in my head, but still I saw pictures of me doing awful mean things to that machine. Shame on me or shame on him?
Max Weather has sent over his thoughts on the upcoming Hurricane (Gurricane) Season:
Hello All
Reported today in the Tampa Tribune (Wed. April 8, 2009), Experts scale back hurricane forecast.
Forecasters from Colorado State University have reduced their prediction activity to an average number of storms.
The newest forecast from William Gray and Phil Klotzbach calls for 12 tropical storms, with six becoming hurricanes and two of those growing to major storms of Cat 3 or stronger.
The last forecast they had issued in Dec. 2008, called for 14 TS and 7 H with three becoming Cat 3 or greater.
The reasoning is that the National Climate Prediction Center says there is a chance a weak El Nino will form this year. An El Nino or warming of the water in the equatorial Pacific Ocean, creates conditions in the atmosphere that stunt the growth of developing hurricanes. Also, temperatures in the Atlantic Ocean are dropping slightly. Hurricanes feed on warm water. (What happened to Global Warming?) (There is also a chance they are wrong as hell!)
Hurricane season runs June 1 through November 30. Don't count on it!
The time to prepare is now, not when you hear a rumor you are in the sights of a major storm!!!!!!
Let's have the safest season yet, Max The time for Gurricane parties is now, while you have a roof and table n chairs!
Jocko's spaghetti predictions coming soon ....
****************
Speaking of hurricane parties... Remember all those plastic forks and spoons and napkins they give you when you pick up food to go? Well, when I get home with my food, I prefer to use my own real forks and not some flimsy plastic fork etc. I have a box on my top shelf in the kitchen where I toss all these to-go utensils. Why? Not because I want to be a pack rack, but it's my hurricane stash! If we get a storm (or earthquake or tsumnami) and the power is out for days, the last thing I want is a mountain of dishes to wash. So slowly over the years, I've built up a large stash of plastic knives, forks and spoons etc. So before you toss it, think about your hurricane stash.
I know when I moved last, I was amazed how much STUFF I owned and subsequently moved, for the inevitable hurricane and/or lengthy power outages. There are the paper plates, the plastic cups, the growing box of plastic utensils. The canned goods, which at this moment are severely depleted, then the box of assorted batteries, the jumbo tubs for water storage, the water jugs for filtered water, the battery operated boom box, the drawer full of assorted candles and jumbo matches (the little ones don't seem to store as well as the jumbo matches). Then there are the assorted flashlights (most not working as I discovered lately) , then the box of jumbo ziplocs, the type that are the 2 gallon size and up size that can hold laptop computers and small printers and so on. The box of garbage bags, not for garbage but to bag or cover things up, you want to stay dry from the storm. Then there is the kitty litter, we never use, but if we are locked up tight inside during a storm, then of course I have to set up the litter box. Two of my cats HATE the litter box, and the last storm scare resorted to walking around cross legged for hours and crying pitifully at the door. I kept showing them the fresh clean litter box, and they would give me disgusted looks, as if to say "We outgrew that mess, ages ago!" but finally when all else failed, they reluctantly used the litter box, then spent hours cleaning themselves, as if they had been unjustly contaminated. I promptly "bagged up" their deposits, to leave the litter box fresh again, but this didn't appease them much. I remember when I opened the door after the storm, they ran out and hid under the nearest bush, doing their business.
***************
This will be heaven on earth, I recently waited over 2 hours for my friend to clear in off the ferry, to visit. While we like things slow and easy, maybe not that slow...
One day in exasperation, a reader wrote me "There are people employed on Tortola for the sole purpose to inconvenience you as much as possible!"
Yes, it's true, one of our dirty little secrets.
A friend of mine came in to claim her work permit and they seized her passport and told her to pick it up downtown after she got her work permit. Well, first of all, I don't believe a foreign country can legally seize your passport on a whim, when you've broken no laws. But the next day she went to town to fetch her passport, and the labor department, didn't finish with her until 3pm. She walked the 6 feet over to Immigration and was told they CLOSED at 3pm, for her come back another day. She of course doesn't have a car, so all this is doing is making the taxi mon rich. WHY does immigration close at 3pm? They can't work 8 hours a day like the rest of us?
---
New Deals on Dell Netbooks - Now starting at $299
---
- Teusday All Ready!
From: DearMissMermaid at aol.com
Date: Tue, 7 Apr 2009 11:22:22 EDT
Another incredible day in paradise, with perfect spring weather, just now and comfy, a great time to be here, living here or visiting here on vacation. The world is beautiful. We can expect fair weather for a few days! Yippee! Life is grand!!!
Only in the BVI...
My friend was running around volunteering for a worthy cause, when suddenly her car stopped running because it sensed it needed water and lit up her dashboard with the little watering can. So she yanked on the open-sesame handle, that little thing you are supposed to pull from inside the car to open up the hood. Well the handle gave way all right, and the cable snapped before opening the hood.
Ooops!
Lubrication goes a long way in the BVI, and many of us sadly forget this. I know my construction neighbor REFUSES to use lubrication on any of his equipment. As I write this, the noise is deafening from his machinery. Some days I want to fill up a balloon full of machine oil and fling it down his way.
So my friend is stuck on the road, and can't get the hood up. In the BVI, when you are stuck, you typically pop open the food and this signals the good Samaritans to come to your aid. After awhile, someone figured out she needed help and wasn't merely standing on the side of the road by her stopped car, working on her sun tan.
The good Samaritan wrangles with the problem and miraculously gets the hood open. So the owner reaches in side her car to fetch the big water bottle to satiate the beast and guess what.
The water bottle had peed all over the place, including all over a huge stack of raffle tickets she had just picked up for the charity. It times like this when one can look heavenward and say "WHY?" to no cloud in particular.
By now another good Samaritan had stopped and they had water to donate and finally the car was happy. She made it home and spread a zillion wet raffle tickets around her home, and prayed a big breeze didn't come along and send them out to sea. The next morning she is picking them all up and stacking them up again, a little ruffled but nice and dry and still usable.
Ah, all in the name of charity. Life is funny like that.
---
A Good Credit Score is 700 or Above. See yours in just 2 easy steps!
---
- Sun Day (almost)
From: DearMissMermaid at aol.com
Date: Sun, 5 Apr 2009 04:03:47 EDT
WOW, it's 4am and I am still UP, rather than getting up. I had a burst of energy and stayed up cleaning house tonight. Oh boy. What fun!
Weather looks like it's going to be gorgeous for the next few days, just perfect.
Looking at the eastern end of St John,
---
A Good Credit Score is 700 or Above. See yours in just 2 easy steps!
---
- Saturday
From: DearMissMermaid at aol.com
Date: Sat, 4 Apr 2009 18:11:47 EDT
A gorgous day for the races and of course the little race village is set up at Nanny Cay for the weekend. I might hobble out there tomorrow.
We are enjoying spring weather with clear skies with moderate winds. Nothing untoward on the horizon.
Did you hear about the new pirate movie they might film down here?
It's rated argh...
Free Cash at BVI Spring Regatta
Platinum News Online - Tortola,British Virgin Islands
Visitors to the
BVI
Spring Regatta Village at Nanny Cay Marina from April 2nd through April 4th, 2009 may be eligible to enter a free raffle and win $500.
...
Virgin King Launches Boutique Hotels
BlackBook Magazine - New York,NY,USA
It was 1978, and in order to impress a woman (now his wife, Joan) Branson answered a high-flying ad to visit the
British Virgin Islands
,
...
---
Hurry! April 15th is almost here. File your Federal taxes FREE with TaxACT.
---
- Thursday
From: DearMissMermaid at aol.com
Date: Thu, 2 Apr 2009 10:02:33 EDT
BEAUTIFUL day in the BVI. 80 F degrees, nice trade winds, it's raining sunshine most everywhere today. We might get a teeny tiny shower, but don't hold your breath.
My Friend Cleaned up the Beach and brought back several Messages Found In Bottles on the Seashore of Tortola:
Boy Missy Mermaid what you posted about your fall on the board is a bummer, a scrape is one worst things that can happen to knees. Seems to take forever to heal and really limits you kicking up your heels.
Does this make you miss the Spring Regatta? Dang wish I was down there, I would sure haul you around to see the sights, even if I do scream a lot when bad drivers abound on the road where I am driving.
Anyway, I hope you get better real quick. You said you have the big one coming up, I thought for sure you would be older than 21 but then age is only relative to the mind. Get well enough to enjoy the big one.
Warm regards and kind thoughts,
Jim K
The kicking up my heels, is what I miss most!
Thank you for your kind words!
Hope you're feeling better! I will be sending your box tomorrow AM to the St John PO box. If that is not a good address, please let me know ASAP! I'd have put some XL bandages and more Neosporin in it, but by the time it gets there I hope you won't need them!
Drew
A klutz like me, always needs more First Aid! Thank you!
Whoa! Quite a smash by the sounds of it?

As we strive to meet the "big one's" in life we learn to do more in extreme "slow-motion" to prevent incidental/accidental unexpected and unwanted incidents!

Wingless flights should be discouraged except over expanses of deep, soft, energy absorbing water! Might I suggest pads? As in knee, shoulder, hip and bottom pads, plus a helmet? Of course, when you even think a step in the dark might result in a crash, you might try wrapping yourself in "bubble wrap," you know. The really big bubbles that we all enjoy passing time popping?

Then again, should you recreated this recent most disastrous fall into the abyss while wrapped in bubble wrap, the resulting tumbles would pop bubbles as you roll, sending pops like gun fire across the island perhaps arousing your fellow islanders to arms in defense of their homes from invading unknowns suggesting a wholesale invasion from a nearby hostile island? Whoa, please don't engage in any further unlicensed flights anymore. You will force Foxy to impose local control forbidding unauthorized uses of bubble wrap? While attempting unauthorized test flights at night?

Obviously your need to "carry out" was over kill and over gross capacities for a trek in the night? The fish, hot wings, stew, rice, hot sauce or whatever had to be extremely important to prompt you to make the attempt? Next time please alert your neighbors to line the path with mattresses or other soft landing debris to ensure your safe approach to your front step!

So sorry for the uncomfortable results of your need for speed to get home to eat leftovers ... Good Grief!
Just to clarify a few things... I had gone out in day light, left my outside lights ON, and in my travels had been a meeting, then sold a bunch of my
book
s, acquired groceries, and cat foods, plus a
gift
of food in a to go box. So I foolishly had my arms full with purse, cat food, to go food and groceries when I took flight in the dark (island wide power outage). As usual, I planned to share my to-go food with my kitties who love most any kind of meat. Since much of it was spilled out on the driveway, after my crash landing, they dined al fresco. Or as they innocently put it to me "We cleaned up the mess in the driveway for you..." Such good cats to have around...
We're rooting for your speedy recovery - in time for your birthday [5-
oh?]

Mermaid tails are hard to walk on so don't be too hard on yourself!

San Francisco Fan
I just want to make it ALIVE to my birthday on Saturday the 11th!
Thank you for your note. I shudda remained a mermaid near the water and stayed safe. It's only when mermaids get too far from the ocean, they grow legs and knees.
That flight down the hill sure didn't sound like fun! I think you need a few solar powered yard lights that'll light your way despite what happens to the elek-trickity! I'll see what I can find around here, send a package down. Any other necessities on your list?
Drew
Well let's see, someone suggested knee pads and bubble wrap...
Are any of your books and calendars in the local stores yet?

joanne
Serendipity Book Shop on Main Street in Road Town Tortola
Other Places:
In Vieques, Puerto Rico, at the
Museum Gift Shop
at the Vieques Conservation & Historical Trust
Mail Order through
Amazon
(ships worldwide)
Wholesale orders can be obtained by contacting my email address (see top) or BookSurge.Com
I am waiting on another shipment of books, to hopefully spread them out to more locations and islands. Custom ziploc baggies are on the way too, so that the book will be sold to survive dinghy trips to the boat and protect it from our erratic rain showers or for neater packing in a suit case home.
Spring Regatta Underway March 30 to April 5
All At Sea - Saint Thomas,US Virgin Islands,U.S. Virgin Islands
The
BVI
Spring Regatta (jointly owned by the Royal
BVI
Yacht Club and the
BVI
Chamber of Commerce and Hotel Association) celebrates its 38th anniversary
...
"Sip and Stay" at Peter Island
Gadling - Santa Monice,CA,USA
But, when you consider that this gets you a night at the Peter Island Resort & Spa – on the largest private island in the
British Virgin Islands
– your
...
Tortola's Christmas Presents to Haiti
All At Sea - Saint Thomas,US Virgin Islands,U.S. Virgin Islands
Through their international network, the Rotary Club of
Tortola
established a partnership with the local Haitian Rotary in Les Cayes to ensure funds and
...
---
New Low Prices on Dell Laptops - Starting at $399
---
- Winds Day
From: DearMissMermaid at aol.com
Date: Wed, 1 Apr 2009 12:41:25 EDT
Today is a grogeous day with promises of drier weathre for the rest of the regatta and incredibly the skies have returned to that famous Caribbean blues.
Trellis Bay, Beef Island, British Virgin Islands
I read with interest, the short article "
Surviving Hurricane Hugo Aboard a Yacht in the Caribbean
" and anyone who is even remotely thinking of staying aboard their boat or yacht during a hurricane, should read this article. This article will change your mind and you will want to stay ashore in a firm concrete building.
It seems all the Nanny Cay
webcams
are down, so not much to watch the races with.
The bar cam is working and my friend recently timed her husband as being there for three hours in the day, when he said he was at work.
Oops! Life in the islands.
MANY of you have written about my crash landing, and I owe you all a big thanks for your concern, I will answer all soon.
I am recuperating, incredibly weak and a bit cranky from the pain. I can feel my skin trying to grow back whenever I flex my knees *ouch*.
It seems much of my day is whisked away, cleaning wounds, nursing them, unbandaging, rebandaging, sleeping and day dreaming of all the things I would rather be doing, like working and playing.
---
New Low Prices on Dell Laptops - Starting at $399
---
- Two's Day
From: DearMissMermaid at aol.com
Date: Tue, 31 Mar 2009 10:41:02 EDT
So much for the dry weather the pros predicted, it's been raining off and on since daybreak.
I had one solid wet kitty in my bed, waking me up, to dry him off. I ended up rubbing him dry with the edge of my blankie, also his favorite, as he has been ensconced in it since I got up.
I was going to have coffee and watch the beginning of a certain movie for the 4th time, (while rubbing kitty's belly). I've seen the middle 3 times, but not the beginning nor the end. Right when it started, and the coffee was on, one neighbor fired up his cement mixer, which needs oiling and needs a new muffler, so the sound was deafening. I switched to closed captioning. Then somewhere else, there started a ruckus of pile driving going on, I don't know where yet, but it reverberates across the hills and my walls. So off with the TV and out of bed and to a super early start with work.
It's 81 degrees but with the brisk winds, feels much cooler. Looks to me like scattered showers are the norm for the next few hours. The racers can enjoy fresh water showers to cool them down from the hard work of racing their boats.
A few days ago...
Looking North
Tortola, foreground left, Guana Island in background, Beef Island on right
Warm and RAINY Regards,
DearMissMermaid.com
---
A Good Credit Score is 700 or Above. See yours in just 2 easy steps!
---
- Sailing
From: DearMissMermaid at aol.com
Date: Mon, 30 Mar 2009 14:41:24 EDT
Well it's a wonderful day in paradise. At daybreak we had super duper heavy dew, as in dark clouds, rains and winds. Now we are dry, with cerulean skies and moderate winds.
A great way to kick off the
Spring Regatta
. Which don't forget to check out the
local BVI webcams
, you might even catch some of the regatta live and some of the evening parties next weekend.
We are supposed to have perfect sailing weather this week, what more could you ask for? A great day at the beach? We have that too!
---
A Good Credit Score is 700 or Above. See yours in just 2 easy steps!
---
- Sun Daze
From: DearMissMermaid at aol.com
Date: Sun, 29 Mar 2009 21:41:31 EDT
We are expecting beautiful weather for the next few days, and that will be perfect for the Spring Regatta opening tomorrow, on Monday.
I'm still alive, and getting very little done, but tomorrow I hope to hobble in earnest back to work.
Elec-tricky...
I hope these are "dead" wires, but I didn't touch to find out!
Another Driver Slams into Utility Pole
(I think we are having a secret competition now! Wait until you see the picture of where the car ended up and just how fast was that clown driving?)

Platinum News Online - Tortola,British Virgin Islands
Police, Fire and Rescue, ambulance and a crew from the
BVI
Electricity Corporation promptly responded to the scene of the accident.
...
---
A Good Credit Score is 700 or Above. See yours in just 2 easy steps!
---
- Picture Postcard Perfect and bad landings
From: DearMissMermaid at aol.com
Date: Sat, 28 Mar 2009 17:22:57 EDT
Gorgeous weather today, yesterday and for the next few days. Just perfect for the opening, Monday, for the Spring Regatta at Nanny Cay on Tortola in the BVI.
Nights are cooler and this should continue for at least another week, which is wonderful.
A couple watches the sunset over the Sea
The small mountain is named Sugar Loaf
This could be YOU, Come on down!
I skipped a few days writing, I had a big boo-boo and my body be mashed up. I was carrying a bunch of stuff from my heap of a jeep and walking down a steep hill covered in rocks and concrete, in the dark. I had left my outdoor lights on earlier, in anticipation of coming home after sunset, but, we had another island wide power outage that evening *sigh*.
I thought I was being ever so careful, but the next thing I know, my packages and I went flying, but oops, we can't fly! After that ever so brief flight, I landed rather hard, sliding head first, downhill, leaving a trail of skin, blood and guts, behind on the rocks. (OK it wasn't really guts, it was my to-go food box scattering it's contents.)
Apparently my flying skills are sadly lacking and this short lived attempt at flight ended in a sudden hard crash landing; minus the landing gear. On the rocks, I laid there in extreme pain, wondering who I was and what was I doing. I prayed nothing was broken, despite the extreme pain. I just laid there for a little while, oddly enough, wishing it would rain.
Finally I struggled up and made it to my front door. As I stood there fumbling for a key, the lights miraculously came on.
A tad late, thank you very much
.
So, I guess any flight you can walk away from is a
good flight
and I am ever so grateful to be alive. I'm trying to make it to my birthday in 14 days, it's the BIG one.
Be nice if I could arrive there alive...
That night, I exhausted much of my first aid kit, lovingly supplied by a gentle reader, Denise from Louisiana, who gave me this nice case of assorted first aid supplies awhile back. At the time I figured "that's good insurance I won't have any accidents now." I've delved into it occasionally for this and that, mostly supplying friends in need and a few minor booboos of my own.
The next morning, I woke up very weak and in extreme pain. Mirror, mirror on the wall... I looked like I had been chewed up by a shark and spit out again. Talk about large scale skin loss
...(OK, I won't!)
I called my neighbor who had to drive to town to drop off her kids, and she brought back reinforcements, such as more antibiotic cream, and more jumbo bandages. By now I had resurrected the quad cane from the bowels of the closet and was hobbling around, still in a bit of shock.
I've been exhausted, in and out of my bunk, for 2 days now, and not getting much else done except excessive day dreaming.
(It takes the pain away...)
I think I won't be trying to fly again; at least not without the aid of a plane, a pilot and landing gear.
---
A Good Credit Score is 700 or Above. See yours in just 2 easy steps!
---
- Mini Hurricanes and Surfing Cats
From: DearMissMermaid at aol.com
Date: Thu, 26 Mar 2009 10:25:55 EDT
It was like a mini hurricane last night! I was freezing and got up to turn off the fan, but it was already off! My comforter was hanging out side to dry, (under cover) so it was just me and my hand woven blankie to battle the elements. I washed my comforter before sunset, and put it out to dry, then fell asleep before fetching it again. late in the night the winds were gusting and almost howling with rains to boot. Temperature plummted to 75, and I haven't seen that in awhile at sea level. Even at 77, I have warm fuzzy slippers on my feet.
The prevailing northeast winds will increase to 15 to 20 knots throughout day ... with gusty winds to near 30 knots possible especially along coastal areas and in higher elevations, accompanying the shower activity. Isolated to scattered afternoon showers area possible.
A low pressure system located well north of the local area is producing large long period northerly swells. These swells will probably arrive to the local area late today and may peak
tomorrow afternoon. Therefore dangerous surf conditions are expected to begin today lasting through the weekend. For swimmers and small boats, exercise extreme caution, and for the surfers, well Surf's up!
Speaking of surfers...
I woke up to muddy kitty skid tracks throughout the house. Somebody with 4 wittle wet muddy paws, discovered the art of skating around the tiled floors with wet paws. As a result, not only are there numerous wet foot print tracks, but lots of evidence of kitty skating and surfing. It looks like somebody converted my home to a kitty skating rink over night. Throughout the living room are numerous long paw print tracks where somebody was running with wet paws, then sliding and skating around. From the looks of my floors, somebody or several somebody's had great fun skating and surfing all over the house throughout the numerous rain showers of the night.
Whether the rain blew in on the floors while I slept and they discovered this pastime or they ran outside to wet their feet and back in again to surf, I am not sure. I just know that 3 lazy cats are all sleeping soundly this morning, and no one is 'fessing up. I guess *sigh* it means *sigh* I have to vacuum and mop again.
Cats are amazing and the things they think up to amuse themselves, are astounding, especially when you are sleeping and thinking your home is safe. Ha!
Now, I could seek revenge, they HATE my hepa filter vacuum cleaner. They run from it in mock terror and give me disgusting looks as I push it around and they flee for the outdoors. So I could be real mean and start it up NOW, as they all lay peacefully sleeping...*tee hee hee*
BUSTED AGAIN!
RE: The Speed of Cats
Most of the mermaids I know are much bettor sailors than mathematicians. I think it would be 5 miles away but here in the north we run a little faster because it seems like for most of the year we are freezing our furry little butts off. Plus you guys run on island time. big difference, huh.
This fur covered note, signed by a pawprint was from Bastian, who included his pic:
YES, Bastian, you are so right, if cats run 30mph and it took mine 10 minutes to get home, then he was 5 miles away, not 10.
Warm and Sunny Regards,
DearMissMermaid.com
Check out Dear Miss Mermaid's New Book!

---
Great Deals on Dell 15" Laptops - Starting at $479
---
- Hump Day (Wednesday!)
From: DearMissMermaid at aol.com
Date: Wed, 25 Mar 2009 15:36:12 EDT
The Spring Regatta
starts next Monday and runs through the following weekend. Some dark clouds are hanging about today and it's a tad muggy, but that could be just me feeling muggy. I slow cooked dry beans on the gas stove and for some silly reason, Caribbean homes rarely come with stove ventilation. So *whew* probably just me feeling muggy from the lack of stove ventilation.
The nights are still nice and chilly here, I love to wrap up in my blankie and get a cat to cuddle with me. Actually my hands get cold, and I live to wrap them around the cat's belly, cat's burn at a higher temperature than humans. They can also out run us at 30 miles per hour! Cats also have better hearing than even dogs.
So let's see, if I call the cat and it takes him 10 minutes to get home, does that mean he was 10 miles away?
Shhhhhhhh, I'm sleepy after that long run home...
---
Great Deals on Dell 15" Laptops - Starting at $479
---
- Gorgeous!
From: DearMissMermaid at aol.com
Date: Tue, 24 Mar 2009 12:21:17 EDT
All is well on the home front, scattered clouds, chance of scattered showers, temps from 78-81 F degrees depending on whether you are in the mountains or at sea level. NO more snow predicted for this area for the rest of 2009, so *whew* glad we escaped snow again!
Trellis Bay Anchorage, Beef Island
Back in the dark ages, when I lived ashore, far from the ocean, I grew legs, as Mermaids, do, if they get too far from the sea, I worked in an office. I was lucky that I always had a window to the outside world, except once, for about a year, I had a windowless office, and it was hugely depressing.
Luckily the rest of my career I had at least one window, and was actually upgraded to an office with two windows, for many years, for which I was immensely grateful. My blinds were always open to the fullest to take in the sunshine or rain, I had to be able to see outside.
Fortunately, I escaped working in offices, about the time windowless cubicles because all the rage. I would have probably slit my throat, had I been forced to work years in a windowless cubicle.
In walking around Road Town, I notice the buildings are often built with plenty of windows to take in the grand views which often look out towards the ocean. But, alas, I am amazed, how quickly folks in the BVI cover up their windows and never look out of them. This puzzles me completely. Most folks stuck somewhere in the world with windowless cubicle, would do most anything to have an office with windows,particularly with the fantastic views we have here, rather than a cubicle with none, but not here in the BVI. Folks hide behind their drawn curtains, or blinds, set to the maximum privacy and never look out the windows. Someone told me the workers don't want to be "seen working".
I don't get it. Some things, I just never understand, it's a mystery to me!
---
A Good Credit Score is 700 or Above. See yours in just 2 easy steps!
---
- Forgot the pic!
From: DearMissMermaid at aol.com
Date: Tue, 24 Mar 2009 10:49:21 EDT
---
- Sun Daze
From: DearMissMermaid at aol.com
Date: Sun, 22 Mar 2009 13:07:42 EDT
Internet is flaky, here one minute, gone the next. Well, that's life in the islands, a bit flaky!
The skies are overcast again, I guess those beautiful blues just weren't going to last. We could have stormy weather tomorrow, but we hope not. A high surf advisory is in effect, this doesn't mean the surfing will be great, until the winds turns back northerly, but beware of rip tides and currents that can sweep you off shore, if you aren't diligent. A surface trough is expected to head our way and dumps catered showers on us. Well, um scattered showers!
WASHED UP IN A BOTTLE ON THE SEASHORE:
Just wanted to say hi and stay in touch before our visit in April/May. We've been enjoying the pictures that you post -the recent one of Beef Island has really gotten me in the mood.
Are traveler's checks widely accepted in the BVI? I'm kind of undecided on the best way to pay for dinners and stuff while we're there. I imagine that credit cards work fine, but I'd like not to come home to a big balance, if possible. Yeah, right.
One other off-the-wall question. Are you familiar with Mrs. Scatliffe's restaurant located "in Carrot Bay on the second floor of a yellow and white building across from the Primary School"? I have been intrigued by her advertisement in the BVI Welcome magazine for years! Her sign alone is worth a stop.
Richard & Maggie
Thank you for your note in a bottle! Yes, Travelers Checks are widely accepted. Just remember to hide the proof of purchase separate, in case you lose them and need replacement, but that rarely happens. Folks have been known to go snorkeling with their wallets and that can cause a mess too.
Credit Cards are accepted but not every where and many places have a $25 minimum, which can be annoying, since folks from the USA are used to being able to charge everything from ten cents on up!
Some banks will freeze your card the first time you try to make an overseas charge, so you may want to call your bank now and notify them of your dates of travel and that you your credit card will be with you and you'd appreciate not having the embarrassment of being told to "call your bank" the first time you make an overseas charge. Now lately, VISA has been imposing a 1% charge on overseas charges, and this of course annoys me, as I use my credit card locally to pay my monthly bills, due to the super slow mail service here. The bills never reach me in time. I have no idea how or why it takes 3-6 weeks for an envelope to travel 7 miles to my neighborhood post office. But I just got my local December phone bills, so I am still clueless how the local mail works.
A friend of mine was in the boat yard for a week, and at that time there was no bank machine nearby and he was on a budget but had planned to use his card to purchase his meals. So he went to pay for breakfast and it was under $15 and they refused his credit card charge unless he wanted to spend $10 more on breakfast.
He called me, as the taxi fare was $25 to the nearest bank machine and he had little cash on him. I said, oh well, the manager of the restaurant is a friend of mine, lets' see if she can work out an exception for you, explain how long you are in the yard and that you want meals and drinks charged to your credit card for a few days. Well, luckily, my manager friend is the "can do" type so she set him up a house charge, so he could breeze in and out for food and drinks, and when his boat yard stay was over, she would charge his credit card for all his purchases at once.
Now that is small town hospitality!
As for travelers checks, before you spend them, ask them if they want the payee left blank or filled out. Some businesses pass the travelers checks onto their suppliers and some deposit them. Some folks want to "cash" their travelers checks and no one cashes them. You buy something, then you pay with your travelers check and get your change back in cash.
Luckily our bank machines have now expanded outside of Road Town. It took YEARS (decades actually!) for our bankers to figure out that not everyone comes to Road Town on a regular basis and perhaps other parts of the island would enjoy bank machines. That doesn't mean they WORK when you get there. But bank machines are now at West End on the Frenchman's Cay side of Sopers Hole, near
Pussers
, at Cane Garden Bay both at
Myett's
and at
Bobby's Market.
Nanny Cay Marina
now has one at their taxi stand, a nice shady place with seats where you can meet interesting folks, besides do your banking. Machines are all over Road Town too.
There aren't bank machines on the out islands, other than
Virgin Gorda
, in Spanish Town. There might be machines in East End, Tortola and Beef Island, but I don't know where they are, if they exist, perhaps another reader will enlighten me. If you are using your credit cards at the machines, make sure you know your PIN and also some machines are now charging a fee for using them, sad but true.
If all else fails, you can go in a bank downtown and get a credit card advance, but that will more than likely take hours as our banking is super slow (like the post office).
So basically, you need a stack of cash, travelers checks and credit cards. I also recommend if you have more than one credit card, to only take one with you at a time, and leave the spares hidden in your room or villa or in the safe with your passports and tickets etc. Here again, if you lose one, you have a spare. Some banks like USAA.com will issue cards by Fed Ex if you are in trouble, but others will not.
If you have any leftover travelers checks at the end of your trip, you can make them payable to your credit card company and mail them off, or you can deposit them into your bank account. Some folks save them for their "next trip" but if your next trip is over 90 days away, I don't recommend this. Also, you can spend travelers checks in your home town! Many folks seem blissfully unaware of this.
As for
Mrs. Scatliffe's Restaurant
, as far as I know she is still in business by reservation only. Sometimes you are treated to live entertainment and singing. I believe she only accepts cash and perhaps travelers checks. Ask her when you make reservations. I personally have not been there, but many of my friends and readers have, and they report a delightful time with heavenly food. She is located on the eastern end of Carrot Bay.
Carrot Bay is a delightful old time seaside fishing village. The village is friendly, with many folks hanging about the streets. So drive carefully. Many don't own cars, and when on my way to Carrot Bay, it seems I always find somebody hitchhiking there and I give them a lift.
I don't believe she serves spirits, but you can stop at
Cruzins Bar
, or one of the nearby bars, before or after for drinks. Cruzins has the widest selection in Carrot Bay including a huge exotic beer menu.
AND YET ANOTHER FLOATER TURNED UP IN REGARDS TO MY FRIEND WHO RECEIVED CASES OF SPAM INSTEAD OF YAMS:
Gosh Miss Mermaid, your friend must have been on one of the Polynesian Islands to get that many cases of Spam.
I remember the first time I saw fried Spam on the breakfast bar, my opinion of that dish is still yuck. You will see why spam is the national dish over there in the link I am attaching.
You still have plenty of time to make it to the Spam Jam Waikiki for 2009.
Here is the link.
Regards,
Jim K (Floating along in a KY whiskey bottle)
Well, thank you for this info! Thankfully, somebody somewhere, loves Spam food. It was originally called Hormel Spiced Ham, and through a contest, the name SPAM was entered, and the rest is legendary history. It was the first canned meat, that required no refrigeration, to hit the market, so it was considered a miracle food. Whoever thought up the new Spam name was rewarded with $100, a substantial sum of money in 1937. Spam has been the staple diet through many wars and helped balance diets for many, living without refrigeration.
---
A Good Credit Score is 700 or Above. See yours in just 2 easy steps!
---
- Saturday!
From: DearMissMermaid at aol.com
Date: Sat, 21 Mar 2009 19:25:20 EDT
Weather is wonderful, giving us a well deserved reputation. I haven't written much lately as my email program has been fighting with me. Sunday is predicted to be a gorgeous day where as Monday is supposed to bring rains and possible storming, but thankfully, no snow.
Lately we've had lots of electricity, not sure why, but I am ever so grateful. Ever since I bought more gas, well we haven't had anymore outages. My internet comes and goes, but hasn't been down for long periods like before, so all in all things are looking up I guess.
Life is funny! Our Annual "Dark and Stormy" casual race to Anegada over Commonwealth's 3 day weekend was canceled because the weather was, um, Dark and Stormy! Now that is hilarious but all in all, I guess it saved many boat owners from equipment damage and boat malfunction.
I stopped by the wholesale place the other day to buy a mountain of cat food. Those boyz love Fancy Feast cans as well as the dry stuff. Spoiled little fur babies! I was looking for a shopping cart. Finally found one. Not that it's much help, the heavy cases of canned cat food are upstairs. I feel like a pack mule, carefully coming down those stairs with stacks of cat food cases on my hips. There is an elevator, but I happen to know the repair man lives in Puerto Rico, so I am not taking my chances, there is always something wrong with the elevator and I would rather not be in it, when it decides to break. Besides, it takes a very long time to traverse the floor. I know, I've tried sending my cart up in it, then taking the stairs and meeting my cart at the top floor, but something always goes wrong. The cart arrives 10 minutes after I do. Where does it go in there interim? Anegada?
Later, when I was leaving the store, pushing my cart out to my heap, I passed a woman who was at the entrance looking bewildered and longingly at my cart. I told her the shopping carts were way over there by the steps, near the Exit doors. We both look at the ramp, near the entrance doors, far away from the carts and laugh. I said "You would think the cartss would be close to the ramp and the Entrance not by the steps at the Exit."
She said "Well, it's Tortola! I guess it made sense to someone!"
We laughed about it.
Cerulean Skies
Beef Island, Tortola, BVI
By the way, my book "Hurricanes & Hangovers (and other tall tales and loose lies from the coconut telegraph) is now available in East End Tortola at
And if you need a nice baseball cap, they have them in every color of the rainbow, I've never seen such a huge variety of colors to choose from in caps.
BVI Spring Regatta Goes High-Definition
Caribbeanracing.com - USA
Caribbean sunshine, sparkling seas, great racing and serious partying at this year's famous
BVI
Spring Regatta will be captured in glorious high-definition
...
---
- 1,000 words
From: DearMissMermaid at aol.com
Date: Fri, 20 Mar 2009 15:31:49 EDT
---
- Winds Day
From: DearMissMermaid at aol.com
Date: Wed, 18 Mar 2009 08:49:01 EDT
Another great day with beautiful weather, blue skies, moderate trae winds an don the south side, temperate seas.
Tortola has become so popular
that
Amazon is carrying a line of Tortola Apparel
, from various manufacturers.
beginning May 2, increasing the number of daily San ...
2009 Rolex Regatta Is More Viewer Friendly
St. Thomas Source - St. Thomas,U.S. Virgin Islands
...
to catch up with old friends at the entry desk, according to Linda Phillips, spokesperson for the
BVI
Spring Regatta, the next race following Rolex.
...
Travel Picks: Top 10 luxury islands
MSNBC - USA
Second home to Sir Richard Branson, Necker Island is the
Virgin
entrepreneur's very own private island in the heart of the
British Virgin Islands
.
...
Travel relief for recently unemployed
News 10 Now - Syracuse,NY,USA
In the
British Virgin Islands
, Peter Island Resort and Spa has a Safety Net travel policy that gives you a full year to re-book and guarantees the rate for
...
---
- St Patricks Day (think green!)
From: DearMissMermaid at aol.com
Date: Tue, 17 Mar 2009 16:35:43 EDT
Beautiful day today. Yesterday we had a mini hurricane! Big blustery squalls coming in one right after another. It was chilly too!
Today is gorgeous and a normal BVI day. Yee haw! Yahoo! Yabadabadoo!
The rest of the week should be nice and dry with an off chance of shallow rain here and there, though our sky is nearly cloudless.
Watch out what you order for! (Wish for?)
I ordered groceries to be delivered. I usually don't eat much meat, but I had this intense craving for a good old fashioned crockpot roast. Mermaids have a tendency to be severely anemic, if they aren't careful. So I wanted a nice rump roast, which is typically 2-3 pounds, and put it in the bottom of the crockpot then smother it in herbs and garlic followed by a generous splash of Worcestershire sauce, topped with whole potatoes, baby carrots, onion halves and shrooms, though this time I had a healthy zucchini, so that went in too, chopped up into big chunks. I dusted all that with more herbs and a bit of red wine for good measure. By this time, my 6 quart crockpot is full, so I then let it slow roast all day long and that evening enjoy the tastiest tenderest meat and succulent herbal veggies. Of course then there is the au jus, to douse it all in and what a yummy healthy meal.
Well a few weeks ago when I ordered groceries they were out of rump roast. Matter of fact they were out of all beef! None. Nada. So I spent a few weeks on soya mince, plus the usual beans and rice dishes etc.
So I call up the other day and YEP they got beef and YEP they got a rump roast for me. So I sent my order in for delivery. That afternoon a man walks into my kitchen with a big box. I open it up and see it's only part of the order and he goes out to his truck for more. He comes back with 2 boxes and I said "No, I didn't order THAT much food."
He says, well one box is the meat. "The meat? All I ordered was a 2-3 pound rump roast!" I open the next box and it's full of the veggies and the next box is well, half a cow!
I look at the man and say "All I ordered was a 2-3 pound rump roast. NOT half a calf!"
He inspects this slab of meat, which we determine weighs OVER TWELVE POUNDS! He looks it over and says:
"Well, that cow had one BIG RUMP!"
We laugh.
I ask him if I can slice off 2-3 pounds and send the rest back and he groans. It's late on a Friday, I'm the last delivery. He decides either I keep it all or send it all back.
I sigh.
He grins.
I sigh.
I tell him "That will never fit in my crockpot and besides, WHAT am I going to do with 12 pounds of roast beef?"
"Eat it?" he volunteers.
He looks at my big oval crockpot on the counter and says "I bet I could stuff all that meat in there for ya!"
Yeah. If he jumps up and down on it and makes the crockpot twice as tall!
I roll my eyes, sign the bill and let him leave, minus the cow.
So out with the chopping board, I carve the cow up into 3 more generous roasts and 6 two inch slabs, like mini roasts or humongous steaks. I dump out the entire freezer, place the cow, minus one rump roast, into the freezer, then begin to fit the rest of the stuff around it, some wouldn't fit and had to be kept out, like all my assorted nuts I generally cook with as supplements when NOT eating meat and so on.
Later on I am laughing on the phone with a friend of mine about this cow, and she says well one Thanksgiving she was working in a far flung restaurant and she ordered up six cases of YAMS. Imagine her horror when on the eve of Thanksgiving, they deliver to her six CASES of...........
SPAM!!!
Life in the islands. You gotta love it. You gotta laugh. I was at least, so GRATEFUL, that I didn't have six cases of Spam to deal with. I am not a Spam person at all. Sorry, you Spam lovers, but I am not. (I'm not sure what is in Spam and not sure I want to know!) I do know folks who swear by it (and others that swear at it!).

---
- Rainy days and Mondays...
From: DearMissMermaid at aol.com
Date: Mon, 16 Mar 2009 15:38:36 EDT
We got both here! More later!
---
- Sunday? Haze Day?
From: DearMissMermaid at aol.com
Date: Sun, 15 Mar 2009 15:34:07 EDT
The morning started off really hazy, but it's cleared up some now. White caps dot the Sir Francis Drake Channel, the watery highway down the chain of British Virgin Islands. The winds are moderate. It's back up to 81 degrees but feels really nice and cool, with the tradewinds blowing by.
Well before I got this out, the haze appeared again, but it turned out to be marching rains and now we are severely overcast with dripping rains. So much for the "dry" weekend predicted.
*********
"A Friday Sail, Will Always Fail" is often heard amongst fishermen and sailors alike.
Some people are unfazed about superstitions, such as never leave port on Friday, and furthermore Friday the 13th, which is more ominous because of the traditionally unlucky 13. I wasn't aware of 13 being an unlucky number until my small hometown got their first high rise. It was 25 floors, the tallest building in the state and more than double our ancient 10 and 12 story buildings, the town boasted.
My little school class, which was held downtown, in a small church, several blocks from the high rise, was one day was treated to a tour of this new building. Of course the highlight was to ride the elevator to the top floor and check out the views of our hometown. On the elevator, we immediately noticed there was no button for the 13th floor, and interestingly enough, the high rise went up to the 26th floor, which was really the 25th floor. Naturally our teacher spent the rest of the day trying to explain why the 13th floor didn't exist, to a bunch of 7 year olds who couldn't fathom why 13 was omitted. We thought the architects had simply made a huge mistake!
Chris of Nevis, is apparently undaunted by "never leave port on a Friday" and apparently the 13th, doesn't faze him either. He sent me some entertaining links, to his adventures of first launching a newly refurbished
Cape Dory boat
on Friday, February the 13th, which didn't go well at all. Matter of fact, they weren't able to do her maiden voyage that day, due to various mishaps.
But, undaunted, he managed to take the maiden voyage on March 13th, also a Friday. Luckily he and his crew survived and made it back to port alive and well, if not a tad "skeered" as he put it in his note to me.
It's a great story, with pictures, you can read at
For more fun and mayhem, and trivia:
In the 18th or 19th century, the British Navy decided to dispel the myth that Friday was unsafe to leave port. They built a new ship, laying her keel on a Friday, launching her on a Friday, choosing her crew on a Friday, hiring a captain named James Friday and finally set sail on a Friday. All went very well.
Except the ship and crew were never seen again.
Whether this is folklore or an embarrassing moment in history, you can read more about it in:
**********
In the field of opportunity, it's plowing time again -
Neil Young
---
- Friday the 13th, again this year!
From: DearMissMermaid at aol.com
Date: Fri, 13 Mar 2009 12:56:13 EDT
Another glorious day in paradise with a bit of overcast or haze, hard to tell which. 70 degrees, moderate winds, no snow predicted, no storms, just fair weather sailing. The north shore waters may be rough though, so pay attention to rip currents and be careful
surfing.
Not a good weekend for beginners, but those experienced will get to test their skills.
It's Friday the 13th again!
I'm not really superstitious. But I am planning to stay put all day and take my chances on good luck. Besides, I discovered the cats don't do laundry, and therefore it has piled up something awful. At least 2-3-4 loads, and oops!
I have to hang it out, which is really kinda nice. It smells great afterwards, in that it doesn't smell at all. I don't like perfumed products in my wash stuff, I like to smell like a mermaid and not a bottle of softener. Besides, I use a cup of plain white vinegar for softening my clothes. It does wonders.
Speaking of food, I am having
Bobby's Market
deliver my groceries for free today. Saves time and money and available anywhere on Tortola.
Recently I dined at
The Pub in Road Town
on a Saturday night. I've had their lunches often, the lunch chef is excellent. So I was wondering what evening would be like and had company who had never been to Tortola before. We were able to sit by the water and dinner was excellent, the service friendly and speedy. So an A+ to the Pub!
I've been designing some
mini magnet art for refrigerator or file cabinet
or anything magnetic. Take a peek, even though the site isn't finished, and let me know what you think of this idea. Does it look better with a description on it (BVI etc.) or just plain?
all links are clickable (I hope!)
---
- Thursday already!
From: DearMissMermaid at aol.com
Date: Thu, 12 Mar 2009 11:09:03 EDT
We have beautiful spring like weather here, nice and cool at night, warm in the day but not hot. Just
purr-fect
, as my cats would say.
Sorry about skipping a few days, had some issues to deal with and well, time slips away so easily in the islands, especially if you don't wear a clock or calendar. My cell phone does tell me the time and date, so that's kind of handy, if I really want to know.
By the way, we do NOT change time here. We are Atlantic Standard time, year round. So in the spring/summer we are the same as Eastern Daylight time, but in the fall/winter we are an hour later.
I did manage to make a cameo appearance at the fool moon party. It started out so slow with few people, I began to wonder if the economy was in trouble here. I was meeting friends from off-island and couldn't find them, so I took one of the very few available seats, and figured they would pass by eventually if I sent out my cosmic rays to attract them. I started talking to a stranger who was sitting nearby and found out we were from the same place. A few minutes later, who wonders by, but my friends.
I parked far away so I could slip out when I was ready. My dang reverse lights work randomly and it's so annoying. I put it in gear and the reverse lights shine brightly, then as soon as I ease off the clutch to back up, they go OFF plunging me into pinky darkness. If I stop, they come on again. Grrrr... So I had to back out of my parking spot at a snail's pace, figuring less chance of a dent, if I am creeping by at an inch a minute...
It's the same bad mechanic who couldn't fix my generator but charged me a fortune to fix my jeep and everything he fixed broke within a few short weeks, including all the wiring he fixed. Matter of fact, NOTHING he did stayed fixed. So at some point, I will go to a new mechanic with the same long list of tiny annoying things to fix.
My friend finally replaced my broken back windshield with promises of replacing the broken front one soon and then the dent and then I will get a mechanic to fix the other stuff, and I will be good as new again. The broken windshields and dent, weren't my fault, and the friend didn't have proper insurance, so I am being immensely patient while they cough up cash here and there to make it right again. *sigh*
The golden rule: Do unto others, as you would have them do unto you...
I know what it's like when t'ings are tough and people giving you even more grief, that you don't want, don't need and so on. Sometimes we all need LESS STRESS and more compassion. Anything I can do to promote that, well, in the end it all works out fine.
Mostly.
Sometimes.
Maybe you just gotta live like a cat, they always act cool and confident and very little ever bothers them.
Do I look stressed? *wink* *wink*
I know those goofy teeth make me look oh so ferocious...
Actually, when this cat was rescued from the wilds, he fit in the palm of my hand and was a hissing, spitting, biting, clawing machine that was terrified of people and not scared to show it either. I had to handle him with welder's gloves for months, he was such a brat. Now he would never dare pull a claw on anyone or anything except to run up a tree when it suits him. Now he's just one spoiled baby who loves belly rubs, tuna and the Judge Judy show. Yep, he shows up everyday, right on time, to watch Judge Judy and get a belly rub. If the TV is off, he cries and cries until somebody turns it on for him. Then he flops down in front of it. Who is training who here? One wonders...
---
- Fool Moon Night!
From: DearMissMermaid at aol.com
Date: Tue, 10 Mar 2009 20:27:04 EDT
I write a nice long newsy email today, and the computer ate it right when I wanted to send it out.
*burp*
I'll try again tomorrow.
Plan your week carefully, Friday is the 13th again.
70 degrees at 825pm (we do NOT change our time for daylight saving).
---
- Sunday
From: DearMissMermaid at aol.com
Date: Sun, 8 Mar 2009 17:31:35 EDT
Things have dried up a good bit, the blustery winds were busy this morning, but have subsided. A cloudy morning turned into a beautiful sun shiny day.
I didn't make out on the water, sad to say, but soon come!
But here's what I found UNDER the water!
I did make a cameo appearance at the Arts and Crafts Festival in Trellis Bay. It will move to Virgin Gorda on Monday for the day, then come back to Trellis Bay for the full moon party on Tuesday.
Since mermaids, grow feet if they get too far from water, I saw my favorite craftsman, the shoemaker! He gave me a BIG hug, cause he knows I am obsessed with his leather sandals. I managed to buy another pair, I only had money for one pair, but I picked out several and finally settled on one pair. The stuff he makes, you will never find in any stores, he has his own unique designs that I am infatuated with. Being that he makes his shoes with leather and the soles are rubber, there is a break-in period. I wear mine around the house for an hour or so, then the next day for an hour or so. Then I am good to go walking miles and miles! After the break-in, they fit like a glove. There is nothing like leather shoes that mold to your feet. Ahhhhhhhh
---
Check all of your email inboxes from anywhere on the web. Try the new Email Toolbar now!
---
- Blustery!
From: DearMissMermaid at aol.com
Date: Sat, 7 Mar 2009 15:27:20 EST
A very blustery day in the islands! The winds have shot through here like scared goblins at Halloween. My table umbrella flew out to the street and it was quite the comedy trying to track is down again, as it kept dancing out of arm's reach.
The temperature hasn't broken 80 today, amazing. Funny how it drops a few degrees and we get cold! I was wrapped up twice in my blankie, as it was around 72 in the wee hours of the morning.
After a few days of wetness, we should have dry weather for awhile. Whew! It's supposed to be a bit sloppy tomorrow, but I hope to get out on the water anyhow, work on my mermaid tan.
Rolled up on the Beach in a Blueberry Jam jar from Minnesota:
Dear Miss Mermaid,
I see that this year's spring regatta is March 30- April 5. The same time that we will be in Tortola, we have missed it every year so it's exciting to think that we will be able to see the different race events. I'm wondering what there is to do on Tortola during the regatta. Is there a central place that we should plan on checking out? Are there events going on in Tortola for the Regatta? Thanks! Hoping to see some large Oysters race!!!
There will be a village with food booths and live entertainment in the evenings. The food is cash only but the drinks, whether sodas or spirits are bought with tickets. You go to the ticket booth and get enough for your liquids, then you get your food (with cash) from the vendors. It's good stuff, sponsored by various restaurants. It's a pretty cool party, lots of families and sailors. You generally run into all sorts of people you know and the latest new babies.
I remember last year, this family brought their toddler, their family dog and their newborn in his brand new stroller. Despite the music and noisy crowd, the baby was sleeping but the toddler was forever escaping from the parent's reach, while they were trying to chat with some other adults. So they were chasing the toddler down every few minutes. The family dog sat up tall, right next to the baby in the stroller, looking extremely worried. She would watch the sleeping baby, then rotate her head around, watching the crowd and looking for the rest of the family, then go back to intently watching the baby. She wasn't on a leash, but she obviously felt like the official babysitter.
As strangers leaned over to admire the new baby, the dog's forehead would wrinkle up worriedly and she would inch closer to the stroller watching the baby and the stranger nervously, as if she was guarding her own newborn pups. Finally the parents rounded up the toddler, had him by the hand, and began pushing the stroller towards some food booths, the dog carefully walked right next to the stroller, maybe an inch away, alternately watching the newborn and watching the crowd. If the parents stopped and the stroller came to a halt, she sat down right next to the stroller and continued intently guarding the baby.
---
A Good Credit Score is 700 or Above. See yours in just 2 easy steps!
---
- Friday
From: DearMissMermaid at aol.com
Date: Fri, 6 Mar 2009 13:25:25 EST
The morning broke with a mini storm of rain and winds. Kitties curled up around me, declining a free outdoor bath. It was 77 degrees and hasn't warmed up much since. It feels good to be cold for a change. A thick cloud cover dots the area, but should move out by tomorrow.
The Arts and Crafts Festival opens Friday (today) in Trellis bay and runs through the Holiday weekend. Yep, Monday is another local holiday! Two weeks in a row of Monday holidays, gets rid of the ho-hum March doldrums.
I hope to go boating this weekend and get some new pictures. Lately I've been photographing food for a cookbook. Now that's real exciting...
De Loose Mongoose Cross Country
Platinum News Online - Tortola,British Virgin Islands
The first race of the 2009
BVI
Mountain Bike Club Championships takes place Sunday 8th March. De Loose Mongoose Cross Country race will start at 8am at
...
---
A Good Credit Score is 700 or Above. See yours in just 2 easy steps!
---
- Rainy Daze
From: DearMissMermaid at aol.com
Date: Thu, 5 Mar 2009 10:40:12 EST
Thick and cloudy. Can't see much beyond maybe 2 miles. Rains come and go. My little black kitty keeps showering in the rains. He is good and clean by now.
81 degrees at nearly sea level and about 5-8 degrees cooler in the mountains, where the low lying clouds have obscurred our peaks. It doesn't feel like 81 as my feet are cold! Ya know mermaids grow feet if they get too far away from the ocean.
Internet is off, so no idea when this will go out. Elec-tricky has been on for awhile, that's kind of nice.
Gosh on a rainy day, I would love to just curl up with a cat and a book or movie and forget about work, but instead I am pouring coffee down my sleepy body and trying to get moving today.
Warm and Sunny Regards,
DearMissMermaid.com
Check out Dear Miss Mermaid's New Book!

---
A Good Credit Score is 700 or Above. See yours in just 2 easy steps!
---
- Wet and messy
From: DearMissMermaid at aol.com
Date: Tue, 3 Mar 2009 11:07:55 EST
Dark, gloomy, overcast and passing rains today. Of course, it's my fault, I have errands to do. Normally I would wait for better weather, but one errand involves a joint effort so I have to coordinate with others, and such is life. Sometimes you just have to venture out into a little rain!
The power outages no longer bother me, Al's Marine fixed my generator in short order. I am THRILLED! Al's Marine had to move after the Port Purcell fire, but he is down the street from Qwomars Drug Store in some converted shipping containers. Previously I've had rebuilt starters and alternators done by Al's Marine, so why I didn't think to take my sick generator to him in the first place, is well, sad on my end.
I had already been robbed by another mechanic, who I shall call BOZO, and who apparently didn't have a clue what he was doing, despite the fact he has a shop that randomly opens. To make matters worse, I chased Bozo around for months trying to get my generator back, as it was never in his shop but supposedly "upstairs" for safekeeping according to whatever employee was around at the time. No one ever seemed to have keys to upstairs. One day I was riding with a friend and saw Bozo at his shop, I got her to slam on brakes, (yes, I admit, we were in the street, but no one was behind us) I ran back to grab him and demand my generator right then and there. He had been hiding it from me for months, and still it was NOT repaired. I was quite miffed but thrilled to get it back.
Eventually the generator made it to Al's Marine and he did a fantastic job, it now purrs like tuna fed kitty. And do you know WHAT was wrong with it? A clogged hose! They replaced the hose and called me to come pick it up again. Amazing. So, if you see me all dreamy eyed, it's because no matter what that elec-tricky company is doing, I can keep on working and actually make some money now and then.
But look at this great pic I snagged, now THAT is the life to live in the BVI:
I spent 10 years on my sailboat, and it rates pretty high on my "best times of my life!"
---
A Good Credit Score is 700 or Above. See yours in just 2 easy steps!
---
- Happy Holiday Monday!
From: DearMissMermaid at aol.com
Date: Mon, 2 Mar 2009 16:32:30 EST
It's a holiday in the BVI! Winds are moderate, seas are fairly calm, surfing is not too good these days, but should improve next week.
---
A Good Credit Score is 700 or Above. See yours in just 2 easy steps!
---
- Saturday Already
From: DearMissMermaid at aol.com
Date: Sat, 28 Feb 2009 09:33:49 EST
81 degrees with happy faces on the clouds on my clock. It didn't come with any instructions, I guess they figured I would figure it out. Best I can tell, it means cloudy but not rainy. Of course I am one of those people who doesn't think rain is a bad thing, I happen to like rain. Of course I prefer to be home when it is raining, preferably in bed with my cats and either a good book or a good movie.
Elec-tricky woes dot the island, we had three power outages yesterday and one already this morning. Last night I ran out of gas for my generator, so here I am getting all dressed up to go out at 9pm in search of gas. I had called around to find out if other parts of the island might have power, and it turns out the gas station closest to the Pockwood Pond Elec-tricky corporation was open and pumping.
Boatie Gossip:
For the Yacht watchers; "Highlander" is Steve Forbes' yacht, "Blue Guitar" belongs to Eric Clapton, and "Wyntje" belongs to Walter Cronkite.
For those in a hurry:
It is ironic, that these books teach you in a hurry, how to slow down and enjoy sailing. My first few years in the Caribbean, I crewed on yachts as paid crew on busy boats that sailed almost daily. They were all monohulls, so I was quite used to leisurely traveling at 5-10 knots. In most ports, I could shop nearby or have food delivered to the boat, so I rarely was in cars. One day I flew home for a visit, and my brother picked me up at the airport.

He merged into interstate traffic, approaching 50mph when I screamed "SLOW DOWN! You're scaring me!" I finally had to just close my eyes and take very deep breaths, while I got used to this newfangled speed all over again.
---
A Good Credit Score is 700 or Above. See yours in just 2 easy steps!
---
- Fish Fried Day
From: DearMissMermaid at aol.com
Date: Fri, 27 Feb 2009 12:27:50 EST
BVI Weather
is wonderful today. A typical perfect day in paradise. It's a great morning for the beach as da current done mash up. (No elec-tricky!)
I've listened to my little
Kipor generator
purr for hours while I work, instead of heading to the beach myself.
Is something wrong with this picture? (Please buy more books, so I can go to the beach more often!) Har har har...
I can't get on the internet, so I am writing this offline. When it comes back on, I will cyber-world this to you! Some days I do so without use of any cords or wires or plugs. I use my laptop on battery to connect by air to the cell tower to beam out onto the internet. Amazing technology. I wish more
wireless
,
cordless
technology would abound.

Friday or Fried-day?
Tonight is the Fish Fry in Apple Bay. Jolly Roger is having a band tonight and tomorrow.
The Friday Fish Fry in Apple Bay is basically a buffet of West Indian foods set up in warming trays under a tent at the informal community center next to the banyan tree. They start serving around 4 or 5, pretty early, as they seem to catch a lot folks on their way home.
Everything is take-away, as there isn't any real seating. Fresh fish is always on the menu along with assorted other meats and veggies, the vast majority of which are grown within a half mile radius.
It is possible, to take your food and walk down to the beach and sit on the stone rock retaining wall, watch the sunset and dine out of your Styrofoam box with your plastic fork and there's room to set your drink down on the wall next to you. There's even a garbage can nearby, but it's semi-invisible, half the folks don't seem to see it and thoughtlessly toss their stuff where they will. Others, thankfully are conscious of the beauty around us and toss their refuse in the can.
A farmer once said "all the BVI flat land needs to be set aside for farming, not buildings. It easier to put a building on the side of a mountain, with modern technolog, than it is to grow a farm the side of a mountain. "
Of course terracing would work for farming somewhat, but still that's back breaking work to set up such a thing and could take years to build, before any farming commences.
I once managed an old villa on island, where a previous owner had painstakingly terraced part of the property for a vegetable garden. It was all hand stacked stone rock walls. It was quite overgrown. I had directed the gardener to clear the area so we could see what condition the terracing was in. It turned out to be quite doable, and underneath the overgrowth, the beauty of the hand stacked terracing showed through.
I was thinking of finding a farmer to come work the area, it looked like quite a bounty could be grown and we were catching a lot of rain water what with a new roof and gutters. I was thinking of setting up a composting pile. I could look at that terracing and envision this huge food garden growing.
Then the unthinkable happened.
I showed up at villa one morning, was headed for the front door with keys in hand when I slammed on my flip plop brakes. Uncontrollably, my jaw dropped heavily.

Ahead of me, as I inched forward, very timidly, still in shock, as I got closer, I could see that the terracing was completely destroyed. Stone rocks, dirt and plants, scattered everywhere in a huge mess. Huge ugly tire imprints from a backhoe zigzagged up and down the hill. You could scarcely tell a beautiful terrace had been there for decades.
Following the trail of destruction, up the steep hill, and I must admit, fighting back my tears, lead me to a newly installed utility pole and new overhead wiring.
A major power line ran on the edge of the property. I thought they were supposed to have their own right-away access. As I found out later, they did have their own access and it was completely overgrown. So I guess they just did what was convenient to the crew at hand. They would destroy the entire terraced area and hope we wouldn't notice.
So, rather than clear than own right away area, to access the poles up the mountain, they simply drove their heavy duty equipment through our property, up and across the terracing. The behemoth apparently got stuck many times, so the operator merely spun out the dirt and painstakingly hand-stacked stone rock walls, sending it in all directions.
I estimated it might take someone 12 months,or more, of full time work, to restack the walls and move the dirt back into place. It was just senseless damage done and virtually zero recourse. Local wages are not cheap by any means, and the cost of having that type of work redone, was astronomical.
To stack a rock stone wall, without the aid of concrete, is a work of art. A good artist will stack one to last a lifetime. Those artists are few an and far between these modern days and that art may be lost to us forever, if their ongoing work isn't retained as a part of the local culture.
Many BVI roads are lined by stone rock walls, some are hand stacked, many are stacked with concrete. As they get knocked down by car wrecks and heavy equipment they are often replaced with rusty metal guard rails.
Where before, a stone rock wall would have been built as a retaining wall next to roads, it's now poured concrete. Luckily many are being painted as huge murals. There is a new mural on Zion Hill Road which connects the south shore to the north shore in West End. I can't figure out how I will ever get a picture of it, short of hovering nearby in a hot air balloon.
But back to the day of destruction, the utility company had elected on their own, to come trespassing and destroy the precious terrace, where I envisioned a
Caribbean garden
of tomatoes, okra, pumpkin, squash, cucumbers, pineapples, potatoes,
taro
, and herbs like basil, oregano, thyme, mint and rosemary.
We already had planted around the rest of the place, many
fruit trees
and were going to start a banana plantation, as there was some swampy area that had been filled in and it was just begging to have a grove of banana trees.
But, it took man and his machine probably an hour to just forever destroy the beauty of an artists priceless stone rock wall work,and the dream of a viable
terraced garden
for future food for generations to come.
The exquisiteness was robbed and progress had reared an ugly mess, leaving behind its signature scar.
Today's Quote.
Pray for Peace. Drop
seeds
, not bombs.
~Dear Miss Mermaid
That reminds me of tear-jerking documentary I once watched on life after
Hurricane Katrina
. The BEST part was this one family that didn't have time to bemoan their losses. Their home was completely destroyed and in their ravaged front yard, made barren by the floods, was a teeny tiny travel trailer donated by the government. The male head of the household was quite happy and said they only used the trailer for sleeping and the rest of the day they worked outside. The trailer was too hot to use by day, they had no electricity.
Piles of sorted rubbish, stuff that use to resemble his home, had been cleaned up after the hurricane and was spread around his property, more or less in sorted piles. Then he showed us his pride and joy as the camera followed him.
On a vast concrete pad where his home or driveway, might have stood before the tragedy, laid a magic oasis. Anything from his home and perhaps the neighborhood, that could be recycled into a plant container, was thriving with overflowing vegetable plants. His smiling young children chimed in they loved working in the "garden". The man appealed for people to
send seeds
to Katrina victims. He said the garden gave them hope for a brighter future, a better tomorrow, a usefulness in life while things got better.
I've often wondered how that family is doing today, and how their garden fared. From the looks of that exquisite beauty surrounded by destruction, it was clear, that garden was well loved and heavily doted on. With their enthusiasm against seemingly overwhelming odds, the family appeared to be happy, proud and busy.
Life goes on. It is what you make it., for good or for bad.
---
A Good Credit Score is 700 or Above. See yours in just 2 easy steps!
---
- happy Thursday
From: DearMissMermaid at aol.com
Date: Thu, 26 Feb 2009 09:04:13 EST
80F degrees at sea level and almost 10 degrees cooler in the mountains. The sun is out and winds are moderate, seas are fair. My clock shows happy faces on the clouds! We can expect the rare occasional shower, but the clouds don't look like the rain type today.
I finally got my generator fixed and I am one happy camper. I got it home, and it fired up and purred like a well loved kitten. A few hours later, the power went off for hours, so I had to seriously set things up again.
Well, right when I typed that, the power went out AGAIN! 10:02am!
OK, move generator outside, fire up generator, hook up 100 foot cord, hook up six-outlet surge protector, plug in computer and other tools of the trade. OK~whew~ I am back in business.
Tortola's Poker Run is this Saturday 28th February from Cane Garden Bay beach. Boat registration 9-10am.
---
A Good Credit Score is 700 or Above. See yours in just 2 easy steps!
---
- Ash Wednesday
From: DearMissMermaid at aol.com
Date: Wed, 25 Feb 2009 08:39:45 EST
It's truly amazing how quickly we go from darkness to daybreak. At 6am we were still plunged into almost total darkness, yet by 630, it's complete daylight with slight overcast. We know the sun is there, even though we don't see him yet. Birds are chirping in eager anticipation. By 7am, the cloud cover has already cleared considerably and the sun is definitely up and happening.
Nothing but fair weather is scheduled for us for awhile. We might get more cloud cover as the day wears on, but nothing really untoward. Winds are moderate but nothing to reef about.
Today is Ash Wednesday, the first day of Lent, observed the day after Mardi Gras (Fat Tuesday). It is for many people a sobering reminder of the 40-day period of purification and renewal that comes before Easter, observed by some religions.
New Orleanians live with a profound respect for the naturally-occurring hurricane – small wonder in a town largely below sea level – but visitors might sooner associate the city with the fruity hurricane cocktail. Certainly one of the most visible beverages in the French Quarter, this bright red, rum-based drink is the de facto emblem for the bar that created it, Pat O'Brien's, and has been widely copied around town. Highly potent, the drink has been known to supercharge a night on the town and brighten up even the most overcast day in the Quarter.
The story of the drink's origin holds that, due to difficulties importing Scotch during World War II, liquor salesmen forced bar owners to buy up to 50 cases of their much more abundant rum in order to secure a single case of good whiskey. The barmen at Pat O'Brien's soon came up with an alluring recipe to clear through their bulging surplus of rum. When they decided to serve it up in a tall, jaunty glass shaped like a hurricane lamp, the hurricane cocktail was born. Today, even the hurricane glass itself is a souvenir of New Orleans.
You can also buy
Pat O'Briens Hurricane Cocktail Mix
that comes in six pouches that make a quart each (just add rums!)
Everyone has a different recipe, but this is mine, for a Flaming Hurricane Cocktail:
Now to make a Flaming Hurricane, you will need all three Cruzan Rums, Light, Dark and the deadly 151. You need a box of sugar cubes, juices and grenadine.
First pour a shot of 151 into a shot glass and add the
sugar cube
. Now take a very tall glass or
hurricane glass
and add some pineapple and orange juice, a splash of
grenadine
, light rum and dark rum. No need to stir. Top off with the shot glass of 151 and the sugar cube, light it on fire and you now have a Flaming Hurricane Cocktail. Serve with a tall straw to stir and optionally garnish with pineapple, orange, cherry and the proverbial
paper umbrella
.

Warm and Sun Setting Regards,
DearMissMermaid.com
Check out Dear Miss Mermaid's New Book!

---
A Good Credit Score is 700 or Above. See yours in just 2 easy steps!
---
- HAPPY MARDI GRAS! Fat Tuesday!
From: DearMissMermaid at aol.com
Date: Tue, 24 Feb 2009 10:25:25 EST
Another great day in paradise. I need to get some more pics out for you, my camera has been acting as erratic as the internet. It's just life in the Caribbean, nothing seems to work right, when you want it to.
81 F degrees and the winds started off blustery and breezy today. No need for air conditioning, I was c-c-c-cold last night. Not sure the cats appreciated me stashing them close to me so I could share in the warmth of their bodies. Cats burn at a higher temp than us mere humans. They are good warm fluffy things to cuddle close, if they allow it. Mine would put up with it for awhile then sneak off when they thought I was asleep.
For the next week you can expect fair weather with good winds and a few scattered rains. What more could you ask for? It's like gorgeous spring weather!
Gov't to Add to Criteria for Residence and Belongership
(it's tough as nails already! let's make it harder!)

Platinum News Online - Tortola,British Virgin Islands
He further explained that "applicants take a 45-minute test on
British
society, history and culture." Details of the
Virgin Islands
Sensitisation Course are
...
Click
here
to download the latest Cruise Ship Schedule (this gives you an idea when to avoid certain areas, based on the number of ships in)
Happy
Mardi Gras
---
A Good Credit Score is 700 or Above. See yours in just 2 easy steps!
---
- the internet connected made an appearance!
From: DearMissMermaid at aol.com
Date: Mon, 23 Feb 2009 13:19:35 EST
We've have small brief scattered rains for the past few days. We still have some thick haze and colorful sunsets because of same. It's nice and cool at night, but daylight quickly warms things up to breezy tropical fare. Seas are a brilliant tropical blue on the south shore today.
There's a weird flu going around that causes back aches, sinus trouble, a sore throat, a raspy voice, a dry hacking cough and lethargy. Twice today on the phone I've been called "SIR"! Gosh is my voice that bad today?
My internet connection has been mostly down, it comes up to tease me for a few minutes, then goes down again. Calls to the company produce the usual "bring your computer in, we'll look at it". It's not my computer, it's their signal. Very frustrating. I might as well go to the beach.
I should give up trying to make money at a computer, I need a job at the beach that requires no utilities!
Back in my younger days, I had on a skimpy bathing suit that was several years old, but I was very fond of it. I was playing Frisbee on a busy beach with a group of others. Naturally, everyone's eyes followed the path of the Frisbee to see if it was a good throw and what kind of spectacular gyrations the catcher might go through to catch it. Some of us were really good at this and would do silly things like jump up when a low one came, then catch it between our legs, or jump up catch it, do a 360 spin and send it sailing back again to another player.
Another trick was to catch it on the tip of your finger and let it spin there before tossing it under an upraised leg, to another player. A fast and high throw came at me, so I jumped really high to grab the Frisbee with both hands overhead. At that precise moment, my top decided to come completely undone and while I caught the Frisbee overhead with both hands, my bikini top fell most ungracefully down to the sand.
I remember the strange looks on the others in the game, then the smiles, then the laughter as I tried to gather up my top and recover myself. That's when I realized I had literally broken the strings that help my top in place. One of the players (a true gentleman!) ran towards me, clutching a big beach towel, and I am ever so grateful for that. By now, the entire beach load of people were pointing, laughing and clapping. Yes clapping! Someone shouted "Nice catch!" and someone else chimed in with "Nice tits!"
I wrapped myself in the proffered towel, I am sure my face was beet red, this was not a nude beach at all. Fortuitously, there was a nearby boutique that sold bathing suits and I found myself in there, wrapped in the borrowed towel, frantically searching for one to purchase.
****************
On another note, entirely different, I am saddened to hear about the riots and civil unrest in Guadeloupe and Martinique. Apparently they are fed up with the high cost of living and the low wages and things have escalated into a huge mess with the island businesses coming to a standstill. It's so sad all around, as their economy will be hurt by the tourist drop off, who wants to vacation in a war zone? You can google Guadeloupe Riots for more info.
******************
More recipes from yours truly:
all include easy steps by steps with pictures and resource links
*******************
---
A Good Credit Score is 700 or Above. See yours in just 2 easy steps!
---
- Cocorah Who?
From: DearMissMermaid at aol.com
Date: Sat, 21 Feb 2009 13:24:27 EST
A beautiful day in paradise with bright baby blue skies. We had a brief rain this morning, enough to wash the roof and put a few drops in the cistern.
Rolled Up On Shore in a Kentucky Whiskey Bottle:

Enjoyed your story about taking your friend for a ride on the island and all the screaming from the ride.

Now, I give you one of my stories, my island was Johnston Atoll, 1/2 mile wide, 2 1/2 miles long.

My friend was head of the computer system on the island and therefore he was issued a truck.to take care of everything, still don't what the taking care of entailed.
Everyone on the Island ate at a mess hall, called the Coral Reef Cafe, really nice, but a walk of 1 1/2 mile from where we worked and lived.

One day there was a new person there from Boston and we offered him a ride back down island in my friends truck.

When we got to where the truck was parked we all bailed out, the keys were left in the truck. The Boston boy looked with a puzzled _expression_ on his face and ask, "Aren't you afraid someone will steal your truck."

My friend turned, looking around the island, he could see every inch of the land mass and then jumped up in the truck bed and looked around again. Old Boston ask what are you looking for, the answer, "a barge."

"A barge," said old Boston.

"Yep, figure those radical guys from Tonga plan a raid to take my truck after what you said. Since we are over 900 miles from the nearest land, I think they will need a barge."

I miss the island life, I earned the name Island Boy out there.
I have some neat stories about Johnston Atoll, especially ones about the Polynesians people I encountered out there.

I am one of the CoCoRahs observers who report to their University of Colorado site.

Jim K
Dear Jim,
Thanks for the book review and thank you for writing! Your story is hilarious. Then I thought what the heck is a CoCoRah? Is that like a coconut retriever? Then I looked it up and by golly, I learn something new every day!
By the way, a coconut retriever is a name for a mixed breed dog that plays at the beach chasing coconuts
.
In January of 2008, a VISAR crew responded to a rescue call, internally referred to as a "shout" which was initiated by the mega yacht Leander. ...
---
A Good Credit Score is 700 or Above. See yours in just 2 easy steps!
---
- Thursday Already!
From: DearMissMermaid at aol.com
Date: Thu, 19 Feb 2009 12:46:58 EST
Another great day in paradise, though it's still overcast and winds are blustery, it's nice nonetheless. The Sahara dust is in full force it seems, as it's quite hazy. I have on long
Leggings
to keep warm. I know LAUGH. I get cold when it drops to the 70's.
Leggings
probably went out of style along with the
mood rings
, but they are a nice way to stay warm.
I wear a
rainbow topaz
ring, which many mistake as a mood ring because it changes colors as the sunlight or other bright lights hit it. Mine primarily gives off shades of purple, green and blue.
The skies today are many shades of bluish grays. Rough surf conditions along with long periods northerly swells may make for some choppy sloppy boating on the north shore. Fresh to strong winds with gusts of 25 knots can make for some entertaining sailing. Remember, if you THINK about reefing, (on a sailboat) then it's almost too late, when in doubt, always reef. This keeps your guests from screaming and helps the boat go a tad faster without as many knockdowns.
Speaking of style, I was out with friends chit chatting when a tourist came in smartly dressed. We kept commenting on her attire, almost to the point of embarrassing her. Finally I explained, that we don't exactly get the latest fashions in the BVI nor high fashions, so when we see someone dressed in the latest trends, from the real world *giggle* we often take notice to see what's in style lately. She did get a good laugh out of that.
There is no one set style in the BVI, that is for sure. What with people here from all over the world on work permits and others on vacation, we see all manner of dress and clothing styles. I have my clothing sorted out by "town wear" and "tourist wear" and "home wear". If I have to go to town to do business with government or anyone else, then I get all decked out in a conservative dress or pants suit etc. Tourist wear is what I put on to go to the beach or to go out and party with friends for a casual time. Of course home wear is the stuff falling apart or too risque to wear elsewhere. I also have a class of clothing for DIY (Do It Yourself) this is stuff I might wear while doing home projects like fixing the heap of a jeep or something around the house. It's the old stuff with stains or rips or faded out, but not quite ready for the garbage bin, but too far gone to be useful to anyone else. Stuff is always falling apart in the Caribbean. Whether it's your clothes or boat or vehicle or home, it takes a beating here.
What with the sand and sea, the salt and Sahara dust, the volcano ash and concrete dust from jackhammering neighbors, the intense sun, the propensity for sweating more due to the tropical weather, things just wear out faster.
I put up a few recipes on Ehow.com and hope to put up more soon.
See:
---
A Good Credit Score is 700 or Above. See yours in just 2 easy steps!
---
- Blue Gray Day
From: DearMissMermaid at aol.com
Date: Wed, 18 Feb 2009 13:33:54 EST
Overcast, cloudy and blustery. The winds are coming and going in gusts. We can expect increasing seas and dangerous surf conditions. Long period northerly swells are hitting the north shore and marine conditions may deteriorate for that area. The surfers may be able to get in some good surf today and tomorrow but it may be all you get for a few days, as the swells are expected to clock to the east. Despite the clouds, only tiny scattered rains are expected.
That's a real shame too, my jalousie windows need a rinse down. The maid upstairs was nice enough to sweep all her dirt over the balcony and on to all my windows.
All I could do was shake my head in disbelief and cough loudly (no help!). Apparently she swept the entire upstairs, then brought it all out to the long balcony and she swept that in broad strokes so it all rained down on my open windows. As you may recall jalousie windows open out horizontally, so they make nice shelves to catch all that dirt. Even the cat woke up sneezing, as he was sleeping in front of the windows when he was hit with this sudden dust cloud, poor thing.
I decided to just take a DEEP breath and let it slide. The damage was already done, why mention it now and appear to be a whiney neighbor? *sigh*
If only bank lines weren't so long here! Ever tried to make a deposit in under an hour?
Thieves loot church for $15000
SKNVibes.com - Basseterre,St. Kitts and Nevis
ROAD TOWN,
Tortola
- A number of persons are being sought after US $15000 in cash and checks were stolen from the New Life Baptist Church in Duffs Bottom
...
That's a real SAD take on our society. Sad when the thieves grow tired of robbing the hard working business people and instead turn to robbing those making generous contributions to their church. Kind of sickening. I bet they find a way to deposit their money now, in spite of the length of time it takes to make a simple deposit.
TODAY'S QUOTE
Success is the ability to go from one failure to another with no loss of enthusiasm.
Winston Churchill
The GOOD NEWS is, airfares to STT are CHEAP and then it's just a fun ferry ride away to the BVI. So if you are sick and tired of being cold or snow or need some sunshine and limin' in your life, then check out air fares and you might be pleasantly surprised! Some round trip tickets are under $200! (Um, now last year, weren't the airlines closing down routes and telling us air fares would soon be nearly impossible to afford?)
TODAY'S ADVICE:
SAVE WATER (Drink Rum!)
---
A Good Credit Score is 700 or Above. See yours in just 2 easy steps!
---
- Tuesday already!
From: DearMissMermaid at aol.com
Date: Tue, 17 Feb 2009 09:08:12 EST
Monday! ooops! Tuesday!
The winds are gone, the Sir Francis Drake channel looks like a flat lake. At sea level, the temperature is up to 82 but elsewhere is 5-10 degrees cooler. The higher you get, the cooler you be...
OK, all is well, I skipped a few days, was under the weather *ha ha* but doing just fine. Sometimes, it's a good thing to leave the computer OFF for a whole day or two or three.
My last vacation, um, hmm, 3 years ago? (Man I sure need another one!) I left my computer off and at home and took off for nearly two weeks without it. Heaven on earth!
It's a great day to head up to Virgin Gorda but you are going to need some motoring to push those sails. I see a sailboat motoring downwind, and I think, gosh, run upwind while you can, being as there is no wind really. But it usually comes from the east and Virgin Gorda is usually straight into the wind.
Winds should increase tonight as a weak cold front approaches the area. Swells are expected to arrive mid week and a small craft advisory may become evident around Thursday.
~~~~~~~~~~~~~~~(\(\__~~~~~~~~~~~~~~~~~~_/)~~~~~~~~~~~~
Back in the dark ages, the first time I ever flew in an airplane, I was 20 years old and going to Las Vegas with my father. We read books on playing blackjack and even though you have to be 21, he told me to dress up in my business suits, act 30, and no one would bother me, which turned out to be true enough.
We sat inside next to the wing. I had the window seat. That is the WORSE place for a first time flyer to be! The wing wiggled and liquids seemed to be leaking from it. I was petrified and everyone else seemed to think this bouncing wing that was surely going to fall off at any moment, was normal, so I kept my mouth shut and gripped my book with white knuckled hands.
My father had made the flight arrangements, and this "direct" flight made three landings en route. We didn't know it until the flight was over, but we had a new pilot. Another no-no for a first time flyer. Do not put a new pilot and first time flyer on the same plane. When we landed in Atlanta, we hit the runway with such force that we bounced 3-4 times rather harshly. By now I was praying heavily and dismayed to find we had only gone 150 miles so far.
We took off and landed in New Orleans. Again, we hit the runway pretty forcibly and bounced a few teeth jarring jolts down the runway. I told my father, that flying was OK, but boy the landings sure are ROUGH! He gritted his teeth and grinned at me. When we took off again, I think we did some practice runs with cards, and then back to studying our books. We were actually going to Las Vegas on business, for an exciting tax law seminar (whoopie!) and we planned to have some extra time to gamble and play.
I think we landed in Dallas next and again, we bounced heavily down the runway, I was sore all over by now, from the tension in my body. We took off and finally landed in Las Vegas. I think we bounced a good five times before sticking to the pavement and coming to a stop. I would be ever so grateful to get off that plane. As we stood up to stand in the aisle waiting to get off, the exuberant stewardess breathlessly announced we should all give a round of applause to our NEW pilot.
I looked at my father horrified. I thought pilots were supposed to have gray or white hair and look grandfatherly. Perhaps because my own grandfather had piloted a Sopwith Camel and I clearly remember the great picture that hung in his study, taken from another plane, of him flying. (He also drove his car like he was flying, at great speed down Lookout Mountain as if he were being chased by something horrific and must drive the maximum to get us down the mountain as quick as possible.)
My father explained that the hard landings were not normal and the result of the new pilot. Sure enough, when we flew back home, all out landings were gentle, albeit with a different pilot.
Upcoming BVI Holidays
H. L. Stoutt's Birthday Mar 02
Commonwealth Day Mar 09
Good Friday Apr 10
Easter Monday Apr 13
Whit Monday Jun 01
Territory Day Jul 03
---
A Good Credit Score is 700 or Above. See yours in just 2 easy steps!
---
- HAPPY VELNTINES DAY
From: DearMissMermaid at aol.com
Date: Sat, 14 Feb 2009 10:37:12 EST
HAPPY VALENTINES DAY
My thermometer has quit being stuck on 82 and is now stuck on 81. This is expected to keep up for at least 2 more months.
Gentle tradewinds are seen rippling dimpling westerly down the Sir Francis Drake channel at a lazy speed from the east of 12-14mph. A moderate northerly swell is headed our way and may arrive late tomorrow or Monday. We can expect a sprinkling of showers for the next few days with a possible increase mid week.
~~~~~~~~~~~~~(\_(\_~~~~~~~~~~~
Nothing happened to me on Friday the 13th. I fought off evil and bad luck by staying home and cleaning house until 2am. I woke up this morning and WHOA, I wondered if I was in the right place. Everything organized and put away, even the cats were tucked away: one in his reserved cubicle at the bottom corner of a deep bookshelf, another curled up in an oval basket and the third hidden away with his cotton blanket on the top shelf of the closet.
~~~~~~~~~~~~~(\_(\_~~~~~~~~~~~
Lawdy mercy, the police cracking down on dem heavily tinted vehicles.
One woman was fined $500
for having her vehicle tinted at 95% when the law allows a maximum 35%. What I wants to know is, how do you even SEE to drive with 95% tint? Isn't that the same as driving around on a moonless night, with one eye closed, and the other patched up, during a power outage with no headlights on? There's no law against dark sun glasses and dat be what dis lady need. If she need her life to be dat dark, maybe she should stay home under a rock in a dark windowless room.
Save herself $500 too!
~~~~~~~~~~~~~(\_(\_~~~~~~~~~~~
Today's Quote (from an injured sailor)
Our taxi driver took me back to the boat in a marina cart...that's gotta be a first.
There's a funny picture to go with this quote!
Click here
and see the Feb. 13th post, it's a hoot.
~~~~~~~~~~~~~(\_(\_~~~~~~~~~~~
~~~~~~~~~~~~~(\_(\_~~~~~~~~~~~
Bryan Hodge Named 2009 Champion Farmer
Platinum News Online - Tortola,British Virgin Islands
"I will like to see that we can feed
Tortola
. That keeps me going and I'll like to be a part of it," the 2009 Champion Farmer stated.
...
AMEN to arts and food! We need more locally grown of both!
~~~~~~~~~~~~~(\_(\_~~~~~~~~~~~
Washed Ashore, Found on the Beach, in a Very Cold Bottle:
Dear Miss Mermaid,
I am seriously homesick for the Caribbean Sea, snorkeling up north just isn't the same!
---
A Good Credit Score is 700 or Above. See yours in just 2 easy steps!
---
- Friday the 13th
From: DearMissMermaid at aol.com
Date: Fri, 13 Feb 2009 10:10:12 EST
Well, got the internet fixed but now my emailbox is giving me fits about sending emails. *sigh* It's always something to keep me entertained! I am hopelessly techno challenged, a horrible typist that needs a spell heckler, yet amazingly I fixed someone else's computer recently, after it had been down for weeks. Go figure. Life is funny! And I am trying to laugh about it every day. Laughter truly IS the best medicine!
81 degrees with tiny seas on the south shore and moderate seas on the north shore. A few scattered rains are expected. No storms on the horizon and NO SNOW predicted, so overall very good news all around. I guess I can put away those snow skis and forget about slogging through the snow...
If you are looking for a great place to sneak away to for a fabulous lunch, try sitting in the garden by the ocean at
Cruzins in Carrot Bay
. We went there for lunch yesterday and it turned into an afternoon event, as the ambiance was so relaxing, the view so mesmerizing and the food and service, excellent. My friend had a HOMEMADE hamburger. They had lovely specials but my friend said she felt like a burger. I mention this because this is probably the only place on Tortola that makes hamburgers from scratch. Everyone else tends to use the same 4-6-8 ounce frozen blah burgers, so she was tickled to get a real hamburger cooked on the outdoor grill.
I had their grilled pizza, which I shared with my friend, an unusual idea that is unique and really tasty. My friend insisted on the triple chocolate dessert and asked if I would share it with her. However, when it came out, she took one small taste and decided NOT to share with me after all!
We immediately ordered another one for me, as I was already drooling. WOW that dessert is really decadent. I think it pushed us over the edge, as we sat in the tradewinds, admiring the shady garden and the gentle waves rolling in, savoring chocolate three different ways. We had places to be and things to do, but heck, sometimes it's just plain fun to toss out the clock and enjoy life.
They also have a unique gift shop, and I took the opportunity to put some of my
"Hurricanes and Hangovers"
books in there for sale.
I'm not much of a beer drinker, but do have a long extensive
list of exotic beers.
So stop by for a drink or lunch or snacks or dinner, or just to buy my book! *giggle*
Now if I could just sell a zillion books and sit by the ocean everyday for inspiration...
I was about to mail this out when I checked my calendar see what day it was. And it's Friday ( I was hoping it was Thursday... just can't win them all...) then I noticed it's also the 13th. So, beware. Now, let's see, if I remember my math correctly, since it's not a leap year, March will follow with the same dates and we will have another Friday the 13th next month too as well as in November! A triple year of Friday the 13th's, the likes of which we haven't seen since 1998 and won't see again until 2015. (Maybe by then the stockmarket will rally back!)
On the other hand, tomorrow is VALENTINE's DAY! So love the one you're with and if you're lonely, ask someone out.
(By the way, I'm single.....) Don't forget to buy flowers, chocolates, sexy gifts (if you know them really well!) and put some romance in the air. Forget about the doom and gloom, make love, not stress.
By the way someone asked me to make the underlined links clickable on a NEW page. I am working on that, but in the meantime, anything underlined, you can right click and select "open in a new window". Not sure that helps, but best I can do at the moment...
Warm and RELAXED Regards,
DearMissMermaid.com
Check out Dear Miss Mermaid's New Book!

---
The year's hottest artists on the red carpet at the Grammy Awards. AOL Music takes you there.
---
- Check out Woman Who 'Swam Atlantic' Didn't Really
From: DearMissMermaid at aol.com
Date: Thu, 12 Feb 2009 21:07:11 EST
Scattered rains are the norm. A long period northerly swell may invade the area this weekend. Winds should be moderate and seas normal with no small craft advisories. I was on the north shore today and some surfers were trying out the rather tame waves and still managing to get a free ride.
Today's Quote, Found on a BVI Blog:
It is the random encounter on a daily basis with someone you don't know who will go out of their way to ensure that you are

inconvenienced

that really make me question why people that live in a beautiful island have to resort to filling their days with random acts of "

inconvenience

".
You know, there are days I feel that way exactly. I wonder if this person has been to the labor and immigration waiting room lately. The A/C broke again, it seems to be broken an awful lot the past few years, and it's an oven there now, no open windows, no open doors, just an oven filled with people struggling to breath, battling for what little oxygen they can Hoover up. Maybe it's a new health test for the work permit folks. If you don't pass out before your number is called...you might get your paperwork done. Multiple trips to this oven can make one appear grumpy. (Gee, I wonder why?)
I would like to see crafty characters outside selling low numbers. I would buy one in a heartbeat! Or how about a lively auction of appointment times? I would be an avid bidder! This business of giving 200 people the same appointment time, is a tad annoying.
What if the waiting room were the same as the lobby for the old folks home? They would have loads of visitors on a daily basis and we could all grow old together!
I know the government is talking about moving the old folks home. I say, move it and child care and the animal shelter all to the same property. The young can entertain the old and the homeless pets can love them all!
Oooops! Story doesn't hold water...
Click here: Woman Who 'Swam Atlantic' Didn't Really
tsk tsk tsk
(What did she do? Walk across?)
---
The year's hottest artists on the red carpet at the Grammy Awards. AOL Music takes you there.
---
- Whether or not...
From: DearMissMermaid at aol.com
Date: Wed, 11 Feb 2009 13:54:22 EST
4am
Can't get on the internet, so having to rely solely on my crystal ball for the weather predictions. Looks to me like scattered showers and Sahara haze are the norm with temps in the low 80's seaside and low 70's in the mountains. Sea's are a tad choppy on the south side and no idea on the north side, my crystal ball is cloudy about that area. Hmmm...
8am
I called about the internet being down (nothing new there!)
9 am
I called about the internet being down (still) and was told my account had been canceled due to new management and my file being lost.
Again??? Funny, my last name is rather unique and not another person on the island shares it, so ummmmmm..... I must be the only MERMAID on file! *giggle*
Last October, when my internet went down for nearly a month, it was the same story, my file had been lost. This was presented to me accusingly, as if I had snuck in at night and destroyed my records. I shrugged my shoulders and said "Can't help you there! I don't work here, so um, maybe talk to who does work here and find out where they hid my file? I've been a customer of yours for um 20 years... It must be around here SOME WHERE. I've spent forty or fifty thousand with you in that 20 something years, maybe you would like to refund all that since I don't exist in your system?"
So, my file is lost again and my internet is down again. I spoke to a plethora of kind helpful people who listen to me intently, then pass me down the line, to explain all over again. Finally someone assured me that it would be straightened out in a half hour.
Maybe.
11am
That was three hours ago. I called back all chatty and polite and was told "sometime today, they will PROBABLY straighten it out..."
I wish I could promise to PROBABLY pay them one day... My service is prepaid (they require that.) Soooooooo........... life in the islands, a giggle a minute.
Perhaps I should just go make breakfast/lunch/brunch.
We always say, you can't have all your utilities at once in the islands. Cable TV was out for a few days, but came back, the current was mash up, the phone has had it's moments where "all circuits are busy" and I couldn't dial out for hours. Now the internet mash up. I have my own small business here and it's a miracle I ever get anything done at all.
1130am
Still no internet. So, I made brunch. I had some leftover Jamaican callaloo, so I made a three egg omelette with callaloo and white cheddar cheese tucked inside. YUMMY, very pretty and colorful.
So what is Callaloo? I confess, this was canned. I bought it at New Year's when I was having trouble locating collard greens for a traditional Southern New Year's day meal. I figured Jamaican Callaloo in a can would work in a pinch and for some reason I bought about 5 cans of the stuff. Well, we never located the collard greens, but we did locate fresh spinach, which my housemate turned into Florentine (spinach and parmesan) as he had never heard of collard greens or a traditional Southern New Year's Day meal. So the 5 cans of Callaloo have sat in the pantry.
So what is Callaloo?
I looked on the can and it reads:
Ingredients: Callaloo, water, salt.
Well, Ohhhhhhhhhhhh Kay, I guess that sums it all up for us!
I had some as a side dish yesterday for lunch and today I drained it for the omelette and Ohhhhhhh that was wonderful. It seems to be like it's a hearty sharp spinach type veggie, very green and very tasty but not as sweet as most cooked spinach.
NOON
No internet. That "half hour" is turning into a half day... Perhaps, I should listen to the cat, who is begging me to come take a nap with him. I've been up since 4am, might as well take a nap. Actually he wants a belly rub. He is hooked on those! They put him under, into a trance, as if he has been hypnotized and his belly rubs, generally put me to sleep, so we both snooze, my arm gently cradling his belly, next to me. When he has had enough, something will break his trance and he will leap up and leave, like he's late for fresh tuna, and generally, the motion of my arm moving, when he sprints away, wakes me up, and I go back to work. He makes a handy snooze alarm clock.
My friend's cat wakes her up at daybreak everyday, whether she wants to get up or not, he shows up and meows quite loudly until she awakens.
Who is training who?
1pm
No internet. I call them back and they say "try back in 10-15 minutes."
140pm
No luck. *giggle*
244pm
BINGO! Called them again, gave them my name and password and POOF I'm plugged back into cyber space!
Going to the beach requires NO utilities at all!
---
Nothing says I love you like flowers! Find a florist near you now.
---
- Drive Carefully PLEASE
From: DearMissMermaid at aol.com
Date: Tue, 10 Feb 2009 10:37:52 EST
Scattered rains continue to harass the BVI, but the greenery and gardens just love it.
Radar
shows more on the way.
I ran across this fish story by Jimmy Buffett aptly named "
Let Us Prey
"
This excerpt caught my eye:
My endless wanderings—and damage done to my sailboat by a bad storm—finally took me to the British Virgin Islands in the mid-'70s. I parked my sailboat for a couple of winters in an idyllic place called Cane Garden Bay, where I learned to play cricket in die boatyard and chased all six cows on die island, looked for magic mushrooms and wrote a song called Cheeseburger in Paradise
.
JB sure was BUSY those couple of winters!
Back in my chartering days, when I worked as a Chef aboard fabulous yachts, one of my casual lunches, was to fire up the grill in Cane Garden Bay and make half pound cheese burgers on the grill with Cheddar Cheese, Sesame Seed Buns, Bermuda onions, lettuce, tomato, dill pickle fans, served with southern coleslaw and potato salad. (Jimmy Buffett is southern too!) I always called it "Jimmy Buffett's Cheeseburgers in Paradise" and we played his albums on the outdoor speakers while dining in the cockpit. My favorite burger mix was to mix by hand, lean ground beef, with generous portions of Worcestershire sauce, mined garlic, minced onion, oregano, black pepper, seasalt, with a splash of tomato catsup and one or two eggs. I would mix all this by hand (after carefully removing my rings) just after breakfast, then separate into roughly half pound sections, (5 pounds of ground beef yields 10 equal portions) then mold these into big burgers about an inch bigger than the buns, then stack them up, separated by wax paper and let them chill in the fridge until lunch time. By adding the egg(s) and chilling a few hours, the handmade burgers would hold together and not crumble while cooking.
***********
By the way,
the laminated BVI map/chart is back in print here
. They went off line for awhile, very annoying, as many people wrote to me asking WHERE is the link to the laminated BVI map? The link has changed. It's full of useful info.
NOTE ROLLED UP IN A LOCAL ARUNDEL RUM BOTTLE ON THE SEASHORE:
Read with great interest your Thursday blog about driving here in Tortola. I have always had a great fear of dying here on the roads from some idiot driver, and ironically tonight, as my husband and I were driving back from a dinner in town we rounded a corner and hill,and came head to head with a driver in our lane barreling down on us as he passed other cars, again on a corner and hill !!! We had to swerve violently off the road as I screamed bloody murder. I only live here part time but I swear I don't think there is worse driving anywhere than here.. I have a dear friend here who has sweated out cancer survival only to swear her ending may come in a car crash here. How very sad. Do tell me what the answer is. ? I jokingly asked a friend here if there really is drivers training on the island? I mean nobody seems to use their turn signals and this habit of stopping suddenly in the middle of traffic, typically on a bend in the road when visibility is bad , to pick a "friend"up , is quite frankly stupid and another accident waiting to happen. And truly it sems within just a year this passing on blind curves has become a real hazard. I'm happy they have finally painted dividing lines on a majority of the main road out of town toward the east end. Would love to see the yellow no passing lines too but would anyone obey or understand them?
Sorry to go on. Have always loved your "column" since I discovered it a year ago. Thank you. Very entertaining and informative. Don't give up on any of your stances. !!
My friends call me Flipper. I am a dolphin as you are a mermaid. Ha, No I'm not crazy --- promise.
There is driver training here, but rumor is you only need 4 lesson to pass the exam. I hope I am WRONG as 4 lessons seem a bit shy unless they are 4 eight hour lessons. I would think someone needs 50-100 hours of practice driving before getting a license but I doubt they require that much.
A friend said her son flunked his driving test here (again) because he didn't use HAND SIGNALS for backing up. So what are hand signals for backing up? He was told to buy 4 lessons in driving from a certain person and he would pass his driving test. Is that like a bribe or what? Who knows?
OK I digress. I have carefully studied the driving habits of the BVI public and come up with a handy manual for those of you NEW to driving here.
How we do t'ings in the BVI:
Pass on all curves and steep hills whenever possible.
Slam on brakes at the last second, to pickup or discharge passengers or to chat with someone near the road.
NEVER use turn signals.

If someone uses a right turn signal, try to pass them before they turn in front of you.
When on major roads, you must drive either 18mph or 80mph.
Try to tint your car so dark, that no one can tell what you might do next.
Failing that, adjust your driver's seat so you are nearly laying down and other folks can only see your fingers on the steering wheel and not your head (which is looking out the backseat window.)
Whenever possible, look to the left while driving straight ahead.
At the only traffic light, have your thumbs on the horn ready to honk up a storm when the light turns green.
Try to drag race with the other lane when the light turns green.
If the light turns orange, your speed should accelerate to over 90mph, especially if several cars are in front of you.
If you are a BIG truck, NEVER EVER honk when taking over the other lane on a blind hairpin curve.
If you are a taxi, ONLY stop where you can block other roads or parking lot entrances. Discharge Road Town passengers while IN the roundabout.
If your muffler has a small hole in it, rip off the entire thing and refuse to replace it for the next 10 months.
If someone tells you your brake lights are out, make a note to replace them in a year or two.
If you are a BIG truck, make sure your brake lights and turn signals NEVER work and that your license tag is always covered in muck so no one can read it. (If you have a tag at all.)
Loan your vehicle often, to people you know do NOT have a drivers license.
If your insurance expires, or you have none, try to drive all day and night looking to cause a wreck.
Play chicken with anyone driving a rental vehicle.
Pass all pedestrians and bicyclers within an inch of their head.
Stop at the crosswalks, then gun your engine loudly when they are half way across.
When parking, remember to park 4 feet from the other car, so no one can park in that 4 feet of air. Failing that, park so that you block in at least 3 vehicles, then go somewhere for 7-8 hours. If all else fails, just park in the middle of your lane, make sure you as far from the side of the road as possible.
If you are driving a brand new gas guzzling hog of an SUV all by yourself, NEVER EVER pick up hitchhikers. (Why share that Air Conditioning? You might get hot sharing it!)
If you are driving an old car about to fall apart, and you are already late, ALWAYS pick up hitchhikers with a big smile. Go the extra mile to get them there.
If there is a wreck, try to go as slow as possible, and drive in the wrong lane, playing chicken, make sure to start a big traffic snarl at the earliest opportunity.
If you are driving with your garbage on your hood or roof and it falls off no where near the dumpster, try to pretend you didn't notice, and speed away rapidly.
If someone is broke down on the road, always stop and help, even if others are already there. (In spite of the bad drivers, we do have MANY good Samaritans who will stop and try to get you going again or give you a ride or laugh at your predicament.)
If your car mash up and break down, stop, put up the hood and look pathetic and/or clueless.
If you have a flat and can't change it yourself, call your taxi mon friend, they will usually come help, ditto for running out of gas. Tip them well.
If you car mash up and you plan to fix it five years from now, be sure to park in a very conspicuous place, preferably on prime real estate or in a prime parking spot.
OK, that about sums it up, how we do it in the BVI!
DRIVE CAREFULLY in the BVI
(One Hospital, Two Funeral Homes, 500+ graveyards!)
Anything Underlined is Clickable, no matter the color
Warm and Sunny Regards,
DearMissMermaid.com
Check out Dear Miss Mermaid's New Book!

---
A Good Credit Score is 700 or Above. See yours in just 2 easy steps!
---
- MOndays
From: DearMissMermaid at aol.com
Date: Mon, 9 Feb 2009 11:40:02 EST
Bright and sunny, though it started off pretty rainy this morning.
All is well, and I heard that tickets from NY to St Thomas were starting at $96! So if you are cold, come on down, we are just a ferry ride away!
Old News Worth Mentioning: (not sure how I missed this! Foxy is a good friend and I guess too shy to mention such an honor to me!)
His Excellency the Governor David Pearey has announced the appointment of Mr. Philicianno '
Foxy
' Callwood of Jost Van Dyke as a Member of the Order of the British Empire (MBE).
The appointment was made by Her Majesty Queen Elizabeth II as part of her New Years Honours List.
---
A Good Credit Score is 700 or Above. See yours in just 2 easy steps!
---
- Sunday
From: DearMissMermaid at aol.com
Date: Sun, 8 Feb 2009 15:17:43 EST
Rather wet and drizzly today, but the rest of the week should be wonderful!
The rains come and go, from light gray to lighter gray, temps have plummeted 2 degrees from normal. Brrrrrrr........
It's a great day to curl up with a good book such as
mine
or the one I am currently reading:
The Science of Getting Rich: The Book That Inspired "The Secret"
The BVI is so beautiful, one lady has chosen to arrive by SWIMMING here! And on her immigration card, what does she put for flight number? 1Sw1m?
56-year-old becomes 1st woman to swim Atlantic
The Associated Press
She now plans to swim from Trinidad to the British Virgin Islands, ending her odyssey at the Bitter End Yacht Club in late February. ...
Many People love to get married here, but this article below, misspelled the island of Moskito. Tsk Tsk Tsk, it pays to check your facts. (Moskito Island was named after the Moskito Indians.) By the way, it takes 3 days to marry here (maybe in case you aren't sober when you buy the license, you have 3 days to sober up and back out?)
While Sir Richard Branson now owns Moskito, it used to belong to Bert Kilbride, a man of great legend, and the last pirate of the Caribbean. He sadly passed on last January at the tender age of 94 and is missed by many. Some of his artifacts, found while treasure hunting, are now for sale at http://www.bertkilbride.com/artifacts/index.html
Island 'I do' for Kristy
WA today - Perth,WA,Australia
...
Kristy Hinze is opting for the more laid back attractions of the
British Virgin Islands
for her wedding to the US billionaire Jim Clark next month.
...
---
A Good Credit Score is 700 or Above. See yours in just 2 easy steps!
---
- Fair Weather!
From: DearMissMermaid at aol.com
Date: Sat, 7 Feb 2009 13:23:26 EST
My thermometer is stuck on 82 degrees with smiley clouds. My crystal ball reads nothing but fair weather ahead for us.
The Guyanese driver who is responsible for the island wide power outage on the evening of February 3rd after he drove into a utility pole was sentenced this morning.

Kenton Sanmoogan, 40 who was charged with reckless driving, false reporting and driving drunk while in charge of a vehicle was ordered to compensate the BVI Electricity Corporation $11,950 for the damage cost to the pole.
Berndtson & Berndtson Virgin Islands Map
It may not tell you where the utility poles are, but it does have great road maps!
Laminated road map in color. Scale 1:80,000. Shows places of interest and places to stay, castles, ruins, caves, beaches, harbours, shipwrecks, places to scuba dive, deep sea fishing, camp sites, bird sanctuaries, viewpoints, National Parks, mangroves, reefs. Includes inset of Road Town , Anegada , The Valley , Charlotte Amelie, Charlotte Amelie Historic District , Cruz Bay , Lesser Antilles , St. Croix (1:80,000), Christiansted, Frederiksted.Climate charts show the average daily temperatures, humidity, hours of sunshine and precipitation for each month.

Warm and Sunny Regards,
DearMissMermaid.com
Check out Dear Miss Mermaid's New Book!

---
Great Deals on Dell Laptops. Starting at $499.
---
- Fried Day Again!
From: DearMissMermaid at aol.com
Date: Fri, 6 Feb 2009 15:31:03 EST
Here I am late again, but here nonetheless! 82 degrees (my thermometer seems stuck there lately!) and mediocre winds.
Now HERE's some good news! GO SAILING this Sunday February 8th aboard Patouche Charters from 10am to 5pm for ONLY $20 (Twenty Dollars!) The boat is going to Norman Island and Willie T.
Now that is a helluva deal no matter how you look at it. Call 494-6300 to make reservations so your seat doesn't get sold out!
In these times of high prices, this is a REAL DEAL.
***********
If you get in trouble here, call the newspaper, that's what one man had to do, to finally get released from a building he had been locked up in! Life in the islands is so funny!
---
Great Deals on Dell Laptops. Starting at $499.
---
- Internet is UP!
From: DearMissMermaid at aol.com
Date: Thu, 5 Feb 2009 17:50:33 EST
All nice and clam here, 82 degrees, mild winds, scattered showers, not much else happening. Well, no clams, I meant nice and calm here! *giggle*
*******************
My new book: Hurricanes and Hangovers (and other tall tales and loose lies from the coconut telegraph) is now available on VIEQUES, PUERTO RICO!
The Gift Shop at the VCHT is open during regular museum hours, Tuesday thru Sunday, 11am to 4pm. In the winter it is open every day from 10 -5. Telephone 787-741-8850.
ADDRESS: Calle Flamboyán #138,Vieques
All net revenues from the Gift Shop are used to fund projects at the VCHT.
*******************
My friend thought she had finally mastered driving around Tortola. It used to be she only did flat roads and the steep hill up/down her driveway, but mostly she avoided driving. I remember the first time she tried driving on Tortola, she related this story. She was going up hill when she encountered a full size mattress laying in the street. She carefully negotiated around it, and was going downhill, when she encountered a big truck, backing UP the hill, back towards her. (Maybe he was looking for his mattress?)
Only on Tortola, do the strangest things happen when driving around. Like my friend who came to visit and wanted to take my heap of a jeep our sight seeing on her own and I said, well let me drive you around first, so you can get used to driving/riding on the left.
Well, as we got about 100 feet from my home, this car ran a stop sign at a 3 way stop and turned into our lane heading for us chicken style. My friend screamed, as he passed us with about an inch to spare between her passenger door and his.
At the next intersection, as I approached, I turned on my right signal. To our horror, the car behind me, passed me on the right, then made a left turn, right in front of us! Had I not checked my rear view mirror, before my turn, we would have been in an awful collision. Again my friend screamed and this time let out a little obscenity.
We made the turn and started down the road. From behind us, a car approached rapidly, hugged out bumper, then flew around us and cut back in front of us so closely, that we had to slam on brakes. This time I laid down on my horn to wake up the drier who was rapidly shooting far ahead of us. My friend turned to me, white as a sheet and said "I don't think I want to drive around after all!"
Back to my other friend, who decided to tackle driving again.
Feeling very confident, she left the other day with her deviled eggs to go to a luncheon meeting. Carefully she placed the deviled eggs in the floorboard and her other stuff in the passenger seat. Descending her steep driveway, the inevitable happened and everything on the seat flew off and landed on the carefully packaged deviled eggs. Oops! Splat! Somehow, when she got where she was going, the eggs had somehow more or less survived, just a little squished.
Reminds me of the time I was trying to get to work (catering) with a beautiful 5 layer cherry chocolate fudge cake. I foolishly put it in the passenger seat and thought the seatbelt had a good hold of the box. While winding back and forth, through the mountain roads, I guess the box somehow wiggled from under the seat belt. The car in front of me flew over a steep hill and on the downside, suddenly slammed on brakes, and parked right there in the middle of the road. He then hopped out and hiked down a path, leaving his car right where it was. I had to slam on brakes, to avoid hitting his car. My beautiful cake flipped onto the floorboard. Thankfully, it was tightly wrapped.
When I arrived at the villa, and unwrapped the cake (blessedly in private!) it looked like an earthquake had hit, and the cake was hopelessly split in to about a dozen jagged pieces, the cherry filling oozing out from the chocolate fudge icing. What to do?
I searched the cabinets and there were no parfait glasses, but ah HA! There were some jumbo wine glasses. I scooped up pieces of the cake and cherries and fudge chocolate icing and filled up the wine glasses. Then I topped it off with whipped cream and a cherry and called it a local exotic dessert named "BVI Mash Up". After they devoured their dinner, I served the wine glasses on an ornate lace doily on a saucer for the guests, . The guests were not privy to the accident, but raved about the beauty and taste and even asked for the recipe!
Sexy Maxy of MaxWeather, sent this info over, so I will share it with you, then I will study my Crystal Ball
and see what it says!
In the past I did my own predictions with some accuracy but the authority quoted by most all is Colorado State University so I will go with them and see how it falls?
Any N. Atlantic, Gulf, Bahamas, or Caribbean coastal area needs to have a plan in place and mid-season is not the time to start working on it. Network with neighbors, friends, other communities and know the formal emergency response groups and how to contact them when a time of need occurs.
If you do not have a network, start one, if you don't know how, find out.
Let's make a goal to save a few more lives this year by passing on vital information in a timely manner.
I will commence the formal (INFORMAL but you know that) Grrr reports with the first sign mother nature is churning in the Atlantic. Max
Always keep and eye to weather and remember it does not have to be a gurricane to hurt you.
Hurricane Season 2009 Forecast

Fort Collins. December 10th, 2008. An early extended-range forecast for 2009 calls for somewhat above-average Atlantic basin hurricane activity, according to a new report from the Tropical Meteorology Project at Colorado State University.

The report marks the 26th year of the CSU hurricane forecasting team, which is led by Philip Klotzbach and William Gray.

The team's first extended-range forecast for the 2009 hurricane season anticipates 14 named storms forming in the Atlantic basin between June 1 and Nov. 30. Seven of the 14 storms are predicted to become hurricanes, and of those seven, three are expected to develop into intense or major hurricanes (Saffir/Simpson category 3-4-5) with sustained winds of 111 mph or greater.

"We're forecasting an above-average season based on our early assessment of factors that influence an active hurricane season including warm Atlantic sea surface temperatures and the likely absence of El Nino conditions," said Klotzbach, lead author of the forecasts. "The media and general public should realize that there is a large amount of uncertainty with our early December prediction, issued seven months prior to the start of the hurricane season."

This forecast is based on an extended-range early December statistical prediction scheme that uses 58 years of data. This statistical model explains a considerable amount of hurricane variability in hindcasts issued from 1950-2007. Over this time period, the three-predictor scheme correctly forecast above- or below-average seasons in 45 out of 58 years. The forecast model also successfully predicted an above-average season in 2008.

The entire forecast report is available on the Web at http://hurricane.atmos.colostate.edu.

"We are currently in an active period for Atlantic hurricane activity. This active cycle in the Atlantic basin is expected to continue for another decade or two at which time we should enter a quieter Atlantic major hurricane period like we experienced during the periods from 1970-1994 and 1901-1925," Gray said.

The CSU hurricane forecast team also predicts a 63 percent chance that at least one major hurricane will make landfall on the U.S. coastline in 2009. The long-term average probability is 52 percent.

For the U.S. East Coast, including the Florida Peninsula, the probability of a major hurricane making landfall is 39 percent (the long-term average is 31 percent). For the Gulf Coast from the Florida Panhandle west to Brownsville, the probability is 38 percent (the long-term average is 30 percent).

The team predicts above-average major hurricane landfall risk in the Caribbean.

Along with today's report, the team has updated the Landfall Probability Web site that provides probabilities of tropical storm-force, hurricane-force and major hurricane-force winds making landfall at specific locations along the U.S. East and Gulf Coasts within a variety of time periods. U.S. landfall probabilities are available for 11 regions and 205 individual counties along the U.S. coastline from Brownsville, Texas, to Eastport, Maine.

The Web site, available to the public at http://www.e-transit.org/hurricane, is the first publicly accessible Internet tool that adjusts landfall probabilities for regions and counties based on the current climate and its projected effects on the upcoming hurricane season. Klotzbach and Gray update the site regularly with assistance from the GeoGraphics Laboratory at Bridgewater State College in Massachusetts.

The hurricane team's forecasts are based on the premise that global oceanic and atmospheric conditions - such as El Nino and tropical Atlantic sea surface temperatures - that preceded active or inactive hurricane seasons in the past provide meaningful information about similar trends in future seasons.

For 2009, Gray and the hurricane forecast team expect continued warm tropical and north Atlantic sea surface temperatures, prevalent in most years since 1995, as well as the absence of El Nino conditions - a recipe for enhanced Atlantic basin hurricane activity.

The team will issue seasonal updates of its 2009 Atlantic basin hurricane activity forecast on April 7, June 2, Aug. 4, Sept. 2 and Oct. 1. The August, September and October forecasts will include separate forecasts for August, September and October activity.

GRAY RESEARCH TEAM

EXTENDED RANGE ATLANTIC BASIN HURRICANE FORECAST FOR 2009

-Released Dec. 10, 2008-

Tropical Cyclone Parameters Extended Range

(1950-2000 Averages in parentheses) Forecast for 2009

Named Storms (9.6)* 14

Named Storm Days (49.1) 70

Hurricanes (5.9) 7

Hurricane Days (24.5) 30

Intense Hurricanes (2.3) 3

Intense Hurricane Days (5.0) 7

Accumulated Cyclone Energy (96.7) 125

Net Tropical Cyclone Activity (100%) 135

* Numbers in ( ) represent average year totals based on 1950-2000 data.

Source: Colorado State University.
---
Great Deals on Dell Laptops. Starting at $499.
---
- Winds Day
From: DearMissMermaid at aol.com
Date: Wed, 4 Feb 2009 16:42:54 EST
Another great hazy lazy day in paradise. 82 degrees with brisk tradewinds keeping us cool. It seems when I am ready to write, the internet isn't ready to run, then before it came back up, I went out today, for a lovely seaside lunch at Kelly's on Frenchmens Cay. Very few people know about the place. Most days the chef has 3 hearty specials and you can sit by the water in the breeze and shade. They have a dinghy dock too, you just go under the bridge and they are the 2nd dock on the right. For you boaters out there, you can go to the first dock on the right (after going under the bridge) and Walters sells ice in blocks and cubes plus fishing stuff.
Weather should be fair for a few days. No snow on the horizon, no storms, just more Sahara dust! ACHOOOOOO!
I've discovered that a splash of apple cider vinegar sipped in water does wonders for asthma, seems to totally eliminate the need for inhalers. I say this because some folks are developing an allergy to the Sahara dust and using inhalers and meds when they normally don't need them. It does kick up and affect me sometimes. I was using the apple cider vinegar to lessen the swelling in my legs that pops up now and then since I busted them up. One day when my legs were swollen, I was also having trouble breathing from the Sahara, I sipped the usual water or tea and apple cider vinegar (for my legs) but all the breathing problems abated too. I researched it on the internet and apparently many have found asthma relief through apple cider vinegar. Simply amazing!
All we need is YOU!
---
Great Deals on Dell Laptops. Starting at $499.
---
- a cat's life
From: DearMissMermaid at aol.com
Date: Tue, 3 Feb 2009 09:33:14 EST
82 degrees with brisk trade winds and chances of the odd little shower.
Nothing much to report, still hazy from the Sahara dust *cough*.
************
Found In A Champagne Bottle on the Seashore:
Frenchie sent me a link of these
cute pictures
from Jane Burton's new book:
A Cat's Life
. The pictures will warm your heart, lower your blood pressure and bring a smile to to even the saddest face.
*****
The British Virgin Islands (BVI) now has its first
Complaints Commissioner
and persons will able to commence lodging complaints against Government departments and other statutory bodies soon.
Well, my first complaint would be how in every branch of the government, non-belongers on work permits are set aside as 2nd class citizens. I can hear the response now "Sorry, we don't take complaints from that branch of people...." ha ha ha
Ok I am kidding, I have no idea what their response would be, but I think most folks will feel too intimidated to complain, but it's no doubt still an improvement to the existing government.
Now about that elec-tricky situation...
(it's owned by government isn't it?)
Ahhhhhhhhhh..................
WISH YOU WERE HERE!!!
---
Great Deals on Dell Laptops. Starting at $499.
---
- more later!
From: DearMissMermaid at aol.com
Date: Mon, 2 Feb 2009 19:40:01 EST
They ate my email! Those Cyber world monsters! Chomp chomp chomp and my email vanished with nary a burp.
Pink clouds are a nice backdrop to this modern tall ship sailing westward.
Scattered showers are keeping the island green!
---
Great Deals on Dell Laptops. Starting at $499.
---
- Alive and Well
From: DearMissMermaid at aol.com
Date: Sat, 31 Jan 2009 09:00:21 EST
Another great day in nirvana. I woke up alive, and that's always a good sign of better things to come. 82 F degrees at sea level, a bit colder in the mountains. Hazy from the Sahara Dust. (
click to see current Sahara Dust Satellite
) I sure go through a lot of
artificial tears
, to rinse the dust out of my eyes.
But other than that
Life is Good!
FOUND IN A BOTTLE on THE SEASHORE
poor thing.....don't ya wish you were here?
JBS
Dear JBS,
What's all that WHITE stuff?
Not sure where HERE is but I know we'll all here, because we're not all there!
OK, now in picture two, I see horse trailers (me thinks, cause we got horse trailers here for our race track) and then I see big lumpy white stuff. I hope that's not the horses!
So if you want to thaw OUT, come on down to the beautiful BVI. We're not crowded and it's WARM (above 70 F degrees).
Found in ATing Bottle, was this Road Town Manager's Newsletter:
City Manager's Newsletter – 28th January, 2009
Road Town and You!
Jazz! Jazz! Jazz!
The BVI Musician's Association continues its Music in the Park series this Friday, 30th January at 5:30pm at the Noel Lloyd/Positive Action Movement Park. Bring the whole family out to enjoy a fine evening of great music. The Association plays in the Park every other Friday. (Upcoming dates are 13th and 27th February.)
Crafts Alive at Five!
Come out and enjoy the free entertainment during the monthly Crafts Alive at Five celebration on Friday 20th February. Performances are expected by the VI Callalloo Poets, Showtime Band, DJ Wiz and others. All of the booths will be open and will make a special effort to showcase local arts and crafts so save the date.
Feature
Sometime ago I'd had the idea of presenting a series of articles by various persons reminiscing about the Road Town of yore. Sadly, the series never got off the ground but I was so entertained by my first submission that I've decided to present it here. The following was written by Elton Georges, former Deputy Governor.
"I don't have a clearly imprinted earliest memory of Road Town. If I did, it would have probably had to do with the Methodist Church, to which I would undoubtedly have been carried regularly from birth. I do remember the old St. George's Infant School which I attended from the age of five. (The building still stands as St. George's Hall, and was also the site of my first experience of cinema some fifty years ago). I particularly remember its dreaded cellar to which bad boys could be sent in punishment. The threat of the darkness induced terror, as did the nearness of the police station, prison and gallows all rolled into one, shamelessly used by the teachers as a backup disciplinary resource. It was perfectly believable to us children that, at a word from "Teacher," the Sergeant would come and take one off to the mysterious jail where there were bad men like Rudolph and Jump.
St. George's also meant contact for the first time with fair-skinned Town girls with relatively straight noses and "good" hair, impressive even at the age of five, since we absorbed those values from our elders in toddlerhood. At least it was so for us from 'the country,' which, as McWelling Todman never tired of pointing out, started at the Methodist Cemetery in those days. Or rather, the Town ended there. Perhaps the Town boys were more sophisticated.
At any rate, Road Town was, to me, the great metropolis. (Of course, one child's metropolis is another woman's dump. In 1942, Martha Gellhorn, war correspondent and third wife of Ernest Hemmingway, dismissed Road Town as "a cluster of unpainted shacks and a single dust street.") Yet, everything important was there: the largest church buildings with the loudest bells, the government offices, the stores, the hospital, Cockroach Hall which was the doctor's residence and surgery, the Social Inn, the weekly market, and much more.
In 1950, I was sent to Virgin Gorda to live with my aunt and uncle-in-law for some years. Road Town or "RoaTurngh" as Virgin Gordians called it in their distinctive accent became even more remote, and longed for. It was now an hour's sail by the occasional motorboat or several hours by fishing boat under sail. Visits were rare. Still, I recall one August Monday, in 1955, I think, when I was allowed the great treat of coming to watch the festival parade. Unfortunately, we were becalmed. Rounding Hog's Valley Point in the mid-afternoon we came in sight of Road Town in all its glory but could only stew (or rather, bake in the heat) as the boat drifted towards the wharf, inch by frustrating inch. We thought we glimpsed movement and colour in the distance along Main Street, and even imagined we heard the steel band music, but by the time we tied up after a day at sea most of the excitement was over.
It was also in Road Town that I had my first brush with the law as a lad of 17. The Town had not long before received its first stop sign, located at Glannie's or Fonseca's Corner, on Main Street, where the Island Sun office is now located. The street was, until the early 1970s, a two-way traffic artery with the narrowest of sidewalks where they occurred. The stop sign was painted on the ground. One Saturday evening the Officer in Charge of the tiny police force was standing on the verandah of the Social Inn and had nothing better to do than observe me fail to come to a complete stop at the line and touch down at least one foot as I rounded the Glannie's Corner on my way to work at J.R. O'Neal's Drugstore. (That was what he claimed.) So it was that early the subsequent Monday morning before I left for school my mother was startled by a police constable at the door delivering a summons. I was duly hauled into Magistrate's Court, conducted my own defence, found guilty (a miscarriage of justice), and fined $1.50. The year was 1961.
Many nooks and crannies of the capital had their story, the bars, tailor shops, grocery shops, the alleys, not to mention the characters, the rogues, the eccentrics. But, for me, the crowning memories of Road Town were of Christmas Eves when, to an early adolescent, the town was at its brightest and best. Downstreet, with the deCastro, O'Neal, Penn, and other stores, all brightly lit, the homes decorated, was a festival of colour and light and magic and people and firecrackers, and popguns and toys and goodies…a glittering display. At least, that is what lingers in the memory. With a very limited electricity supply it could obviously not compare in brightness with that of later years. But this is now. That was then, and one couldn't wait to put on his prettiest shirt, recently arrived in the box from aunts or cousins in New York, and get dung into Tung!
Road Town on Christmas Eve in the 1950's. Unforgettable."
A big thanks to Mr. Georges for this glimpse of what Road Town meant to him.
Community Involvement Tip!
Dreamed of being a track star but didn't quite make it? You can live vicariously by supporting one of the Elmore Stoutt High School's many track clubs. Call Mr. Winston Potter, head of the Physical Education Department, or Ms. Angeleta Bernard at 494-3701, ext 6706 or directly at 494-3468 to find out how you can support the territory's next generation of great athletes!
Did you know…
that the Ginger Thomas (Tecoma stans) plant can reach a height of between twenty-five and thirty feet? The plant is common in the western part of Tortola and is the national flower of the U.S. Virgin Islands and the Bahamas. It is also known as Yellow Elder and Yellow Cedar. A limited number of Ginger Thomas seeds are available for interested persons at the Office of the City Manager, second floor, Sebastian Building.
P Remember to take your re-usable bags with you wherever you go shopping. They're not just for groceries!

Eugenia O'Neal
City Manager, Road Town
"The Little City With the Big Heart!"
Virgin Islands
---
A Good Credit Score is 700 or Above. See yours in just 2 easy steps!
---
- Better Late than Never...........
From: DearMissMermaid at aol.com
Date: Fri, 30 Jan 2009 18:02:50 EST
Ah the Dear Mermaid is alive and well. Had a hiccup
with technology and couldn't post yesterday.
Weather is wonderful, if you are freezing your tail off somewhere, you should book a sailing vacation in the beautiful BVI. Come relax yourself. Slow down. Enjoy life. Temperatures are 75-84, winds are nice and best of all NO SNOW expected.

Wet and Wild!
I found MANY Bottles on the beach about my Bunny Hopping heap of a jeep, such as:
Dear Miss Mermaid,
I'm no auto mechanic, but here are a couple of things to ask your mechanic to check:

- Possibly try a fuel additive to clean your fuel line and injectors (if the jeep has fuel-injection).

- Since this seems to happen on hills, check your fuel pump for proper operation. It may not be up to the job on hills, where the demand is greatest.

Car problems can be frustrating and never happen at a convenient time. I hope that this may be helpful to you.

Best of luck!!!
- Richard from Baltimore
Thanks Richard! This is a 12 year old Suzuki Samurai, of non-US speck, so doubtful there is a fuel injector. What I have is a fuel heckler!
Hello,

I'm sure many have already written to you, but I'd start off replacing the fuel filter.
Just my humble opinion.

bye
You mean an old pair of panty hose isn't sufficient for a fuel filter?
Good Evening!

I read your post the other day about your car troubles and I have a few suggestions...

First, you may have gotten some 'bad gas' - gas with some moisture in it. Buy some 'Heet' or some other gas additive that removes moisture and put it in your next tankful.

Also, if you are letting your tank get almost empty before filling up or buying gas, the problem may be that sediment settles on the bottom of the tank, and then when you put more in, it stirs up the rust and whatever else that's in there. This then may be plugging up filters and/or fuel lines.

Another thing that may be causing the problem (and I had this happen with my Suzuki) is the vacuum hoses may have leaks, or broken, or popped off, or just plain rotted.

Might need a tuneup (new plugs, etc.) but I would check these other, less expensive things out first!

Just thought of one more....if you're going up steep inclines with a low fuel level, the gas might not be making it up to the engine! Check your fuel pump, too.

I work at Caravan Auto Parts on St. John, and these are all things I have had suggested to me when my car 'acts up'. Let me know if any of these suggestions solve your problem.

You also might want to consider moving over here - we don't have near the power/internet mash ups you do, and you wouldn't have to get all those papers in order every year! And you could still work from home! We have lots more grocery options, and St. Thomas would be just a ferry ride away! And we have all the nice weather, beautiful sunrises/sunsets, too! Just something to think about!
THANKS! Vacuum hoses? If I have those, then WHY is my carpet always dirty?
Doubtful they will let me sneak my jeep over there, as it's not a US spec. Maybe I will have to paint it up to look like a parade float and sneak it over for a parade and then undress it later... I've spent a fortune at Caravan and "imported" many $$$ parts from there.
The problem maybe because you have let the tank run right down, therefore dragging muck and whatever from the bottom of the tank.
To fix it, the fuel lines will have to be cleaned out, and possibly the tank taken off and cleaned out. I personally never go below a 1/4 tank, because normally that's what happens.
I hope that fixes it, good luck.
Graham.
UK
Ah, muck, that could be! Taking the tank off sounds too complicated. You wonder why they don't put a drain hole in there. Maybe I can borrow a pistol and just shoot a drain hole into it and stop it up with an old wine cork when I am done draining it.
Dear Miss Mermaid,
Stop putting RUM in dat tank! You gots to put gasoline in it, even if dat RUM be cheaper than gas!
NOW, you tell me!
Miss Mermaid,

Since you did not top off your gas tank for quite a long time, you may have accumulated water in the tank from condensation.
Put some "dry gas," found at car shops in the tank. The alcohol will absorb the water.

Or, you have an ignition problem, Often dust and mud on the wires and the coil will cause the spark to get shorted out to ground or the wrong plug. Wipe the wires and coil/s.

Does the engine miss only under load? Or does it run rough even at idle?

Caribbean gas is of poor quality and may clog the injectors (if you have them).

Check your fuel filter and replace it.

Will write review of your book soon

kai
Well, if the alcohol will absorb the water,then back to the Rum bottle! Load? Load of WHAT? Like a load of Rum?
It runs real smooth, just once in awhile it bunny hops over a steep hill or shuts down while traveling vertically and scares me into changing undies.
I guess I need new pantyhose for the fuel filter *sigh*. (Pantyhose are so hard to come by here!) I don't think the Caribbean gas is poor quality, but the tanks they store it in are dicey.
P.S. When you write the book review, don't forget to tell a lot of great lies and recommend everyone buy at least 10 as gifts for their friends.
---
A Good Credit Score is 700 or Above. See yours in just 2 easy steps!
---
- Windy Day with Rains
From: DearMissMermaid at aol.com
Date: Wed, 28 Jan 2009 23:20:04 EST
Weather is here wish you were gorgeous!
OOOOPS!
Gorgeous you are, whether or knot?
Umm...
Whether you hear wish, you were gorgeous!
*sigh*
Weather is GORGEOUS!
Wish you could hear!
I give up! Just look at the pretty picture and figure it out for yourself.
---
A Good Credit Score is 700 or Above. See yours in just 2 easy steps!
---
- Twos Day
From: DearMissMermaid at aol.com
Date: Tue, 27 Jan 2009 15:28:36 EST
Another great day in the BVI with temps up to 84 degrees at sea level and a good 10 degrees cooler in the mountains. My ears sometimes pop going up there. Lately my jeep has started doing the Bunny Hop over steep hills and that is enough to test my heart rate.
It hasn't done it in months, but I usually buy gas at a half tank, but when gas prices soared, I started buying just the minimum to get me by, letting it get dangerous close to EE and waiting for it to come down, in price before splurging to fill up again. So Sunday when it began bunny hopping on a steep hill, cutting off on me, (and I just KNOW that clutch loves it when I try to start on a vertical hill in first gear...) I turned around and headed for the gas station. I filled it up and that seemed to make it happy as I did several steep hillsand swithcbacks to get to the mountains. Then on the way on home, on the very LAST steep hill I had to conquer, it burps and hops. I shoved the clutch in, revved it up, and let it back out and managed to bunny hop over the hill.
I must have looked like a student driver, as it hopped and jumped and then finally, on the downhill, it was smooth again. Grrrrrr........
Once, a while back, it did it on a straight away, it was dark and storming and I was going to give some friends a ride back to their boat at the marina, about 8 miles away, but my jeep fussed and fought and bunny hopped the first 1/2 mile, so I took them back home and they spent the night on the spare beds. The next day, it ran fine, at least during the day time, the Good Samaritans of Tortola will stop and help you. But on a dark and stormy night, not even taxis are around, matter of fact, we had called a bunch of taxis first and they all had their voice mail on.
WHich, something to keep in mind, if you are relying on a taxi to get you somewhere and it begins to storm, after dark, you better find one immediately, as otherwise they all go home.
It's been to a mechanic about this several times, obviously he doesn't know, so at some point I will try a different mechanic. If anyone out there, has any ideas, let me know.
Otherwise, I am going to trade it in and get my old donkey Merman back:
For all you Parrotheads aka
Jimmy Buffett
fans, if you missed his surprise performance on Anegada, he is expected to turn up in these locations on tour:
Jimmy Buffett and the Coral Reefer Band
Summerzcool 2009 Tour
---
A Good Credit Score is 700 or Above. See yours in just 2 easy steps!
---
- Funny, no snow here yet!
From: DearMissMermaid at aol.com
Date: Mon, 26 Jan 2009 13:54:09 EST
A beautiful windy day in paradise at 82 degrees and sunny. Surf was up yesterday with small waves, but will improve when the swell direction turns. No snow here, just scattered spring like showers. There is one now, and it feels good, the garden loves it.
Gert, the wonderful
StormCarib.com
volunteer webmaster is trudging around Antarctica aboard the
R/V Nathaniel B. Palmer
. Now that R/V doesn't mean Recreational Vehicle (well that's what he told me and his wife...) but it means
Research Vessel.
I guess some folks go to
any lengths
to look for hurricanes!
He promised to toss a few bottles in the ocean and let us know what was happening, but so far, nothing has arrived in the BVI.
Check here for news of the ship
. I did go check the seashore today and managed to find several bottles, although none were from the frozen tundra.
TRIVIA
Antarctica holds more than 90 percent of the world's fresh water.
MESSAGE IN A BOTTLE Found on the Seashore
Hola Miss Mermaid!
I have purchased 2 copies of Hurricanes & Hangovers - Last night I read about your first murder - I was feeling a great empathy! You are a very entertaining wirter! I have a brother who lives in Sea Cow Bay and will be back down for another visit April 13th - 29th - I can't wait! Thoughts of my upcoming visit are helping me to cope with the sub-freezing temps and snow (Philadelphia area Pennsylvania)...
Be Well!
Lillian
PS Love your blog on
StormCarib.com
- it helps when I can't get a hold of my brother - I read your report and know if the lack of connection is due to a mash up of the internet or power. Thanks for the daily reports!
Another MESSAGE IN A BOTTLE Found on the Seashore
Lettin ya no dat I bought 2 da books for buds dat com wit me to da
islands. I luv ya weatha blog.

A friend frum da upside states.
And Yet Another MESSAGE IN A BOTTLE Found on the Seashore
Dear Sweet lady,
I got a copy of your book last week, my belly finally healed up this week—it split from laughing.
I lived for over a year on a little island in the Pacific and totally understand what you are saying about thing mashing up on tropical islands.
We had people there from Montserrat, Jamaica and other Caribbean islands. Between the natives from Pacific islands and the Caribbean islands we usually a wild time with the singing and dancing.
You are a very good writer and weave your tales together in an excellent manner.
Jim K
The Beach was BUSY with Messages in a Bottle!
Dear Miss Mermaid,
I received your book for Christmas from my husband and I only had to email him the site once (as a hint). Loved it, but one small complaint. It was way too short. I want more. I guess that's not a bad thing, always leave them wanting more. As I look out my dark window at the street light and watch the snow coming down. Shoveled at least 8 inches today, I forgot to look at the totals in the paper but I bet we are close to 200 inches. It is pretty though. My sister visited from California and said it looked like we lived in a Christmas card. So just keep posting sunny pictures so I can get my vitamin D, and let me know when you next book comes out, I'll be first in line....love always your mythical northern good fairy
WOW! *blush*
A big THANK you for all the wonderful comments!
---
A Good Credit Score is 700 or Above. See yours in just 2 easy steps!
---
- OOOOPS! This went out kinda late due to technical inconveniences, so sorry
From: DearMissMermaid at aol.com
Date: Sat, 24 Jan 2009 19:57:19 EST
I sound like a broken record, 82 degrees, gorgeous weather...great for
beaching or sailing
or diving or watersports. What more could you want?
(A new boat?)
If you don't have a boat, take a day sail with
Patouche.com
.
(If you have local ID, ask about their locals only special price.)
Actually we've had this thick haze roll in the past few days. I was up vacuuming at 1am and mopping. I took 2 sleeping pills at 10pm and by 1am still had steam rolling in spite of the fact I had been up since 4am working steady. The Sahara dust just sticks to everything! My Hepa-Filter
Euro-Pro
Vacuum was picking up minute particles AKA the
Sahara Dust
along with all the jerk-hammering-super-fine concrete dust and the general dust. I bought this particular vacuum back when mine was just a proto-type and no one had heard of such a thing. It is the BEST thing for anyone with allergies and even if you don't have allergies, your floors and furniture will come super clean with it.
Now 6-7 years later, it still picks up everything including teeny tiny itty bitty bits of dust which are trapped in the filter, before it expels air. It's bagless, just has a nice clear cup where you can see all the cat hair, human hair, lizard tales, dirt, leaves, cat food, spiders, bugs, onion peel and whatever else it sucks up including money it finds. I don't know WHERE this money comes from, but every time I vacuum, there is a dime or quarter or nickels in the dust cup. Kinda strange. Maybe it's from vacuuming the seat cushions, people sit down and their change falls out and I come along cleaning and suck it up. Who knows? One of life's mysteries. Like every time I wash clothes, I find money, yet I don't wash my wallet. Even my bedspread, spit out a quarter when I took it out of the wash yesterday. Heck, I'm so broke, I am going to vacuum and do laundry all day and see how much I "earn"!
I have to buy a new filter about every one-two years, I clean my filter after every use. I can't clean it in the garbage, as that just makes a huge cloud of dust, (duh!) So I wet down the sink, then bang the filter on the sink's edge and all the super fine dust falls out and sticks to the water, then I rinse it down the drain, it just looks like dirty water, won't clog or anything.
Euro-Pro
has now come out with a vacuum for every situation, some are even cordless. I'm proud that I helped launch their success story as they make a wonderful product. I just noticed they even make a battery operated pooper scooper with tiny wet/dry bags (now if you can just train the dog to use
that
on the lawn...)
Look at that
Sahara Dust satellite
, scary indeed. I know, I cleaned the filter and was astonished at the mountain of itsy bitsy teeny tiny bits of dust in it, LOADS of it!
Ginger Island in the BVI up for sale.
Well as I understand it, you buy the whole island and only get half, as half must be donated as a national park. Only 20 or 30 million, depending on which source you believe.
Why don't we build the new proposed cruise ship dock out there? Build an open air mall, put 5,000 chairs on a beach, it already hosts 2 popular dive spots. Build a gondola ride to the top, for spyglass viewing... Real estate in the BVI is a funny commodity. If it doesn't sell at the price the seller is asking, then they keep RAISING the price until it does sell. Go figure.
Now HOW did the BVI win a coin contest with a $50 silver coin? First of all we use US currency... Somebody must have read the super fine print of the rules, to pull THIS one off!
Mongolia Takes Coin of the Year
NumisMaster.com - Iola,WI,USA
The other five category winners were Austria, the
British Virgin Islands
, Denmark, Italy and Mongolia. The George Washington Presidential dollar won the
...
A relocated BVIslander has come up with DoodleWear! Take a peek if you have kids or shop for kid's gifts or need a great idea for a birthday party event.
---
A Good Credit Score is 700 or Above. See yours in just 2 easy steps!
---
- YEE HAW! Yippy ya ha!
From: DearMissMermaid at aol.com
Date: Fri, 23 Jan 2009 11:03:40 EST
Another stunning day in the BVI. Weather is perfect, not hot, not cold, just right. Kind of like heaven on earth. A good time to get out for watersports and other outdoor activities.
It's not crowded this year in most places, so there is much fun to be had.
Today at 5pm is the live entertainment at the Crafts Village in Road Town. Jolly Roger has imported a band for tonight and Saturday. There is the Fish Fry in Apple bay tonight, which serves up wonderful food and much more than just fish.
Weather outlook is terrific, maybe a short scattered showed might drip on you briefly, but nothing to worry about.
My cats brought me big ugly dead rat. I relocated him to a gravesite. So they brought me a big fat lizard, who apparenlty had tanlged with them before, as he had a new tail growth that wasn't complete. My cats seem to think lizard tales are little hors d'oeuvres and isn't it handy the lizard grows another tail.
I was once settling a family into their vacation villa. To my horror, in the sink was a big long live lizard. The father, who had never been around lizards before, said "Look kids!" and they ran over to the sink. The father smiled and then to my surprise, picked up the lizard BY ITS TAIL to show his young children.
As he thrust it closer to their little faces, the tail gave way, and the big lizard, minus it's tail, dropped down on the floor, inches from the feet of the little children, who shrieked and ran away screaming at the top of their lungs for mommy while daddy was left holding this long wiggling tail, minus the lizard body, which he suddenly dropped and stood there, his mouth gaped open, in a bit of shock, as the tail wiggled on the floor. (Family vacation: Day One...)
It was all I could do not to bust out laughing, as I gathered up the broom and dust pan and delivered the dead tail to the great outdoors. The terrified lizard was no where to be found. Meanwhile mommy is consoling the children and hollering "Hun? What on earth did you DO to the kids?"
I am sure the children won't let daddy live that one down for a very long time. A story for the grandkids, you remember when daddy...
AMEN to dat!
---
A Good Credit Score is 700 or Above. See yours in just 2 easy steps!
---
- ThirstDay
From: DearMissMermaid at aol.com
Date: Thu, 22 Jan 2009 09:04:45 EST
Yesterday it rained off and on and da current mash up off and on. Beginner surfers were out, surfing in the rain, the waves weren't big, but they were big enough. I was forced into taking the afternoon off, since I need da current to do my work, so it was a great surprise for me.
81 degrees and more rain expected today.
My construction neighbors woke up the neighborhood at daybreak, with this super loud generator to run their cement mixer. They can't seem to get it running right, so it sounds truly awful and has no muffler. I need to tear the house apart and find my ear phones and plug into some music while I work. The noise is just horrendous.
I will be delighted and thrilled if/when they finish that house. Maybe I can pay them back by taking up Tuba lessons and practicing at daybreak. Oh the evil things we dream up and never do!
Now the internet mash up, so I don't know when this will get out. But something else has gone horribly wrong, the generator down below just broke and I hear someone tinkering with a tool box. Ah, the peace and quiet is so refreshing (but not destined to last.)
MEOW!
BVI Spring Regatta: Beach cats welcome at Tortola
BYM News (press release) - Gibraltar,Spain
With the economy being in the toilet and race enthusiasts wanting to compete as much as possible, the BVI Spring Regatta organizing committee expects that ...

TODAY'S QUOTE:

Amen to dat!
---
A Good Credit Score is 700 or Above. See yours in just 2 easy steps!
---
- Winds Day already!
From: DearMissMermaid at aol.com
Date: Wed, 21 Jan 2009 07:01:12 EST
Doppler radar
suggests more scattered showers and the sky is rather overcast again. Light rains have drizzled off and on throughout the night and morning.
I can thank my little black cat who is my official rain monitor, for keeping me posted. He's been showered on so much lately, that his fur is silky clean, it's odd for a cat to love rain, but he does.
82 degrees with smiley raindrops on my clock. I'm going to go try to catch some surf pics today if I can sneak away from work. (shhhhhhhhh!)
No snow is predicted for the islands and no hurricane, so mon, we got it made, come on down and thaw out your bones.
Friday is the Crafts Alive At 5pm with open booths and live music (see January 14th posting below for details)
This is good news, and a shame help didn't come sooner, it is believed that Stick Mon who died Sunday, previously lost his foot and ankle due to complications of diabetes.
Morning Has Broken, in the BVI
Warm and Sunny Regards,
DearMissMermaid.com
Check out Dear Miss Mermaid's New Book!

---
- Happy Inauguration!
From: DearMissMermaid at aol.com
Date: Tue, 20 Jan 2009 11:20:38 EST
Very gray and overcast, 82 degrees, raindrops with smiley faces on my clock. Winds are moderate, surf is up. Today is Obama's Inauguration and our cable TV is carrying it live on many channels.
Yesterday when da current mash up, it came back on after a few hours and I tossed a sweet potato in the microwave for lunch. A few minutes later I smell wire burning and smoke! The microwave is no longer cooking, but the timer is counting down. I open the door, and a cloud of acrid smoke greets me. I guess dat elec-tricky company finally fried it for good. *sigh*. Somehow in moving last year, my fire extinguisher was lost in the move. The smoke continued to come out of the microwave, the potato was not done and not the culprit. I finally switched off the house power, unplugged the microwave and then turned the power back on. *sigh* Another trip to the dump, bye bye microwave. Another victim of dat funny t'ing we call elec-tricky. Even worse, I had "borrowed" the surge protector off the microwave a few weeks back and forgot to buy a new one. Another surge protector at my desk had fried, so I borrowed the microwave one, and never got around to buying another surge protector, they aren't cheap here either. Anything electrical is charged 20% duty on the item and it's shipping costs. Oh well, back to basics, back to the propane stove!
Plans for 2009 Farmers Week in Full Swing
Platinum News Online - Tortola,British Virgin Islands
Exhibitions will be staged on the sister islands of Anegada,
Jost Van Dyke
and Virgin Gorda on the Monday, Tuesday and Thursday respectively.
...
Our New Elusive Postal Codes:
The postal code for the Road Post Office (Road Town Central) is: VG1110
For Tortola East: VG1120
Tortola West: VG1130
Anegada: VG1140
Virgin Gorda: VG1150
Jost Van Dyke: VG1160
Washed ashore, Message in a Bottle:
I know you can't eat them but Home Improvement on Main Street is having a 40% off sale on everything in the store - I got a pretty, washed silk curtain panel for $8.00. If you know anyone who's looking for curtains, carpeting, that kind of thing you can let them know.
---
- Stick Man Suffers No More
From: DearMissMermaid at aol.com
Date: Mon, 19 Jan 2009 10:20:19 EST
Another great day in paradise. No current, (no electricity) so the construction crew below me has gone silent. They can't bang hammers with no current, not sure why that is, they sure don't have electric hammers, but they stop work whenever the current mash up.
Winds are slight, clouds are heavy, sun is playing peek a boo. 82 degrees with smiley faces on my clouds on my so called weather clock.
Surfers were out having a blast yesterday, big long waves, enabling several to surf at once.
On a very sad note, Stick Man of Apple Bay died yesterday morning. I don't recall what his given name is, he was about six and a half feet tall and extremely slender with usually long limbs. His left hand has very long fingernails, several inches long. He was fond of hanging out under the banyan tree and sometimes lately, on the corner near the phone booth. A year or more ago, he lost part of his leg and was relegated to a wheel chair, which he hated. He was trying to get a prosthesis so he could learn to walk again and be able to make his rounds. To make matters worse, he and his wheel chair were run over a few months back and his head bounced off the road and he was beat up pretty badly. He didn't like the hospital and was out and about the next day, back under the banyan tree, his head and body all bandaged up. He began suffering many more problems, some days he was himself and other days he was lost in his own mind and very confused. The driver bought him a new wheel chair with glow in the dark markings. I almost always stopped to chat with him, I've known him about 20 odd years I guess. I feel bad, that I saw him the other day, but I didn't want to be late for my appointment, so I just tooted my horn and waved at him. He gave me a big smile and waved back. I happened to stop at the Friday night Fish Fry for which he is usually hanging about, and noted he wasn't around. Sunday afternoon, I was on my way to an appointment and slowed down to see if he was at the Banyan tree and he wasn't. I wondered where he could be, I had no idea until later in the day, that he had passed away. He left behind numerous relatives, children and grandchildren. He was known and loved by many. The banyan tree will surely look lonesome now, without his familiar presence. Farewell to Stick Man, we shall miss you too.
---
- Sunday Already!
From: DearMissMermaid at aol.com
Date: Sun, 18 Jan 2009 09:15:37 EST
Here it is Sunday and I missed Saturdays report. My Internet is so unpredictable, never know when I can get out. Rumor is that it might get fixed and work better soon.
Its 82 degrees and winds are sluggish at barely 7mph. My microwave is sluggish too, it cuts off randomly while cooking, sometimes it refuses to cook at all, and just counts down the time. I think it's a victim of the numerous power outages and surges that have confused it's little computer. I like to boil water in it for coffee in my
French Press
because it's ready in precisely 6 minutes and dings me. If I put water on the stove, I tend to forget and end up with about 2 tablespoons of boiling water by the time I remember.
I had a real nice
kitchen timer
, for stove cooking, but it committed suicide by drowning. It rang one day and danced across the counter in great merriment, then took a dive into a sink full of water, made funny gurgling noises and even though I jumped to her aid right away, nothing I could do would resuscitate her.
I woke up this morning, and saw it was around 6am on this teeny tiny battery clock. I was excited to realize I had slept through the entire night without waking up, but still I felt awfully tired. But, I reluctantly dragged myself out of bed, put on water for the coffee and sat down at my desk and began in earnest to get organized to do some work for a client. My brother pops up on the Internet, and we turn on the speakers and microphone and start chatting.
He says he just got home from work, and I say: "Really? They are working you awfully hard!"
And he says "No not really."
I say, "Well, it's 6am, aren't you supposed to get off work at 11pm?"
He says "Yeah and it's only half past midnight here."
And I tell him "It's after 6am here!"
He informs me: "That is impossible, it's only 130am there, you are only one hour away from me."
So I look at my computer clock, and yep, it says it's 130am and I look at my teeny tiny analog clock and it says 130am on closer inspection, but I guess my sleepy eyes misread it as 605am!
So I went right back to bed, silly me! No wonder I felt exhausted. A few minutes later, I hear the microwave dinging me: my hot water is ready for coffee. *sigh*
Surf is up!
Nothing grand but enough to have some fun and if you're new to surfing you can try your luck.
Cruzins Bar and Grille in Carrot Bay
has opened up a surf shop, that is filling up with new items daily. So if you need some wax or what have you for your board or if you need to rent or buy a board, check them out.
Jimmy Buffett
made a surprise appearance at
Anegada
recently. Not the first time he has popped up in the BVI and performed to a surprised group of merry revelers!
I just noticed recently that Caludia Colli who writes for the BVI Welcome Magazine, published a book:
The British Virgin Islands: An Introduction and Guide
IN THE NEWS:
Well, I am on my way out the door to check the seashore for Messages In A Bottle!
For you single folks at Valentine's, I've designed a new logo for you. Take a peek of it at my
treasure chest.
---
- WOW
From: DearMissMermaid at aol.com
Date: Fri, 16 Jan 2009 14:25:12 EST
Well, remember on Tuesday when I said "Towards the weekend we are expecting more rains to follow. "?
They are HERE! We just had an incredible gray-out. All you could see was gray, and visibility was reduced to about 100 yards. If anyone got caught out on their boat in THAT, bet you appreciated your GPS!
i once got caught in a downpour so heavy just at the entrance of Great Harbor in Jost Van Dyke, that I was too scared to continue onwards, so I turned 180 degrees and sailed for 20 minutes then turned 180 degree back, more or less, and sailed for 20 minutes, I had just tacked again when the weather cleared up and i was surprisingly, back at the entrance to to Great Harbor in Jost. Whew! Obviously, I didn't have GPS or radar.
I just realized why the rain makes me so happy! It's because the noisy construction crew from below, STOPS all work which makes it very quiet. No jackhammers, no need-to-oil concrete mixer, no loud uncertain pounding of nails (often punctuated by even louder cursing). I swear that one "carpenter" (I say this word ever so lightly) must have pounded his thumb or fingers into a bloody pulp by now, he misses aim so often.
It's expected to be quite wet tomorrow as well. Hmm, I was going boating but am rethinking that now, after all I could melt in all that rain...
---
- Fried Day is Here Again
From: DearMissMermaid at aol.com
Date: Fri, 16 Jan 2009 10:01:02 EST
Another gorgeous day in paradise, a perfect day for sailing and watersports, or limin' at the beach. If you are freezing your (mermaid?) tail off in some exotic cold climate, then look at air fares and come on down. It's not crowded here at all and it's 82 degrees with steady tradewinds at about 25mph (better than Air Conditioning!)
We even have a late ferry now at 9pm on Thursdays through Sundays from St Thomas, so you don't have to worry about getting stuck overnight in St Thomas anymore.
St Thomas is nice, but the BVI is NICER.
I experienced how big the earth really is recently myself. I was hired to help sail a boat from Charleston, SC, to Tortola in the British Virgin Islands. On a plane, this trip might take 3-4 hours. It took us 12 days and 12 nights, nonstop sailing on a very large ocean. With only three of us aboard taking turns at the helm, this translated into two 4-hour shifts per 24 hours. When we finally made landfall in the pre-dawn haze of a tropical sunrise, we were exuberant. I think everyone should experience travel in this way - by bike, on foot, by sailboat - and revive that sense of wonder, experience the enormity of the earth.
The 2008 hurricane season was the fourth most active in terms of named storms (16) and major hurricanes (five) since 1944 when aircraft reconnaissance of tropical storms and hurricanes began. Other records were also broken: 2008 was the first Atlantic season to have a major hurricane (Category 3+) form in five consecutive months: July: Bertha, August: Gustav, September: Ike, October: Omar, November: Paloma.
---
- Loverly Daze
From: DearMissMermaid at aol.com
Date: Thu, 15 Jan 2009 10:14:05 EST
82 degrees and breezy. Typical scattered showers expected today, as shown by the smiley faces on the clouds of my weather clock. My other thermometer just reads 8L. I hate to throw something out less than 2 years old, but I guess it is never going to work right again. Winds should be strong today and surf should be awesome this weekend. So stay tuned for happy days of wet sailing and surfing! Skies are grayish blue, I am venturing out and will try to snag some pics today.
*******************
I ate too much garlic at breakfast, didn't know that could be possible, and It seems to be giving me a belly ache. It didn't cook long enough, my fault, and I think cause it is raw, that is the distress.
I used to be a Chief Purser on a cruise liner. After I had been aboard a few days, I was invited to the Captain's table along with the other senior officers. It was a luncheon in my honor. The Captain was a gracious Greek host and of course the menu was catered to his specific delight.
Initially a series of dishes with salad ingredients were passed around so we could basically build our own salad as an appetizer. The Captain was talking away to me and I was tying to maintain eye contact, as he sat to my left at the head of the table. The final salad bowl arrived from my right, and I barely glanced at it and saw these beautiful pearl onions, which I assumed to be pickled. Loving those, I accidentally took a big spoonful for my salad, not wanting to be rude and put back the extras, I merely passed the bowl onwards. As everyone else began munching on their salad, so did I. The captain asked me a question about where I was born, and I quickly chewed my salad, swallowed, and opened my mouth to speak.
To my horror, I turned beet red, as my throat burned something awful as this horrendous burning sensation seemed to follow all the way down my gut, taking a slow painful tour of my innards and landing in my stomach which now seemed to be igniting a fierce fire. My forehead broke out in a sudden sweat and I nodded at the captain, straining to smile, as I took a big long drink of ice water, which seemed to do nothing to appease the burning. Finally I managed to meekly answer his question, the pain shooting spasms throughout my belly, with all eyes staring at my red sweaty face.
He took this to mean I was uncommonly shy, something odd for a chief purser, so he looked over at my salad and remarked "Oh! I see your are a like minded garlic lover!" There in my salad was a pile of not sweet pearl onions as I had thought, but a pile of raw elephant garlic peeled and carved expertly into nice neat round shapes. I think I had just chewed up 3-4 with my salad and that was the burning sensation.
I drained my water glass and his steward quickly refilled it. The captain, waited awhile before asking me any more questions. Fortunately, some hard rolls were passed around next and I quickly crunched and munched my way through one, minus any proffered butter and this sort of soaked up some of the burning. Eventually my color returned to normal and I managed to actually have a conversation. Oh but the pit in my stomach surely needed a fire extinguisher.
When lunch came to an end, the Chief Engineer offered to escort me back to my office, we had joked about me getting lost the first few days, on the ship in the secret hallways. I knew how to find my office, but thought it would be rude of me to turn him down. He was a very tall good looking Czechoslovakian, whom I wished, more than once, was not married. I thanked him and we left the dining room. Instead of taking me to my office, which by now I could find on my own in the labyrinth of crew only stairways and gangways that make up a secret part of the ship, we suddenly entered a crew only cabin area, deep in the bowels, below the waterline of the ship.
He used a key to throw open the door and we stepped inside to a tiny cabin, while he relocked the door. Several engineers in greasy coveralls were laying about smoking cigarettes and a bottle of whiskey, a bottle of water, some ashtrays, matches and glasses sat on the table. A small humming refrigerator sat in the corner. Books, magazines, newspapers and a deck of cards were strewn about. The other crew members immediately came to attention, nervous at my presence. In the corner, a stack of fresh white towels were piled up neatly on a small table. One engineer jumped up, grabbed two, spread one out on a dirty chair for me and one for the Chief, as we were both in our official ship's white uniforms. He motioned for me to sit down, which I did, still wondering why I was here instead of at my office. The chief quickly introduced me to the other engineers and mechanics and one steward, who was also in whites, sitting on a towel.
He picked up the whisky bottle and 2 shot glasses, filled them and handed me one and said something like "Jeeve-Va-Lee", a toast in his language. I held my glass uncertainly, and he said "Drink up! You need one, after I saw how nervous you were around the Captain!" I decided when in Rome... do as the Romans do... so I drank up. Then I explained about the garlic and how it burned me and that is why I turned beet red and broke out in a sweat at the precise moment the captain happened to ask where I was born.
Needless to say, this had everyone laughing at my ridiculous gaff. I learned this cabin was the secret bar and break room for the engineers and ahandful of few other trusted souls. The engine oilers and mechanics were often too greasy to go anywhere else on break and no one wanted to trash their own cabin, sitting around in their greasy work overalls, to take a much needed break from the super hot engine rooms, so they had commandeered this cabin and outfitted it as a small private break room and bar. The chairs were filthy from their overalls, but they kept a stack of fresh white towels around so the chief engineer could sneak by the bar in his whites and have a clean towel to sit on. Well, I made new friends that day and they told me the secret code words to listen for on the radio, that signaled I should take a break and meet them there. I asked who else knew about this cabin and was informed it was their private club, by invitation only. The chief promised to make me a key, if I wanted to come back again. I didn't know whether to feel honored, or guilty, but at happy hour, the chief called me on the radio, by code, and I found myself once again, tip toing down to the secret bar.
Today's Quote
Where Main Street is still a beach, you know life is good.
---
- Morning Yall!
From: DearMissMermaid at aol.com
Date: Wed, 14 Jan 2009 10:49:47 EST
612am and all is dark. I hear the rains come down lightly then suddenly stop. Moments later I hear them pitter patter on the ocean briefly, then stop. This is more like scattered mist. A few chickens are making noises, like they think it might be sunrise. The rain makes a short reprisal, like it can't decide whether to spit or sputter. Something feathery is tweeting away, like maybe new born chicks asking for breakfast. A chilly wind blows by then it's calm again.
615am and I see the black night has turned in the east to a grayish blue, to the west, it's midnight black.
620am and the pale gray blue sky spreads across to the west gradient changing to midnight blue. The roosters still make pathetic noises. A wet cat shows up after the rain and lets out an abbreviated meow, I pet him but he rushes for his near empty food bowl, awaiting breakfast.
625am I search around the web cam index, trying to catch of glimpse of sunrise elsewhere. Many webcams are down or the pictures are old.
630am The sky has lightened up considerably. One bright white cloud is lit up brilliantly from the sun's reflection, it looks like someone has torn a hole in the blue canvas, exposing bright white. Street lights twinkle off randomly.
640am A car horn rudely interrupts the peaceful morning.
645am The first car is heard driving by and the wind has suddenly gone from zero to fifteen knots, as if it too, just woke up. A few stubborn street lights remain on, in spite of full dawn becoming evident. The grayish blue sky is darkened by a low big cloud that has wafted by.
6:53 am a brief rains lasts less than minute. The rooster cows quite authoritively at 658am.
Morning is here, daylight has broken.
---
- Breezy Wheezy Daze
From: DearMissMermaid at aol.com
Date: Tue, 13 Jan 2009 16:15:51 EST
84 degrees and VERY breezy today at about 25-30 miles per hour. Internet has been down all day, so still trying to get a report out to you.
Some times I think we in the BVI live on another planet.
Winds are to be pretty strong for a few days with light scattered showers in the mornings. Towards the weekend we are expecting more rains to follow.
Last week we had 14 vehicle accidents in 2 days, 9 on one and 5 on the other. Now I know why I kept passing wrecks... Sheesh.
I try to be "green" and drive my jeep as little as possible, saving up all my errands for town to do in one day, preferably only once a month, but HA, sometimes I am forced into town more often.
It's hard to get any business done over the phone, seems everyone wants you to show up and do it in person, hence tons of traffic in town on a daily basis. If anything we need a park and ride bus system, where you can park in your neighborhood at a lot and hop on a bus and then go do town. Many workers could probably commute this way at least 80% of the time, plus the non car owners would be thrilled to have a bus to ride as well.
All we need is the small busses, like the vans with the jump seats, they use down island. You can fit about 20-25 people and their shopping in one of those. They are pretty economical on gas or diesel, we don't have to have A/C though it's nice to have. This would in turn make riding one CHEAP and affordable. Now there's a concept new to the BVI, I think the only thing cheap and affordable here is the Caribbean Rum.
Once when I was down island, I was listening to a local radio station early one morning. They announced the recent deaths, the recent briths, the upcoming weddings and a few family reunions. Next the announcer said he was doing lost and found.
He announced: "This morning it was discovered, that yesterday, a fisherman left behind his bucket of fish, under the seat, on bus 14. If this is your bucket of fish, you may come to the bus garage and CLAIM THE BUS."
One can only imagine what a bucket of dead fish in the Caribbean heat, locked up in a bus overnight can do. I bet the driver passed out when he opened the door.
In Mexico I rode the bus with the locals, their children and babies, plus several squawking chickens and a live goat.
Many residents are complaining their rents are being raised unjustly and most are refusing to pay the increase and continuing to pay the current rent, as that is all they can afford. I guess we need more money trees in the islands. I go out everyday and look heavenward to see if money is going to fall out of the sky.
I am lucky, my book, is slowly but surely selling, a few here and there. I can thank my stars and thank my readers for their continued support! But my jeep was recently nearly destroyed by a non-insured person and I haven't scraped it together yet to fix it. Kinda depressing.
OOPS! Da current done mash up, just now, let me see if I can raise the internet and get this out before my batteries die. I ordered new batteries over the internet, and they wouldn't ship them here, so I shipped them to my USA friend. He got then and mailed them to me and the post office lost them. So no laptop batteries. *sigh* I forgot to ask him to insure them before he mailed them, my fault, but usually packages turn up. Since the batteries only fit a specific type of laptop, I can't imagine that someone else found them useful.
I am also missing another package. One full of sentimental value, that has never turned up either, very sad. No one else would find it useful either, so where these packages go off to, I don't know. Must be a big dark hole somewhere.
********************
Click here: The Caribbean Arts & Crafts Festival, British Virgin Islands, March 6-11, 2009 - Calling All Caribbean Artisans!!
Ooohhh, that is where I buy my heaven on earth handmade leather sandals aka slippers, for those times when a mermaid has to traverse the terra firma...
---
- A Great Way to Start the Week
From: DearMissMermaid at aol.com
Date: Mon, 12 Jan 2009 08:55:58 EST
Warm, sunny, nice and breezy, another great day in Paradise! There is a haze south of Tortola, perhaps the
Montserrat volcano
has let loose again. Now that I check the
Saharan Dust
, it is quite thick according to the satellite picture.
Winds should pick up this week and make for some fast sailing, so remember to tuck in that reef in the mainsail. See
BVIwaves.Com
for surf reports, look like the weekend should pick up considerably, thoough during the week you should find enough swells to have some fun.
79 degrees at Beef Island and 82 in West End, luckily no snow is predicted.
I couldn't post yesterday, internet was intermittent and mostly just down and gone on walkabout. Whenever I would sign on, it would sign off a few seconds later with various error messages. This morning (fingers crossed) it seems to be up again.
****************
Can you pass the
Grey Poupon
?
2 cruise ships docked within feet of each other in Road Town, have their bridges just feet apart.
See picture here.
(not my pic, so can't snatch it to post here!)
Support my Treasure Chest!
Satellite View of the BVI
Warm and Sunny Regards,
DearMissMermaid.com
Hurricanes and Hangovers
(and other tall tales and loose lies from the Coconut Telegraph)

is now on sale!

In Tortola? But the book on Main Street in Road Town at Serendipity BookShop

More locations soon, come.
---
- the weekend made it!
From: DearMissMermaid at aol.com
Date: Sat, 10 Jan 2009 11:41:59 EST
Dis be da Rasta Mon, filling in for da Mermaid. She go to come back and she acks me to deliver da weather report. Da mermaid's clock be saying 84 degrees with smiling clouds at 1002am. Winds are blowing a good one, and it's a great day to be fishing or be sailing or be relaxin yourself limin at da beach or be huntin down some bush tea.
Now here's a funny story...my friend be smoking dem cigerettes and she boyfriend always be fussing wiff her. So she goes to the back of she own house to smoke, so she don't have to listen to he fussin.
Well, her gardener had come earlier and taken down a tree that was problematic. Rather dan remove da stump, he poured diesel all over da stump hoping to kill it. So she sitting there smoking away and when she done, she look around and t'ink she mash the cigarette butt into the dead stump and come back later and toss it in the garbage.
She go back in she house and she boyfriend say, he smell somet'ing burning. She be t'inking, ah, he t'ink he smell dat cigarette on me, so she say she smell nuttin' burnin! She try to change the subject, but he keep saying he smell somet'ing burnin! She trying to ignore him but she begin to t'ink she smell somet'ing too, now she t'ink he making she crazy. She get's up to go make him a drink and that's when she saw it.
The tree stump in back of the house was engulfed in flames! SO she yelled at him and he yells at her and they run around like two nuts looking for da the water hose and they finally get the fire out. WHEW!
Well, guess what, No more ugly tree stump now!
Di be da Rasta Mon, leaving ys, I go to come back too...
---
- Fried Day!
From: DearMissMermaid at aol.com
Date: Fri, 9 Jan 2009 10:22:50 EST
82 degrees F and smiling clouds on my clock/thermometer thingy. I figured out how to change it from Celsius to Fahrenheit. My other thermometer is dying as it says today we have 8L. degrees and the third number has now vanished completely.
I guess I need to toss it in the waste bin, a thermometer that barely lasted 18 months. Sheesh.
I guess the smiling clouds means cloudy but fair, as I don't have any raindrops showing. I guess this is weather predicting for the idiot. Tee hee hee.
Winds are moderate (15-20) but Christmas winds (25-35) are expected to come back next week, so get ready to reef your sails.
All is well here, come on down, the air fares are pretty enticing these days. Even our local gas prices have dropped to well under $3 per gallon, so nice, given that not so long ago we were paying $6 per gallon (yikes!).
Tall Ship Flying Cloud
---
- Dark thirty, better late than never!
From: DearMissMermaid at aol.com
Date: Wed, 7 Jan 2009 18:33:40 EST
Another great day in paradise! The usual scattered clouds and a few light rains. Temps in the mid 80's by day and 70's by night. So far no snow this year! Yippee!
A great day for just limin'. I actually had to work, but some people stopped by, so it was a grand excuse to take a break and enjoy the views.
Last night I had pizza at Rita's Finish Line Cafe, named so because it is close to the horse race track. If coming from town, it's in Sea Cow's Bay, just past the 3rd speed bump on the right. If coming from West End, it's on the left just passed the 4th speed bump. Now how many speed bumps are in Sea Cow's Bay?
Lots!
Um, seven (too many!) We don't know WHY Sea Cow's Bay has so many speed bumps. They recently (well over the past few years) got sidewalks, so I thought that would put an end to the speed bumps. But, no.
A few years back, we got new politicians in office and they removed all the speed bumps around the island and boy were we ever thrilled, then a few weeks later, all the speed bumps were put back again, sad to say.
I once rode in an ambulance from Frenchmans Cay to the hospital over 11 speed bumps. It was horrendous, as the ladies in the ambulance wanted to make sure we made record time to the hospital. I think we broke all records and got there in under12 minutes. I asked them, politely, to take me back to West End, so I could fetch my stomach, left behind...
Rita's is 100% Italian food and it's heaven on earth. Absolutely the best pizza on the island. I've also had her to die for Eggplant Parmesan and the Lasagna and the Veal, well I guess you can tell I've been there quite a few times! Her web site will be up soon. but in the meantime, it's well worth the trip for an evening delight. Oh and she has a bar with most everything in it and a nice long wine list. Rita is always on duty, either behind the stove or behind the bar.
Today's Tip
Drive Safely! We have 1 hospital and 300+ grave yards! Think Left!
---
- Cough, Sputter, Spit, Hurl
From: DearMissMermaid at aol.com
Date: Mon, 5 Jan 2009 10:50:05 EST
A gorgeous day in paradise, 29 Celsius, which is 80 something on my broken digital thermometer. We have a thick haze to the south, due to
Montserrat
. Her volcano blew a thick cloud of lava, ash, rocks, and gas, hurling them 5 kilometers (3.1 miles) into the air. We had the spectacular volcano enhanced colorful sunset last night. I ran out with my camera in hand but the batteries were dead. Ran back in to charge them and by the time they were done, well sunset was over. Tsk, tsk tsk. We have only brief dusk then we are plunged into darkness.
When I first came to the
Caribbean
, it took me awhile to get used to this phenomenon, as I was accustomed to living much further from the equator and we had long lingering twilights. I remember playing outdoors in the summer light until about 9pm many warm nights. Not so here. We get about 5 minutes of dusk then POOF we are immersed into the darkness of night.
The
Montserrat correspondent
has uploaded some awesome pics of the volcano eruption. I feel for the people struggling to make a normal life there amidst an active volcano. Over the years, many refugees have made their way to the BVI and other countries, for a new start on life.
Surf
is settling down some, but should be awesome again by the weekend. How convenient!
HELP! I've fallen down! I can't get up!
(I think I've overdosed on catnip
again!)
Warm and Sunny Paws,
DearMissMermaid.com

Still A few Limited Edition 2009 Calendars Left for Sale!
Dessigns by yours truly!


---
- Surf's Up!
From: DearMissMermaid at aol.com
Date: Sun, 4 Jan 2009 10:09:20 EST
82 degrees and breezy this morning at 9am. Internet is down again, not sure when this will post. Never could get a connection yesterday to post, and I have dsl. Duh. Well that's paradise for you, t'ings just don't always work. Even New Years Day we had da current done mash up.
Surf's up and the surfers are out and about. Not as crowded this year, for a Saturday, but loads of big long waves so everyone was able to scatter out and catch some good rides.
I saw a wreck yesterday. A truck coming down the road and a new little red car following on his bumper. The pickup truck slammed on brakes to stop and talk to someone and the red car jammed up under the truck bed, tearing up his engine and hood pretty badly. No one was injured but the cars. Shame too, looked like a new car and the owner looked on the verge of tears. Thank goodness for seatbelts. I didn't hang around long, didn't want them to think I was part of the wreck.
My car looks like a bomb hit it. My back windshield is completely shattered and my front one is cracked liked a spider web on the drivers side and I now have a big new dent in my otherwise undented jeep. All this happened to me just before Christmas by an uninsured person. I am still trying to hunt down front and back windshields. I guess I'll have to pay for it all. *sigh* But I am alive and well, so can't really complain.
We should have some scattered showers the next few days and the north shore should continue to be optimum for good surfing.
Also Available at Serendipity Book shop on Main Street, Tortola
---
- 2009
From: DearMissMermaid at aol.com
Date: Fri, 2 Jan 2009 15:24:52 EST
Yappy Hew Near!
Nappy Yew Hear!
HAPPY NEW YEAR!
*hiccup*
Both the BVI and St Thomas airports are full of private planes and jets, that came down for some holiday cheer. Foxys on Jost Van Dyke was no doubt the best place to be seen at!
Weather is a tad overcast today, slight winds, flat seas, no snow predicted. Many residents are recuperating from the big bash ringing in the New Year with both bars and churches equally busy at midnight.
---
- 2009 Arrived with Great Fanfare in the BVI
From: DearMissMermaid at aol.com
Date: Thu, 1 Jan 2009 02:01:56 EST
HAPPY
NEW
YEAR
2009
Pray
For
PEACE
---
- HAPPY OLDE YEAR'S DAY/NIGHT!
From: DearMissMermaid at aol.com
Date: Wed, 31 Dec 2008 08:07:38 EST
Daybreak was spectacular with beautiful orange hues. Thermometer reads 8L.4 Fahrenheit degrees,*sigh* and other reads 27 Celsius. Winds are 16-22 knots and all is well. No storms, no snow predicted. The Soufriere Hills
Volcano ash
is scheduled to blow southwest and miss us.
Parties are gearing up around the islands for tonights big celebration! If you see a Mermaid, I'll see you too!
Surfs UP
all week! Today and tomorrow should be the best!
I never thought Roosters were that bright, but mine comes around every day looking for food. If I've failed to put anything out, he marches up to my front door and cock-a-doodle-doos as loud as he can. He then struts back and forth, in front of the door, like a nervous father awaiting his first born to be delivered, until I offer up something to munch on. He's bigger than the cats and they are happy to have him around, as they would love nothing better than a yard full of animals. Sometimes the Rooster brings his girlfriend and sometimes not. She's rather homely looking, considering he is quite a bright fluffy sight.
I've discovered he loves to eat the "leftovers" from my kitchen sink drain strainer. I just plop it down in a dish outside and the next morning, he is there pecking away at it all. Seeing as the cats sometimes leave canned food bits that dry up in their wet-food bowl, I guess the rooster is eating a lot of rehydrated canned cat food, after I scrub their bowl clean. Mock-a-moodle-meow?
Some days I make plain popcorn and of course there are always leftover kernals, so I toss those in his feed bowl too or in the yard for him to hunt down. He also likes moldy bread or stale bread, kinda handy. So I guess we have reached our goal of zero-food wastage. Every crumb is now devoured by somebody around here. Since he has been eating the sink drainer leftovers, our garbage never smells up, that's rather nice. usually I haul it every day, as garbage in the caribbean heat is never pleasant. But what with my jeep problems lately, the garbage goes out erratically.
A friend took me to lunch in her pickup truck and I tossed my garbage in back, but we forgot to toss it out. I felt real stupid after she brought me home and realized my garbage was riding around in the back of her truck. I called up to apologize, but she had already tossed it and wasn't miffed. Hauling your own garbage is a way of life here, there is no house pickup unless you pay a private person to do it. Usually I've lived in walking distance to the local garbage cans or dumpsters, but not now. Well I could walk it out, if I had an hour to kill. But the garbage dump is NO where near the beach! I'd walk an hour to the beach, but for garbage? Hmm...
---
- Better later than never
From: DearMissMermaid at aol.com
Date: Tue, 30 Dec 2008 16:13:56 EST
Life is good! My thermometer now gives me this reading 8'.5 you can supply the middle figure or we can read it as the temp is 8 feet 5 I guess since it's now the ripe old age of 17 months, it has decided to go on walk about. My other thermometer says 29C and shows a picture of clouds.
At 4am, I couldn't sleep, and I was c-c-c-cold and couldn't find my bath robe. It makes me wonder if I left it behind when I moved last year. If so, someone had a lucky find as it was thick white and fluffy, the fancy hotel type. I did find a long light weight robe, that is almost sheer, and it did actually warm me up some as I shuffled around in my fluffy slippers and the temperature at that point read 7-.2, well so much for digit-tell, it tell me nuttin' now! I don't even know WHERE I've ever seen a temperature thingy for sale on Tortola.
I know I bought one for my oven and 3 people from Tortola emailed me wanting to know WHERE I got it! But it doesn't do weather, um temperature until 200F and up. I had to get that because my Mexican stove is in Celsius and I am forever confused having grown up with Fahrenheit. I did find one for making yogurt, let me see if it works. (Checks drawers and finds it!) Well, it sort of does, I get a choice of 60-80-100 and so on. It says 80 right now. I found my meat thermometer and it starts at 140F, so no help there either.
Well, anyhow, it's WARM and sunny with big clouds wafting by. Winds are moderate and nice. We are expecting fair weather the rest of the week.
I used to have an old cookbook from the 1920's with thousands of recipes in it. Most of them end in "cook in a moderate oven until done". Now that sums it all up.
The book,
Culinary Arts Institute Encyclopedic Cookbook
was later updated to include temperature and time. I was forced to buy a newer version, as I simply wore the old one out. But they kept all of the wonderful old recipes and each recipe has fantastic variations. There is a great section on leftovers, and anohter on lunch box menus. Even a special section on cooking for just two.
It was my favorite charter boat cookbook, because it assumes you have no shortcuts and only basic equipment and fresh food to deal with. I was cooking back in the dark ages, when you were lucky to get a lukewarm fridge and a cantankerous stove that took 20 minutes to light, and expected to make gourmet meals for 8-12 with no other equipment other than basic cookware.
Some recipes are a bit hilarious, such as it gives you complete instructions on how to build a smoke house for your hams, bacon and poultry, how to make dried salt fish and so on. Actually it gives you 250 ways to preserve your food and 75 ways to make candy to mention a few odd things. It tells you everything about pressure cookery and 90 ways to make ice cream without an ice cream maker.
Caribbean news briefs
Cay Compass - Grand Cayman,Cayman Islands
CHARLOTTE AMALIE, US Virgin Islands (AP) — Vice President–elect Joe Biden and his family are in the US Virgin Islands for a brief vacation. ...
---
- Monday after the holidaze...
From: DearMissMermaid at aol.com
Date: Mon, 29 Dec 2008 15:29:01 EST
---
- Sun Day only 3 days of 2008 left!
From: DearMissMermaid at aol.com
Date: Sun, 28 Dec 2008 13:07:23 EST
Gorgeous day, brisk winds, bright skies, a great day to wake up alive in the Caribbean. No snow predicted, so *WHEW* we are safe from that. Good t'ing too, cause in my travels, I have lost my only pair of heavy thick wool socks. We can expect fair weather for the next few days. Yippee! Winds are 17-24, kinda tame for Christmas Winds.
Gert, our wonderful StormCarib.com webmaster, sets sail soon for Antarctica. Guess he hunts storms and hurricanes worldwide...
Overheard at the beach, Quote from an anonymous Tourist:
There is no water, only beer, so we are all drunk and dirty...
Coast Guard rescues two men lost at sea
Tampa Bay's 10 - St. Petersburg,FL,USA
The Coast Guard said Richard and Kenneth Sealey failed to return from a trip to
Tortola
, the British Virgin Islands. They were reported missing by family
...
Bob's Honor Bar at Smugglers Cove Beach, Tortola, BVI
Check out my NEW Caribbean Pastels, available framed, ready to hang on your wall.
Warm and Pastel Regards,
DearMissMermaid.com
Hurricanes and Hangovers
(and other tall tales and loose lies from the Coconut Telegraph)

is now on sale!



---
- Four More Days of 2008
From: DearMissMermaid at aol.com
Date: Sat, 27 Dec 2008 12:21:45 EST
Weather is here, 82 degrees and windy. Heavy short downpours dotted the early morning before daybreak. Sun is out, things are quiet, I need get out and about and take pics, but my jeep is incapacitated, so I am enjoying the views from home. Radar shows numerous showers approaching, but all seem isolated, and short in duration, as is typical. However, just past noon here and we are overcast. Sopers Hole is full, Cane Garden Bay is probably too rolly due to the northerlies. Surf's up!
Found in a Rum Bottle, Washed up on Shore this Morning:
Miss Mermaid,
I think you ought to write more books--maybe a series ???.
Puzzles?--
Happy Stories--
Strange Stories--
Unbelievable Stories---
You must have many stories that are just as interesting as
you can make them.
Keep writing--
You sure made me laugh !!!.
M.G.S. ( ex barefoot sailor !!--Windjammers )
**************************************************************
WOW! Thank you MGS! You have me blushing! I am glad you enjoyed it! Yes, there are more books and stories on the way, some are mostly done, but need all the tedious things like spell checking, grammar correction, general editing and so forth. Some stories need reworking, as I know them in my heart, but getting all the details down on paper, so the reader isn't left clueless, is not as easy as it seems. Plus I am famous for defying even the best spell hecklers, then there is da local lingo mon, and the nautical terms, plus southernisms I grew up with, that others may not understand, and it's no small wonder I give my editors migraines trying to sort through it all. Since this last book came out so late, I don't dare mention a date for the next book, but let's hope it's soon! THANK YOU for writing me and thank you for your compliments.
Dear Miss Mermaid
***********************************************************************
Now here's some more fun reading from another author:
GOOD NEWS! Airfares are going down, even fares from the US are surprisingly cheap. COME ON DOWN! Avoid the crowds, come to the BVI.
Holiday price war as operators slash rates
Telegraph.co.uk - United Kingdom
Airlines are also battling to woo cash-conscious customers, with British Airways and Virgin reducing prices to a range of long-haul destinations. ...

Jost Van Dyke as viewed from Smugglers Cove Beach
---
- Boxin Day in the BVI
From: DearMissMermaid at aol.com
Date: Fri, 26 Dec 2008 11:44:31 EST
Stiff Christmas winds have caused many a reef to be taken in the mainsail and a few scares for the sailors at sea. 86 degrees on my dying thermometer. I guess those digital t'ings just don't like the atmosphere here. Nothing but sunshine and isolated showers with brisk Christmas winds are expected the next few days. Typically Christmas winds roar in at 25-35 knots this time of year, and make for fun fast wet bumpy sailing!
The Montserrat volcano is still hurling out ash, but hopefully it will stay south of us, though looking south is hazier than any other direction.
If you are at anchor or on a mooring, I bet you've checked more than once to make sure the gear is holding.
My Christmas was very low key. Just 3 humans and 3 cats, sharing a meal and being very grateful we were all alive and well.
Not much more you can ask for anyhow!
Happy Holidaze!
DearMissMermaid.com
Hurricanes and Hangovers
(and other tall tales and loose lies from the Coconut Telegraph)

is now on sale!



---
- Last Minute Gifting
From: DearMissMermaid at aol.com
Date: Wed, 24 Dec 2008 18:13:12 EST
Merry C hristmas to All
He has always avoided flashy ads that detract from the actual content and until very recently avoided any advertising at all. He now utilizes low key Google and Amazon ads but thus far, their monthly revenue continues to fall short of the monies required each month to keep StormCarib hosted, so he continues to dig deeper into his own pockets each month.
So if you have some spare change, please make a contribution to StormCarib.com and make Gert's Christmas surprisingly Merry!
THANK YOU THANK YOU THANK YOU!
Happy Holidaze!
From Dat Crazy Miss Mermaid
---
- MERRY CHRISTMAS TO ALL! The winds are here!
From: DearMissMermaid at aol.com
Date: Wed, 24 Dec 2008 13:24:50 EST
MERRY CHRISTMAS! HAPPY HOLIDAZE! HOLY NIGHT! SANTA CLAUS COMING TONIGHT!
Can't wait for him to show up, my kitties are being especially good, staying out of my way, not begging for anything, tippy toing around, hoping they've been good enough for Santa Claws to toss something their way.
The Christmas winds are here and the sky is unfortunately very overcast and the seas are getting a tad rough and expected to get a bit worse. 82 degrees by daylight but considerably cooler at night. It's a good time to snuggle up in your favorite harbor and drink some Rum fortified eggnog and then sing Christmas Carols. That honey in the eggnog will make your voice sound much smoother too.
For the next week, generally expect much of the same, strong Christmas winds and rough seas. This is Mother Nature's way of playing a joke on you bareboat charterers who have scrimped and saved for ages, so you could spend the holidays in the Caribbean on a sailboat, and be all the envy of your friends and relatives left back home, (often in a snowbound frigid area.)
Now, for you sailors and racing nuts, I offer up some
new
Christmas Carols for you to learn:
This one is sung to the tune of JINGLE BELLS:
Hard a- lee hard a-lee ,
Tacking all the way .
Oh what fun it is to ride -
a High Performance sleigh - eh

Spectra here , Carbon there,
what fun to spend the buck.
Dollars make us win today.
Hey ! Nothings left to luck

OOOOOOOh !
Hard a-lee, hard a-lee
winning is the way,
Dig really deep my sailor friend,
If you want to play-ehhhh

Melges here , J boat there
See how fast they go,
If you want to get a first
spend money , don't cha know.
This next one is sung to the tune of "Oh Christmas Tree" or " O Tannenbaum"
O, wooden boat! my wooden boat!
It is my hope you stay afloat ,
O, worms and rot, I want you not,
There's bottom paint on , coat by coat.

I varnished here
I varnished there
I used brushes of - the finest hair.

O, Wooden boat! My wooden boat!
All this up-keep makes me broke.
Next we sing this one to the tune of " O Little Town of Bethlehem ":
Oh little boat of fiber-glass,
How still I see thee lie.
With blisters on your bottomside,
the size of an apple pie.

But in the dark wet brewing,
delamination grows .
Neglected years, the owner's tears,
West System Epoxy knows!
This one is sung to the tune of "The 12 Days of Christmas"
On the first day of racing , my new crew brought to me
A big fat D-eeee N F.

On the second day of racing , my new crew brought to me
Two tangled sheets and a big fat D-eee N F

On the third day of racing , my new crew brought to me
Three bad tacks , two tangled sheets and a big fat D-eee N F.

On the fourth day of racing my , new crew brought to me ...
four spinnaker wraps , three bad tacks , two tangled sheets and a big fat D-eee N F

On the fifth day of racing , my new crew brought to me ,...
Five accidental jibes .... four spinnaker wraps , three bad tacks, two tangled sheets and a big Fat D-eee N F..

On the sixth day of racing , my new crew brought to me.
Six winches back wound, Five accidental jibes ,four spinnaker wraps , three bad tacks, two tangled sheets and a big Fat D-eee N F

On the seventh day of racing, my new crew brought to me..
Seven sea-sick throw ups, Six winches back wound, Five accidental jibes ,four spinnaker wraps , three bad tacks, two tangled sheets and a big Fat D-eee N F..

On the eighth day of racing, my new crew brought to me..
Eight beers a -drinking, Seven sea-sick throw ups, Six winches back wound Five accidental jibes ,four spinnaker wraps , three bad tacks, two tangled sheets and a big Fat D-eee N F..

On the Ninth day of racing , my new crew brought to me ..
Nine winch handles swimming, Eight beers a -drinking, Seven sea-sick throw ups, Six winches back wound, Five accidental jibes ,four spinnaker wraps , three bad tacks, two tangled sheets and a big Fat D-eee N F.

On the tenth day of racing , my new crew brought to me ....
Ten halyards let loose, Nine winch handles swimming, Eight beers a -drinking, Seven sea-sick throw ups, Six winches back wound, Five accidental jibes ,four spinnaker wraps , three bad tacks, two tangled sheets and a big Fat D-eee N F.


On the Eleventh day of racing , my new crew brought to me ..
Eleven Chute poles broken, Ten halyards let loose, Nine winch handles swimming, Eight beers a -drinking, Seven sea-sick throw ups, Six winches back wound, Five accidental jibes ,four spinnaker wraps , three bad tacks, two tangled sheets and a big Fat D-eee N F.

On the Twelth day of racing , my new crew brought to me ....
Twelve headsails overboard, Eleven Chute poles broken, Ten halyards let loose, Nine winch handles swimming, Eight beers a -drinking, Seven sea-sick throw ups, Six winches back wound, Five accidental jibes, four spinnaker wraps , three bad tacks, two tangled sheets and a big Fat D-eee N S.
Now for your NON sailors and NON-racers, let me explain deese songs to ya:
A DNS is a racing term for Did Not Start and a DNF is a Did Not Finish.

Sheets are those bits of ropes used to tame the sails after they are up and during racing, need frequent adjusting to keep the helmsmen from screaming too much.

A tack is when the boat is forced to do a zigzag course upwind, when you tack, that is when your change direction in your zigzag course so you have to let go of the sheets on one side of the boat and reel them on the other side with the use of a winch and winch handle (unless you are super strong.)

A spinnaker is a big balloon-ish type sail flown off the bow (pointy end) of the boat and used to go downwind, but when you wrap it around the forestay, (that long piece of wire helping to hold up the mast) you typically go nowhere and the captain teaches you a whole new language that would make your mother ashamed to know you.

An accidental jibe is when you are typically going downwind and you get off course and the mainsail slams across the boat, bringing the boom with it (that horizontal stick attached to the mast) often breaking bits of the boat when it jibes, this also often causes the captain to have conniptions. The boom is named so, cause that's the last thing you hear before it knocks you unconscious. (See VISAR term below).

Winches backwound: winches only work one way and typically that is clock-wise. You wrap the sheet around, then use a winch handle to crank in the sheets, thus trimming the sail and hopefully gaining speed, depending on the point of wind. But some folks manage to wrap the sheets around counter-clockwise, which in effect, makes the power of the winch, useless. This will slow down the boat considerably if you are trying to tack and or trim sails to go faster and generally, the captain is clasping his heart and his face is beat red when you do this. He may even be rendered temporarily speechless.

A halyard is that piece of rope used to raise the sails up the mast (that upright tall stick commonly found on all sailboats, some even have two or more masts). When you let the halyard go by not cleating it off when done, it dangles from the top of the mast and swings around wildly and always out of reach of the crew trying to grasp it. If the sail is up, it generally slams back down, and the sudden force, often pulls the bitter end up to the top of the mast. This means a crew must be dispatched to climb the mast (a very difficult feat generally reserved for coconut tree climbers, or the mentally insane) and fetch the loose halyard. If you have a spare halyard for another sail, you can tie a person (generally someone scared of heights) to it and crank them up the mast and listen to them scream and curse you out, while they retrieve the errant halyard. The bitter end, well that's the end of the rope or halyard or sheet. named so for obvious reasons.

A chute pole is rigged opposite the side of the spinnaker and aids in keeping its semi-balloon shape. A broken chute pole, is therefore useless.

Headsails are the sails, be it a jib or spinnaker etc.,rigged at the front (pointy end of the boat.) When one goes overboard, it generally acts like a brake and stops all motion, it then typically wraps itself around the keel and then jams the rudder (the thing that steers the boat) and finally stabilizes the engine propeller (never good!) At this point the captain my be swiftly contemplating committing suicide or murder, depending on his/her mood at the moment.

VISAR (Virgin Islands Search and Rescue) is who you generally call when life and limb are in severe danger (as in captain is now rapidly making a noose and angrily looking your way...)
Well, I hope you have enjoyed your new Sailing and Racing Chrsitmas Carols as well as my attempt at defining same for you land-lubbers. (Land-lubbers are those of you not yet crazy enough to own a boat OR you've owned a boat before, but don't now, because you are temporarily "cured".
FOUND ON THE BEACH, MESSAGE IN A PRESIDENTE BEER BOTTLE:
OPEN Christmas eve, Christmas day and Boxing Day
Special menu including Turkey with all the fixins
CLOSED New Years Eve and New Years Day

Soon Come Dec/January Cruzin' surf shop & boutique.
Your Carrot Bay connection for Surf Gear, Local art & Crafts, Debi Carson Art & Jewelry, Trish Flemming art & jewelry, Local Carrot bay arts & Crafts, Joseph Hodge artwork, David Thrasher artwork, Aragorn arts & crafts. Sunny Caribe and more to soon come.

So now there's even more reasons to cruise on in to Cruzin' Bar & Grille on the North Shore in the heart of Carrot bay !
Stop by any time for a cool drink, a fresh hot pizza or any of our great daily specials !
My Happy Garden with Lime tree, banana trees, bromeliads, and other green stuff...
---
Older reports from the BVI have been moved to another page.