- - - 2016 Hurricane Season - - -
- Well, that's swell
By R Petrillo M Puceta <MikeNRenee at live.com>
Date: Wed, 5 Oct 2016 19:51:47 +0000
We are having higher swells on the Caribbean sea side than when then-TS Matthew passed south of us days ago. Over a thousand miles away and the effects of now-Hurricane Matthew sounds like thunder from my apartment.
This is photo off of Friar's Bay on St. Kitts.
Three dinghies tied off at South Frigate Bay were washed ashore, one damaged.
This is what it's looking like off Charlestown, Nevis (Photo by Lester Blackett - copyright - credit required):
Ferry service has been canceled until further notice.
---
- Back to normal
By R Petrillo M Puceta <MikeNRenee at live.com>
Date: Sun, 2 Oct 2016 21:57:10 +0000
After a couple of swelly days, things are mostly back to normal - airless & buggy. The water is nice and clear, at least.
The SE end of South Friar's Bay lost quite a bit of beach, so a part of the Shipwreck beach bar is teetering a little close to the edge, but they've been through this before. It's just one small area that's taped off, but I'm sure they'll be quite happy when the tide goes back out and some of the beach builds back up.
It's really nothing when you think about what's about to happen to all those in Hurricane Matthew's path.
Renee P.
| | |
| --- | --- |
| | www.stkittshappens.com |
---
- Still gusty but the sun is peeping through
By R Petrillo M Puceta <MikeNRenee at live.com>
Date: Thu, 29 Sep 2016 13:24:13 +0000
We're still having surprisingly strong gusts, enough that high-clearance vehicles should be watching their speeds on the roads. The sun is trying to pop out, although I'm kind of enjoying the cloud cover.
The ocean side is still a bit ugly, so swimmers should avoid it and not tempt their fates with rip tides.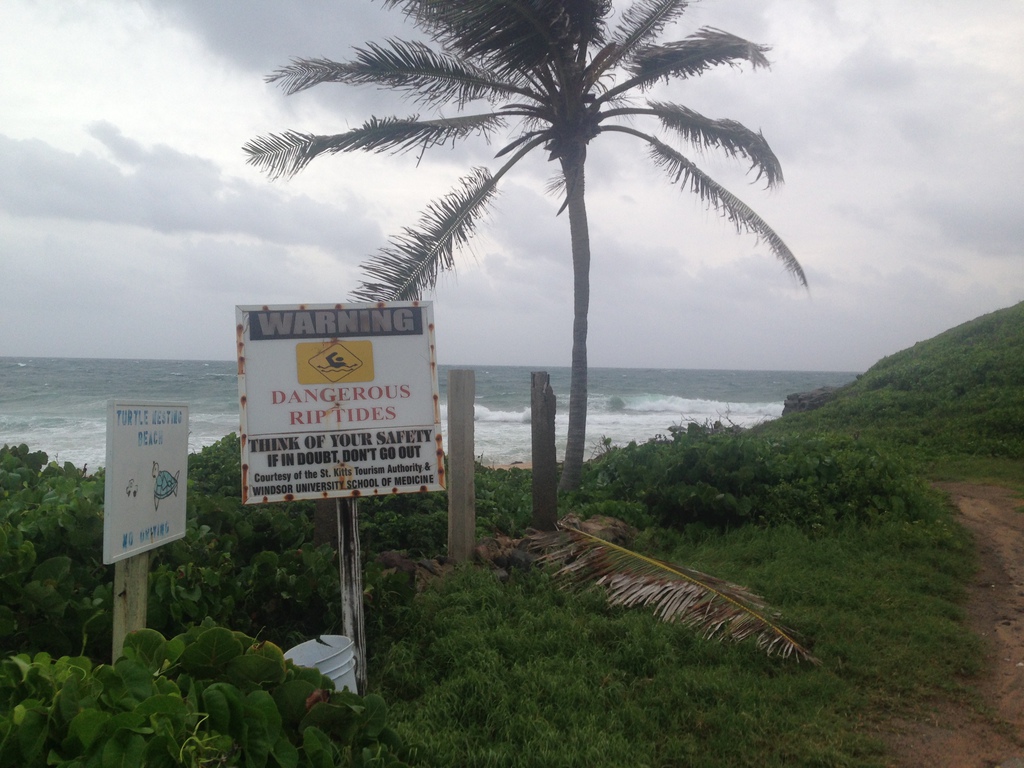 The sea side was swelly and choppy, but a
modified ferry schedule is being run right now. The best place to check is the mobile app: ndmd.mobapp.at. (just click on the upper left hand menu and select Ferry Schedule.
Renee P.
---
- Moving on
By R Petrillo M Puceta <MikeNRenee at live.com>
Date: Thu, 29 Sep 2016 09:18:46 +0000
It looks like as of 5am, we're clear of this thing.
We had rain on and off last night. Each cell came with high gusts, but then it would get rather calm again.
There was a roll-over accident in Old Road, but it was probably speed thanks to the slippery roads.
It's still windy this morning, and I hope it stays this way for awhile. It seems the mosquitos have weathered the storm just fine (who started the myth that wind keeps them away?).
Renee P.
---
- Drying out
By R Petrillo M Puceta <MikeNRenee at live.com>
Date: Wed, 28 Sep 2016 21:50:08 +0000
Well, the worst of the rain was during the previous post earlier in the day. The sun came out again, the clouds came back, and then we basically had a drizzle for the next few hours.
It looks like we've got a clearing for awhile, but the winds seem to be back up. We're starting to see swells on the sea as well.
The latest Alert put out by the Antigua & Barbuda Meteorological Services is as follows:
TROPICAL CYCLONE ALERT STATEMENT
WHCA31 TAPA
TROPICAL STORM MATTHEW ALERT STATEMENT
ANTIGUA AND BARBUDA METEOROLOGICAL SERVICES
4:48 PM ECT WED, SEP 28, 2016
THIS IS FOR THE LEEWARD ISLANDS AND BRITISH VIRGIN ISLANDS
THE ANTIGUA AND BARBUDA METEOROLOGICAL SERVICE IS CLOSELY MONITORING THE PROGRESS OF TROPICAL STORM MATTHEW.&160;
AT 5 PM ECT OR 2100Z, THE CENTRE OF THE TROPICAL STORM MATTHEW WAS LOCATED NEAR LATITUDE 13.8 NORTH, LONGITUDE 62.0 WEST OR ABOUT 65 MILES WEST OF ST. LUCIA. THIS POSITION IS ALSO 229 MILES SOUTH OF ANTIGUA AND BARBUDA.
MATTHEW IS MOVING WEST NEAR 18 MPH. A WESTWARD MOTION WITH SOME DECREASE IN FORWARD SPEED IS EXPECTED DURING THE NEXT COUPLE OF DAYS. ON THE FORECAST TRACK, THE CENTER OF MATTHEW WILL MOVE AWAY FROM THE WINDWARD ISLANDS DURING THE NEXT COUPLE OF HOURS, AND MOVE OVER THE EASTERN AND CENTRAL CARIBBEAN SEA THROUGH FRIDAY.
MAXIMUM SUSTAINED WINDS ARE NEAR 60 MILES PER HOUR WITH HIGHER GUSTS. SOME STRENGTHENING IS EXPECTED DURING THE NEXT COUPLE OF DAYS AND MATTHEW IS FORECAST TO BECOME A HURRICANE BY FRIDAY.
TROPICAL STORM MATTHEW DOES NOT POSE AN IMMEDIATE THREAT TO THE ISLANDS OF THE NORTHEASTERN CARIBBEAN. HOWEVER SQUALLY CONDITIONS (SHOWERS, GUSTY WINDS AND THUNDERSTORMS) ASSOCIATED WITH SOME RAIN BANDS FROM THE SYSTEM COULD SPREAD TO THE LEEWARD ISLANDS FOR THE REMAINDER OF WEDNESDAY INTO EARLY THURSDAY. SIMILAR WEATHER COULD SPREAD TO THE VIRGIN ISLANDS ON THURSDAY MORNING.
Renee P.
---
- And it's started
By R Petrillo M Puceta <MikeNRenee at live.com>
Date: Wed, 28 Sep 2016 16:41:36 +0000
Well, it looks like we're going to get the northern tendrils of what is now Tropical Storm Matthew.
It's been windy all morning, but the temperature just dropped and it's pouring when it's not sunny.
Any boats that were out there were scrambling to get back, pounding on white-capped seas. Both the Atlantic & the Caribbean Sea are choppy, and it's so windy that water is being whipped up on the surface, sort of looking like smoke in spots.
Stay safe everyone!
Renee P
| | |
| --- | --- |
| | www.stkittshappens.com |
---
- St. Kitts Meteorological Notice
By R Petrillo M Puceta <MikeNRenee at live.com>
Date: Tue, 27 Sep 2016 17:16:13 +0000
We've had some thunderstorms going around us all morning, but no rain dropping - at least not in Frigate Bay. Yet.
I'm posting this alert from the St. Kitts Meteorological Services since it's specific to the island and so far still seems to apply based on other analyses:
The St. Kitts Meteorological Services is closely monitoring an active tropical wave that is approximately 1200miles to the southeast of St. Kitts- Nevis. All the models that we are using to assess the system are indicating a high probability of the system developing into either a Depression or a Storm as it approaches the island chain.

Based on the early projections, the center of this system once it has developed should pass through the Windward Islands. Along this projected path, the system will pass well to the south of the federation and thus minimizing the chances of us receiving any significant winds.

Nonetheless, showers and thunderstorms are likely to move over the islands Wednesday and Thursday. Seas are expected to be very rough Wednesday and Thursday with possible heights of 12ft on Wednesday and reducing slightly on Thursday to 10ft. Due to this expected rough sea conditions, strong warnings will be put in place for Wednesday and Thursday. Mariners and sea bathers are urged to exercise extreme caution as the seas are forecast to become dangerously rough. Residents living in close proximity to the coastline along the Old Road to Sandy Point route should closely monitor the seas and be prepared to respond if their property is threatened by the expected rough seas and likely battering waves.

The St. Kitts Meteorological Services will continue to closely monitor this system as it approaches the island chain and is projected to develop. Residents are advised to pay close attention to future updates and advisories as they become necessary.

Regards,
Elmo Burke, MSc.
Senior Meteorological Officer
St. Kitts Meteorological Services
St. Christopher Air & Sea Port Authorities
Stay safe out there!
Renee P.
---
- Electrifying Saturday
By R Petrillo M Puceta <MikeNRenee at live.com>
Date: Mon, 19 Sep 2016 11:28:11 +0000
Saturday brought is some nasty thunderstorms that started right as our hike with the Hash House Harriers started up to a water tower.
Just as we reached the top, a lightning strike zapped about 5 of us, including yours truly. Incredibly we were all ok, if not a little tingly, even as a second strike came down nearby. Needless to say, we got off the hill as fast as we could.
It poured for awhile, and then passed.
The next day the power went out for a whole day. ??
So it looks like the next two systems off to our east are headed north like the last two.
Renee P.
---
- Soggy
By R Petrillo M Puceta <MikeNRenee at live.com>
Date: Mon, 5 Sep 2016 21:43:15 +0000
This Invest really did have a hard time letting go, but we had the perfect amount of rain yet again for plants & cisterns without dealing with flooding. Nice cool temps all day, with just enough breaks in the rain to still get things done. No complaints.
The cruise ship passengers that came in today might not have been to happy, but St. Kitts is worth a visit rain or shine.
There's still some thunder grumbling around since rain is just off to our east. Antigua is being deluged while we stay mostly in the clear.
Seems like we should be waking up to a sunnyday tomorrow.
Renee P
St. Kitts Happens
---
- Jeez, Move On Already
By R Petrillo M Puceta <MikeNRenee at live.com>
Date: Mon, 5 Sep 2016 09:53:17 +0000
Just as I looked at the radar this morning, it started to pour. Hard.
Invest 92L just doesn't want to move on. Looks like it's going to be wet for a bit.
Renee P
St. Kitts Happens
---
- Quickie
By R Petrillo M Puceta <MikeNRenee at live.com>
Date: Sun, 4 Sep 2016 23:19:53 +0000
Well, it was certainly gusty (and rainy) for a short bit there. I've got pool toys from the neighbor's house in my yard, my empty garbage can ended up in the street, and there's a tree down nearby, but nothing too bad.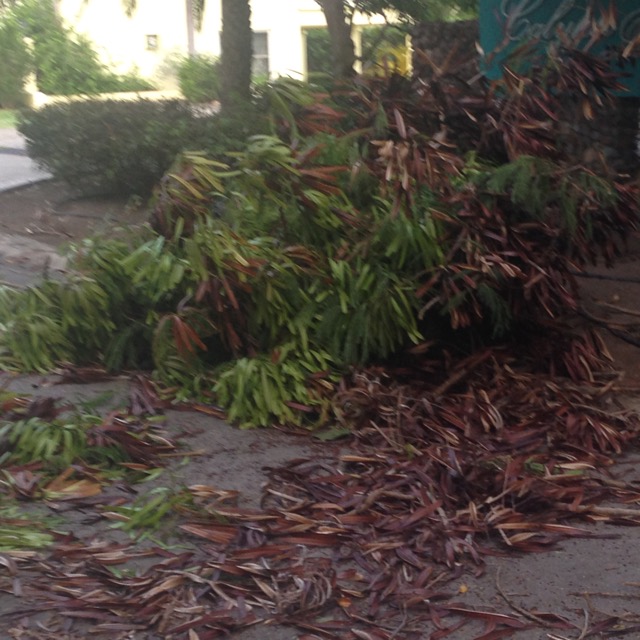 And that was it. The seaside has remained surprisingly calm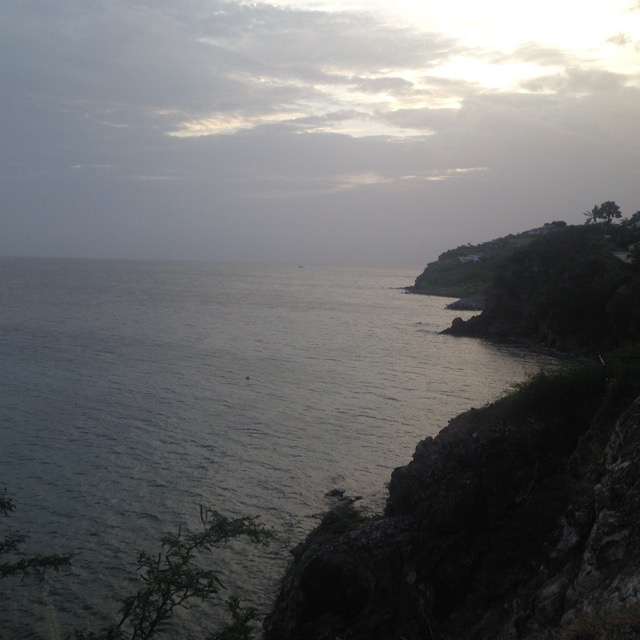 Not sure if that's it for us since there's still weather around, but we seem to have come through another one unscathed.
Renee P.
St. Kitts Happens
---
- Oh, THAT storm.
By R Petrillo M Puceta <MikeNRenee at live.com>
Date: Sun, 4 Sep 2016 19:16:40 +0000
Just when we thought we weren't getting anything, the outer bands of Invest 92L nabbed us. Gusts came through that knocked over a few things in the apartment and even set off a car alarm. We're not even in the direct path of this thing, but the winds turned cold (around 3pm) and we've got some thunder grumbling out there.
I was surprised to see the Atlantic so rough, considering the storm is to our south. I'm sure it's just a matter of time before the Caribbean Sea matches its intensity.

I'm thinking it's time to pull out the sweats!
Renee P.
www.stkittshappens.com
---
- The Calm After The Storm
By R Petrillo M Puceta <MikeNRenee at live.com>
Date: Wed, 24 Aug 2016 23:19:38 +0000
There's still some activity to our east, but hopefully this system is done with us. The humidity is coming back post haste, but we've got a nice temperature for our evening pleasure.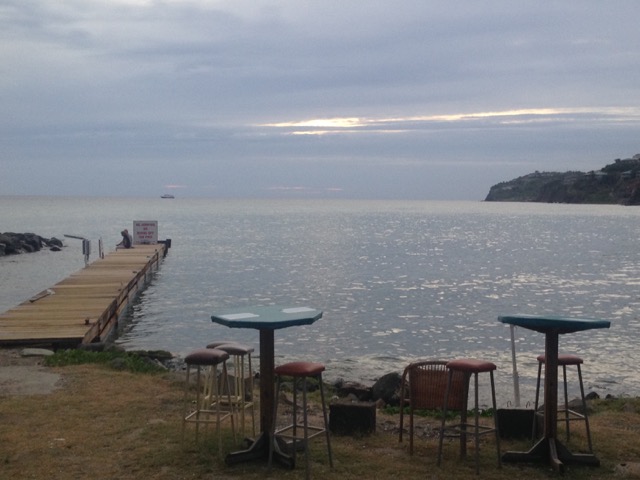 Renee P.
---
- Ah, cooler temps
By R Petrillo M Puceta <MikeNRenee at live.com>
Date: Wed, 24 Aug 2016 15:27:27 +0000
It definitely got rainier and windier as the morning went on.
The cooler temps, finally, are fantastic. There's lots of mud offshore.
We now have a break. It'll probably be sloppy for a while, but hopefully that second half, which has already dissipated quite a bit, goes by quietly.
I'm hoping it stays cloudy so we can enjoy the cool temps as long as possible. The rain, I'm done with. I haven't heard of any major flooding or problems, so hopefully we came through this unscathed but with full cisterns.
Renee P.
---
- Weather from Invest 99L
By R Petrillo M Puceta <MikeNRenee at live.com>
Date: Wed, 24 Aug 2016 10:11:57 +0000
The rain started at exactly 1am. It's been slow and steady, nothing torrential - at least in Frigate Bay. While we had some thunder and lightning overnight, it wasn't window-shaking. The storm most definitely has not brought with it any wind - it's as stifling as ever.
The system did tighten up, and Guadeloupe & Montserrat have been in its direct path for hours.
As the storm keeps moving WNW, we'll likely start seeing heavier downpours over the next few hours. Watch yourselves out there - there's likely to be flooding, mud or rock slides, and fast-moving water in ghauts, so be careful driving out there.
Renee P.
---
- Fizzling?
By R Petrillo M Puceta <MikeNRenee at live.com>
Date: Tue, 23 Aug 2016 18:56:49 +0000
So Fiona fizzled out, at least for now, and Gaston still looks like its staying out to sea. That leaves Invest 99L, which is looking as disorganized as ever. A huge chunk of this disturbance is already north of us.
After the Hurricane Hunter checked things out earlier today, the report came back with a top wind speed of 19 knots.
Until the whole thing passes, the atmosphere will become unstable, so the Antigua & Barbuda Meteorological Services has put out a Flash Flood Watch for the Leewards overnight.
The current (2:50pm) radar is showing some rain off to our southeast, and some patchy showers nearby.
Only time will tell. We need some rain, so let's hope we get a little.
Renee P.
---
- Rain Coming
By R Petrillo M Puceta <mikenrenee at live.com>
Date: Thu, 4 Aug 2016 17:15:56 +0000
We've had some minor showers early this morning, but the
radar
shows the situation is about to change.
The west side of the island must be wetter as rocks are down on Old Bay Road (according to St. Kitts-Nevis Times), so drivers should be alert.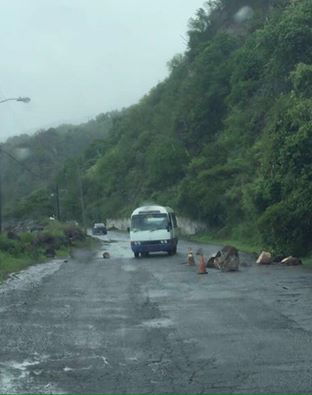 ---
- Easing Us In
By R Petrillo M Puceta <mikenrenee at live.com>
Date: Sun, 31 Jul 2016 19:12:45 +0000
Over the past 2 days, the worst of our downpours have occurred mid-morning, and they were pretty intense. A run down the Southeast Peninsula was quite breezy, but the seas weren't as "angry" as I thought they'd be. We're still getting a few cells passing over, but nothing major (at least not in Frigate Bay).



Although the radar this morning showed Martinique getting the brunt of the system, it looks like Dominica had enough to cause some damage:
"Fond ST Jean and surrounding communities are once again cut off from the country. ..Temporary bypass is gone and original bridge is not yet up and running....smh. This is the Geneva bridge that persons use to get to Bagatelle and Fond St. Jean and surrounding areas."
The NHC has upgraded the yellow x now west of us to red, so anyone on the other side should be tracking it. The other invest that was headed our way seems to have fizzled out, but if it's bringing rain, we should see it mid-week next week.
---