- - - 2015 Hurricane Season - - -
- 90% chance of Hurricane Bonnie forming
By DearMissMermaid at aol.com
Date: Fri, 27 May 2016 12:17:31 -0400
I guess there was too much rum involved and I forgot all about hurricane Alex came and went ages ago.
Hurricane Alex was in January 2016 being only the 2nd hurricane in recorded history to appear in January. The last one was in 1938.
So if this mess in the Atlantic forms into a hurricane, she will be Bonnie. It's still 4 more days before the official hurricane season opens and we may be up to Colin by then.
Amazing.
Bonnie is not a threat to the Virgin Islands, but she is chasing Dear Miss Mermaid, because I am swimming around the Sea Islands off the coast of South Carolina where Bonnie might be headed.
I guess I better look at swimming up a river inland somewhere.
Happy Un-Hurricane Season,
Dear Miss Mermaid
Author of:
---
- Premature Alex
By DearMissMermaid at aol.com
Date: Thu, 26 May 2016 21:49:51 -0400
June 1st is around the corner when hurricane season officially starts.
2016 Tropical Storm & 2016 Hurricane Names
Alex
Bonnie
Colin
Danielle
Earl
Fiona
Gaston
Hermine
Igor
Julia
Karl
Lisa
Matthew
Nicole
Otto
Paula
Richard
Shary
Tomas
Virginie
Walter
Followed by the greek alphabet, if needed. We pray we need that! Lawdy mercy.
Actually we could skip a year of no hurricanes. However... X marks the spot!
Someone tell Mother Nature she's trying to open hurricane season a wee bit too early!
Shower activity associated with the low pressure area located
between Bermuda and the Bahamas has become somewhat better organized
since yesterday, and the circulation of the low has become a little
better defined.  
Environmental conditions are expected to be
generally conducive for a tropical or subtropical cyclone to form on
Friday or Saturday while this system moves west-northwestward or
northwestward toward the southeastern United States coast.  
All interests along the southeast coast from Georgia through North
Carolina should monitor the progress of this low.  
A Hurricane Hunter aircraft is scheduled to investigate the
low on Friday afternoon. 
Happy Un-Hurricane Season,
Dear Miss Mermaid
Author of:
---
- Checking In
By R Petrillo M Puceta <mikenrenee at live.com>
Date: Mon, 7 Mar 2016 19:39:22 +0000
We had a great December & January weather-wise, and although February was still cool(ish), particularly at night, the humidity began to kick in...a little too early for my tastes. We've been experiencing the pre-dawn rain showers again, but not enough to really make a difference in anyone's cisterns. I've been surprised at the recent fall-off of mosquitoes. While not swarming like in the summer, we usually have more than enough to require continued all-day/night use of our electric zapper rackets. In the past few days though, their existence has been negligible. How pleasant.
Last month brought some swelly seas, and the waves are up again today. If you've got a bodyboard or kite surf, this might be the day to get out there. If you're trying to dock a boat on an exposed dock, you have my sympathies.
Today is a wintery kind of day, with lots of clouds and the rain going mostly around us. Every time it looks like we might get deluged, nothing happens. We haven't seen this kind of weather since November, so it's nice to have a change.
Renee P. (Virgin Gorda)
---
- The weather we've all been waiting for
By R Petrillo M Puceta <mikenrenee at live.com>
Date: Thu, 24 Dec 2015 14:22:12 +0000
Well, December turned out to the the month. The Christmas winds have kicked in, I'm in a sweatshirt in the morning, and most of any rain is at night. It really is perfect. We found some great trails to climb near The Bitter End, on the currently closed Las Brisas property, and had beautiful views.
Hopefully you're spending the holidays where you want to be and with the people (and animals) you want to be with.
Renee P. (Virgin Gorda)
---
- More rain...
By R Petrillo M Puceta <mikenrenee at live.com>
Date: Mon, 7 Dec 2015 10:52:16 +0000
Well, I sure hope all this rain has helped us come back from the drought conditions earlier in the year. After a month of rain in November, we had two glorious days of sunshine and cool breezes before the rain kicked in again.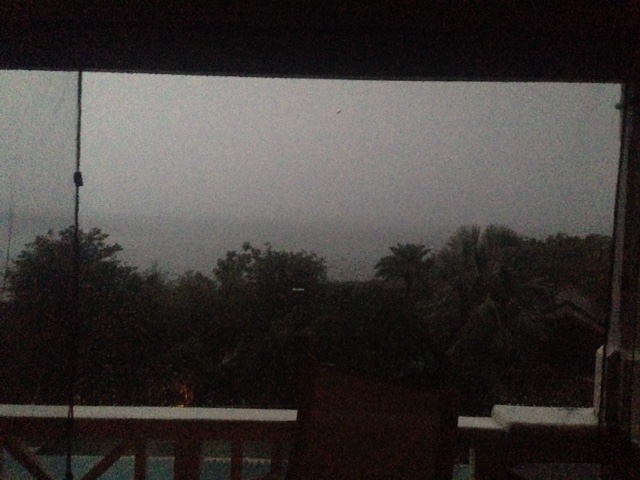 Can you see the cruise ship motoring toward Tortola in that photo? It's there. A lot of people are in for a soggy visit. Some of the downpours are very heavy, and we've got thunder & lightning for good measure this morning. After a particularly close lightning strike a few minutes ago, our power went out - good thing our development has a generator! There are usually gaps in the wet stuff, so hopefully the visitors will have fun anyway.
The good news is that this should clear up by Tuesday; the bad news is that the winds are going to swing ESE again, which means it's going to get sticky again. It's really a strange weather pattern. Oh well. As long as it's not snow, I'm happy.
If that's you, come visit!
---
- Hurricane Season Gone Bye Bye
By DearMissMermaid at aol.com
Date: Tue, 1 Dec 2015 17:53:21 -0500
It's official... now somebody tell Mother Nature.
Hurricane Season is OVER.
You can settle down to lazy comfort of nice balmy trade winds and forget about storms... more or less.
Remember, if you are going to sit on the beach and drink rum all day, you gotta start in the morning!
Happy Hurricane Free Regards,
Dear Miss Mermaid
---
- Brrr - sort of
By R Petrillo M Puceta <mikenrenee at live.com>
Date: Fri, 20 Nov 2015 11:56:51 +0000
After what I hope was one last round of heat & humidity earlier this week, we've got a rather chilly breeze blowing this morning. I've actually put a sheet over myself the past couple of nights. Even the cats seemed a bit chilled - 2 are island kitties, the other 2 are from Arizona - they're used to heat.
Ok, so they're looking a little zen there.
It's the first morning since I arrived here in July that there weren't any blood thirsty mosquitos eagerly waiting for us outside. Could it be? Fall is finally here? Yippee!
We're still having very intense rain showers, usually at night, so any live-aboard/cruising boaters are doing the open/close-hatch shuffle. I'd like to think all this rain has brought us back from the drought conditions experienced earlier, at least. It's certainly greened up what was once a very brown island.
If you're coming to visit, bring a light jacket/sweater & umbrella and you'll be all set.
Renee (Virgin Gorda)
---
- Hurricane Kate?
By DearMissMermaid at aol.com
Date: Tue, 10 Nov 2015 10:12:31 -0500
Tropical storm Kate is not forecast to be a threat to the Virgin Islands, but she may be upgraded to hurricane status by the time you see this.
Spaghetti models suggest she may remain at sea, so pray for the sailors and scallywags afloat. Many still sail the oceans in a traditional way, with minimal gear on board and few or no electronics.
The hurricane season isn't officially over, not that mother nature pays any attention to the selected end date.
Just a brief sobering reminder...
Time Flies When You're Having Rum!
Warm and Cool Regards,
Dear Miss Mermaid

---
- Beautiful - for now
By R Petrillo M Puceta <mikenrenee at live.com>
Date: Fri, 6 Nov 2015 13:39:53 +0000
I didn't want to say anything earlier, for fear of jinxing it, but we've definitely seen a cool down - particularly at night. We've gone 3 nights now without needing the standing fan running. It's still more humid than it should be, but that's because we still have tropical waves going overhead.
We had a couple of nights with lots of lightning shooting across the sky, and then hard to describe thunder afterwards. (Photo by "Kingston" on Facebook)
A pretty robust trough is expected to creep over us later today and then ruin the weekend, but most of the weather is predicted to be more south of us - over the US Virgin Islands and Puerto Rico.
It's sunny out now though, so time to get out there an enjoy it! Hallelujah for the cool(ish) breeze, as well.
Renee (Virgin Gorda)
---
- Happy Haunted Halloween
By DearMissMermaid at aol.com
Date: Sat, 31 Oct 2015 07:37:18 -0400
Just another stunning day in paradise, with no hurricanes on the horizon, just clouds wafting by lazily.
You will never guess what else I saw at the beach this morning...
Happy Haunted Halloween
Happy Haunted Regards,
Dear Miss Mermaid
---
- Trick or Treat!
By DearMissMermaid at aol.com
Date: Fri, 30 Oct 2015 22:53:24 -0400
So far only a few hurricanes and only a few weeks left of the official hurricane season.
October 29th marked the anniversary of the sinking of The Royal Mail Steam Packet Rhone. She sunk 148 years ago in 1867 on the shores of Salt Island to ironically become one of the best wreck diving destinations in the world.
Andrew C. Jampoler authored the book:
Excerpt from the book:
RMS Rhone, just three years old then and the pretty queen of the Royal Mail Steam Packet Company's fleet, sank in the great St. Narciso hurricane of late October 1867, a devastating category three storm that bored a line east to west atop the Antilles, and ruthlessly thinned the islands' population while it sank some seventy ships in port and local waters.





Fleeing from Tortola across Drake Strait and toward open water at full speed, through the backside of the hurricane and nearly blinded by rain and spray, Rhone drove aground on Black Rock, in the shallows off Salt Island, shoved to her fate by 140 mile an hour winds. The impact and the subsequent explosion of her boiler tore the 310-foot long ship in half. One hundred twenty four drowned that morning or were scalded to death in the engine room. Only twenty-three survived.
~~~~~~~~~~
Happy Haunted Regards,
Dear Miss Mermaid


---
- Crazy weather
By R Petrillo M Puceta <mikenrenee at live.com>
Date: Sat, 24 Oct 2015 19:38:03 +0000
After nothing but calmness, we had a couple of days of seriously swelly seas.
Then the sea went dead calm. Like glass-calm.
We got rain mid-afternoon that turned the island into a sauna. There were actually little clouds you could walk through, as if you wandering through a rainforest. As dusk set it in, crazy lightning started with immediate pows of thunder. It did that all night, which was rather fun.
It stinks this picture came out grainy, but you can see the reflection of the clouds in the water after the sun set. You could hear every boat motoring.
Today seems to be more of the same. The current downpour was prefaced by lots of thunder & lightning. It's so pleasantly cool during the rain, but as soon as the sun comes back out, it's mind-numbingly hot. #EndlessSummer - sheesh.
Renee (Virgin Gorda)
---
- Morning Rainbows
By R Petrillo M Puceta <mikenrenee at live.com>
Date: Sat, 17 Oct 2015 12:20:41 +0000
Nope. No drying out. The weather has remained unstable with various atmospheric troughs passing overhead. Most of the rain has come just before sunrise and early morning. We've had rainbows and double rainbows just about every day.
The forecast remains the same for the foreseeable future, so keep your umbrellas handy.
Renee P (Virgin Gorda)
---
- Spoke to soon
By R Petrillo M Puceta <mikenrenee at live.com>
Date: Sat, 10 Oct 2015 13:58:22 +0000
It seems I was a little premature in ushering summer out. The past week was incredibly humid. We had some rain Thursday evening, but it was more of a drizzle and didn't do much to fill cisterns and reservoirs. Not only has it been sticky the past couple of days, but the air's been so thick, I haven't been able to see Tortola across the way. Some pleasant winds are blowing, so hopefully things will dry out.
We're still looking at around 90-degree temps during the day (ugh), but nights have been feeling a little cooler (high 70s). Move slowly and keep calm.
---
- What's this wet stuff?
By R Petrillo M Puceta <mikenrenee at live.com>
Date: Sat, 3 Oct 2015 16:14:15 +0000
There's been a lot of wind, distant lightning, grumbling thunder, and cloud cover the past 2 days, but not an ounce of rain. Until now.
Last night was the first night we were able to leave the standing fan off and just listen to the surf pound the beach in the distance. What a nice change of pace.
Renee (Virgin Gorda)
---
- Hurricane Joaquin Spaghetti
By DearMissMermaid at aol.com
Date: Wed, 30 Sep 2015 20:05:28 -0400
Well, this hurricane is predicted to go anywhere except the Virgin Islands.
Just a sobering reminder that hurricane season ain't over yet! Speaking of sobering... stock up that rum cabinet now. If a hurricane comes your way, rum is the first thing to fly off the grocery shelves.
Hiccup...
Rum and rain... many a hurricane I was comforted by rum and rain and in the aftermath, that rum and rain was tasty indeed, took away the pain on waiting days or weeks or more for the electricky to return.
After hurricane Hugo, many folks in the US Virgin Islands, waited nearly a half year for electricky to finally reach their area again.
So even though no hurricanes are currently bearing down on the Virgins, be warned that it's never too late to prepare. If you overstock for a hurricane that doesn't come to exist, then what the heck, Christmas is around the corner, just regift those items.
Most folks would love a bottle of rum or a 12 pack of batteries from jolly Saint Nick.
Hot and Humid Regards,
Dear Miss Mermaid
---
- Relief
By R Petrillo M Puceta <mikenrenee at live.com>
Date: Wed, 30 Sep 2015 13:14:54 +0000
It seems the humidity has let off a little. It's at 70%, which isn't much of a change from where it's been at 74%, but the last few mornings have been rather pleasant. Temperatures are still up at 90F/32C by midday, so apparently summer is not letting go yet, but the occasional breeze feels a little cooler, so maybe fall is on the horizon.
Even the kitties are happy.
The mosquitos seem to be lessening a bit too, although there are still plenty around, so don't put away that bug spray just yet.
Renee (Virgin Gorda)
---
- Tropical Storm Joaquin
By DearMissMermaid at aol.com
Date: Tue, 29 Sep 2015 11:56:58 -0400
Tropical Storm Joaquin is not a threat to the Virgin Islands at this time, matter of fact he is already north of the islands.
Joaquin could be pronounced "joke-in" but then I be jokin' about dat...
Joaquin is pronounced wah-keen like "walkin" or "I be wah-keen down da street after dat hurricane mash up me house"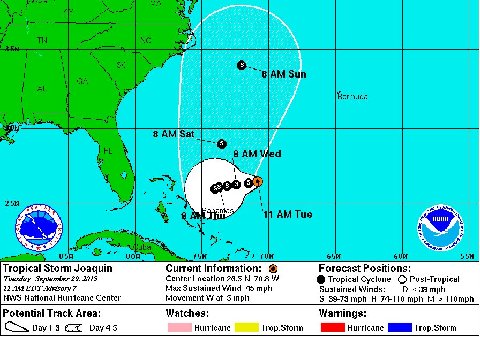 Now if you look carefully, the weather gurus show their forecast predictions for Tuesday, Wednesday, Thursday, skipping Friday, then showing Saturday and Sunday. Friday is anyone's guess.
It's always good to watch all these storms, they have in the past made a loopy loop and turned back southerly again, hopefully this won't happen at all this year. (Keep your fingers crossed and the rum cabinet full!)
Warm and Goofy Regards,
Dear Miss Mermaid
---
- Still Sticky
By R Petrillo M Puceta <mikenrenee at live.com>
Date: Wed, 23 Sep 2015 11:02:04 +0000
We've been having short but intense downpours early in the morning, great for helping ease drought conditions and making the island greener, but we still have no respite from the high humidity or lack of wind (4-10 knots every...single...day and into the future).
Yesterday, someone snapped a photo of a waterspout that had been swirling around for about 15 minutes over by Salt Island (as reported by:
Virgin Islands News Online
).
It's definitely been moist out there. The sea has been incredibly calm.
The mosquitoes are certainly enjoying the current conditions. Humans, not so much.
Renee P. (Virgin Gorda)
---
- Nada
By R Petrillo M Puceta <mikenrenee at live.com>
Date: Sat, 12 Sep 2015 10:12:42 +0000
Ten minutes after I sent that last update, dark clouds crept up from the south, a cool wind kicked in, we had quiet lightning in the distance, and we thought for sure we'd get some action. We did not. It passed We did not get one stitch of rain last night or so far this morning (and there's nothing on radar to suggest we will). That's pretty incredible.
It does look like Tortola might have gotten some as well as the USVIs, but we're only enjoying some pretty clouds.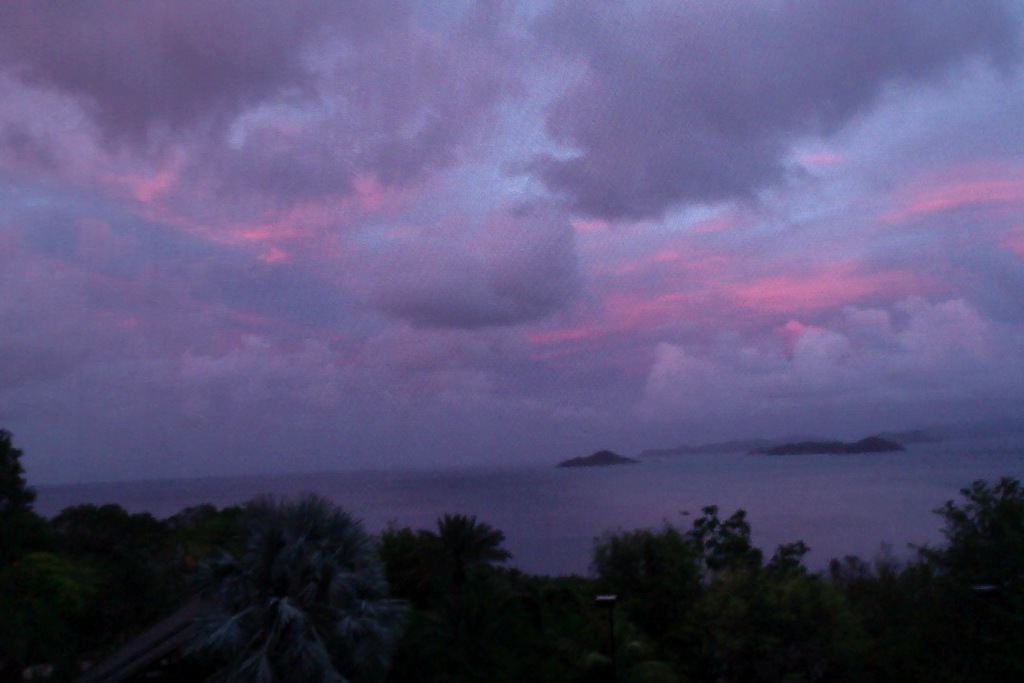 I have to admit, I'll take it. The sun has been brutal. On to the next system....
Renee P. (Virgin Gorda)
---
- No Rain Yet
By R Petrillo M Puceta <mikenrenee at live.com>
Date: Fri, 11 Sep 2015 23:10:38 +0000
So it was an incredibly sticky day. The winds made no difference. It was just plain humid. Not much different from yesterday. Since the sun's gone down though, the temps are definitely cooler. Most of any rain for the day nearby has been around the USVI's or to the south of them.
I'd be surprised if we didn't get something overnight, there's certainly enough moisture out there, but on the other hand, the fact that it's less humid makes me wonder if it's too dry around us. I'll let you know in the morning!
Renee P. (Virgin Gorda)
---
- Rain?
By R Petrillo M Puceta <mikenrenee at live.com>
Date: Thu, 10 Sep 2015 16:34:48 +0000
TS Grace's disappearing act is why I don't kill myself trying to predict the outcome when they're thousands of miles away. The front she was riding on should be here soon, so we've got a nice breeze but high humidity. The mosquitos have been relentless.
Our local forecast shows an increasing likelihood of showers tomorrow. The
US National Weather Service San Juan Puerto Rico
is suggesting thunderstorms and heavier rain for Puerto Rico & the USVIs, so I guess we'll have to see if any of that trickles northward.
Keep your umbrella handy, just in case!
Renee P (Virgin Gorda)
---
- A Preliminary on TS Grace
By R Petrillo M Puceta <mikenrenee at live.com>
Date: Mon, 7 Sep 2015 12:00:20 +0000
I posted this graphic on my Facebook page the other day as a joke:
And it doesn't look that much different than the latest spaghetti model for TS Grace.
It's just too early to tell what this storm is going to do. At this point, I leave it to the National Hurricane Center and sites like Weather Underground to keep throwing out their best guesses. If Grace heads our way, the system is currently on track for a Saturday arrival. Of course, this is likely to change too as the storm speeds up and slows down as it hits various atmospheric conditions.
I'll post again later in the week as the models start coming together and we can get a better idea of what's what.
---
- Sunday Grumbling
By R Petrillo M Puceta <mikenrenee at live.com>
Date: Sun, 30 Aug 2015 10:57:54 +0000
We've got a rainy Sunday morning out there, with some low-level thunder grumbles. According to the
AntiguaMet
forecast, this should dissipate and leave us with sunny, hazy skies.
The Local Weather Forecast for The British Virgin Islands
Valid up to 8 am tomorrow Monday 31st August 2015.

Today's Temps
High
31°C
88°F
Low
27°C
81°F


Slt chc of shwrs
Synopsis: Despite the presence of a tropical wave, shower activity will remain near minimum. Possible rainfall total over the next 24 hours is less than 2 mm or (0.08 in).

Weather today: Partly sunny and hazy with a 30 percent (or moderate) chance of showers.

Weather tonight: Partly cloudy and hazy with a 10 percent (or slight) chance of showers.

Winds: The wind will be east at 8 to 14 knots.

Seas: The seas will be moderate with heights near 1.8 metres or 6 feet. Cautions are in effect for small craft operators or sea bathers, mainly on the eastern side of the islands.

Atmospheric Pressure: The atmospheric pressure is above normal.

Sunset today: 6:34 pm.
Sunrise tomorrow: 6:04 am.

Antigua and Barbuda Meteorological Services
Dale Destin-Forecaster
Forecast issued at 3:01 AM,GMT-04:00 on 30/08/2015
Seems like a good morning for snoozing.


Renee P. (Virgin Gorda)







---
- Fred? Let's hope not!
By DearMissMermaid at aol.com
Date: Sat, 29 Aug 2015 22:42:14 -0400
Tonight is the first of three full supermoons this year in August, September and October. So go to Bomba Shack and howl at the moon with some shroom tea.
Erika gone bye bye, time to dance and celebrate, the BVI was spared once again.
However... Fred could be forming off of Africa and September in the past as proven to sometimes produce some wild and crazy storms, but let's hope Fred turns out to be as sedate as his name.
Warm and Goofy Regards,
Dear Miss Mermaid
---
- Making it official
By R Petrillo M Puceta <mikenrenee at live.com>
Date: Fri, 28 Aug 2015 12:47:48 +0000
Note:
There were a few downed trees and some debris in the road, so watch out for utilities and crews trying to clean up.
Renee P. (Virgin Gorda)
---
- Zilch. Nada. Nothing.
By R Petrillo M Puceta <mikenrenee at live.com>
Date: Fri, 28 Aug 2015 10:24:01 +0000
We got absolutely nothing from Erika, other than winds that I doubt got higher than 45mph. The skies are an interesting grey, making the swelly seas a beautiful turquoise color, not quite coming out in this photo.
Unfortunately, St. Croix didn't fair as well, and the government called out the National Guard, instituted a curfew, and froze prices (which I thought was interesting). Puerto Rico seems to have gotten lucky, as most of the storm has gone south of them. The NHC is still predicting rains for them, which they need badly, so maybe this thing could creep north and give them just enough. No flooding please.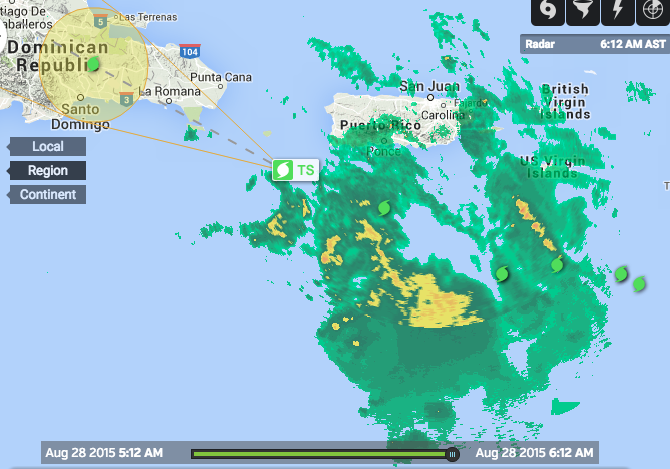 Hopefully this storm breaks up over Hispaniola and just fizzles out. Enough already. There's already a yellow X on the African coast. Next?
Renee P.
---
- Soon we'll know.
By R Petrillo M Puceta <mikenrenee at live.com>
Date: Fri, 28 Aug 2015 01:45:37 +0000
Feeling a little too "protected," we ventured out and went over to the dark - or Atlantic - side. It was definitely more wild than the west/sea side of the island, but not too over-the-top either.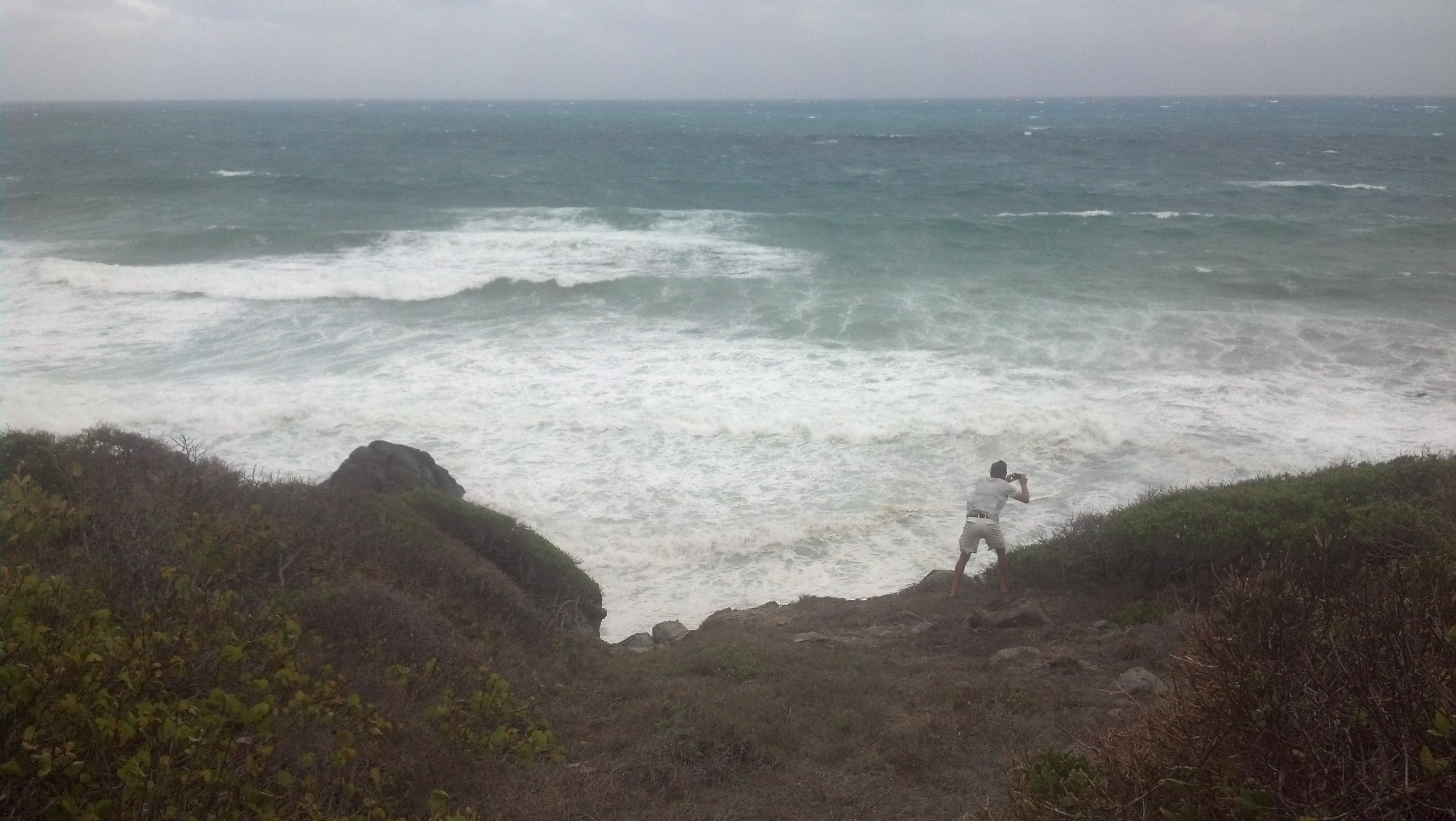 As night falls, winds have become stronger on the "protected" side, but winds are not really the issue.
Flooding is. Even then though - the US Virgins look under the worst of what Erika is reportedly going to bring us.
Erika's predicted to bring us rain late tonight, despite the fact that the radar says it's going south. Sh** happens. Be safe while Erika's in the neighborhood.
---
- Water/Sewer to be turned off
By R Petrillo M Puceta <mikenrenee at live.com>
Date: Thu, 27 Aug 2015 19:48:04 +0000
Take note per the
Water & Sewerage Department
:
HURRICANE ERIKA ADVISORY - UPDATE
Dear Valued Customers,
Please note that TS conditions have increased. To ensure the safety of WSD Operators who are on standby to close water distribution service, as well in the event, you are hereby advised of the following:
1. service would be discontinued by 6:00 p.m. this evening for customers being serviced from the Sabbath Hill and Fort Hill Reservoirs. This includes areas from Kingston to McNamara and along the Ridge Road from Greenland and Nottingham Estate into Cane Garden Bay. If conditions improve during the course of the remainder of today/tonight, service would be restored. Please utilise the remaining 3 hours to fill any empty containers available to you.
2. service would be discontinued by 4:30 p.m. on the Eastern part of Tortola. This include parts of Paraquita Bay to Beef Island. Therefore, customers have 1 hour and 30 minutes to address any issue requiring running water from taps.
3. On the Western part of the Tortola, electricity is currently down or fluctuating. To ensure that there is an adequate supply of water to serve you immediately following the passage of the storm, the reservoirs have been closed.
4. To our Sister Islands: Anegada, Jost Van Dyke and Virgin Gorda, service will be discontinued by 4:30 p.m. as well. Teams would be despatched with urgency to address breaks on lines on sister islands as soon as we receive an all clear from DDM.
We trust that everyone have been prepared since last night with an adequate supply of stored water.
As the water is reintroduced into the water pipes, we may experience breaks on lines, especially in leak-prone areas. This include areas in Hodge's Creek, along the Ridge Road, in Sea Cow's Bay in the area of the Seventh Day Adventist School, Porter Ghut, West End, Round Hill and Carrot Bay. Although these areas would be inspected first by WSD personnel, we ask for the kind support of the general public to report leaks as you have ably done in the past. We thank you for this. Leaks on water lines are a financial burden for all of us, and partnering with us to combat this effect is certainly appreciated. Numbers to contact include 499-2620 for the Western Tortola, 499-2924 for Central and 499-0500 or 499-3161 for Eastern Tortola. You may also telephone 468-9699.
Any inconveniences caused is sincerely regretted.
---
- 2pm Update
By R Petrillo M Puceta <mikenrenee at live.com>
Date: Thu, 27 Aug 2015 18:07:05 +0000
The models keep showing Erika dipping farther and farther south. The BVIs aren't even in the cone anymore, and the TS warning was removed from Antigua & Barbuda.
Winds are down slightly to 45mph, but the circumference of the TS Force winds has grown to 140 miles. Note the following:
Our Atlantic side is looking a little gnarly.
The sea side has bouts of serious white caps.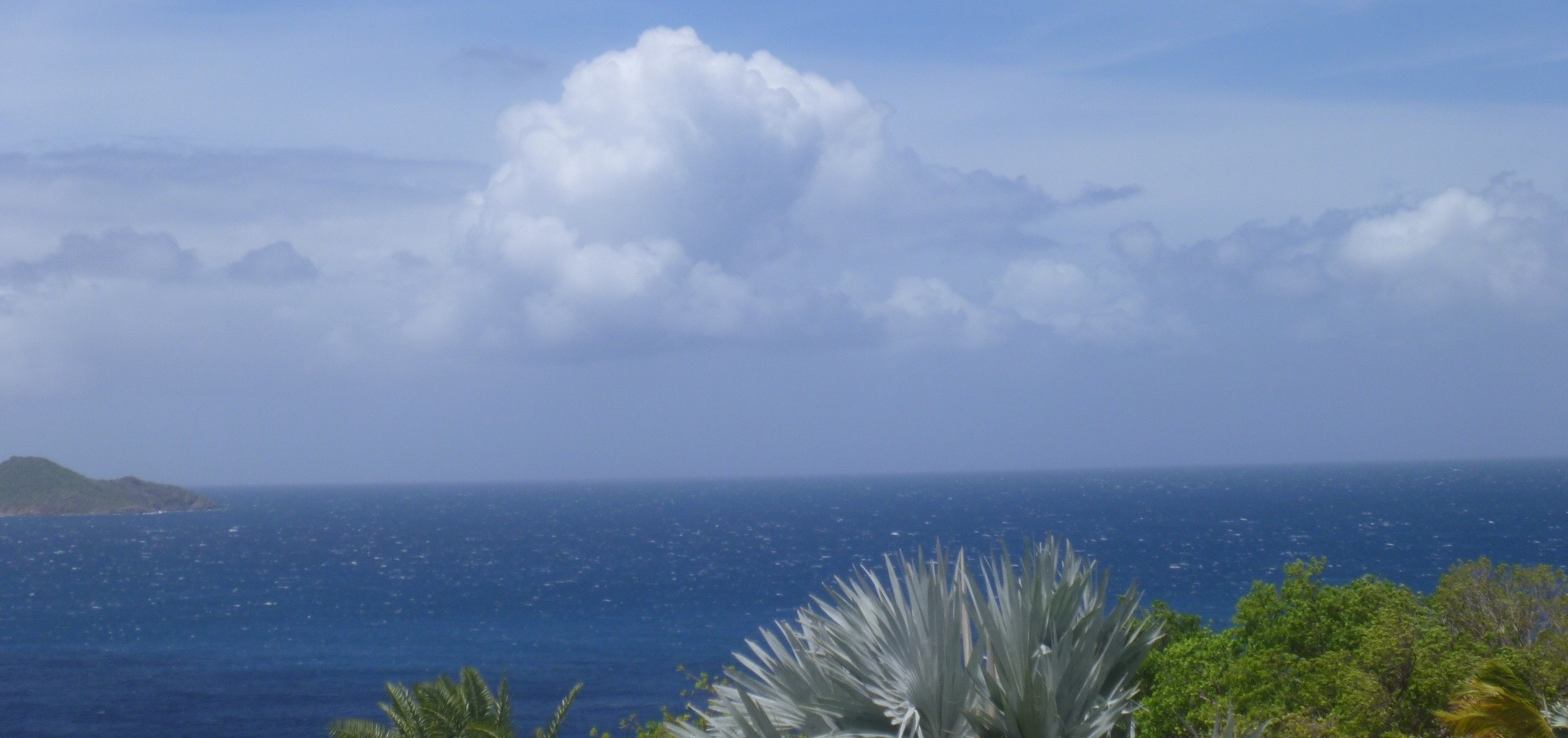 We have the occasional rain shower, which is perfect really. Just enough. It would be nice if it stayed that way.
---
- 11am NOAA/NCH Update
By R Petrillo M Puceta <mikenrenee at live.com>
Date: Thu, 27 Aug 2015 15:29:54 +0000
The latest NHC/NOAA update still describes an organized Erika with sustained winds of 50mph. Gusts appear to be up to 65mph (according to Accuweather). The rest is the same.
Dominica really took a hit (and still looks like it's getting rain). There's been massive flooding and unsubstantiated reports of a few deaths, collapsed buildings, and land-based oil containers floating away. The capital's river has overflowed its banks. It's really heartbreaking.
The storm is still heading west, but is still expected to make a northerly turn later today. The most current Wondermap info states that the storm is expected near the BVIs at 8pm tonight. Interestingly, the latest coordinates have it going 75 miles south of us. Considering the storm has a 105-mile reach, we'd still get something, but who knows what. So we keep watching.
Renee P.
---
- Flooding
By R Petrillo M Puceta <mikenrenee at live.com>
Date: Thu, 27 Aug 2015 12:03:17 +0000
It occurred to me that the satellite picture looks really scary, but when you see it from just the radar view, it doesn't look like there's a lot of thunderstorm activity (which would be red or orange). That light green or blue, depending on the radar, is likely just cloud cover. The rest (yellow/white), rain.
Let's hope that doesn't happen to anyone else. The latest (8am) NHC/NOAA report didn't change from the 5am one (see earlier post).
Renee P.
---
- Creeping Closer
By R Petrillo M Puceta <mikenrenee at live.com>
Date: Thu, 27 Aug 2015 10:32:55 +0000
After midnight, we started getting short, but intense squalls occasionally. In between though, there was nothing but bright moon and calm seas. Inexplicably, we did lose power several times overnight, but never when it was actually raining.
As of 5am, its seems Erika has gotten a little stronger, with 50mph winds and higher gusts. She also pulled herself together and is not quite the mess she became yesterday. Amazingly, winds still extend the same 105 miles across. Talk about consistency.
The poor Leewards are getting walloped now. The system has gone more south than expected, and Dominica is posting that despite not being included in any warnings or watches, they are experiencing negative effects from this storm.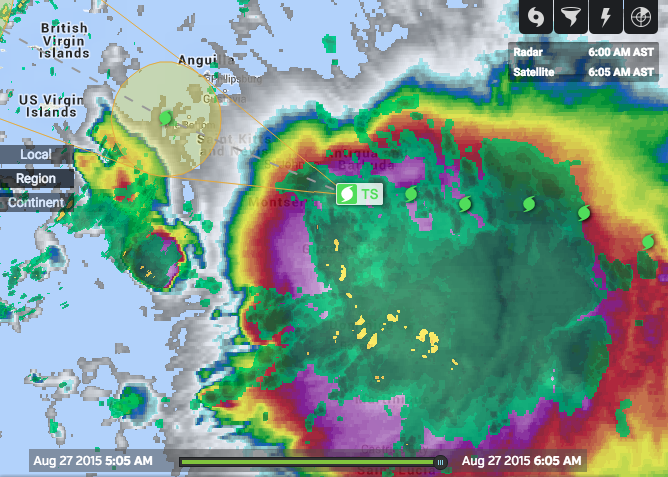 There are a few whitecaps and swells out on the west side of the island and a few puffy clouds, but it's not much different than yesterday yet. Erika's not far from the USVI though, so be careful out there.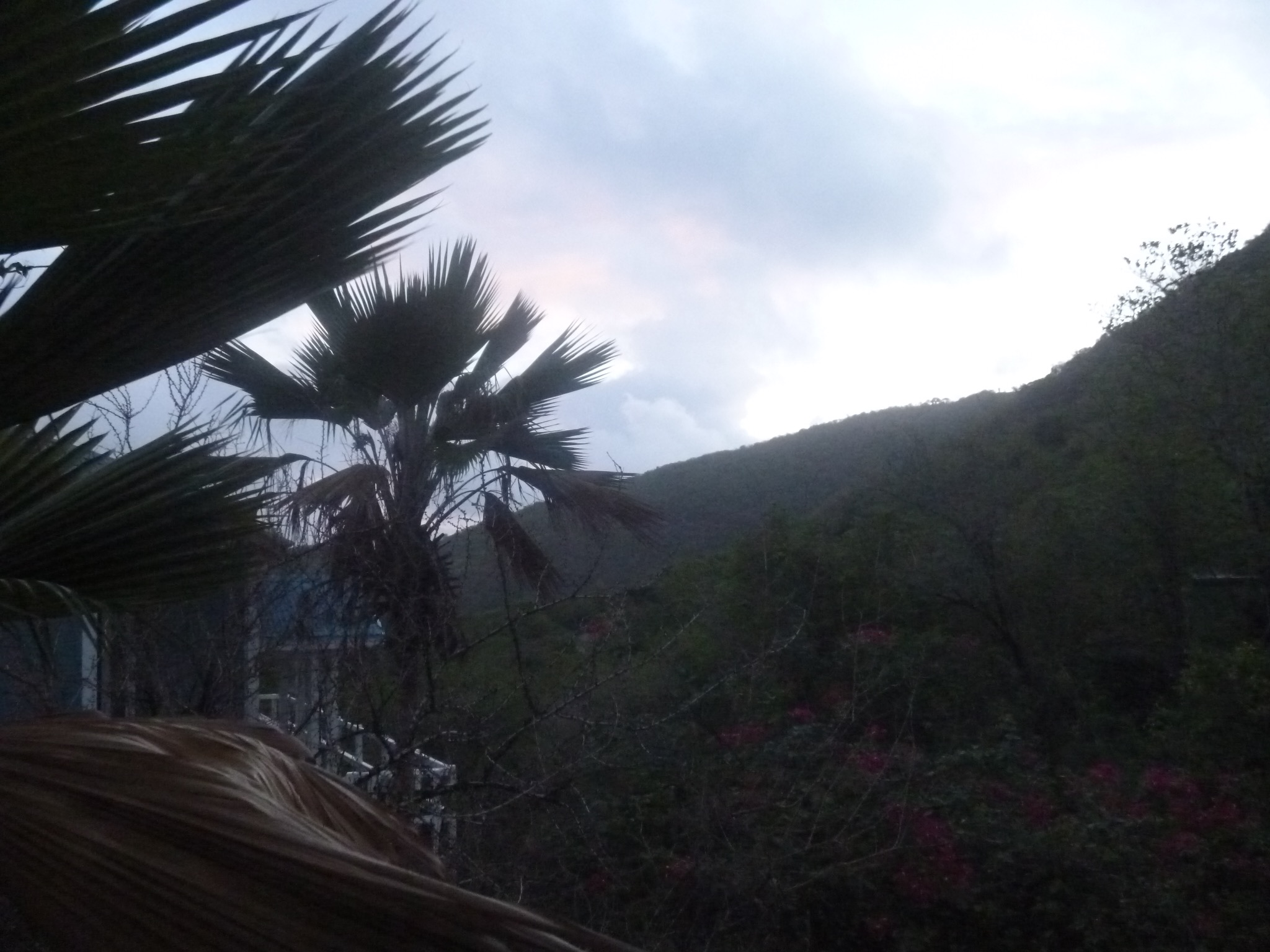 Here, that means we have time to finish prepping. We're probably looking at TS conditions by 11am. Remember, the utilities are going to cut power and water if winds reach 45 to 55mph. Charge things up and then unplug them, fill sinks and other receptacles with water, secure things that could become flying debris. See the full listing on hurricane preparation in prior post about TS Danny. This may go south of us, but it's likely we'll still get weather from the outer bands.
All ports and airports are closed.
Renee P.
---
- Final update for the night
By R Petrillo M Puceta <mikenrenee at live.com>
Date: Thu, 27 Aug 2015 00:14:33 +0000
As of 5pm, it was still beautiful out.
Mountain Trunk Beach
Per NHC's/NOAA's 8pm report, t
he storm is still messy and disorganized. Maximum sustained winds are still at 45mph with higher gusts. Winds are still being felt 105 miles out. "These winds are confined to heavy squalls to the southeast of the center. Little change in strength or perhaps some slight weakening could occur during the next 48 hours."
I'm seeing people posting about the "eye of the storm" passing over. There is no eye. There is a center, and even that is disintegrating at the moment. The winds are not likely to cause problems unless there's a big, unexpected surprise. Surprises happen, which is why we're still watching carefully, but it's not likely.
What is concerning is the rainfall:
"Erika is expected to produce total rain accumulations of 3 to 5 inches with maximum amounts of 8 inches across portions of the Leeward Islands, the Virgin Islands, Puerto Rico, and the Dominican Republic through Friday."
The BVIAA Airports Authority has issued the following advisory regarding the closure of its three airports: Wednesday 26th August 2015
Virgin Gorda (Taddy Bay) Airport – Closed
Anegada (Auguste George) Airport –Closed
Beef Island (Terrance B. Lettsome International) Airport – To Be Closed at 8:00 p.m.
The airports will remain closed on Thursday, 27 August and re-open on Friday, 28 August at 10:00 a.m., following a satisfactory outcome of the inspection of each facility.
**********
We'll see where this is in the morning. If you want to keep tracking later, the next NOAA report is at 11pm:
http://www.nhc.noaa.gov/
.
Stay safe, everyone. Renee P.
---
- Latest closings
By R Petrillo M Puceta <mikenrenee at live.com>
Date: Wed, 26 Aug 2015 21:16:33 +0000
Ok, so the latest is that the Government of the VI made the announcement earlier that all nonessential offices were to prepare their workplaces and then not report for work tomorrow.
All national parks will also be closing.
********************************
The St. Thomas airport is reportedly closing at 9am on Thursday morning. The USVI ports might go ZULU at midnight, which means whoever is out stays out and whoever's in stays in. If that happens, it's likely the BVI ports will follow suit.
The BVI Airports Authority (BVIAA) advises the closure of its various airports in accordance with the following schedule for
Wednesday 26th August 2015:
Virgin Gorda (Taddy Bay) Airport at 4:00pm AST
Anegada (Auguste George) Airport -
Sunset
Beef Island (Terrance B. Lettsome International) Airport - To Be Determined
For more information on airport closures in the BVI please contact the BVIAA Operations Department at 852-9033
**************
As of the 5pm NHC report, winds are still at 45mph, gusting to maybe 55mph. Erika is still 105 wide, although she looks like a big, sloppy mess on the radar. Rain is expected Thursday morning, but the closest point (wherever that in this mish mash) is still expected around 2pm.
I'd make sure my boat's protected from ESE winds when they shift from their current ENE direction. I'd be prepared for any flooding, and be ready for utility outages.
I guess we'll see what happens once Erika hits land. Good luck Leewards, and here's to some rain without the drama.
Renee P.
---
- BVI DDM activation of the National Emergency Operations Centre at Level 2
By R Petrillo M Puceta <mikenrenee at live.com>
Date: Wed, 26 Aug 2015 18:39:04 +0000
Just letting you know that after the NHC's latest report (2pm) showing winds slightly increasing from maximum sustained winds of 40mph to 45mph (with little change in strength forecasted), the Department of Disaster Management issued the latest statement:
---
- Cancelations
By R Petrillo M Puceta <mikenrenee at live.com>
Date: Wed, 26 Aug 2015 15:43:55 +0000
I wasn't planning on updating until the 8pm NOAA check, especially since the 11am report didn't say much different than the last few. The storm is the same size (105 miles), with the same winds (40mph). There's still no eye. She looks scary though.
Sea heights have been predicted by several sources to be 6 to 8 feet high with loooong, 10 second intervals - which makes things swelly but not impassible.
So why am I posting? Local ferries are canceling afternoon/evening trips, and some have already canceled for tomorrow. The USVI ports are closing at 6pm through Thursday. If you were planning to travel, I hope you're where you were supposed to be. If you take a ferry, including work ferries, you just may have the day off Thursday. Considering there could still be flooding from heavy rains, this is probably a good idea anyway.
Until tonight, Renee P.
---
- TS Erika
By R Petrillo M Puceta <mikenrenee at live.com>
Date: Wed, 26 Aug 2015 10:57:07 +0000
Well, Erika's winds are still around 40mph, with gusts to about 50mph, which is what it's been for about 2 days now. The storm has gotten a bit bigger, at about 105 miles around.
The BVIs are under a tropical storm warning, meaning that tropical storm conditions are expected somewhere within the warning area within 36 hours. According to Weather Underground's graphic, we're expected to see winds ranging from 49mph, gusting to 65mph on Thursday at 2pm.
Rain totals expected are between 2 and 4 inches. The storm has slowed down, thanks to all the wind shear, and as Dave pointed out, the trough to the north can still come into play in the next few hours and whisk the storm north of us, so Erika is still not a sure thing.
Airlines are canceling flights and the ferries might be adjusting their schedules, so if you're traveling, take note. If the storm does come over with currently predicted gusts, be prepared for utility outages since: "
when wind gusts reaches from 45 mph to 55 mph, the power supply is discontinued. Once this happens, water production on all major islands would be discontinued as well."
Stay tuned. Renee P.
---
- Refreshing Remnants
By R Petrillo M Puceta <mikenrenee at live.com>
Date: Tue, 25 Aug 2015 15:29:08 +0000
Here in Virgin Gorda, winds started picking up Monday afternoon, seas came up as evening set in, and by nightfall, we were starting to see lightning in the distance. After 11pm, the rain started. It was heavy at times, but not enough to cause flooding. Although we had lots of lightning, the thunder was far off, so those closest to the storm were probably Tortola and the USVIs.
That's Tortola getting soaked.
T
uesday morning brought dramatic clouds and a nice, refreshing breeze. It also brought news that TS Erika now had a current trajectory right for us, predicted to cross over around 8pm on Thursday.
The good news is that the storm's got the same wind shear and dry air to go through as Danny did. There's also the possibility that a low pressure trough from the north could turn Erika north and away from us (although this could be bad for the Bahamas and U.S. East Coast). The bad news is that the storm could miss the trough and is passing over warmer waters, so could pick up some steam if not deterred by the other factors.
None of the hurricane tracking models can agree on what's happening (unlike all of them perfectly capturing what Danny did), so we'll just have to keep watching.
Want to prepare? Here are some tips:
PREPARING FOR A HURRICANE
Have cash on hand in small denominations.

Charge up all your stuff.

Fill your vehicle gas tank & keep your car keys handy.

Make sure propane tanks are full, but turn off tanks during the storm.

Buy a small charcoal grill with charcoal & a lighter/lighter fluid.

Take out the trash while trucks are still running.

Study up on the nearest shelter/evacuation route.

Do laundry while you can. You can use ammonia & water in buckets to do laundry should a lack of water/electricity be a long-term issue, so consider filling buckets with rain water for that purpose (and keep a little ammonia or bleach in them to keep mosquitoes from breeding in them).

Fill any medical prescriptions.

Have insect spray/lotion on hand; it'll get seriously buggy once the storm passes.

Make sure you have things other than your cellphone to light the way if you need it – flashlights (and batteries), key chain LEDs, candles (and matches).

Secure or remove all items outside your home (grill, hanging plants, potted plants, etc.).

Trim the trees and shrubs around your home. Look for sketchy electrical lines while you're at it.

Clear loose and clogged downspouts and rain gutters.

Board up windows.

Store all important documents (passport, birth certificates, etc.) in a waterproof container and in a secure location (or near your evacuation pile).

Consider packing a small bag with a few change of clothes & must-have items, and keep near the evacuation route. Have sturdier shoes than flip flops available should you have to walk over debris.

Fill the bathtub and other large containers with water for sanitary purposes (cleaning, flushing toilets, etc.)

Turn the refrigerator and freezer to their coldest settings and keep their doors closed.

Unplug most appliances until the power's back on.

Make/store extra ice.

Get lots of bottled drinking water (plenty for drinking, food prep, pets, brushing teeth, sanitation, etc.).

Buy hand wipes and/or hand sanitizer.

Have canned goods w/ can opener on hand, peanut butter & bread, fruits/veggies, cereal w/ soy/almond/cashew/powdered milk, nuts, snacks, energy bars, etc.

Have a first aid kit.

Have plenty of towels & maybe tarp/plastic & duct tape/scissors in case of window/door leaks (they will happen).

Got animals? Make sure they have plenty of dry food. Keep their carrier near by in case you need to evacuate. Make sure you have some food & litter near the carrier so you can grab that when you leave too.

Got kids? Make sure you have baby food, formula, wipes, diapers, games.
It would be good to have a fire extinguisher, a battery powered radio, and a few good paper-copy books on hand too.
(formerly posting for St. Kitts & Key West. Now living on Virgin Gorda.
---
- Hurricane Danny
From: DearMissMermaid at aol.com
Date: Fri, 21 Aug 2015 12:56:04 -0400
Yikes, here come hurricane Danny, the first named hurricane of the Atlantic tropical season.
And we thought the island could and would go by unscathed this year. No matter, it's time to make a run on the rum. Nobody wants to go through a hurricane sober!
And while you're out buying that rum... might want to toss in some basic supplies like food, candles, batteries, trash bags (to cover up items you would like to keep dry!).
Ana, Bill and Claudette which preceded Danny never made it to hurricane status.
It's anyone guess where hurricane Danny could go next. Either way, he's likely to leave behind at the very least, drenching rains, at the very worst, powerful winds and the damages caused by same.
Cash... don't forget to stash some cash. Should you wind up being hit by a hurricane with devastating damages like power out, roads blocked, roofs blown away,in the aftermath, cash is king. Checks, debit cards and credit cards often prove useless as supplies are limited, the businesses that manage to open often don't have access to banking, prices change and cash becomes the only commodity.
I know... I've been through the aftermath of several hurricanes, both with cash in hand and without cash in hand but cash in the bank I couldn't touch or access. The banks were closed, the ATM's were down. It was maddening. Shopkeepers that knew me well, that had taken my checks and credit or debit cards in the past, simply refused. They had limited food or supplies to sell and it was going to go to those that could fork out plain old fashioned cash.
Watch Hurricane Danny carefully... he could be visiting his wrath soon.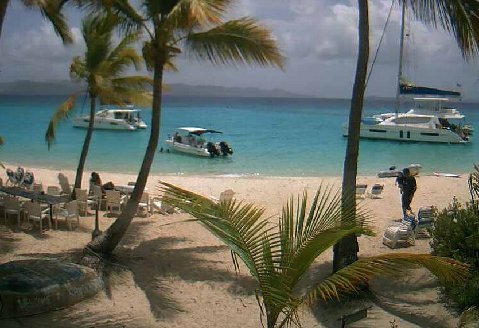 The calm before the storm...
Warm and Stormy Regards,
Dear Miss Mermaid
---
- No Storms!
From: DearMissMermaid at aol.com
Date: Thu, 2 Jul 2015 09:59:02 -0400
We are thrilled to report no storms on the horizon.
Dear Miss Mermaid is currently on walkabout, frolicking off the coast of North Carolina where an astonishing 7 shark attacks have occurred in the last 3 weeks. All the victims have survived.
If you are out swimming where there is active fishing, beware, the sharks are lured in by the fishing too.
Not to scare anyone, but a good article about the North Carolina shark attacks is here:
Oh fun note:
My friend John Smith has spent many happy sailing days in and around the Virgin Islands. His recent comment and picture gave me quite the giggle. Enjoy!
Warm and Sunny Regards,
Dear Miss Mermaid
---
- Tropical Storm Ana
From: DearMissMermaid at aol.com
Date: Sat, 9 May 2015 19:21:10 -0400
Ana originally formed as a subtropical storm off the coast of the Carolinas late Thursday night.

Early Saturday morning, the National Hurricane Center said that Ana had made a complete transition from a subtropical storm to a full tropical storm. This was based on the fact that shower and thunderstorm activity was more collocated with the center of circulation, which is a characteristic of tropical storms.
So here I am, Dear Miss Mermaid, in the Sea Islands off the coast of South Carolina, minding my own business in May and we have the first named tropical storm Ana bearing down this way.
Who'd a thunk it?
Hurricane season doesn't even start until June 1st. But here come Ana, like a good ole southerner, not only prompt for the event, but early. Waaaaaay early. The belle of the ball and we haven't even set up the band yet.
Let's hope she has no where to go and leaves us alone. I am supposed to travel again tomorrow. But my motorhome betrayed me a day early and announced her poop tank was full to the brim. I had to break camp to go to the dump station.
Oh the joys of camping.
My stomach is not cooperating with me. It's pitching a big fit just like it used to do when hurricanes breathed down on me in the Caribbean. I wonder if it is psychosomatic. I used to endure hurricanes ashore while my self-insured sailboat rode out the hurricane on her lonesome; typically attached to six anchors with numerous layers of chafing gear around the anchor rodes in hopes the choppy waves and winds wouldn't bust her free. My stomach would do awful things because typically where I took refuge ashore was no where near where I could watch my precious sailboat bob helplessly upon the seas.
Amazingly my boat survived every time, though there were always some damages to endure, with repairs to be made afterwards.
A little old motorhome is no place to be during a hurricane, but since it drives 60 miles per hour and hurricanes typically travel at 5-15 miles per hour, theoretically I could outrun Ana.
Perhaps the Ohio valley would look good about right now.
Warm and Sunny Regards,
Dear Miss Mermaid
---