- - - 2011 Hurricane Season - - -
- How many People Does it Take to Pick a Panna (Breadfruit)?
By "Kate Cole" <reservations at elquenepovieques.com>
Date: Sat, 21 Apr 2012 18:10:00 -0400
Quite a funny sight tonight… Pedro, our back waiter, was two stories high up in the breadfruit tree calling for help. I heard him in the office and ran out on the upstairs porch to investigate. "Are you ok?" I yell. Pedro smiles his great big smile and says "Oh yes, todo bien. But I can't see the breadfruit that the chef needs for dinner tonight. Can you see it?". I look and look to no avail. Then the waitstaff and the kitchen staff come running to assist. We spot our little green cannonball of a fruit. The directions start come from all directions in English and Spanish as Pedro tries to angle the pole. He is so good natured balanced there barefoot in his kitchen apron as the conflicted cries of "Left, Izquierda, Up, Atras, Down" fill the backyard. He finally locates the breadfruit Behind him the sky is turning golden and all of the little faces looking up at him are reflecting the beautiful, late afternoon light. With a big grin Pedro has success with the hook and the breadfruit fell to the ground with a thud. Looks like we are having Tostones de Panna tonight. So how many folks made up this happy, laughing, breadfruit picking party? The chef, the salad girl, two waitresses and the front of the house manager. All for one breadfruit on a spectacular Saturday afternoon.
It is starting to warm up here. Not too hot but it is a promise of what is to come in September. But the nights are still cool. The breeze continues and we are winding our way to the real off-season. Now we will all slow down the pace and return to island time. And we can take the time to laugh together as we pick breadfruit for dinner.
K
---
- Starry Night
By "Kate Cole" <reservations at elquenepovieques.com>
Date: Sat, 17 Mar 2012 02:14:31 -0400
It is a beautiful night here in La Isla Nena. The stars are sparkling against the ink black sky. The evening hours no longer have a chill. The leaves are not fluttering and seed pods are not clacking in the breeze. La Nasa has shuttered its doors after a lively Friday night. The pastellio cart across the street is playing a sweet Salsa. All of the little blinking boat lights from the horizon are headed home across the calm bay. They are lining up at the Fisherman's Pier to offload the nights catch of Coli Rubia. It is sweet, peaceful and makes me remember my first nights of giddiness when we moved here. Good night all or good morning to all that missed this perfect evening.
K
---
- Well Hello There!
By "Kate Cole" <reservations at elquenepovieques.com>
Date: Wed, 7 Mar 2012 14:37:09 -0400
It's been a long time without a report. Thanks to those of you who have visited us here in Vieques and had faith that I would pop back on sooner or later. Here I am!
Right now it is raining and windy. This seems to be the pattern for today. The winds are strong with guests at 19 mph from the East. Must be whitecap heaven in Sun Bay. The official temperature is 80 degrees but I have to say, humph! Started the day in a tank top and skirt and am now currently huddled in jeans and a long sleeve hoodie. I think it is a little cooler than 80 degrees if I am considering socks. But the rain squalls are welcome for the garden. The plants are sucking up the water.
Speaking of the garden… After Hurricane Irene I lamented the loss of shade. Oh, I should have just gone with the flow. Mother Nature knew what the plants needed. The garden is in love with the new sunlight and is repaying me with blooms. Gingers, heliconias, begonias, and orchids are all putting on a show. One of the girls from the restaurant walked through the garden the other day and compared it to Alice in Wonderland. Everything is big, bright, and bold!
But there is a battle ensuing on the upstairs garden terrace. The baby iguanas have hatched. At first they were cute little emerald green streaks darting around. They were also very shy. Now one of the youngsters has "matured" into a 1-6" long adolescent. I spotted him the other day climbing the Quenepo tree oblivious to the strong winds that we tossing the tree to and fro. He was obviously oblivious to my shouted threats that he needed to move to a new tree. Even a quick squirt with the hose didn't do anything. Two days ago 6 of my orchids started their show. Blooms were opening in a rainbow of colors. I was delighted. Hubby and I ooohhhed and ahhhhed. Finally after a whole year they were blooming! Yesterday morning I went out to admire the little lovelies. I looked in disbelief. No flowers and one fat happy iguana sitting high up in the tree. The little monster ate my orchids. So I told him a couple of cold, hard facts:
1. The State of Puerto Rico has decided that these non-native guys are a nuisance.
2. They are allowing us to hunt iguanas and export the meat.
3. And a free range, orchid fattened iguana would be delicacy somewhere in this world.
4. In the future I will be armed with my pea shooter. You will be knocked from the tree and placed in a box for exportation. (Even if that only means to Green Beach).
He just looked at me. I really don't think he is scared.
K
---
- It has been a while!
By "Kate Cole" <reservations at elquenepovieques.com>
Date: Thu, 22 Dec 2011 11:38:16 -0400
Hello all!
Happy Early Holidays to everyone. It has been a long time since my last update. We had major satellite connectivity problems (meaning no internet) but at last we are back up and running. Currently we have a gray sky and strong winds from the North. This has been the weather pattern for the last couple of days. Those of us that live here are pulling out the jeans and anything that has sleeves. We are cold! Our visitors are laughing at us as we shiver at the thought of 68 degrees. But it is still spectacular here this holiday season. The decorations in the plaza are beautiful and wouldn't be the holidays without La Nasa playing salsa Christmas Hits.
So we are looking for the sun which should arrive back any day now and waiting on Santa. Vieques is his last stop. He always enjoys a cold Medalla with Rudolph on Blue Beach.
K
---
- What a difference a day makes
By Strictly SCUBA <store at strictlyscuba.com>
Date: Wed, 9 Nov 2011 14:44:35 -0800

Yesterday we told you about the epic day of diving off Esperanza.

Well today is a complete different story.  We had a SCUBA boat booked for the afternoon but the rain came in.  In fact so hard we might have been able to do our PADI confined water work in the Driveway.

So a day catching up inside.  Heck, it's Vieques, if you don't like the weather wait an hour.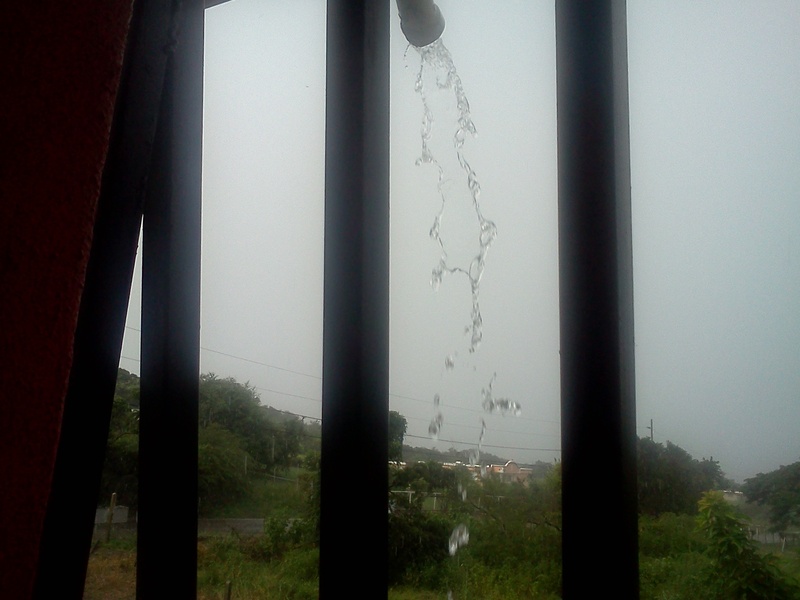 --

Nan-Sea SCUBA and Snorkeling Charters
PADI Dive Boat
Vieques, Puerto Rico
787.435.9853

www.nanseacharters.com

Join us on Facebook. 
http://www.facebook.com/scubadivingvieques



---
- Epic day on the water
By Strictly SCUBA <store at strictlyscuba.com>
Date: Tue, 8 Nov 2011 20:07:26 -0800

I'm not sure how many days we get like this here on Vieques, but today was epic.

We had a morning SCUBA Diving boat this morning and the conditions were awesome.  The water off Esperanza was truly flat as glass and the weather was warm.

Both dives were amazing with 80 plus foot visibility and on the 2nd dive one big Moray eel.

Water temp at 84 degrees.  Perfect day here on Vieques.



--
Nan-Sea SCUBA and Snorkeling Charters
PADI Dive Boat
Vieques, Puerto Rico
787.435.9853

www.nanseacharters.com

Join us on Facebook. 
http://www.facebook.com/scubadivingvieques



---
- Hello there
By "Kate Cole" <reservations at elquenepovieques.com>
Date: Wed, 2 Nov 2011 10:15:50 -0400
Back on our little Isla Nena after our travels. We headed to Guatemala and encountered heavy rains. The rivers were flooding so it out a damper on our trek to El Mirador. We never did make it to the big pyramid. We will have to go back and try again. Loved this country and the Peten province. Then off to Belize where we ran into to Hurricane Rina. No big deal only heavy swells and low visibility while diving. It was a great vacation but it made us appreciate home. It is really beautiful here. And we truly do have fabulous beaches. The best part of Vieques is the lack of big development. No condos, no McMansions built on top of bulldozed mangroves, no crazy developers.
Humidity is down, temperatures cooler and the sea is a perfect blue. Looks like rain today and tomorrow. That will make the weeds grow again. UGH! But we are glad to be home!
K
---
- Hmmm...
By "Kate Cole" <reservations at elquenepovieques.com>
Date: Tue, 20 Sep 2011 12:19:48 -0400
Looks like we might see Ophelia soon. Now we get to wait and watch. We seem to do a lot of waiting and watching this time of year. I guess that is considered a virtue in the Caribbean, waiting. Hopefully won't have to move the plants again. 3 times in one season seems a bit excessive but I am always happy to be safe than sorry.
We have experienced lots of rain, lightning and thunder over the past couple of days. The garden is happy for the rain and I always like a thunder and lightening show. No rain on the radar at the moment. I'll take it. Bacon is frying on the stove and I think I will make cookies for the hubby's birthday. Homemade Chocolate Chip. I see a stomach ache coming from over indulgence. But they are so good when they are hot out of the oven…
K
---
- Is she really leaving?
By "Kate Cole" <reservations at elquenepovieques.com>
Date: Tue, 13 Sep 2011 10:48:29 -0400
At least it seems as if Maria is leaving. She reminds me of a really bad houseguest. We had strong winds yesterday but not much rain. Just enough to rinse away some salt. The winds have totally rearranged the garden on the upstairs patio. I get to clean it up again. UGH!
However the lightening and thunder show was spectacular last night. Esperanza Bay has been really rough since Sunday. With the multiple bolts of lightening breaking up the nighttime sky it was fun to watch. All of a sudden we would go from black to a perfect view of the bay with its steel green waves rolling in. Now the bay has calmed down a bit, still that weird shade of green fading to deep blue in the deeper waters. I hear the waves rolling in but without the thud, thud, thud of them hitting the pier and the shore. Hang in there main island. Looks like you have all of the rain today! Off to take advantage of the lack of wind to clean up the leaves. Think I will leave the plants where they are until this lady finally, really goes North. It is cloudy in Vieques and cool. Might be a day to start the ironing…
K
---
- Windy...
By "Kate Cole" <reservations at elquenepovieques.com>
Date: Sun, 11 Sep 2011 23:36:33 -0400
Finally put all of the plants back out on the porch and the wind started right after we finished. We have had more of Maria since noon today than when she came a calling initially. We had a nice shower this evening but had to shut the windows due to the wind blowing it in the shutters. I just ran out side to rearrange the plants. Hopefully we don't have too much salt flying through the air. Thump, thump I think another one just fell over. Off to investigate…
K
---
- Squashed Question Mark...
By "Kate Cole" <reservations at elquenepovieques.com>
Date: Sat, 10 Sep 2011 12:04:35 -0400
That is the description Dr. Master's wrote about Maria. Thank goodness and let's hear it for wind shear. We could use a bit of rain in Vieques. Maybe we will see a little. Off to move the plants back outside.
K
---
- Update
By "Kate Cole" <reservations at elquenepovieques.com>
Date: Fri, 9 Sep 2011 21:07:04 -0400
Things are looking up here in Vieques. Yes, we will get rain and a bit o' wind. Unfortunately it looks like the COC will slide over Tortola at the closest pass. That is still up for debate as these things never seem to follow the spaghetti lines. Hang in there y'all. Everyone here thinks this is going to be ok and a rain event. Hopefully not too much rain as the Puerto Real bridge is only topped by dirt at this moment (but it is a vast improvement over the pot holes). And we are a bit wet. Tomorrow the lady will show us what she has. So batten it down. She may just be a TS. But why would you risk it? Mother nature is a fickle lady that likes to teach us lessons the hard way.
K
---
- Maria
By "Kate Cole" <reservations at elquenepovieques.com>
Date: Fri, 9 Sep 2011 10:17:33 -0400
Off to move the plants. That is code word for batten down the hatches.
More later,
K
---
- Hot, hot, hot
By "Kate Cole" <reservations at elquenepovieques.com>
Date: Wed, 7 Sep 2011 10:06:36 -0400
It is really hot down here. We have received almost no rain and little or no wind since Irene. The lack of cloud cover and the lack of leaves (or in some cases the absence of whole trees) makes it even hotter. Yesterday the wind was blowing in from the south west. At last a quick rain storm blew in. It was so wonderful! Not only did I feel a cool breeze and the splash of rain drops but I also didn't have to squint against the glare of the sun. Heaven for 20 minutes.
Looks like storms tonight. We can use the rain. The "shade" garden is frying in the sun due to the lack of trees. I am losing some of the poor souls. I decided that this is Mother Nature correcting the gardener (me) that dared to defy her. I planted Yunque shade plants on the coastline of Vieques. She decided to clean house and show me that she is wiser in plant placement. Now, however, she is deciding to take pity on me. It looks like spring in the States around here. Bright green leaves are popping out on the trees, the banana trees are making a spectacular comeback, and the birds have nested in their rebuilt nests. We are turning green again.
Now the fickle lady might have another trick up her sleeve- TD 14. Might become a TS tonight but maybe not. Looks like Irene Part II. We just have to wait and watch. My sister says that we should play the song from The Sound of Music (queue music) - "How do you solve a problem like Maria?"… I said solve the problem by moving the plants again and icing down the wine/ Medalla. I shouldn't joke. Keep an eye on this one. Could go north or could come for a visit. But as the Hubby says… "The power lines are already cleared from the Irene". That is good news at least.
More later,
K
---
- Photos 2 of 2
By "Kate Cole" <reservations at elquenepovieques.com>
Date: Fri, 26 Aug 2011 14:26:56 -0400
---
- Photos 1 of 2
By "Kate Cole" <reservations at elquenepovieques.com>
Date: Fri, 26 Aug 2011 14:22:11 -0400
---
- At last...
By "Kate Cole" <reservations at elquenepovieques.com>
Date: Fri, 26 Aug 2011 13:59:37 -0400
Greeting from the Isla Nena,
Things are getting better here. We just got our power back this morning! Yippppppppeeeeeeeee! That was huge as the nights are really, really hot. I think that tonight when the sun sets and we can turn on the lights it may demand a little bubbly.
So to recap what happened here….
Sunday:
10:30 AM- Wake to read that we are under a hurricane warning. Look at it in disbelief. Consult with hubby. Close the restaurant for the night and spring into action.
All day: We moved all the plants and straightened up to prepare for our tropical storm. A couple of rain squalls delay us. Finally finish.
6:00 PM- They cut the power.
8:00 PM- Last outing for the dogs. Wind was blowing from the North to the South. Trees were under stress but everything was hanging on. In the guest bedrooms the potted plants were safe. Included in the rescue effort were crickets and Coqui frogs. The sound was so soothing and the scent of ginger floated through the air.
9:00 PM- THUMP! The first tree came down on the upstairs porch. The wind and rain was too much to truly investigate.
10:00 PM- Sounds of thump, thump and pop pop. Had no idea what that was. Peek outside the doors. Trees really stressed now.
11:00 PM- We heard the sound of unsecured sheet metal flying through the air. That is a terrible thing to hear.
12:00 AM- Winds had switched direction. The sound of falling trees and cracking limbs was almost constant. Tried to peek out the front door but too much debris was flying for it to be safe. Peeked on my cell phone internet for the last time and watched Irene circling right over us.
1:00 AM- One more peek out the door. It was so dark but I used the spotlight. Parts of trees were missing. I knew we had a mess to clean up.
2:00 AM- Finally dozed off
Monday-
6:00 AM- Hubby opened the windows to a strong breeze and falling rain. He advised me not to get up. I did anyway.
6:10 AM- Outside, blinking my eyes trying to figure out what I was seeing. Tree on the upstairs porch. Trees down all along the west side of the building. I could suddenly see houses I have never seen before. Trees down across the street from the restaurant.
6:15 AM- Walked the dogs into the back garden. Lost a 30 ft high breadfruit tree, all the bananas (of course), the Almond tree, another Quenepo and major limbs are everywhere. Trees fell over the fence from the mangrove. A large tree from my neighbors yard fell over the fence. The garden is wiped out. Cannot even figure out what I am seeing. The water from the mangrove was up in the back yard. Blinking, blinking and blinking some more I wander back inside for coffee. Rain continues.
6:30 AM- A friend stops by for coffee. We drove around Esperanza and checked out his yard. Mass devastation at his house. Fisherman's pier is gone and a boat is on the rocks in front of Duffy's.
10:00 AM- Grab the broom and start cleaning.
6:00 PM- Water is out. The generators are running and we turn on the cistern pump. Generators are dedicated to all of the food in the restaurant. No power in the house.
Tuesday-Wednesday-
Irene's tail hung over us and that kept the heat down to moderate levels but dumped unwanted rain on main island. Sleep is not happening and the physical labor of cutting and hauling unrelenting. The sound of generators, chainsaws and machetes fill the air. Everybody is working together to clean this up. Decide that the restaurant is closed for the season. A very difficult decision that we did not want to make.
Thursday-
Sun is out and most of the island has power restored. We still didn't have power. Must be the transformer in front of the restaurant. Hotter than blue blazes. Sleep impossible. Mozzies are trying to carry me away. No energy. Duffy's opens and I headed down for a cold Medalla.
Friday-
Power truck arrives. The ceiling fans kick on. I am amazed at the luxury of moving air. Now I am watching as Irene terrorizes my friends in North Carolina and Virginia. Irene is no lady.
We are fine. The island is a little messy. Piles of vegetation line the streets. But the rumors of another water shut off have not materialized. I just heard an ice cube drop in the ice machine, the light shines on my desk and the fan is whirring above me. Life is starting to return to normal levels. The best part is tonight I might really get some sleep! Be safe NC and VA. We are thinking of you!
K
---
- Goodbye Irene
By Strictly SCUBA <store at strictlyscuba.com>
Date: Mon, 22 Aug 2011 13:46:25 -0700
Using the last bit of power to make a quick post.

We took a good hit here in Vieques with Irene.  In fact our landlord said it seemed worst than Hugo.

Lot's of trees down, No power, No Water, roaming data now.  The ferry is not running.

The small Esperanza pier we use for our SCUBA charter has about half the boards missing and the bay out there looks like mud.

A sailboat that was behind the Cay, now has it's mast touching the Malacon, beached.

Our little boat lost our Canopy and sturdy frame..  Pulled the screws right out.  But most of the boats in the Bio Bay fared well.

It's starting to clear with just a breath of wind.

--
Nan-Sea SCUBA Charters
Esperanza, Vieques, Puerto Rico
787.435.9853
www.nanseacharters.com

Follow us on Facebook:
http://www.facebook.com/scubadivingvieques

---
- Rain Started
By Strictly SCUBA <store at strictlyscuba.com>
Date: Sun, 21 Aug 2011 10:30:03 -0700
Hello from Vieques,

It's 1:24pm and the rain has started.  Looks like with the prdicted 150 mile wind swath is starting to make it's way to us.

So far light wind with light rain.

We should have gone diving this morning.  Truley the calm before the storm.  South side Esperanza was flat.

Boat tucked up in the bay, Water Stored, Diesel cans full and now have to decided if we want to go sit in line for fuel for the truck.

--
Nan-Sea SCUBA Charters
Esperanza, Vieques, Puerto Rico
787.435.9853
www.nanseacharters.com

Follow us on Facebook:
http://www.facebook.com/scubadivingvieques

---
- Time to move the plants
By "Kate Cole" <reservations at elquenepovieques.com>
Date: Sun, 21 Aug 2011 12:19:25 -0400
Off to the huge task of moving my potted garden. Take the time to secure all loose objects and keep and eye on Irene. Wind and rain on the way.
More later,
K
---
- White Squall
By Strictly SCUBA <store at strictlyscuba.com>
Date: Fri, 19 Aug 2011 15:21:15 -0700
Hello from Vieques,

Wild weather here on our little island.  Out with a nice Family from Pennsylvania to a little snorkeling and BAM, White Squall.  Looked like a couple of Thunderheads got together and whipped up the weather.

Fun times heading to the dock.

2 dives today on Twlight and Castle.  84 degree water and viability around 80 feet.  Lionfish, Green EEl's and Ray's

Rooster

--
Nan-Sea SCUBA Charters
Esperanza, Vieques, Puerto Rico
787.435.9853
www.nanseacharters.com

Follow us on Facebook:
http://www.facebook.com/scubadivingvieques

---
- Sudden Squall
By "Kate Cole" <reservations at elquenepovieques.com>
Date: Tue, 16 Aug 2011 14:20:50 -0400
The wind has really been blowing today. I think I might have to take the artwork off the front hall wall. It is rattling and bumping. Due to the wind my large fern/ orchid plant on the upstairs balcony took a nose dive to the ground. Thank goodness Raymond was there to rescue it. It looks ok at this point. It has never blown off the porch. Right after the rescue I decided to check the radar. A narrow line of deep, heavy convection had Vieques in its sights. I leaned over the edge to let Raymond and the guys know that they might need to stop construction. Sure enough 10 minutes later the squall moved through. Now all is quiet with thunder rumbling to our South. The electricity has dimmed a couple of times but that is par for the course here. At least it hasn't gone out.
So I off to continue my vacation planning… and I am looking forward to a horseback ride with Elizabeth later this afternoon. Hopefully the weather will hold out!
K
---
- Flatter Water
By Strictly SCUBA <store at strictlyscuba.com>
Date: Thu, 11 Aug 2011 10:27:57 -0700
Hello from Vieques,

Looks like we have flatter seas the last couple of days.  Right now overcast with winds at 9kts.

Nice gentle breeze.  Does feel a bit more humid today with temp. 84.9 F and water temp at 85.3 F.

SCUBA dove the Mosquito pier yesterday great dives with turtles and a big ray.  Must be a bit of water movement as the vis was a bit lower than normal.

--
Nan-Sea SCUBA Charters
Esperanza, Vieques, Puerto Rico
787.435.9853
www.nanseacharters.com

Follow us on Facebook:
http://www.facebook.com/scubadivingvieques

---
- Lighter Winds
By Strictly SCUBA <store at strictlyscuba.com>
Date: Sun, 7 Aug 2011 12:59:36 -0700
Out SCUBA Diving at Mosquito Pier this morning.  Lighter Winds then yesterday and partly cloudy with widespread haze.

Few rain drops this afternoon, no big deal.  Feels a bit cooler right now then the  89.2 temperature reading.

Lots of Jelly fish in the water today with Visibility around 50 feet.

--
Nan-Sea SCUBA Charters
Esperanza, Vieques, Puerto Rico
787.435.9853
www.nanseacharters.com

Follow us on Facebook:
http://www.facebook.com/scubadivingvieques


---
- Hello there...
By "Kate Cole" <reservations at elquenepovieques.com>
Date: Tue, 2 Aug 2011 14:01:35 -0400
I woke up early to sunshine. What a great way to start the day. Since then we have had several showers and the breeze is picking up. We can hear the waves in Sun Bay. All looks good. Waiting for the rain. I just fertilized all the plants and they need the water.
Have a good one!
K
---
- Trying to get it together...
By "Kate Cole" <reservations at elquenepovieques.com>
Date: Mon, 1 Aug 2011 11:51:29 -0400
91L is still trying to get it together. The longer she takes to become Emily the further west she will track. That is good news for us and yet more bad news for Hispaniola. Haiti does not need lots of rain.
So I am off to prune a couple of plants and put a couple in the ground. Looks like lots of rain headed our way with high seas.
Y'all take care,
K
---
- From the National Weather Service
By "Kate Cole" <reservations at elquenepovieques.com>
Date: Sun, 31 Jul 2011 13:32:58 -0400
000
NOCA42 TJSJ 311449 CCA
PNSSJU
AMZ710-712-715-722-725-732-735-741-742-745-PRZ001>013-VIZ001-002-010700-
PUBLIC INFORMATION STATEMENT...CORRECTED
NATIONAL WEATHER SERVICE SAN JUAN PR
1044 AM AST SUN JUL 31 2011
...PERSONS IN PUERTO RICO AND THE U.S. VIRGIN ISLANDS SHOULD
CONTINUE TO STAY TUNED TO THE LATEST TROPICAL WEATHER INFORMATION...
A STRONG TROPICAL WAVE LOCATED ABOUT 650 MILES EAST OF THE LESSER
ANTILLES

 HAS CONTINUED TO BECOME BETTER ORGANIZED...BASED ON
LATEST INFORMATION FROM THE NATIONAL HURRICANE CENTER IN MIAMI...A
TROPICAL DEPRESSION COULD FORM LATER THIS AFTERNOON. THIS SYSTEM
IS MOVING TOWARD THE WEST-NORTHWEST AT 15 MPH AND HAS A HIGH
CHANCE...NEAR 100 PERCENT...OF BECOMING A TROPICAL CYCLONE DURING
THE NEXT 48 HOURS. MOST MODELS SUGGEST A FORECAST TRACK NEAR OR
OVER OUR LOCAL REGION.
TROPICAL STORM WATCHES WOULD LIKELY BE REQUIRED FOR THE U.S.
VIRGIN ISLANDS LATER TONIGHT. RESIDENTS AND VISITORS OF THE U.S.
VIRGIN

 ISLANDS AND PUERTO RICO ARE ENCOURAGED TO GO OVER THEIR
HURRICANE PLANS AND CLOSELY MONITOR THE PROGRESS OF THIS SYSTEM.
---
- Look to the East
By "Kate Cole" <reservations at elquenepovieques.com>
Date: Sat, 30 Jul 2011 02:15:55 -0400
Looks like invest 91 is coming together.  Keep an eye on this one.  Paths are very uncertain and will remain that way until it becomes a TS.  That could happen soon.
Things are great here in Vieques.  We just had another sudden downpour and the radar shows so many different little colored squalls.  The plants love it and I love the sound of rain on the roof.   I adore rainy season! 
It is the end of another holiday marathon here.  Let's see, we started July with the classic North American holiday July 4th.  Not a big one here (no fireworks) however it is a day off for most people.  Then we continued with Don Luis Muñoz Rivera's birthday on the 18th.   Followed by Constitution Day on the 25th and the grand finale… Dr. José Celso Barbosa's birthday on the 27th.  You have to love July!  Three day weekend after three day weekend.  But I have a small complaint…  All of the holidays are in July and then we have to go cold turkey.  I mean cold turkey.  Not a single holiday in August!  Now if I was a politician in PR I would run on the "We need to institute a holiday in August!" platform.  I bet I would win. 
Off to bed…
K
---
- Vieques
By "KK" <kk at playacofi.net>
Date: Sun, 3 Jul 2011 19:49:03 -0400
This is once again when we become part of the Carib community, This past wave have given us much needed rain for our tomatoes, dill, chives, green peppers, parsley and numerous other herbs.
But this is not why I am writing this.
My daughter will be getting married here on April 21, 2012 and we would like to charter a cat that they can cruise for a week that has a Capt and Chef.
We are accepting bids at kk at playacofi.net for 8 days of your time. First class provisions and wines will be provided by us.
If any of you out there can find the time please email use at the above address. Your time will only be about 5 days but we will consider traveling time.
We will also post this on Storm 2k.
K
---
- Aibontio and More...
By "Kate Cole" <reservations at elquenepovieques.com>
Date: Thu, 30 Jun 2011 12:39:54 -0400
Hello there again! Long time no post… It's not that I have forgotten about y'all. It's just that life gets busy here on the Isla Nena.
Arelene is our first storm of the season. Hopefully all she is doing is dropping rain. They are in need. Now we need to keep an eye out there and watch for the next one.
We had a huge storm on Monday. The hubby and I decided that it would be a great day to visit the Aibonito flower festival on Main Island. We woke early for the 7:00 flight to Ceiba. I decided to check the radar and see what was developing for the day. The town of Aibonito was forecast to have a high of 74 degrees. "Fabulous" I think… "Jeans, a cotton shirt and a day without heat". Then I see the 60 % chance of rain. "OK, I'll take my rain jacket. A little rain never hurt a girl". Then I saw the radar. What was that line of red heading west from St Croix? "OK, so we might get really wet". Then I look a little closer and see it traveling really quickly. "Hmmmm… Will the plane take off?"
Off to the airport… Sitting there I looked at the radar again. The red blob is closer. Then I look up as the wind starts to blow and see the wall of clouds. Uh oh! Right as it starts to drizzle they called the passengers for the Ceiba flight. We lined up and they hustled us to the plane. I mean really hustled us to the plane. For those of you in the know that is unusual. As we took our seats the pilot jumped in the plane gave us the fastest, detailed safety briefing ever, slammed his door and said "Let's go". We all looked at each other in surprise and mild alarm. It was really blowing and the rain was picking up. He accelerated it down the runway and took off. The wall of clouds was right in front of us. I kept thinking bank left hard, bank left now. And he did. Then the ride got a little wild. I lost track of how many times we bumped, plunged and shuddered in that wind. At last we landed in Ceiba. Kudos to our pilot! That ride really gave me a scare. I love tiny planes and that was definitely an adrenaline rush. I think I left fingernail imprints on the seat.
Aibontio was not only gorgeous but the cool weather actually felt cold. It didn't start raining until half way through our walk around the grounds. Attached are pictures. If you haven't been you need to go. The plants and growers are amazing. And they have so many beautiful specimens. The best way I can describe the combinations of plants is to imagine Seymour from the Little Shop of Horrors sitting in a Dr. Seuss landscape topped off by all of the magical orchids one can dream of.
Off to work and looking forward to rain on Saturday. Y'all take care.
K
PS- It stormed all day Monday and here is a photo of the lightening around 9:00 that night. We took the photo from the ferry looking out at Culebra.
Attachment: DSC05305.JPG
Description: JPEG image
Attachment: DSC05324.JPG
Description: JPEG image
Attachment: DSC05308.JPG
Description: JPEG image
Attachment: DSC05303.JPG
Description: JPEG image
Attachment: DSC05337.JPG
Description: JPEG image
---
- FW: Sunshine
By "Kate Cole" <reservations at elquenepovieques.com>
Date: Sat, 28 May 2011 14:42:54 -0400
Ah, the sun is back out and the forecast looks good for the next couple of days. All of the rain means the mozzies are out in full force. They are vicious. Really, really vicious. Yesterday we did not even have a trace of a breeze and they swarmed like mad. I think I need to buy stock in OFF. The natural bug repellent I normally use just makes them laugh and swarm even more.
The garden is in love with the wet ground. It was nice to have a break from watering all of the plants. My sister visited the island last weekend and we were able to hike, go to the beach and paddleboard. If you have not tried this adventure you need to get to it. We went on a mangrove, bay, reef, ocean tour with Vieques Paddle Boarding and it was incredible. The whole perspective of standing on the water is unreal! I watched eagle rays swim under my board, spotted starfish, glided over the sea fans, and visited parts of the island I had never visited. And I had this great experience during a huge rain storm. It was hysterical to paddle against the wind with my eyes closed against the rain. But when the weather let up, my oh my! I am in love with this water sport. We also visited the Playa Grande Ruins. It changes so quickly out there. Mother Nature is relentless in taking back what is hers. We also hiked the Fish and Wildlife road (not much left). New arroyos and washes are everywhere. We explored a couple of these new routes and it was really easy walking. We were trying to find the ruins of an old house that was out there but no luck. However it was humid!
So things are busy here on the Malecon. It is a holiday weekend after all. Tomorrow night is the Palo Viejo reggae concert at Sun Bay. The weather is looking good and I am sure a great time will be had by all!
Off to the books and swat mosquitoes,
K
PS- Wear sunscreen. The sun is so strong and we are seeing really, really bad cases of sunburn on our visitors and locals alike. Apply, re-apply, re-apply! No pollution here to provide a little protection from the rays.
---
- Rain
By "Kate Cole" <reservations at elquenepovieques.com>
Date: Mon, 16 May 2011 02:14:45 -0400
Hello there folks… We are having a bit of a break from the rain. I am so delighted to see the little pellets driving to the ground. I looked at the radar this morning and noticed a great mass of yellow, red and green headed our way form the west. Now I think "Hmmmmm… Really?" Recently they call for rain, say 70% chance, and we receive just a bit o'damp. Then they call for 40% and we receive real rain. So when I looked at the radar and saw all of the lovely colors I thought "Clouds". And to me clouds mean it is time to hike the Playa Grande "road" to Mt. Pirata. That is a hot, sun beaten path but of course I want to go when it might be a little cooler than usual. I promised the baby Labrador an adventure and we took off in the light gray clouds that covered Vieques.
We drove out of Esperanza to a couple of drops on the windshield and arrived at a dry Playa Grande. We started off at a brisk pace and made good time. After passing so many horse paths I finally decided to follow one. We ended up on the bluff overlooking the rocks that block Playa Grande from the west beaches. The waves were picking up and the Puerto Rican Navy was evacuating Vieques. I counted 6 yachts headed back to Main Island. "Hmmmmmm…" I think. Then I notice the big dark clouds but I think they will hit the Northside. We continue heading west. Now our "Road" is looking much more like a field. We, Labrador and I, were picking up every cocklebur known to Vieques. But the wind was great. No rain and the sky was starting to appear lighter. Finally we arrive at the base of Pirata. The wind is really ripping at this point but we can barely hear the waves as we are too far inland. Then I hear running water. Really folks, running water in Vieques? We followed the sound to an arroyo. Well, I decided it was a great time for a water break. The wind was really picking up but now the trees were blocking my long view of the sea. I set my dive watch and said to the Baby Labrador "20 minutes only and then we turn back". I think he nodded his approval.
So into the arroyo we climbed, jumped and scrambled. It was beautiful. 6-8ft. clusters of terrestrial orchids, really large Ghost Palms, what I call a tobacco plant hanging from the steep walls surrounding us and of course the sound of fresh water moving to the sea. Then I heard thunder. Really loud thunder and the sky darkened. Really, really, really darkened. Then it poured. The Heavens just opened. We beat a hasty retreat as I thought how stupid. You saw the radar and went into an arroyo? The retreat turned into a full out scramble, run. We made it back to the "road". Then it really started to rain. I was delighted. All of the plants we have passed have seed heads that were bursting, the wind is blowing and it is raining. This is just the moment a plant waits for! The retreat turned into a full out sprint. Driving rain and wind. Then we arrived at the car. Soaked and laughing.
We pulled into Esperanza to heavy rain. The winds were driving to the East Northeast. The waves were hammering the pier and the salt was kicking up on the Malecon. The crowd at La Nasa ignored the rain and danced on. At El Q we had half the doors closed for the night.
And right now the wind chimes are clattering, the wind is still driving east and the waves are thumping against the little pier. I hear little drips of water from the roof. I think this means perfect sleeping weather for a tired girl. Bring on the rain…. But no waterspouts or flooding please.
Have a good one!
K
---