- - - 2008 Hurricane Season - - -
- Much rain come quickly
From: "crabby" <crabbys at earthlink.net>
Date: Tue, 5 May 2009 01:46:08 -0400
An early morning mist became drenching rains throughout the day -- nice, because we need the rain; not so great for the roadways and any low-lying areas, which quickly flooded. The tennis courts in town were reported to be under several feet of water. There were trees down in a few areas, and rocks and mud along roadways. Some businesses closed early. We wore rain ponchos to work -- clothing that has not been pressed into service for quite some time. I hope the vacationing couple -- who put off their island wedding yesteday afternoon due to rain -- have at least an hour of dry weather later today in which to say, "I do". Hey, rain on your wedding day is good luck!
Here above Coral Bay, the rain gauge measured 4.5 inches for the 12 hours beginning at 6:50 a.m. Monday -- when the mist started. And rain and wind have continued throughout the evening and overnight. I can hear the gusts blowing. The forecast is for more rain right through the weekend. Just hope it comes in a more-measured form -- not the buckets that came down on Monday.
---
- Record low; great sleeping weather
From: "crabby" <crabbys at earthlink.net>
Date: Fri, 19 Dec 2008 12:22:09 -0400
The weather has been relatively clear and comfortable, with a few passing quick showers; the cooler evening temps and breezes are great for sleeping. Daytime highs have been in the low 80s. (The attached photo -- an early morning shower moves through as daylight breaks over Coral Bay, St. John.)
Yesterday morning, we set an overnight low record for us here up on the hillside in Coral Bay -- 65.1 F; this morning it was 68.1 (even that is low for this time of year). Hey, we're not complaining. The 65.1 morning felt nice and crisp!
Meanwhile, my friends in Connecticut say they are expecting 8 to 14 inches of snow. Ouch! Still hoping the Santa Claus postman arrives with my gifts for others before Christmas. I don't like to give cards with a picture of the gift inside!!
Attachment: DSCF0086.JPG
Description: JPEG image
---
- Omar leaves -- barely saying goodbye
From: "crabby" <crabbys at earthlink.net>
Date: Thu, 16 Oct 2008 10:19:51 -0400
Thank goodness for a change in direction! Omar -- building to a cat 3 at one point -- veered eastward off its projected track, just glancing St. John vs. a direct hit. The short of it is we really escaped with very little damage. We are certainly grateful and not complaining one bit. The after effects here on the eastern side of the island appear to be more in keeping with a severe rainstorm -- at least that is what we have personally seen. Regarding rain -- we did pick up another 5.7 inches in the roughly 16 hour-period the storm was around. Hope we have a chance to dry out before more rain moves in later this week!
We did lose power around 1 in the morning in our area of Coral Bay; it just came back on after 9 am. Several people in Great Cruz Bay said they never lost power, so perhaps outages closer to town were more spotty vs. as widespread as out here. Several people close to Cruz Bay said they lost tree limbs; there was flooding along some roads both in Cruz Bay and Coral Bay. To John Fuller in town -- glad you fared well. Great reporting!!
---
- Seems mostly over
From: "John Fuller" <jfuller at islands.vi>
Date: Thu, 16 Oct 2008 04:59:19 -0400
I slept pretty well, and I guess Omar went some east of us. Running on battery and dial-up. I'll check out the area when it's light, and the generator is facilitating the coffee heating. In any case, we survived, and I believe with very little damage. I hope others fared as well.
John
---
- Some wind
From: "John Fuller" <jfuller at islands.vi>
Date: Wed, 15 Oct 2008 20:01:16 -0400
In Cruz Bay, it's almost 8pm and the winds are starting up. We haven't closed up the last of the shutters yet (like to breathe) . We are waiting for things to start blowing in. So far, nothing worse than a summer thunderstorm (without the thunder). My wife keeps checking the internet and shouting "shear!" "shear!" I'm not sure that works, but I will go with anything to lessen the impact. I just hope the cable and internet keep going so I can watch the presidential debate (that fiasco should take my mind off the storm for a while.) After that, I may have to resort to drugs (sleeping pills and ear plugs seem in order tonight).
I wish the best for friends Ronnie in St Thomas and DearMissMermaid in Tortola - we are all in this together more or less.
John
---
- Rain keeps coming; not much wind yet
From: "crabby" <crabbys at earthlink.net>
Date: Wed, 15 Oct 2008 19:13:18 -0400
We received another two tenth of an inch of rain the past hour as we inch toward four inches of rain since 12:20 today.

Still, no real wind to speak of.

Because we are pretty close to the equator (18 plus latitude), we don't get the very long or very short days here. So nightfall has already come (just around 6 pm). We are under a curfew, which began at 6 pm; I was on the phone at 6:05 pm with one of our neighbors when she told me a police car drove by; we were told they would be checking to make sure people stay off the roads, for their own safety and to allow emergency personnel easier travel, if needed.

By the way, rain just started to pick up again.


---
- Wayward cat returns, drinking begins
From: "John Fuller" <jfuller at islands.vi>
Date: Wed, 15 Oct 2008 17:06:42 -0400
With a brief respite from the rain here in Cruz Bay (had 2.25" since 6:30am) the wayward cat, Motley, returned, and now with the cat door blocked, all are in for the duration. Latest report looks like Omar might be a little later than planned (maybe I'll be able to get more sleep before it wakes me up?). Friends in Bangor Maine (where they got a very rare storm warning this year) advised that it must be time to start drinking somewhere, so cocktails are officially served here. (We have done all the prep we can, and there is little else to do but ride out whatever happens). Kind of like diving to check on the anchor before raising the cocktail flag, when cruising. Let's hope everyone else in the region has arrived at the same point and we'll come through this just fine.
John
---
- Rain and more rain
From: "John Fuller" <jfuller at islands.vi>
Date: Wed, 15 Oct 2008 14:34:55 -0400
Looking out over Cruz Bay, the brown water (from runoff) has taken over the bay. All the ferry boats are nestled into the creek and all ferry service stopped last night, so we hunker down, batten down, and feel down in the gloomy rain. At least there's no wind yet. One of our resident cats has gotten caught away from home, and little does she know that the rain is not likely to ease up for her to come back, so we wait and hope to hear her plaintive meow over the drumming of the rain on the roof. So far, cable, phone and power are fine. There is a 6pm curfew for the territory, and the streets are already quiet as it seems everyone has shuttered up and is sitting inside. Waiting. Waiting. It's too early to start drinking, so I'll take one more tour around the property to see what might become a missile and try to find a safe place for it. My daughter in the states called and asked if we were staying. I wonder where she thought we could go (but then she is the geographically challenged one). Of all the places I'd want to be tonight is here at home.
I'll report more when there's a change to report
John Fuller
---
- Much rain for starters
From: "crabby" <crabbys at earthlink.net>
Date: Wed, 15 Oct 2008 14:29:06 -0400
We picked up 2.8 inches of rain within one hour -- 12:20 to 1:20 pm, and there is no end in sight (this is in Coral Bay, St. John). Power already went out once for about 15 seconds, but came back on. There has been "white out" periods of rain -- so heavy you cannot see next door.
---
- Overcast, muggy. Waiting for Omar.
From: "crabby" <crabbys at earthlink.net>
Date: Tue, 14 Oct 2008 13:53:02 -0400
If things continue with current tracking and forecasts, the center of Omar should come very, very close to St. John. Not good news for our little island -- a spot that has been seeing off and on rain since the earthquake last weekend! Sounds likes a bad movie!
The ground is very, very soggy. One of the bayonet trees shed several large branches late yesterday, after the constant rain pulled them down. We've had 2 1/2 inches of rain over the past day, and that is on top of quite a bit. Some places on the island had close to four inches on Sunday, then another inch overnight. Centerline road was flooding in some spots yesterday. Right now, things are overcast, muggy, but dry for the most part. We know that will change. All we can do is prepare and hope for the best.
---
- Shake, then soak.
From: "crabby" <crabbys at earthlink.net>
Date: Sun, 12 Oct 2008 12:47:27 -0400
We all felt the 6.1 earthquake early yesterday; at first we thought it was a young hen who has taken to roosting on our gutter. Heck. It was pretty close to the time the young bird likes to wake up and fly down to start her day. Someone said, "Must be the bionic hen!" A very bumpy ride for about 40 seconds. No earthquake damage to report here, but there have been about 30 aftershocks. Personally, we have not felt them, but others within a mile from here say they are feeling some. Guess it depends on where you are.
Today is all rain, most of the time. Some pretty impressive winds as well. And rain is forecast for the next three days in a row. The forecast is saying, "100 percent chance of rain." Never saw that before.
---
- Looking South from Turner Bay
From: Elaine Estern <stjohncoconut at earthlink.net>
Date: Wed, 3 Sep 2008 19:11:49 -0400
This is the entrance to the barge port at Enighed pond. You can see the buoy in the distance.




Sent from my iPhone
eee

---
- Looking West to St Thomas from Frank Bay
From: Elaine Estern <stjohncoconut at earthlink.net>
Date: Wed, 3 Sep 2008 18:45:51 -0400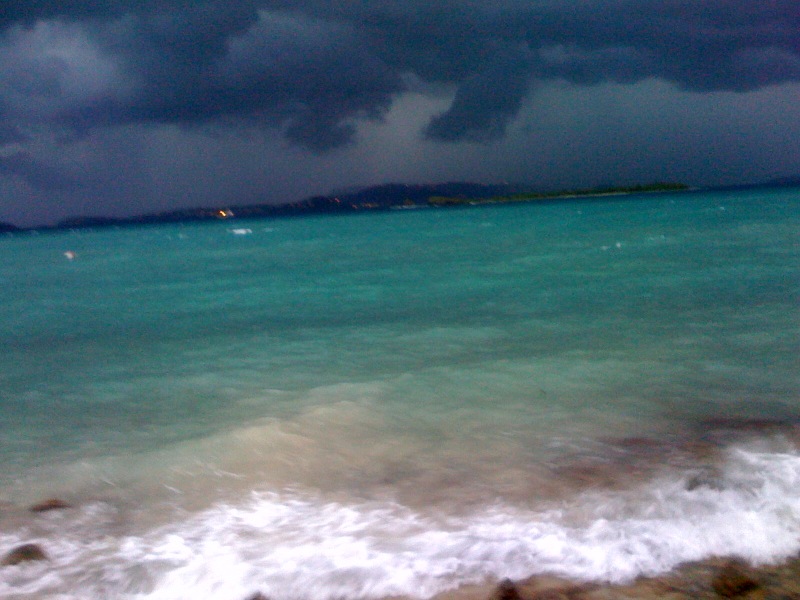 Sent from my iPhone
eee

---
- Looking North from Frank Bay
From: Elaine Estern <stjohncoconut at earthlink.net>
Date: Wed, 3 Sep 2008 18:41:48 -0400
This is 6:30 PM on 9-3-08, with the tail of Hanna lashing the shore since noon.




Sent from my iPhone
eee

---
- Much rain but not too much wind.
From: "crabby" <crabbys at earthlink.net>
Date: Fri, 15 Aug 2008 10:36:33 -0400
We had some interesting moments last night with thunder, lightning and quite a bit of rain, but relatively little wind. Things really picked up just after 11 pm with wind-driven rain. All in all, our rain gauge shows just under 4 inches since the storm began late yesterday. Another reading, also from Coral Bay, came in at 4.7 inches as of 6:40 this morning. And there was more rain after that. Totals, based on National Weather Service radar out of San Juan, Puerto Rico show some areas receiving 6, 7, and 8 inches of rain so far (near St. Thomas/St. John/St. Croix), and I believe that.
While there was some wind with this system, the big issue seems to be the rain. There are some very small rock slides along the road, near guts, and we had a banana tree come down, but nothing serious that we are aware of.
The heart of the storm has passed, but lingering showers and squalls are still forecast into this afternoon, and a flash flood watch has been issued throughout the local islands. Rain is forecast through the weekend.
---
- "We're Here!"
From: "crabby" <crabbys at earthlink.net>
Date: Thu, 14 Aug 2008 21:45:53 -0400
At 9:09 pm, the thunder kicked in -- joining the lightning that we've been seeing since nightfall to both our east and south. It sounds like fireworks -- a distant concussion. Not constantly; just an occasional pop. So, our unwelcome guest has apparently arrived.
This may be a long night. It feels hot and humid in here -- probably since things were so hot, and the air so still earlier today. It is 79 outside now, but its around 82 inside; we do have some of the shutters shut -- perhaps not necessary given that no one seems to be mentioning wind, but you never know. And we haven't seen all that much rain yet.
---
- Odd but true.
From: "crabby" <crabbys at earthlink.net>
Date: Thu, 14 Aug 2008 17:24:00 -0400
Invest 92 is still a non-depression, and that is good news.  We've been
getting ominous looking showers -- a variety of looks (hope the pictures
come through) -- including smoky, foggy, hazy bands of rain.  But no air!!
How strange. It is so hot and still.  Boats in the harbor are every which
way, and sometimes pointing northerly -- different from our normal easterly
facing vessels.  So, as the center of the storm nears, we will see what else
comes.

I really appreciate the folks along the storm's path providing updates and
pictures, so I wanted to return the favor.

Attachment: S5001635.JPG
Description: JPEG image
Attachment: S5001638.JPG
Description: JPEG image
---
- Watching and preparing.
From: "crabby" <crabbys at earthlink.net>
Date: Thu, 14 Aug 2008 09:57:51 -0400
It looks like smoke rings coming off the African coast! Three systems all lined up.
The center of the first "ring" (Invest 92) is forecast to pass very close to us (St. John, USVI/northern Leewards/northern Lesser Antilles) sometime tonight or early tomorrow morning -- depending on how fast it moves. But the forecast has been very uncertain. Right now, Coral Bay is flat as a pancake, there is no wind and it is warm and humid. We have been watching this storm for the past four or five days but, aside from people in our ham radio club who participate in the local weather net, or folks involved in some level of local preparedness, not too much has been said about it. Could be because the track and movement of this storm has been slow and models have changed so much over the past few days. Also, this storm hanging around for so long without reaching strength to become named means we are still on the "six hour update" schedule (vs. every three from the National Hurricane Center). Less info may mean "less urgency" to some people.
If the storm does arrive with even 40 MPH sustained winds near the center, "Whoops, there goes the glass table top on the deck!" So those types of things are coming in or getting secured prior to the storm. (There's a string of storms possible over the next few weeks, so we'll have to do it sooner of later.) We are also throwing a second anchor onto our small boat (it is on a mooring and has an anchor already assisting it). We remember TS Chris (in 2004)? when the scorpion tail of that quick developing storm broke our mooring chain (luckily it wrapped on an unoccupied sand hook and kept the dinghies from being pounded on shore), and left several other boats up on shore on some of the other islands. Things were fine during the main part of that storm, but some nasty wind gusts at the end shook a lot of things free. I'd rather put a few things away (and take down large profile screens) than try to rebuild or repair something here -- where specialty supplies are still hard to come by!! Be safe!
---
- Much needed rain arrives
From: "crabby" <crabbys at earthlink.net>
Date: Sat, 2 Aug 2008 19:29:42 -0400
An inch and a half of rain fell here on the hillside last night above Coral Bay (less towards town, but some just about everywhere) -- much needed since things have been very dry since June. The rain was accompanied by much thunder and lightning as a line of storms passed through the area.
We recently began filling a large bucket with water and leaving it outside of the animal fence for the family of donkey (including two very young ones) in our neighborhood. They, and many of the other animals, have been feeling the impact of very little rain. Last night's soaking isn't nearly enough to break the drought, but it certainly will help. There is a possibility of isolated showers over the next few days, so we will keep our fingers crossed.
---
- A Re-Bertha of sorts?
From: "crabby" <crabbys at earthlink.net>
Date: Sat, 5 Jul 2008 20:22:14 -0400
The possibility of a storm coming close this early in the season is a bit of a surprise (and the news arrives as some nurse hangovers from the carnival celebration here on St.John). Since the other early-season storm that hit here over ten years ago was also named "Bertha", guess we'll have to all this one re-Bertha.
Anyway, forecasts less than a day ago had Bertha flying way off to the north and a zillion miles from land. Today, boaters and landlubbers alike are keeping an eye on the forecast. Time to figure out where the storm prep supplies all are. To make things more interesting, the gas station here in Coral Bay ran out of gas -- not due to a rush from pre-storm fill-ups; they just ran out. Not a good thing for generators, etc. if the storm does soon come.
Otherwise, frogs are singing this evening, there is a pleasant breeze and just a bit of humidity. Summer in the tropics.
---
- Gusty Wind and a few driven rain drops
From: "crabby" <crabbys at earthlink.net>
Date: Fri, 20 Jun 2008 13:02:36 -0400
Winds picked up dramatically just before 12:30 pm AST -- gusts up to 35 MPH, actually whistling from time to time; small pieces of leaves were carried in the earliest part of the winds. Lighter items did blow around, but things are a bit quieter right now. Not much rain, and the sun has peaked out in between the periods of higher wind gusts. Looking eastward at Coral Bay and beyond -- white caps, choppy seas and a few rolling swells. So far the screens are holding here on the hillside; if more wind comes they could end up in the neighbor's lot.
---